May 2, 2019 at 4:39 pm EST | by Staff reports
Cannabis Culture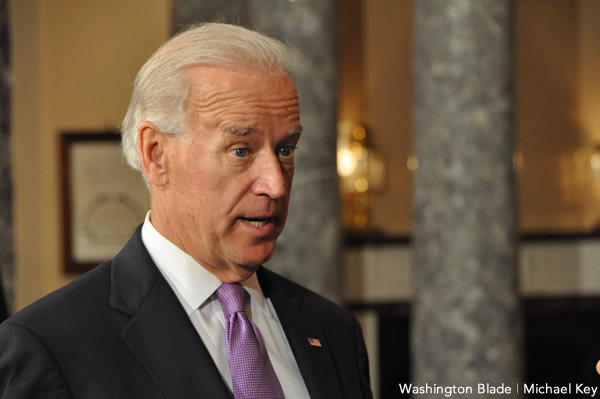 Marijuana reform group assails Biden
The National Organization for the Reform of Marijuana Laws last week criticized former Vice President Joe Biden upon the announcement that he is joining the 2020 race for president.
"Joe Biden has an abysmal record when it comes to marijuana law reform, ending our failed war on drugs, and addressing mass incarceration," said NORML Executive Director Erik Altieri. "Biden's views are far out of step with the American public and he holds the worst record on cannabis related policy of any individual currently running for the Democratic or Republican nomination.
"He needs to address his history as one of the architects of many of our nation's draconic drug policies, apologize for these mistakes, and present a plan to right the wrongs that criminalization has wrought upon millions of people, principally those in minority and poor communities, if he wants to even be considered by anyone who prioritizes real criminal justice reform," concluded Altieri.
Sixty-eight percent of registered voters "support the legalization of marijuana," according to 2018 national polling data compiled by the Center for American Progress.
Marijuana use grounds for denying citizenship
Those applying for U.S. citizenship may be denied if they have personally used marijuana, or if they have been employed in the cannabis industry — including in jurisdictions where such activities are legally authorized, according to a newly released guidance memo by the U.S. Citizenship and Immigration Services agency.
The memo opines that any involvement with marijuana is indicative of a lack of "moral character." Moral character is a prerequisite for people seeking citizenship.
"[The] violation of federal controlled substance law, including for marijuana, established by a conviction or admission, is generally a bar to establishing GMC (good moral character) for naturalization even where the conduct would not be a violation of state law," the updated language states. "This guidance … is controlling and supersedes any prior guidance on the topic."
The USCIS is a branch of the Department of Homeland Security.
Illinois official to expunge thousands of cannabis convictions
CHICAGO — Cook County State's Attorney Kim Foxx has pledged that her office will begin expunging thousands of low-level marijuana convictions in the coming months. Cook County, which includes Chicago, is the second-most populous county in the United States.
Foxx's office is negotiating with the same non-profit group, Code for America, that assisted the San Francisco District Attorney's Office with  automatically reviewing and vacating over 8,000 past marijuana-related convictions earlier this year.
Foxx also indicated that her office is reviewing policies regarding whether to suspend criminal prosecutions in cases involving marijuana sales. Under existing policy, the office typically does not prosecute low-level drug possession offenses, but does move forward with other drug-related violations.
Under state law, the possession of more than ten grams of cannabis but less than 30 grams is classified as a criminal misdemeanor, punishable by up to one year in jail. Possessing more than 30 grams is classified as a felony offense, punishable by up to six years in jail. 
In recent months, prosecutors in a number of major cities — including  Baltimore, Minneapolis, Philadelphia, and St. Louis — have moved to limit low-level marijuana prosecutions, while officials in a number of other cities and counties, like Brooklyn, Denver, Sacramento, San Diego, and  Seattle have moved to vacate former cannabis convictions.
N.J. court backs employees who use medicinal pot
TRENTON, N.J. — Employers may not discriminate against medical cannabis patients who consume marijuana while away from the job, according to a state Appellate Court decision.
The Appellate Court's decision reverses a lower court opinion.
While the Court opined that employers are not required to accommodate the use of medical cannabis by patients "in any workplace," the justices also acknowledged that the plaintiff's marijuana use, in this case, took place solely during off-work hours. "[T]he Compassionate Use Act's refusal to require an employment accommodation for a user does not mean that the Compassionate Use Act has immunized employers from obligations already imposed elsewhere," the Court determined, explicitly citing New Jersey's laws against discrimination.
The case is Wild v. Carriage Funeral Holdings LLC.
Courts in a number of other medical cannabis access states, including Arizona, Connecticut, Massachusetts, and Rhode Island, have recently issued similar rulings affording workplace protections for qualified patients.
Cannabis Culture news in the Blade is provided in partnership with NORML. For more information, visit norml.org.