May 15, 2019 at 10:01 pm EDT | by Joey DiGuglielmo
QUEERY: Bob Suppies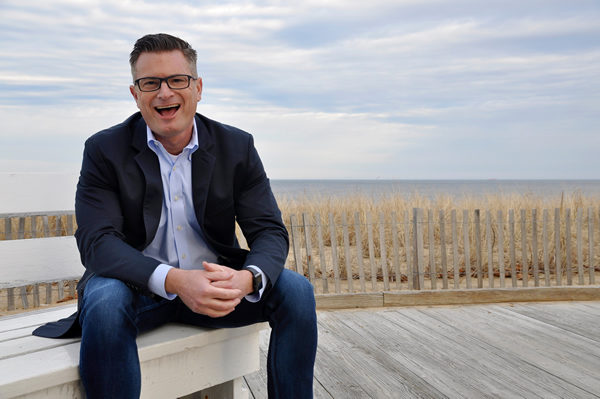 The Pines just opened in December so its owners and staff are gearing up for their maiden Rehoboth summer season.
"I'm so excited for everyone to try our great food, our craft cocktails and to enjoy our amazing entertainment lineup," says Bob Suppies. "I'm also excited to hear people on our two outside decks overlooking Aqua Grill banter back and forth."
The Pines (56 Baltimore Ave., Rehoboth Beach, Del.) is a two-level restaurant with dining on the main level and a piano lounge upstairs called "Top of the Pines." There are daily happy hours, half-off glasses of wine on Mondays, burger night on Tuesdays, a late-night menu and more. Look for it on social media or register for e-mail blasts on thepinesrb.com.
Suppies, a 50-year-old Topsham, Maine, native, and his business partners Tyler Townsend and David Gonce have been planning The Pines Rehoboth Beach (A Modern Coastal Tavern) since early 2017. Once they decided on their location on Baltimore Avenue, it took a year and eight months to remodel and open.
Suppies has lived in Rehoboth part-time since 2001 (splitting his time between here and Baltimore) and pretty much full-time for about five years.
Suppies and Vadim Karpeshov, his partner of eight months, live together in Rehoboth. Suppies enjoys the beach, running, biking, reading, travel and spending time with his Jack Russell Terrier Willie in his free time.
How long have you been out and who was the hardest person to tell?
I came out in 1988. The hardest people to tell were my grandparents. Living only 5 miles away, I was so afraid they would not speak to me again that my hands were shaking at the thought of telling them. With all the courage I had, I told them over the phone. To my relief, they said, "We always knew. We were waiting for you to tell us!"
Who's your LGBTQ hero?
Harvey Milk. He set the example of what one person can do to impact change. May 22nd is Harvey Milk Day. Milk does the body good.
What LGBTQ stereotype most annoys you?
Gender profiling
What's your proudest professional achievement?
Making your life-long dreams come true is not always easy. So opening The Pines is definitely my proudest achievement.
What terrifies you?
A world of intolerance. Oh, and sharks.
What's something trashy or vapid you love?
Watching "The Nanny," over and over … "I was working in a Bridal Shop in Flushing Queens…"
What's your greatest domestic skill?
Dishes. I love doing the dishes.
What's your favorite LGBTQ movie or show?
"Will & Grace"
What's your social media pet peeve?
Negative influencers
What would the end of the LGBTQ movement look like to you?
The progress we have made in my 50 years is amazing, but I do not feel that there should be an end. Educating and growth is what pulls us forward, this is an eternal movement.
What's the most overrated social custom?
Handshaking. I'm all about hugs!
What was your religion, if any, as a child and what is it today?
I grew up Catholic. As a young teenager, I was very active. I went to Catechism and did the readings almost every Sunday. Now I use prayer and meditation.
What's Rehoboth's best hidden gem?
Clearspace Theater. Get your tickets. Their summer lineup is amazing!
What's been the most memorable pop culture moment of your lifetime?
Princess Diana's death.
What celebrity death hit you hardest?
Maya Angelou. Having heard her speak when I was a freshman in college, my life was forever changed. "If you are always trying to be normal you will never know how amazing you can be."
If you could redo one moment from your past, what would it be?
For my senior prom, I decided to get a perm. Uh, no. That didn't work.
What are your obsessions?
Sour Patch Kids, peanut butter and Pinot Noir
Finish this sentence — It's about damn time:
We find out if life exists on other planets!
What do you wish you'd known at 18?
That the journey you're about to take is the right path.
Why Rehoboth?
Rehoboth Beach is a hidden gem! The charm of a small beach town, friendly people who get to know you, and more and more a year-round resort. Come live your best life.