May 17, 2019 at 12:15 pm EDT | by Chris Johnson
In first, House approves Equality Act to ban anti-LGBT discrimination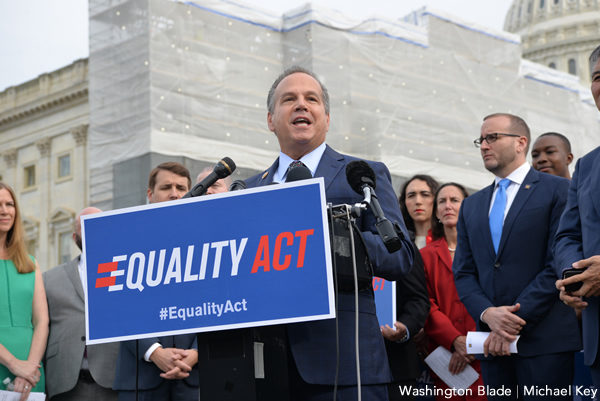 For the first-time ever, a chamber of Congress has approved legislation — with bipartisan support — that would amend the landmark Civil Rights Act of 1964 to ban comprehensibly discrimination against LGBT people.
Under the new Democratic majority elected in the mid-term election, the House approved the legislation by a vote of 236-173 as openly gay Rep. Sean Patrick Maloney (D-N.Y.) presided over the chamber. At other times during debate, gay Rep. Mark Pocan (D-Wis.) and lesbian Rep. Angie Craig (D-Minn.) served as speaker pro tempore.
As a majority of votes for the bill became apparent and as the vote was called, Democrats and guests in House gallery applauded and cheered. Among those giving a standing applause in the gallery were Chad Griffin, president of the Human Rights Campaign, and Sharon McGowan, legal director for Lambda Legal.

Rep. David Cicilline (D-R.I.), the most senior openly gay member of Congress and chief sponsor of the Equality Act, said the legislation would "grant full legal equality to the LGBTQ community here in America" and the vote was "truly historic."
"The American people think it's time to protect the LGBTQ community," Cicilline said. "There is nothing more central to the idea of America than the guarantee of equal protection under the law for every single American."
House Speaker Nancy Pelosi (D-Calif.), wearing a rainbow wristband as she spoke on the House floor, invoked both the Founding Fathers and the 50th anniversary of the Stonewall riots in support of the Equality Act.
"Fifty years after the LBGTQ Americans took to the streets outside of New York's Stonewall Inn to fight against harassment and hate, we take pride in the progress we have forged together," Pelosi said. "Our Founders, in their great wisdom, wrote in our beautiful preamble – wrote of the blessings of liberty, which were to be the birthright of all Americans. To bring our nation closer to the founding promise of liberty and justice for all, we, today, pass the Equality Act and finally, fully end discrimination against LGBTQ Americans."
The Democratic caucus was united in support of the legislation. Eight Republicans voted for the Equality Act: Reps. Susan Brooks (Ind.), Mario Diaz-Balart (Fla.), Brian Fitzpatrick (Pa.), Will Hurd (Texas), John Katko (N.Y.), Tom Reed (N.Y.), Elise Stefanik (N.Y.) and Greg Walden (Ore.).
Pocan, holding up a photo of Pelosi swearing him in with his husband at his side, said the Equality Act ensure the LGBT non-discrimination protections enjoyed under the law in some capacity in 21 states are part of U.S. code.
"We're really lucky because we live in Wisconsin, the first state in the nation to pass a gay and lesbian civil rights bill back in 1982, and it was signed by a Republican governor, but that's not true for a majority of America," Pocan said. "If we pass the Equality Act, people like Phil and I can be free to love who we love, and we can live where we want to live, and we can work where we want to work without fear of being fired or evicted simply because of who we are or who we love. That's pretty simple."
The Equality Act would amend the Civil Rights Act of 1964 and the Fair Housing Act to ban anti-LGBT discrimination in employment, housing, public accommodations, jury service, education, federal programs and credit.
The bill also seeks to update federal law to include sex in the list of protected classes in public accommodation in addition to expanding the definition of public accommodations to include retail stores, banks, transportation services and health care services. Further, the Equality Act would establish that the Religious Freedom Restoration Act — a 1994 law aimed at protecting religious liberty — can't be used to enable anti-LGBT discrimination.
The House approved the Equality Act after a tumultuous 90-minute debate in which Democrats affirmed supported for equality for LGBT people and Republican stoked dubious and incorrect complaints about children being forced to have gender reassignment surgeries, imposition on women's privacy and penalties imposed on religious organizations.
Leading the charge in stoking fears over the Equality Act was Rep. Tom McClintock (R-Calif.), who said the Equality Act violates fundamental principles of America.

"This bill harms people in so many ways: Destroying safe spaces for women, undermining women-owned businesses, intimidating the free exercise of conscience," McClintock said.
Drawing on fears of men being able to compete as transgender women in women's sports under the Equality Act, McClintock said, "Whereever these laws are imposed, biological males have begun to dominate women's competition."
Rep. Vicky Hartzler (R-Mo.), an anti-LGBT lawmaker who last week sought to pass an amendment on the House floor banning the U.S. government from paying for transition-related care, including gender reassignment surgery for transgender people, lamented non-transgender women having to compete with transgender women in sports.
"If we continue down this track, how long will it be before nations recruit men identifying as females to outmedal other countries and ultimately uproot the ancient tradition of the Olympics?" Hartzler said.
The House voted to approve the Equality Act after rejecting by a vote of 228-181 a motion to recommit introduced by Rep. Greg Steube (R-Fla.). The measure ostensibly sought to clarify the legislation can't be construed to diminish Title IX of the Education Amendments of 1972, which bars sex discrimination and fostered women's participation in sports.
"Science has proven time and time again that there is a significant completive performance difference between biological males and females from the puberty onward," Steube said. "From percentage of lean muscle, to heart size, to body fat, to joint ankles, the bodies of men and women are distinctly unique and produce a vast difference in performance ability when it comes to certain activities. In fact, there is an average 10 to 12 performance gap between elite biological males and females athletes."
Representing Democrats in opposition to the motion to recommend was Rep. Katie Hill (D-Calif.), an openly bisexual member of Congress who disparaged Republicans for "having a man tell me what kind of protections I need in sports."
"This is fear-mongering about trans women playing in sports," Hill said. "Are you kidding me? I don't know if my colleagues on the other side realize that they met trans people, but they have. They definitely have, and I've met many, and this motion reflects nothing more than the prejudice of my colleagues."
Prior to the vote, Rep. Ben McAdams (D-Utah) held with Cicilline a colloquy on the House floor to clarify houses of worship could continue to restrict entrance to its membership and clergy could refuse to perform same-sex weddings despite the ban on discrimination in public accommodations in the Equality Act. In the event of litigation before the courts, the colloquy would clarify that was intent of lawmakers behind the Equality Act.
"HR5 does not, nor could any legislation, supersede the First Amendment," Cicilline said. "HR5 allows the standard set by prior civil rights law to not interfere with worship and religious practices by religious organizations."
Rep. Doug Collins (R-Ga.), however, said that wasn't enough in addressing concerns opponents of the Equality Act had on its impact on religious organizations, such as Catholic hospitals or adoption agencies.
"None of us, especially myself, have said anything about houses of worship," Collins said. "We do know that's the bridge too far. What we are concerned about in the bill is where it says any of these groups or affiliations, Catholic affiliations, Jewish affiliations, who get federal money to do other things, they would come under this, and this is where the RFRA protections is something."
With 241 co-sponsors in the House, there was no doubt when the vote was scheduled on Friday the chamber would approve the legislation. But the bill now heads to the Republican-controlled Senate, where it faces an uphill battle. Senate Majority Leader Mitch McConnell (R-Ky.), who has called himself the "grim reaper" of legislation approved by the Democratic-controlled House, controls the chamber.
In the miraculous event the Senate approves the Equality Act, the bill would head to the desk of President Trump, who indicated this week via a senior administration official to the Washington Blade he opposes the legislation based on unspecified "poison pills" in the bill.
Nonetheless, LGBT rights advocates, who have fought long and hard to pass the Equality Act — an early version of which was first unveiled more than 40 years ago in 1974 — hailed the win in the House as a historic milestone.
Griffin in a statement House approval of the Equality Act is "a major milestone for equality and sends a powerful and profound message to LGBTQ people, especially LGBTQ youth."
"No one's rights should depend on which side of a state or city line they live on, and today we took a giant step forward in our journey toward full equality," Griffin said. "This historic victory would not have been possible without the millions of LGBTQ people and our allies who organized, mobilized and turned out to elect a pro-equality majority in 2018. Now, we will take our fight to the U.S. Senate and turn up the pressure on Leader McConnell to allow a vote on this crucial legislation."
Mara Keisling, executive director of the National Center for Transgender Equality, said in a statement the vote was "a proud triumph for the liberty of transgender people nationwide."
"But we have not come this far to only come this far," Keisling added. "Leader McConnell must bring this bill to the Senate floor for a vote. Denying transgender people their most basic rights would be nothing short of a moral crime, one that would stain this Senate for years. Now is not the time for brinkmanship, partisanship, or cowardice. Now is the time senators must fulfill their duty to uphold the rights of all people in their states and serve the interests of the nation over the interests of party."