May 18, 2019 at 8:54 pm EDT | by Joe Phillips
AUTOS: Three current crossover standouts in a teeming market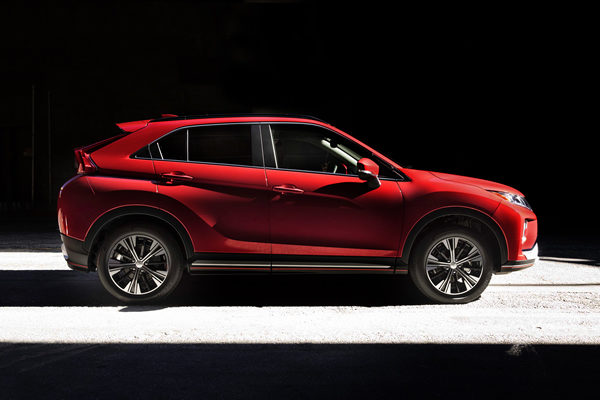 Like rainbow flags at a pride parade, crossovers are everywhere. There are more than 125 different models, but add in all the various trim levels (such as Limited, Platinum, Premium, Sport, Ultimate and so on) and suddenly there are too many choices to count. To keep things simple, here are three solid contenders.
MITSUBISHI ECLIPSE CROSS
$25,000
MPG: 26 city/29 highway
Zero-60 mph: 8.6 seconds
This all-new compact crossover from Mitsubishi is a twist on the typical Eclipse, a sporty coupe and convertible produced from 1989-2011. Today's Eclipse Cross is just as cocky on the outside, with an angled grille that borrows heavily from Lexus and a raised rear similar to the brash BMW X4.
The cabin is pleasant, with soft-touch materials, optional faux leather and nicely configured controls. Plenty of room for passengers and cargo, with rear seats that fold easily. Yet while the front seats are fairly comfortable, there's no adjustable lumbar support to ease the ride on long trips.
The 7.0-inch touchscreen infotainment is standard, but opt for the raised display atop the dash with its center-console touchpad. Being one of those people who stubbornly refuses to ask for directions or read instructions to assemble IKEA furniture, I had to surrender and read the owner's manual to use the less-than-intuitive voice-command system.
As for the engine, it's quiet and perky enough; just give yourself enough time to merge onto the freeway or pass another vehicle on two-lane backroads. The overall handling is smooth over most surfaces, but beware tackling pesky parking-garage speed bumps except at the slowest speeds. Blind-spot monitoring is standard on all models, which helps offset some of the impaired rear visibility from the dramatically sloped roof.
Other safety features can be added, including lane-departure warning, adaptive cruise control and automated emergency braking with pedestrian detection. A big plus: Mitsubishi now joins Hyundai and Kia in offering the best long-term warranties and roadside assistance available.
TOYOTA HIGHLANDER
$32,000
MPG: 20 city/27 highway
Zero-60 mph: 7.8 seconds
Stepping up to a midsize ride, the Toyota Highlander is the classic crossover: comfortable, quiet and reliable. Available in six trim levels, the base model comes with a rather anemic four-cylinder engine. Luckily there's an optional V6, which is standard on all the other models.
Sure, zipping around sharp corners can bring some land-yacht body roll, but overall this crossover is responsive and stable. With three rows of seating, there's room for eight (or seven, if you choose the cushy second-row captain's chairs instead of a bench seat).
Unfortunately, the third row is tight for adults and cargo room isn't as roomy as other rides. But the long list of standard features would impress even the Fab Five: heated mirrors, windshield wiper de-icer, rearview camera, five USB ports, Bluetooth, automatic high beams, adaptive cruise control, lane-keeping assist and forward collision warning with automatic emergency braking.
The higher trim levels offer even more goodies, of course, including a height-adjustable power liftgate, tri-zone climate control, second-row sunshades, heated/ventilated seats, heated steering wheel, panoramic sunroof, surround-view parking camera and 12-speaker JBL stereo. But hurry: A redesigned Highlander goes on sale in December, which means there likely will be good deals on the current 2019 models while they last.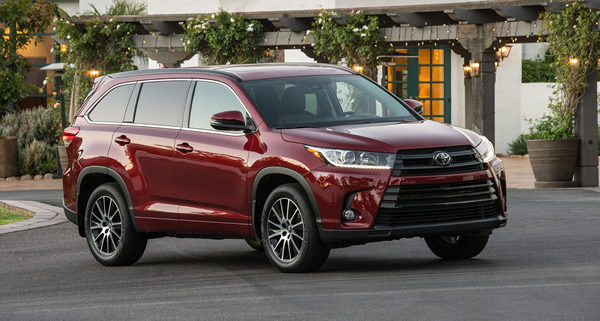 MAZDA CX-9
$34,000
MPG: 22 city/28 highway
Zero-60 mph: 7.1 seconds
Slightly larger than the Toyota Highlander, the Mazda CX-9 midsize crossover mixes Japanese reliability with Euro handling and style. The stout snout and slanted liftgate are as sleek as any Volvo XC60.
There's also a classy, frameless rearview mirror (another nod to the Volvo XC60). Overall, the Mazda's high-quality cabin — especially on the primo Signature trim, with its aluminum trim and genuine rosewood — is on par with Audi and BMW. Ditto the sporty handling and braking.
Acceleration is smooth and peppy with a robust four-cylinder turbo used across all four trim levels. For its infotainment system, Mazda even adopted a large dial interface similar to the BMW iDrive format. With three seats, there's enough room in the CX-9 for treks to Rehoboth or Lost River. But as with the Toyota Highlander, the third row and cargo area offer less space than some competitors.
Unlike the Highlander, there's no option for second-row captain's chairs. Still, the CX-9 is quieter, feels lighter and comes with almost all the same features as the Highlander. Choosing between the two may come down to how tethered you are to your smartphone: The CX-9 comes with Apple CarPlay and Android Auto, which won't arrive on the Highlander until the 2020 model.