May 21, 2019 at 6:46 pm EDT | by Staff reports
Cannabis Culture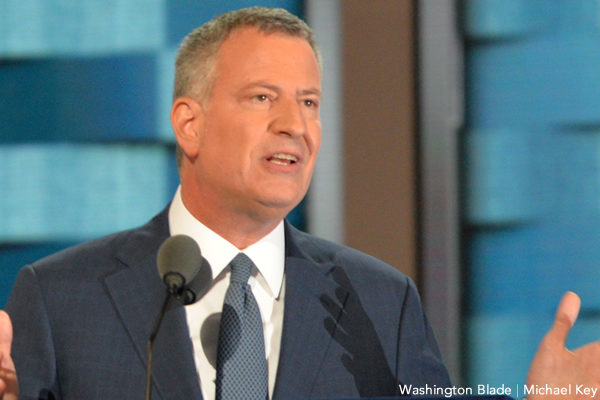 NYC law limits drug testing for employees
NEW YORK — Lawmakers have successfully passed a pair of municipal bills limiting situations where those seeking employment or on probation may be drug tested for past cannabis exposure.
Democratic Mayor Bill de Blasio permitted both bills to become law absent his signature.
Bill No. 1427 states, "The department of probation shall not require individuals to submit to marijuana testing unless a determination is made, based on an individuals' history and circumstances, that abstinence from marijuana is necessary to otherwise lead an otherwise law-abiding life." The new law takes immediate effect.
Bill No. 1445 states, "[I]t shall be an unlawful discriminatory practice for an employer, labor organization, employment agency, or agent thereof to require a prospective employee to submit to testing for the presence of any tetrahydrocannabinols or marijuana in such prospective employee's system as a condition of employment." Exceptions to the new law include those employees seeking certain safety sensitive positions — such as police officers or commercial drivers — or those positions regulated by federal drug testing guidelines. The law takes effect in one year.
Cannabis retailers not linked to elevated crime rates
SEATTLE —The establishment of licensed cannabis retailers is not associated with negative impacts on local crime rates, adolescent use, or home values, according to a literature review published by Leafly.com.
Researchers at the website, in partnership with the Institute for Interdisciplinary Studies at Humboldt State University, identified 42 papers specific to the community impact of cannabis storefronts.
They reported: "Crime near licensed dispensaries has generally stayed flat or decreased, teen cannabis use in legal states has fallen since legalization, and property values near cannabis outlets generally are not affected or, in some cases, experience a greater value increase than comparable properties not near a cannabis outlet. … Despite the fears of those who want to ban cannabis stores, the published research finds that legal retailers are safe, responsible neighbors."
Authors acknowledged that false claims surrounding dispensaries continue to persist despite ample evidence to the contrary. The prevalence of such claims has led to local bans on the establishment of licensed retail facilities in many states. Specifically, in California, 75 percent of localities impose bans on the establishment of cannabis storefronts, while 65 percent of cities and counties in Colorado impose similar prohibitions.
Licensed medical cannabis sales begin in Arkansas
LITTLE ROCK, Ark. — Qualified patients now have limited access to medical cannabis products, after the state's first licensed dispensaries began making sales last week. Voters initially approved medical cannabis access by passing a statewide initiative in November 2016.
Under the law, qualified patients may obtain both herbal preparations of cannabis and infused cannabis products from state-licensed dispensaries. Products must be derived from plants harvested by one of five state-licensed cultivators. To date, only one cultivator is operational. Two additional cultivators are expecting to harvest their initial crops this summer.
Nearly 12,000 patients are licensed in the state to participate in the medical cannabis access program.
Arkansas is one of 33 states that legally permit medical cannabis access.
N.J. lawmakers may put legalization before voters
TRENTON, N.J. — The Senate President indicated last week that lawmakers will likely let voters decide in 2020 on whether to legalize the adult use of marijuana.
Sen. Sweeney acknowledged last week that lawmakers are at an impasse regarding pending legislation to tax and regulate the adult use marijuana market. As a result, he says that they will likely place an initiative question before voters next November.
Assembly and Senate lawmakers were initially expected to decide on the issue in March. However, plans for a Senate floor vote were pulled after it became apparent that the measure lacked majority support in the legislature's upper house.
Lawmakers are still anticipated to move forward with votes later this year on legislative efforts to greatly expand the state's medical cannabis access program and to facilitate the expungement of past, low-level cannabis convictions.
According to a February poll conducted by Monmouth University, 62 percent of New Jerseyans believe that the possession and use of marijuana should be legal, and 74 percent support the expungement of past marijuana convictions.
Cannabis Culture news in the Blade is provided in partnership with NORML. For more information, visit norml.org.