June 4, 2019 at 4:42 pm EDT | by Kevin Naff
Celebrating our Pride pioneers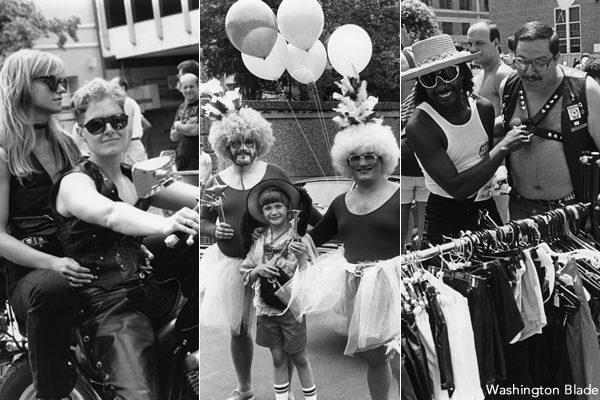 In this special Pride edition of the Blade, we pay tribute to the outré figures of Prides past who paved the way for all of our hetero-normative success today: marriage equality, corporate parade floats and even a buttoned-up gay presidential candidate.
Many gay people cringed in the early days of Pride celebrations as local TV news covered our parades and focused on the more flamboyant or "outrageous" characters marching: the drag queens, scantily clad dancing twinks, leather daddies and Dykes on Bikes.
The complaints about mainstream media coverage of the community went something like this: "Why can't they show 'normal' gay people at the parade?"
But the reality is that without those media-worthy moments of lesbians riding motorcycles and drag queens working the crowd, the TV cameras wouldn't have shown us at all. No one wants to watch a parade of Pete Buttigieg clones marching in their penny loafers down 14th Street.
We needed those brave pioneers of early Prides to endure the taunts and insults of passersby to pave the way for the rest of us. Those in-your-face parade tactics gave rise to the bold AIDS protests of ACT UP in '80s and '90s — storming St. Patrick's Cathedral in 1989 and crumbling a communion wafer, scattering ashes of gay men on the White House lawn.
The aggressive tactics employed by our most courageous community members forced the government — and the world — to address HIV/AIDS after years of ignoring the epidemic.
As time passed and HIV became less of a public health emergency, priorities and attitudes changed. Some say not all that change has been for the better. Protest groups in New York and D.C. are planning marches and other events to highlight their criticism of mainstream Pride celebrations that have become dominated by corporate floats and parade contingents of LGBT and allied employees. Too often, these companies show up for one day a year to check the "Pride" box, then retreat into other priorities until the following June. There are some hopeful signs that the trend is changing as those companies — I'm looking at you Target and Starbucks — come under increased pressure to showcase their support in more concrete, visible ways 365 days a year.
The reality, of course, is that we need everyone to live openly and honestly, thereby forcing the world to reckon with us, no matter how we present. We need our corporate partners to adopt inclusive non-discrimination policies and to lobby the government when the attacks come, as they are regularly under the Trump administration. Don't let his Pride tweet fool you: Trump views supporting limited gay rights as a way to attack Iran and nothing more. And as the Democrats learned during the ENDA debate a decade ago, you cannot support one segment of our community while throwing another under the bus. Trump's repeated attacks on the trans community while tweeting warm-and-fuzzies about Pride month illustrate that sort of fake support we no longer tolerate.
Enjoy this Pride season and remember to thank an LGBTQ elder who marched before it was safe and accepted. And Pride month continues after D.C. is finished celebrating as we count down to WorldPride in New York and the 50th anniversary of Stonewall. The June 28 Blade will feature a special tribute to Stonewall and the celebration of the Blade's own 50th anniversary culminates with a gala on Oct. 18, so save the date.
Kevin Naff is editor of the Blade. Reach him at knaff@washblade.com.