Petras plans Fillmore date
Trans singer touring behind spate of new singles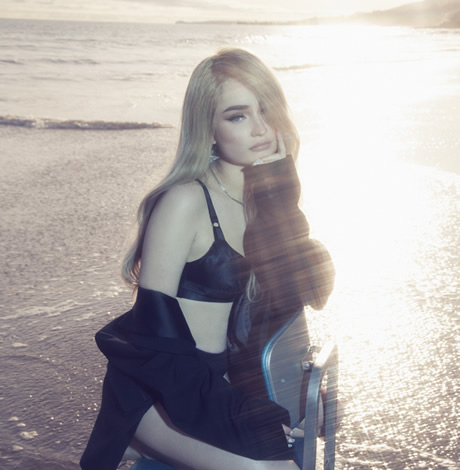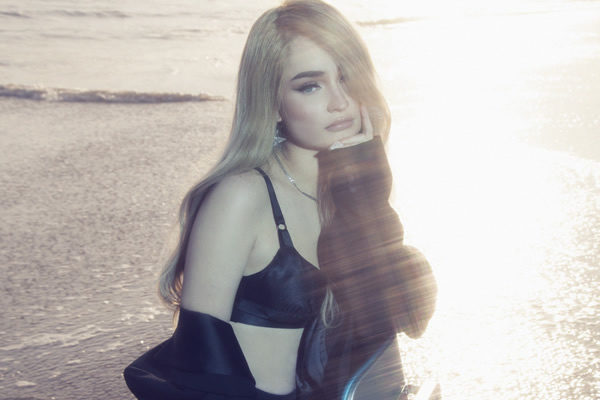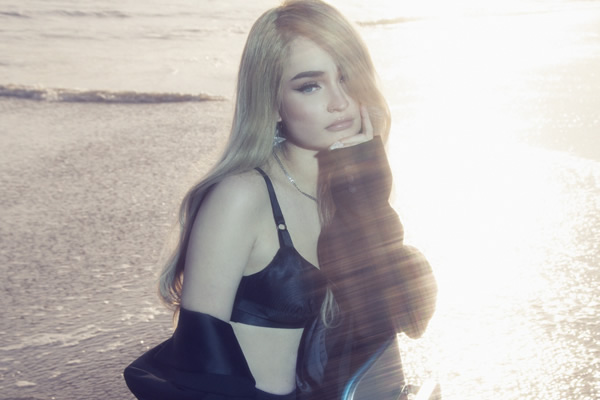 Kim Petras brings her "Broken Tour" to The Fillmore Silver Spring (8656 Colesville Rd., Silver Spring, Md.) on Saturday, June 15 at 9 p.m.
Petras will perform her latest singles like "Broken" and "Heart to Break." New York DJ Mazurbate opens. Petras entered the public eye in 2010 when she was profiled for coming out as trans as a teen. In an interview with HuffPost, she says she doesn't want to be known for her sexual identity but instead for her music. Look for an interview with Petras in next week's edition.
Doors open at 8 p.m. and tickets start at $20. To purchase tickets, visit livenation.com.
Kim Petras and Beyoncé make history at the 65th annual Grammys
The 65th annual Grammys served up a night of LGBTQ significance as Beyoncé and Kim Petras both make history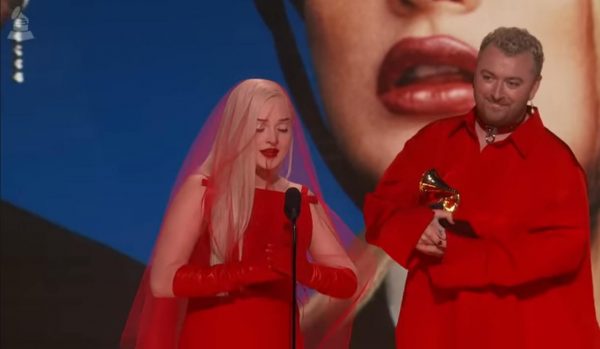 The 65th annual GRAMMY Award Ceremonies held Sunday evening at the Crypto.com Arena saw a significant LGBTQ+ presence and wins in several categories including a GRAMMY for Best Solo Pop Duo/Group Performance awarded to Out Trans artist Kim Petras along side nonbinary artist Sam Smith for their song "Unholy."
Madonna was on hand to introduce the duo, and in doing so, seemed to shout praise to the entire queer community. "Here's what I have learned after four decades in music. If they call you shocking, scandalous, troublesome, problematic, provocative, or…dangerous. You are definitely on to something. So I am here to give thanks to all the rebels out there forging a new path, and taking the heat for all of it. You guys need to know, all you trouble makers out there, you need to know your fearlessness does not go unnoticed, you are seen, you are heard, and most of all you are appreciated."
While online chatter seemed obsessed with Madonna's physical appearance, there is hope her message reached queer teens, currently under the ire of current conservative politics, in the same way the singer elevated HIV positive people in the 1980s by not only accepting them, but calling them heroes.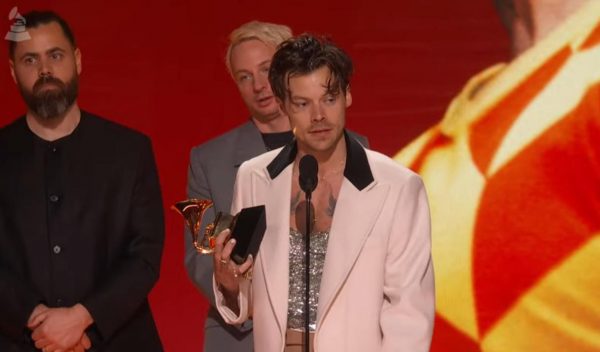 Sam Smith insisted that Kim Petras give their acceptance speech so that she could experience the full effect of being the first transgender woman to receive the award in the Recording Academy's 65 year history.
Petras acknowledged Madonna's effect as an icon when she said in her acceptance speech, "I want to thank Madonna for always fighting for LGBTQ rights, I would not be here if not for Madonna."
She also called out SOPHIE, the transgender Grammy-nominated DJ, producer and recording artist who died in Athens after a tragic accident. "I just want to thank all the incredible transgender legends before me who kicked these doors open for me so I could be here tonight. SOPHIE, especially, my friend who passed away two years ago, who told me this would happen and always believed in me. Thank you so much for your inspiration, SOPHIE. I adore you and your inspiration will always be in my music."
"I grew up next to a highway in nowhere, Germany, and my mother believed me that I was a girl and I wouldn't be here without her and her support," Petras concluded her historic speech. "Sam, thank you, you're a true angel and hero in my life and I love you. And everyone who made the song, too, I love you guys. Sorry, I didn't write down the names. I love you."
Longtime LGBTQ+ ally Harry Styles received a GRAMMY for Album of the Year for his Harry's House. Styles also picked up a GRAMMY win Best Pop Vocal Album for Harry's House. Earlier Styles received a GRAMMY trophy for Best Engineered Album, Non-Classical also for Harry's House.
Beyoncé, who was the most nominated artist going into Sunday's ceremonies, made GRAMMY history breaking the record for the most wins ever by an artist. In her acceptance speech where she mentioned her late uncle who died from HIV/AIDS she acknowledged the queer community for their support and "for inventing the genre" of dance music, which she honors in her album.
"I'm trying not to be too emotional. I'm trying to just receive this night. I want to thank God for protecting me. Thank you, God. I'd like to thank my uncle Johnny who's not here, but he's here in spirit.
I'd like to thank my parents, my father, my mother for loving me and pushing me. I'd like to thank my beautiful husband, my beautiful three Children who are at home watching.
I'd like to thank the queer community for your love, for inventing the genre. God bless you.
Thank you so much to the GRAMMYs. Thank you."
She also posted a thank you note on Instagram celebrating the three awards she won earlier in the evening: Best Traditional R&B Performance ("Plastic Off the Sofa"), Best R&B Song ("Cuff It"), and Best Dance/Electronic Recording ("Break My Soul").
First Lady Dr. Jill Biden walked on stage during the ceremonies to a standing ovation. GRAMMYs host Trevor Noah, who introduced her, described her as "the only person in the world who knows which of tonight's songs the President sings in the shower."
The First Lady presented two awards – the Song of the Year and the new award "Best Song for Social Change."
Iranian singer Shervin Hajipour won the new social change award. His song Baraye has been described as the anthem of the Mahsa Amini protests in Iran. Biden described the song as a "powerful and poetic call for freedom and women's rights."
He was arrested on September 29, 2022 – two days after his song was released on social media – and was released two days later. He is not allowed to leave Iran.
Biden then presented Song of the Year to Just Like That by Bonnie Raitt. She kissed Raitt on the cheek.
Vanessa Valdivia, Press Secretary for Biden told the traveling press pool: "The First Lady was honored to be asked by the Recording Academy to announce the GRAMMYs' first Social Change award to Shervin Hajipour for his song 'Baraye'. As a steadfast champion for women and girls around the world, the First Lady was inspired by his song that served as an anthem for freedom and women's rights."
2023 GRAMMY Award Winners
* Winners in bold
Album of the Year:
Harry Styles – Harry's House
ABBA – Voyage
Adele – 30
Bad Bunny – Un Verano Sin Ti
Beyoncé – Renaissance
Mary J. Blige – Good Morning Gorgeous (Deluxe)
Brandi Carlile – In These Silent Days
Coldplay – Music of the Spheres
Kendrick Lamar – Mr. Morale & the Big Steppers
Lizzo – Special
Song of the Year:
Bonnie Raitt – "Just Like That"
Gayle – "abcdefu"
Lizzo – "About Damn Time"
Taylor Swift – "All Too Well (10 Minute Version)"
Harry Styles – "As It Was"
Steve Lacy – "Bad Habit"
Beyoncé – "Break My Soul"
Adele – "Easy On Me"
DJ Khaled feat. Rick Ross, Lil Wayne, JAY-Z, John Legend, and Fridayy – "God Did"
Kendrick Lamar – "The Heart Part 5"
Record of the Year:
Lizzo – "About Damn Time"
ABBA – "Don't Shut Me Down"
Adele – "Easy On Me"
Beyoncé – "Break My Soul"
Mary J. Blige – "Good Morning Gorgeous"
Brandi Carlile feat. Lucius – "You and Me on the Rock"
Doja Cat – "Woman"
Steve Lacy – "Bad Habit"
Kendrick Lamar – "The Heart Part 5"
Harry Styles – "As It Was"
Best New Artist:
Samara Joy
Anitta
Omar Apollo
Domi & JD Beck
Muni Long
Latto
Måneskin
Tobe Nwigwe
Molly Tuttle
Wet Leg
Best Alternative Music Album:
Wet Leg – Wet Leg
Arcade Fire – WE
Big Thief – Dragon New Warm Mountain I Believe in You
Björk – Fossora
Yeah Yeah Yeahs – Cool It Down
Best Alternative Music Performance:
Wet Leg – "Chaise Lounge"
Arctic Monkeys – "There'd Better Be a Mirrorball"
Big Thief – "Certainity"
Florence + The Machine – "King"
Yeah Yeah Yeahs feat. Perfume Genius – "Spitting Off the Edge of the World"
Best Rock Performance:
Brandi Carlile – "Broken Horses"
Bryan Adams – "So Happy It Hurts"
Beck – "Old Man"
The Black Keys – "Wild Child"
IDLES – "Crawl!"
Ozzy Osbourne feat. Jeff Beck – "Patient Number 9"
Turnstile – "Holiday"
Best Rock Song:
Brandi Carlile – "Broken Horses"
Red Hot Chili Peppers – "Black Summer"
Turnstile – "Blackout"
The War on Drugs – "Harmonia's Dream"
Ozzy Osbourne feat. Jeff Beck – "Patient Number 9″
Best Rock Album:
Ozzy Osbourne – Patient Number 9
The Black Keys – Dropout Boogie
Elvis Costello & The Imposters – The Boy Named If
IDLES – Crawler
Machine Gun Kelly – Mainstream Sellout
Spoon – Lucifer on the Sofa
Best Metal Performance:
Ozzy Osbourne feat. Tony Iommi – "Degradation Rules"
Ghost – "Call me Little Sunshine"
Megadeth – "We'll Be Back"
Muse – "Kill or Be Killed"
Turnstile – "Black Out"
Best Solo Pop Performance:
Adele – "Easy on Me"
Bad Bunny – "Moscow Mule"
Doja Cat – "Woman"
Steve Lacy – "Bad Habit"
Lizzo – "About Damn Time"
Harry Styles – "As It Was"
DJ Khaled feat. Rick Ross, Lil Wayne, JAY-Z, John Legend, and Fridayy – "God Did"
Best Solo Pop Duo/Group Performance:
Sam Smith & Kim Petras – "Unholy"
ABBA – "Don't Shut Me Down"
Camila Cabello feat. Ed Sheeran – "Bam Bam"
Coldplay & BTS – "My Universe"
Post Malone & Doja Cat – "I Like You (A Happier Song)"
Best Pop Vocal Album:
Harry Styles – Harry's House
ABBA – Voyage
Adele – 30
Coldplay – Music of the Sphere
Lizzo – Special
Best Dance/Electronic Recording:
Beyoncé – "Break My Soul"
Bonobo – "Rosewood"
Diplo & Miguel – "Don't Forget My Love"
David Guetta & Bebe Rexha – "I'm Good (Blue)"
Kaytranada feat. H.E.R. – "Intimidated"
RÜFÜS DU SOL – "Intimidated"
Best Dance/Electronic Album:
Beyoncé – Renaissance
Bonobo – Fragments
Diplo – Diplo
Odesza – The Last Goodbye
RÜFÜS DU SOL – Surrender
Best Rap Album:
Kendrick Lamar – Mr. Morale & the Big Steppers
DJ Khaled – God Did
Future – I Never Liked You
Jack Harlow – Come Home the Kids Miss You
Pusha T – It's Almost Dry
Best Rap Song:
Kendrick Lamar – "The Heart Part 5"
Future feat. Drake and Tems – "Wait for U"
Jack Harlow feat. Drake – "Churchill Downs"
DJ Khaled feat. Rick Ross, Lil Wayne, JAY-Z, John Legend, and Fridayy – "God Did"
Gunna and Future feat. Young Thug – "Pushin' P"
Best Rap Performance:
Kendrick Lamar – "The Heart Part 5"
DJ Khaled feat. Rick Ross, Lil Wayne, JAY-Z, John Legend, and Fridayy – "God Did"
Doja Cat – "Vegas"
Gunna & Future feat. Young Thug – "Pushin P"
Hitkidd & GloRilla – "F.N.F. (Let's Go)"
Best Melodic Rap Performance:
Future feat. Drake and Tems – "Wait for U"
DJ Khaled feat. Future and SZA – "Beautiful"
Jack Harlow – "First Class"
Kendrick Lamar feat. BLXST and Amanda Reifer – "Die Hard"
Latto – "Big Energy (Live)"
Best Música Urbana Album:
Bad Bunny – Un Verano Sin Ti
Rauw Alejandro – Trap Cake, Vol. 2
Daddy Yankee – Legendaddy
Farruko – LA 167
Maluma – The Love & Sex Tape
Best Americana Album:
Brandi Carlile – In These Silent Days
Dr. John – Things Happen That Way
Keb' Mo' – Good to Be…
Robert Plant & Alison Krauss – Raise the Roof
Bonnie Raitt – Just Like That…
Best Comedy Album:
Dave Chappelle – The Closer
Jim Gaffigan – Comedy Monster
Randy Rainbow – A Little Brains, a Little Talent
Louis CK – Sorry
Patton Oswalt – We All Scream
Best Music Video:
Taylor Swift – "All Too Well: The Short Film"
Adele – "Easy on Me"
BTS – "Yet to Come"
Doja Cat – "Woman"
Kendrick Lamar – "The Heart Part 5"
Harry Styles – "As It Was"
Best Music Film:
Various Artists – Jazz Fest: A New Orleans Story
Adele – Adele One Night Only
Justin Bieber – Our World
Billie Eilish – Billie Eilish Live at The O2
Rosalía – Motomami (Rosalía TikTok Live Performance)
Neil Young & Crazy Horse – A Band A Brotherhood A Barn
Best Score Soundtrack for Visual Media:
Germaine Franco – Encanto
Michael Giacchino – The Batman
Hans Zimmer – No Time to Die
Jonny Greenwood – The Power of the Dog
Nicholas Britell – Succession: Season 3
Best Compilation Soundtrack for Visual Media:
Encanto
Elvis
Stranger Things: Soundtrack from the Netflix Series, Season 4 (Vol 2)
Top Gun: Maverick
West Side Story
Best Remixed Recording:
Lizzo – "About Damn Time (Purple Disco Machine Remix)"
Beyoncé – "Break My Soul (Terry Hunter Remix)"
Ellie Goulding "Easy Lover (Four Tet Remix)"
The Knocks & Dragonette – "Slow Song (Paul Woolford Remix)"
Wet Leg -"Too Late Now (Soulwax Remix)"
Best Engineered Album, Non-Classical:
Harry Styles – Harry's House
Bayn – Adolescence
Robert Glasper – Black Radio III
Father John Misty – Chloë and the Next 20th Century
Wet Leg – Wet Leg
Producer of the Year:
Jack Antonoff
Boi-1da
Dernst "D'Mile" Emile II
Dahi
Dan Auerbach
Additional reporting by Brody Levesque
****************************************************************************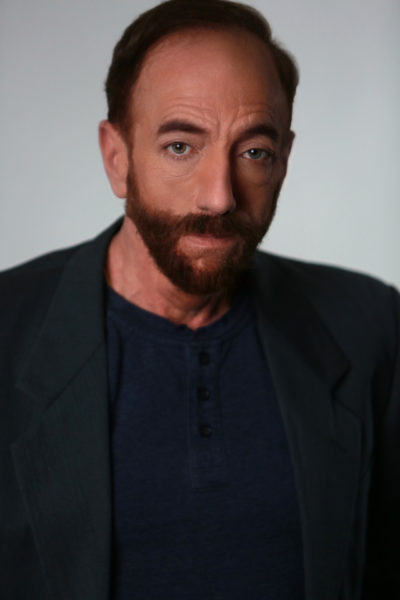 Rob Watson is the host of the popular Hollywood-based radio/podcast show RATED LGBT RADIO.
He is an established LGBTQ columnist and blogger having written for many top online publications including Parents Magazine, the Huffington Post, LGBTQ Nation, Gay Star News, the New Civil Rights Movement, and more.
He served as Executive Editor for The Good Man Project, has appeared on MSNBC and been quoted in Business Week and Forbes Magazine.
He is CEO of Watson Writes, a marketing communications agency, and can be reached at [email protected] .
Madonna announces 'Celebration' world tour
D.C. stop planned for Sept. 2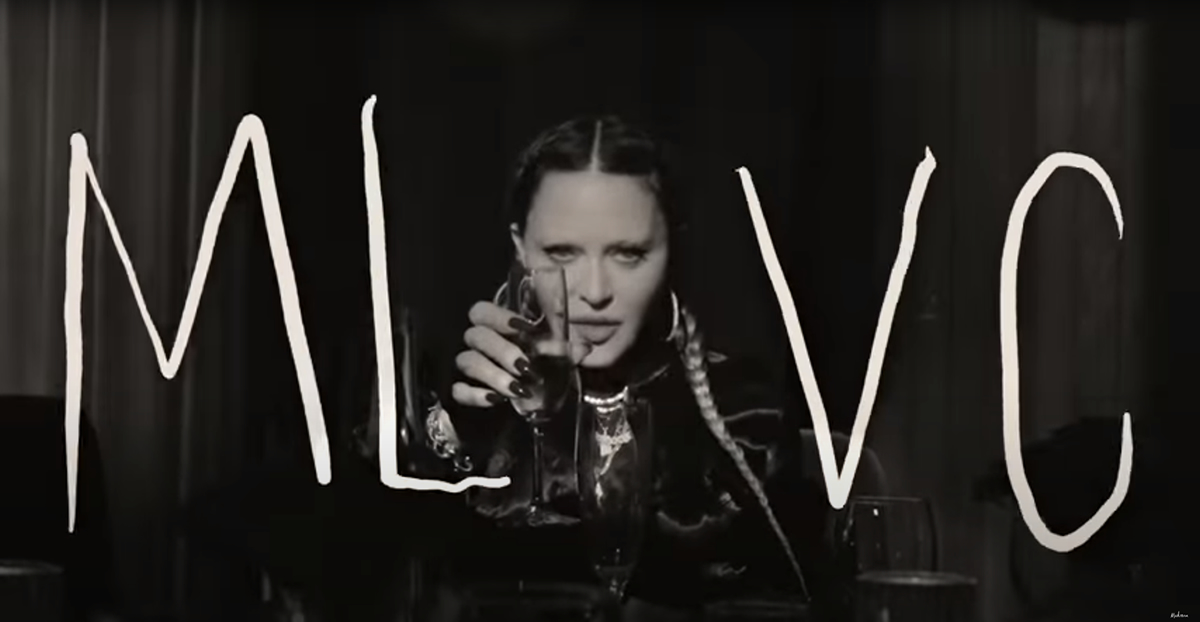 Madonna announced a new world tour on Tuesday via video parody of her 1991 "Truth or Dare" in which friend Amy Schumer dares the pop superstar to go on tour and perform her greatest hits. Madonna accepts the challenge.
The NSFW video features Judd Apatow, Jack Black, Diplo, Lil Wayne, Bob the Drag Queen, and Schumer, among others.
The 35-city tour kicks off on July 15 in Vancouver, BC with stops around the country, including Sept. 2 in D.C. The tour also heads to Europe, starting with the O2 Arena in London on Oct. 14 and ending in Amsterdam on Dec. 1. The tour is produced by Live Nation. Bob the Drag Queen was announced as special guest on all dates.
"I am excited to explore as many songs as possible in hopes to give my fans the show they have been waiting for," Madonna said in a statement. She said the tour will feature 40 years of her greatest hits, something she has resisted in the past, while also paying tribute to the role New York City played in launching her career.
Madonna is the latest in a string of '80s icons to hit the road in 2023 after three years of COVID cancellations. Janet Jackson announced her "Together Again Tour," which kicks off in April and stops in Baltimore on May 13 and Jiffy Lube Live in Bristow, Va., on May 6; Bruce Springsteen's tour kicks off next month with a March 27 stop in D.C.; and Billy Joel and Stevie Nicks last week announced a joint tour stop in Baltimore on Oct. 7. 
The 2023 Celebration tour North American dates:
July 15 – Vancouver, BC @ Rogers Arena
July 18 – Seattle, WA @ Climate Pledge Arena
July 22 – Phoenix, AZ @ Footprint Center
July 25 – Denver, CO @ Ball Arena
July 27 – Tulsa, OK @ BOK Center
July 30 – St. Paul, MN @ Xcel Energy Center
August 2 – Cleveland, OH @ Rocket Mortgage Fieldhouse
August 5 – Detroit, MI @ Little Caesars Arena
August 7 – Pittsburgh, PA @ PPG Paints Arena
August 9 – Chicago, IL @ United Center
August 13 – Toronto, ON @ Scotiabank Arena
August 19 – Montreal, QC @ Centre Bell
August 23 – New York, NY @ Madison Square Garden
August 24 – New York, NY @ Madison Square Garden
August 30 – Boston, MA @ TD Garden
Sept. 2 – Washington, DC @ Capital One Arena
Sept. 5 – Atlanta, GA @ State Farm Arena
Sept. 7 – Tampa, FL @ Amalie Arena
Sept. 9 – Miami, FL @ Miami-Dade Arena
Sept. 13 – Houston, TX @ Toyota Center
Sept. 18 – Dallas, TX @ American Airlines Center
Sept. 21 – Austin, TX @ Moody Center ATX
Sept. 27 – Los Angeles, CA @ Crypto.com Arena
Oct. 4 – San Francisco, CA @ Chase Center
Oct. 7 – Las Vegas, NV @ T-Mobile Arena
European Dates:
Oct. 14 – London, UK @ The O2
Oct. 21 – Antwerp, BE @ Sportpaleis
Oct. 25 – Copenhagen, DK @ Royal Arena
Oct. 28 – Stockholm, SE @ Tele2
Nov. 1 – Barcelona, ES @ Palau Sant Jordi
Nov. 6 – Lisbon, PT @ Altice Arena
Nov. 12 – Paris, FR @ Accor Arena
Nov. 13 – Paris, FR @ Accor Arena
Nov. 15 – Cologne, DE @ Lanxess Arena
Nov. 23 – Milan, IT @ Mediolanum Forum
Nov. 28 – Berlin, DE @ Mercedes-Benz Arena
Dec. 1 – Amsterdam, NL @ Ziggo Dome
New opera chronicles beauty and power of trans liberation
Don't miss 'What the Spirits Show' at Washington National Opera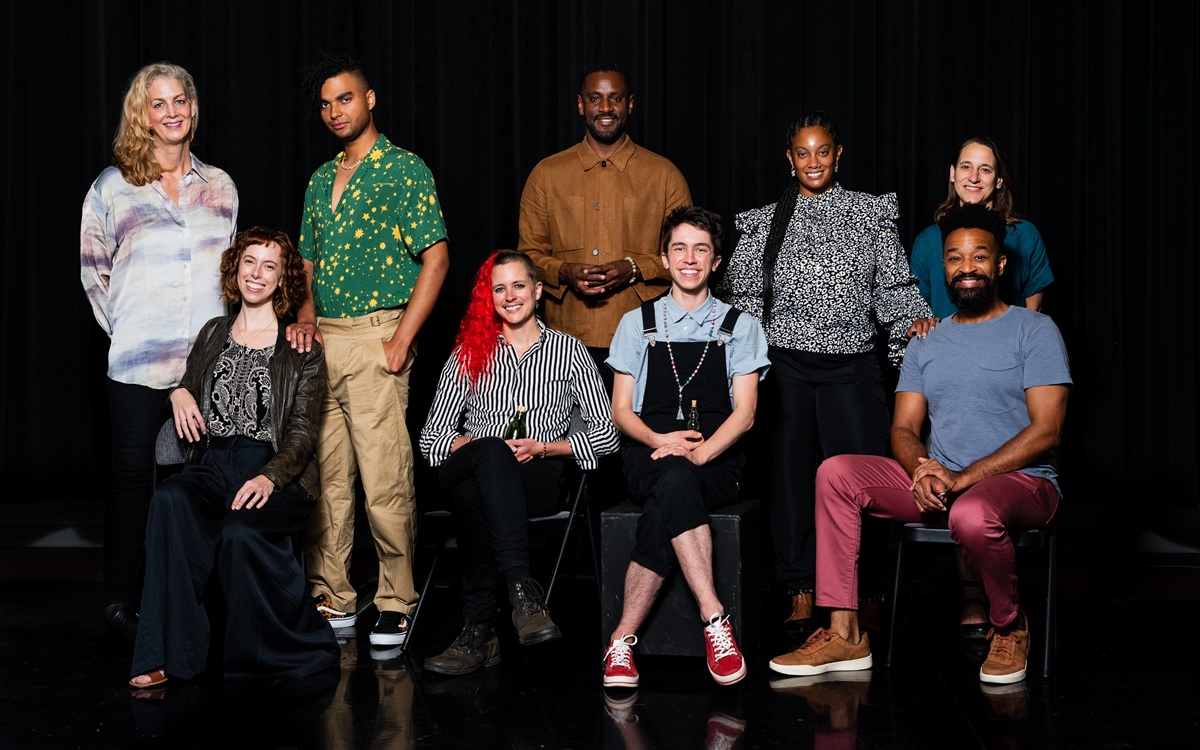 The value of the support of family. The oppression of trans identity. The euphoria and spiritual power of trans liberation. These themes and more are woven into a poignant new opera, "What the Spirits Show," by composer-librettist team Silen Wellington and Walken Schweigert.
Their collaboration is the product of the Washington National Opera's American Opera Initiative (AOI). Now celebrating its 10th season, AOI pairs talented creatives to develop a short, one-act opera, performed by WNO's Cafritz Young Artists. Along the way, the creative teams receive invaluable mentorship from some of the best in the business.
This year's AOI performance takes place on January 21, 2023 at the Terrace Theater of the Kennedy Center. Also on the program are Oshun, with music by B.E. Boykin, and libretto by Jarrod Lee—a journey of sacrifice, self-love and redemption displayed in the face of those who would deny it. And Bubbie and the Demon, with music by Jens Ibsen and libretto by Cecelia Raker—a mashup of opera and heavy metal, which finds that Bubbie has filled the void of Covid isolation by solving as many word searches and crosswords as possible, but accidentally summoned a demon.
The Washington Blade caught up with librettist Walken Schweigert and composer Silen Wellington, the co-creators of What the Spirits Show, to learn more about this short opera and its powerful themes.
BLADE: Congratulations on creating the original work, "What the Spirits Show." Can you share more about the opera's plot and musical style?
WALKEN SCHWEIGERT: It's an opera about trans liberation, but also about friendship and the support of family. There are four characters: the protagonist, named Calamus, is a shape-shifting youth who takes a magical elixir to be themselves. Their shape-shifting is an allegory for transness. When you first meet Calamus, they have already been taking this medicine, so you meet Calamus in the fullness of themself. But then this politician enters the scene and he outlaws the elixir, claiming that it's immoral. But the beautiful thing is that Calamus' mother stands up for them, and because of that they both get thrown in jail. Since Calamus has stopped taking the elixir, they basically begin detransitioning. But then their friend, Sylvan, is able to sneak in some elixir to Calamus. And the strength and the power of Calamus coming back to themself is so powerful that it destroys the jail and traps the politician under the rubble, and Calamus and their mother are able to escape. It's a moment of joy, it's a moment of euphoria, it's a moment of self-reclamation.
SILEN WELLINGTON: The characters themselves each have their own musical language. And musically, each scene is its own world. The first scene is all about Calamus and their shape-shifting. The music is very whimsical, beautiful and romantic. The second scene is all about the politician. His music is much more circus-like; almost like a lopsided march. In the third scene, when Calamus and Aurora are in the prison, the music is a little bit more restricted, but it still hearkens back to some of that fantastical and musical language from the opening scene. The fourth scene is really where it all comes together. Sylvan comes and helps Calamus break out of jail, so the music is more driving and rock-influenced, because in Walken's words, Sylvan is Calamus's "anarcho-punk friend." And then finally, once Calamus returns to their power, we return to the fantastical music at the beginning.
BLADE: Can you share why you wanted to write this opera? Have its themes affected you personally?
WELLINGTON: I wouldn't write this opera if it didn't affect me personally. That could probably be my artist statement! It's the subtext of why I make art. I write about things that personally affect me and I always have.
In my own journey to figuring out that I was trans and nonbinary, it took me a while to find self-acceptance and then find self-love. I wanted to write something that gave space for that love. I knew I was queer from a pretty young age, but I didn't realize being transgender was an option. As a result, I had this unnamable sadness in me that made most things in my life feel wrong, and I spent most of my teenage years battling suicidality and depression because I couldn't see a future for myself.
I was 19 when I first met nonbinary adults, and that really started to turn things around for me. It sparked a journey of self-discovery. I feel like now I'm in a place of self-love and acceptance, trying to find words to express how spiritual and divine I find the experience of being trans to be.
The first time I read Walken's libretto, I remember feeling this swell of emotion and recognition thinking, "I've been trying to find words for this all my life. And wow, now I get to say it with the music!"
SCHWEIGERT: When I first started making art, a lot of it was trauma porn, because of how I was raised in a religiously restrictive mindset. But now, I try to explore what gifts being trans has bestowed and bring those to light. I'm also interested in exploring why are we such a threat? Why are people so afraid of us? And I think it's because we actually have something really powerful. There's actual spiritual value and knowledge that comes from being trans.
BLADE: Why is this opera important now?
SCHWEIGERT: This opera was very much directly inspired by a letter the governor of Texas wrote last year to the Texas' Department of Family and Protective Services re-interpreting the law to include trans affirming care under the definition of child abuse. Governor Abbott was trying to separate trans kids from their supportive parents. It made me think of how much it would have meant to me to have supportive parents, and then to have that be taken away, stolen by the state, was heart wrenching to imagine. I think of the relationship that I have with my parents now and imagine the pain that would be caused to them if I were young and they were being forced to separate from me.
In this opera, there is a scene of Calamus and their mother Aurora in the jail, and they're singing this song together, but they're in separate cells and they can't hear each other. Especially in that scene, I really wanted Aurora, Calamus's mother, to say all of the things that I wish my parents had said to me when I was a teenager and coming out: "…my dear Calamus, I have to trust you know yourself better than I ever could. I love you more than I could ever say. And as long as I hold breath, I will not let them tear you away from yourself."
It's a powerful moment for me. My parents are Catholic and that was at the root of a lot of their own internalized and externalized transphobia. But now my dad is part of a group at his church that is drafting a statement of trans-inclusion. He wanted to contribute, hey, God actually doesn't think that trans people are abominations, and also that there's spiritual knowledge and spiritual value that trans people bring by nature of being trans.
WELLINGTON: Beyond the gender and celebratory spiritual themes of the opera, this project has really given me space to process some of the hatred that's been surrounding and sometimes feeling like it's narrowing in on my world; the national uptick in LGBTQ+ hatred and anti-trans hatred specifically has gotten local and sometimes really personal over the last couple of years. Outside of music, I work in suicide prevention for LGBTQ+ youth. I've been I've been feeling the ripples of this hatred, both big and small on my community and especially on the trans teens that I that I work with. When advocating, I feel like I have to make sense of this hatred or try to bend and twist myself into something palatable to reach for the right words that will convince someone of our humanity. But in the artistic world, we take a different approach, one that leans into this divinity of our authenticity. Art helps us lean into the healing that I had been craving to reconnect with my own resilience.