June 8, 2019 at 10:15 am EST | by Mariah Cooper
'Drag Race' favorite Nina West readies Capital Pride set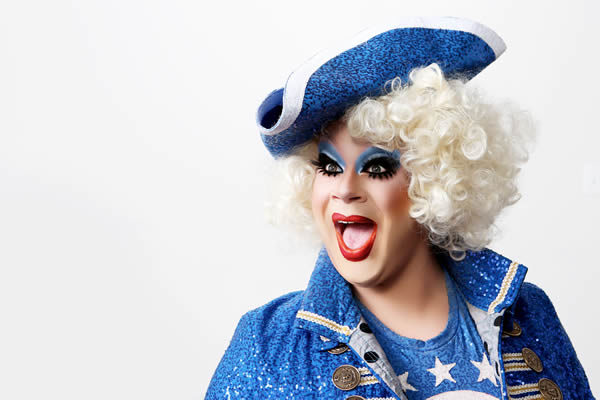 Nina West
Capital Pride Concert
Sunday, June 9
Capitol Concert Stage
3rd and Pennsylvania Ave., N.W.
Free admission
Meet-and-greet tickets: $75
Nina's slot is between 7-9 p.m.
Nina West, real name Andrew Levitt, knows the meaning of "Everything happens in the right time." The Ohio native has been performing for 20 years and auditioned nine times for "RuPaul's Drag Race" before earning a spot on season 11.
He finished the season in sixth place after the "Drag Family Values Challenge," where West coordinated a look that incorporated the colors of the rainbow pride flag and transgender pride flag, Although she was eliminated, West found herself with some famous fans including Alexandria Ocasio-Cortez, who posted about West on her Instagram stories, and Rihanna, who sent West a DM.
West chatted with the Washington Blade over the phone about her season 11 reflections, her charity work and dished about her fellow contestants. She headlines at the Capital Pride concert around 7 p.m. Sunday.
WASHINGTON BLADE: Congratulations on making the top six on "Drag Race." It took you nine auditions to make it on the show. How did you stay positive throughout years of auditioning?
NINA WEST: I think I really stayed focused on the end goal which was walking in the Werk Room and wanting to prove to myself and the producers that I could do it. I just couldn't give up. The road less traveled is always a little more difficult but I had something to prove to myself. I really couldn't let it go. It was a dream of mine and I just couldn't let it go.
BLADE: You were one of the most experienced queens on the season. How was that an advantage?
WEST: My experience extended far from the stage. I've got experience dealing with audience members and the professional side of the business. I think it's also why I veered away from the drama. I was much more in the competition and not involved in the nonsense and the noise because I've been around for so long.
BLADE: One of your memorable moments on the show was during "Snatch Game" when you portrayed Harvey Fierstein and Jo Anne Worley. What was the thought process behind that?
WEST: The reason I wanted to do two characters is because I really wanted to show off my ability and Harvey and Jo Anne are two very different characters. Harvey is a very low register and Joanne is really high. So it showed off my acting chops. I really also couldn't decide. I was like, "Oh God, what's going to be stronger?" So I took them both. I think that played in my favor. I think I did really well in my "Snatch Game." I thought I was really close to the win but unfortunately I didn't grab it.
BLADE: The "Snatch Game' episode was also memorable for Brook Lynne Heights' and Yvie Oddly's lip-sync. What was it like watching that in person?
WEST: Watching the lip-syncs from behind is so very different from watching it on TV. You're only seeing really the back of them. But watching that lip-sync was truly amazing. It's probably the best lip-sync that's ever happened on the show's history. That was really incredible. I've known Brook Lynne for years so I knew she was capable of it. I met Yvie in the process of the show so I didn't know exactly what she was capable of so it was pretty remarkable to watch it.
BLADE: During the "L.A.D.P." episode, Brook Lynne was your partner. You wanted to be the sunbather in that skit but you gave it to Brook Lynne. Do you regret not putting yourself first?
WEST: Yeah. I think one of the lessons I learned is separating what is real life versus what is a reality competition. I was so committed to help him that I forgot to put myself first. If I had put myself first, I would have been able to be much more confident and secure in my ability. Then again, I don't know if I regret that. Because it's also a demonstration of who I am. I wanted him to succeed just as much as I wanted to succeed. I was fully aware of my ability. I got insecure and in my head because as it turns out we weren't judged as teams but as individuals.
BLADE: Brook Lynne had a flirtmance going with Miss Vanjie. Was that a distraction for you? Or did you think it would be distracting for them in the competition?
WEST: I don't know. It had nothing to do with me. I wasn't in the relationship.
BLADE: Some people thought Silky Ganache was playing it up for the cameras. Did you think that was true?
WEST: No, I think that's who she is. She is an incredible entertainer and she's a big personality. Because she's an entertainer, when she walks into a room she commands attention. I think for a lot of girls they were insecure about that and didn't know how to handle that. I think that's part of learning how to deal with people in the world. People who are different than you, quiet, loud. I don't think Silky was putting it on for TV at all.
BLADE: Yvie was always getting into fights with the other girls for critiquing them. Were they critiques or digs?
WEST: I think she was definitely trying to help people. She was helping people by being direct with people. That is a very admirable quality. Telling people to their face instead of talking behind their back. In this kind of situation, the stakes are raised. Everything is down to the minute. Everything is important. But seemingly, the big picture, the last thing you want to hear is from another queen telling you that you did something wrong. How you're not changing your silhouette or how you're not evolving. I think that she was just being honest. But there's a time and place. She probably also didn't have the skills fully developed. She would probably say it has to do with people who are confrontational and not confrontational but I think it just shows a little bit of youth and age. I think this is a great place for her to learn that her opinion is valid, it's just sometimes not everybody wants to hear.
BLADE: Another person who had some drama was Plastique Tiara. There was confusion about her background. Did you find her story to be genuine?
WEST: I thought it was genuine. We were together for a very short period of time in the contest. I wasn't there to question somebody's credibility about their personal life. That would just be really insecure and stupid.
BLADE: You went home on the "Drag Family Values Challenge" with Suga Cain as your partner. You made a statement wearing the rainbow pride and transgender pride outfits, but it wasn't enough. What would you have done differently about the challenge?
WEST: Nothing at all, honestly. That statement was who I am and what my drag family values are. The challenge is drag family values, not a twin challenge. Everyone interpreted it as a twin challenge. I interpreted it in a completely different way. As a result, the fans fell in love with me even harder. My story is changing and being written as we speak. The world has opened up to me because I stayed true to myself and was authentic. It's not always about winning a competition on a show. I learned that too.
BLADE: You got the attention of some famous people like Alexandria Ocasio-Cortez and Rihanna. How does it feel to get such high praise on your drag after doing it for so long?
WEST: Praise from AOC specifically and having her give a viral reaction felt like I won the lottery. I mean I wasn't great on that challenge but it was still so me and if I hadn't had that opportunity I don't know if AOC would have reacted the way she did. Or Leslie Jones or Bobby Moynihan or Rihanna. Rihanna is very notoriously private and the fact that she reached out to me is amazing. What she said is amazing. Again, it has to do with my authenticity and who I am as a person and what I represent. I feel really lucky to have this kind of attention. It's another person who is incredibly good at their craft telling me I'm incredibly good at my craft. Whether it's music, politics, art or comedy, it's amazing.
BLADE: What have you been up to since filming the show?
WEST: Since filming the show, I've released two EPs. One is a children's music EP and one is a comedy album. There's a video out for a song called "Hucks" which is a parody about Sarah Huckabee Sanders. The video for my single "Drag is Magic "is out. We just wrapped the finale reunion. Busy filling my calendar with special things that will be coming out very soon.
BLADE: Tell me about the Nina West Foundation.
WEST: The Nina West Foundation was founded in 2015. I've raised two and a half million dollars. Our focus is LGBTQIA. So whether it be Kaleidoscope Youth Center, which is a youth drop-in service and organization which helps connect you with a space to feel safe, or the Human Rights Campaign or the Ronald McDonald House in central Ohio. My goal in establishing the fund was to use my platform, because I initially didn't have any money. I started asking my audiences at the end of every show to donate. Here we are 20 years later. We just have the first LGBTQIA endowment to an organization in the state of Ohio. We're getting ready to announce a scholarship. We gave to the Matthew Shepard Foundation during the season when my story came out about the bullying. I'm just trying to put my money and my mouth to work to do what I set out to do.
BLADE: You've done some drag queen story times for children. How do you feel about the backlash that these story times are getting?
WEST: It's people who are so insecure with their own lives that they're staying in other people's business. I think drag queens have the potential to change the world. I think they already have. I think there's something to be said for children who respond to a big, bright character and that's what drag queens are. Some people put drag queens in the context of nightlife or sexualizing drag and they're not really looking at drag for what it can do and what it can be. That's on them.
BLADE: You shared on the show about your Republican roots. Why did you decide to be open about that?
WEST: While I'm not a Republican, my family is. They are registered Republicans and work for different people in the Republican party in the state of Ohio. I didn't tell my story for fans or viewership. I told my story because I think it's relatable. I don't think I'm the only gay man who grew up in conservative family who didn't get along with his family or being kicked out. That was the reality for some period of time. That's my story so that's why I shared it.