June 8, 2019 at 10:20 am EDT | by Keith Loria
Raunchy queer rapper Big Dipper readies Pride headlining set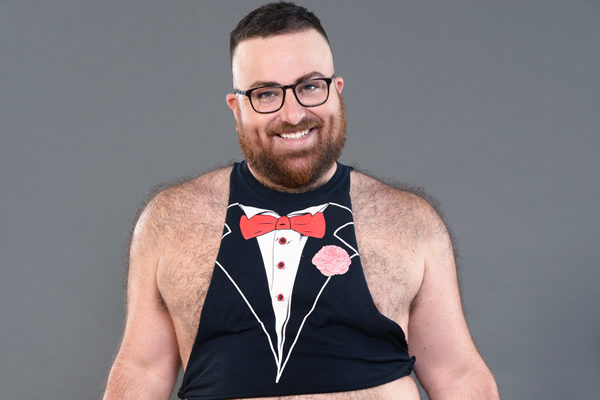 One of the headliners at this year's Capital Pride Concert will be rapper Big Dipper, best known for his frank sexuality and tongue-in-cheek humor, such as in the video for the song "Lookin," which features a group of nearly naked men getting wet at a soapy car wash — only the men in question are not the typical body types you would expect.
"They are all big, fat dudes dancing in skimpy shorts," says the rapper, who identifies as a bear.
It wasn't until he was 26 that Dan Stermer adopted the moniker Big Dipper and released his first song "Drip Drop," a raunchy parody of Disney-esque tunes about cruising for sex. He quickly developed a cult following and started performing at clubs. Big Dipper is slated to perform around 5 p.m. on the Capital Concert Stage. (Meet-and-greet tickets for Big Dipper are $25 and were available as of Blade press time.)
WASHINGTON BLADE: What can those coming out to the concert expect from you?
BIG DIPPER: I just found out that someone who is performing after me has a very large tween fan base, so I need to be a little more buttoned-up and make it more age-appropriate than I normally do.
BLADE: How is that going to change what you planned? Your fans might be expecting raunchiness.
DIPPER: I love Pride events and I love the fact that we get to support people of all ages, even from a young age, but more often than not I am a nightclub act, so when I go out in the day, I'm sort of like a vampire and I need to think about what I can do that's appropriate for everyone. I may just have to hold the mic away from my face on certain words. Sometimes I yell out to the crowd that it's time for the little ones to put their earmuffs on because we're going to talk about "this thing" but I'll have to see what happens.
BLADE: So, preview what's in store.
DIPPER: My show will be provocative, high-energy, sex-positive, body-positive and a celebration of queer identity, all set to the backdrop of beat-club music and a bunch of me yelling into a microphone.
BLADE: What made you decide to get into the music industry?
DIPPER: I started on a whim. I made up one song with a friend of mine as a joke and the response was so positive that it just snowballed. That was seven years ago and I've been at it ever since trying to stake my claim in one little corner of the music industry.
BLADE: Your videos are hilarious. Was it a conscious decision to draw people into your music by way of these outlandish videos?
DIPPER: I definitely had ideas I thought would go viral, but the videos were never intended just for that purpose. If it didn't serve the song, I left the idea alone. They are not just about getting people to pay attention but are always about making the best video for the song. I think a lot of independent artists who don't have representation with a label and on top of that are queer — and essentially a different kind of queer that the mainstream media doesn't think they can make money off of — and I believe I fall in all of those categories, but often those kind of artists don't have the money or resources to make videos. I'm lucky in that I have so many creative friends around to rally to make these videos with me. They are all a labor of love. It's just about making art I want to put out in the world.
BLADE: How have these videos helped your career?
DIPPER: Well, because I'm able to make videos that catch people's eye, it's allowed me to create a fan base and play big shows, like Capital Pride.
BLADE: You opt not to just have the "pretty" people in your videos, but you mix it up with different body types. Why was that important to you?
DIPPER: Yes, because of statements like you just said — the so-called good-looking people. I never saw sort of big bodies represented in any sort of media or sexualized in any sort of media, and for me, it's really important. The most I can do is be a representative for people who look like me. The more of us who represent our identity, the more people who will feel seen and heard. I don't think there are a lot of chubby, hairy dudes dancing around and making music videos, so the fact I get to do that and have people feel seen, feels important.
BLADE: Did you ever think when you were starting out that you would play a big event like Capital Pride and perfrom in front of so many people?
DIPPER: I never set out to be a performer, so no. This has all been haphazard and I've been letting it grow over time. I feel really lucky. When I play these big events, it's kind of shocking. These ideas from my brain that I wrote down on paper and yelled into a microphone, now I'm getting the chance to share them in front of all these people and they are cheering me on. That's a wild thing.
BLADE: Do you set goals for yourself? Where would you like to be in five years?
DIPPER: I would love to make money doing this. This is my full-time job but I am an impoverished artist. It would be nice to feel like I could survive. I would also like to elevate what I do to a larger audience and play on straight bills and not have it be a token thing or have to censor myself.