June 8, 2019 at 10:44 am EDT | by Philip van Slooten and Yulani Rodgers
Headliner Shea Diamond getting 'diva'ed up' for Capital Pride slot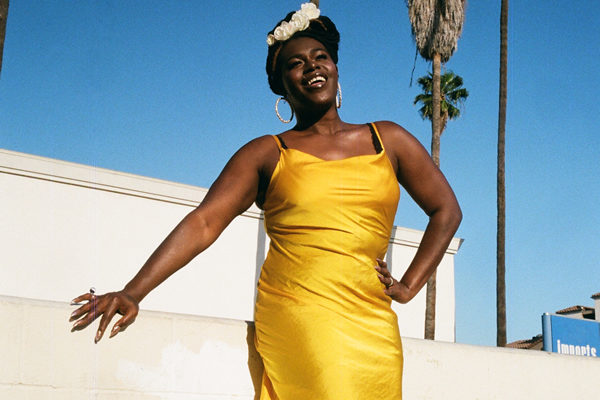 The 2019 Capital Pride Concert has a diverse slate of performers this year to include R&B singer and transgender activist Shea Diamond.
Diamond's music is a blend of blues, rock, hip-hop and folk music, and her signature song "I Am Her," penned during a period of incarceration, has become an anthem used in protest marches. Democratic presidential hopeful Pete Buttigieg has also endorsed her song "American Pie."
Diamond spoke to the Blade by phone Tuesday. She's slated to perform on the Capital Pride Concert Stage Sunday, June 9 at 1 p.m. Look for her video "Don't Shoot," slated to drop today, online.
BLADE: Where are you?
DIAMOND: I'm at home and I'm getting ready for a photoshoot, I'm getting my nails done — for Pride as well. This is one of those times to get diva'ed up.
BLADE: Who are your biggest musical influences?
DIAMOND: To date or just now? Because we lost some of the greats I've been citing since I've been out. Like Whitney, who I've been talking about since I've been out now. Whitney inspired so much. She's a long time influence. Tina Turner.
BLADE: Are you familiar with Jackie Shane?
DIAMOND: I've been talking about Jackie in an interview. That I wanted to perform with her. I found about her late … this was like a couple of years ago. I had to listen to her music. We've lost so much of our history … we should have honored her more. And so this is like the sad reality. I would like to see a biopic about her, but why did we have to wait (until she died)? Is this what we do to our black trans women? And it looks disgusting now.
BLADE: Do you feel a sense of connection with LGBT predecessors in this field?
DIAMOND: I do feel a connection. Because when you look around in your struggle or whatever you're going through, you are looking for people who are maybe going through the same thing you're going through, who can understand. I look up to them because I know they understand the things that I'm going through, if not worse.
BLADE: I understand Mayor Pete is a fan. How did you feel about his endorsement of the song "American Pie"?
DIAMOND: Oh my god! I was so freakin' elated! You have to understand, I love me some Mayor Pete, and I'm not really impartial. I am intrigued that we might have a president who could speak almost any language. … He can actually connect with people. His approach, he reminds me of Obama. Meeting him … the attention was real, it was genuine, it didn't feel forced. I'm a big person on energy and his was open, honest and genuine. These are things I can't feel from everyone. I'm very picky about endorsing anything. So if I endorse anything, music or anything, it has to be something that is true. With Mayor Pete I needed to know the man …(but) do you see anyone else spreading the miracle of black trans women? And so I am willing to give Pete a chance but we need to start working now. We don't have time to play around like we did when Trump got into office. So, I would love to see a black trans woman in the oval office, but right now we have Mayor Pete.
BLADE: Can you tell us a few songs that we will definitely hear at Capital Pride? What can we look forward to at your performance?
DIAMOND: Definitely "American Pie," also a song called "Don't Shoot," we'll be performing that song for you, and for the first time before an audience.
BLADE: What does it feel like to sing on stage for a live audience?
DIAMOND: Oh my God! Anxiety! For a black trans woman, it takes a lot to get up on stage and with confidence still. And anything can happen to me in that space. So I feel both the anxiety and the excitement because I love the stage. I love being on the stage, but still there's still that anxiety. We don't work under the same conditions that others work under. When I get up on stage, I can't just be a regular artist. I gotta worry about who's trying to kill me. So, a bit of anxiety comes with it. And being a woman of color there is a difference in treatment, there's notably a difference. And so my main thing is mainly getting my message out. I look at all of these people and they don't know what it takes for a black trans woman to leave out her house and to make it onto the stage, and then to leave the stage and there's nobody there. So, I think they should stand up on their feet, but they're not standing up on their feet like they would stand up for anybody white, and that's noticeable.
BLADE: What experiences went into the song "I Am Her"?
DIAMOND: "I Am Her" is you. "I Am Her" is everyone who understands the plight I experienced. Because if you allow one woman to suffer, that suffering is your suffering … because I believe we're all connected. How can you allow someone to suffer and you not feel anything? So, she's been damaged, she's been broken, but she's still here. She's been demonized, but she's still vulnerable. Someone who's been an outcast, someone who is different in everybody's life. Just because you see someone who is "out" and who is trans, who is demonized — what about the people who are closeted? Who are stealth? What are about people who are afraid to take it to the next level because they see the other people who are being demonized? So these are important elements of "Her" and it is about how we demonize all of these intersections. I put them in the same thing because what is so unique, why are women being attacked? Why are trans women being attacked? Why are black people being attacked? What is the problem that we have with race? What is the problem that we have with feminine energy? Some people have said that feminine energy is a weakness, but women every day, trans and others, prove that to be wrong. And so when I was writing "I Am Her," I was writing it under the worst conditions. I had already gotten incarcerated, but before then I had already been rejected by my family for my experience. And so I was demonized by the church for my femininity. And I just wanted to express all of my feelings because I was quiet spoken, I wasn't as outspoken as now. I have a voice … It took me being locked up to become this vocal. So I met a lot of people who hurt me, but I loved hard. But the love that I received wasn't unconditional, not even from family and friends. I've learned that love is conditional. And so I just wanted to say my piece. But being quiet spoken, I never told anyone exactly how I felt. I never told the church that they were wrong in doing that. They were judging my body and it was all about my spirit.
BLADE: Is there something hopeful you can share with the young people attending Pride this year?
DIAMOND: That's what "Don't Shoot" tells; that what the album "Seen It All" tells. I never thought I'd see myself here, I thought I had seen it all. I'm not what entertainment considers popular. So for me, I thought I thought I had seen it all. The world is still changing. We've had our first black president; we've had things that I never thought I would see in my lifetime. So "Seen it All" is really saying that I haven't seen it all. All the songs in the collection tell the story of my journey and overcoming. Because it's a true underdog story. If I can do it, anybody can do it. Never give up. There have been plenty of times that I wanted to give up, that I wanted to give up on life … the conditions, they were too hard. But looking back now, things that are worth it, you have to fight for, and I've been fighting my ass off. It feels amazing now and I want people to understand that and be hopeful. I've been fighting my whole life and we have keep fighting for our way of life, for our love, we have to continue to fight for this. It's exhausting but it's worth it. We've seen some of the fruits of our labor. Continue living our dreams. We need to continue to challenge these narratives and these young minds need to continue to change old ways and old minds. They have new and fresh ideas. Nobody is disposable. That is the message. Believe in yourself. Believe there is something special about you that you can believe in yourself. Hiding yourself will never get the truth about you. You'll never be comfortable playing the piano, you'll never be comfortable singing your true song.
BLADE: What do you do in your off-time to relax?
DIAMOND: I catch movies. I watched Will Smith in "Aladdin," and recently I added Dave and Busters to my roster.
BLADE: Is there anyone special that you spend time with? Are you currently in a relationship?
DIAMOND: I'm not currently. There's nobody who I'm willing to be with right now, honestly. Obviously, I'm a very vocal and very public trans figure. My experience becomes different when I become an "out" trans (woman) in a relationship. The people I date don't usually go the extra mile like with cis people. So, going to a movie turns into Netflix and chill. A night out on the town will (become) chilling in an apartment-type of situation. You have to either step up to the plate and be a strong person who is willing to be with a strong woman like me, or I have to be willing to be strong by myself. So, I have been abstinent for a while now.
BLADE: But if love comes along, are you open to the right person?
DIAMOND: Of course! For me, I'm so passionate about everything. I put so much love into everything that I do. It would have to be reciprocated in that. I'm not going to be the one loving you 100 percent while you're loving me fifteen. I don't want you to show me all the limitations you have, I want you to show me how you can go beyond those limitations. Because you have to get my attention; it's hard to get my attention. (I want) those beautiful things, you know, that glow in the sky. I mean a proposal to me would be fireworks in the sky, "Will you marry me?"-type of thing. Get my attention. When you say that you love me you have to say it with your chest. I need to know that you mean it. If you love someone, then you're willing to go that extra mile. You're willing to protect them. That's what I need as a black trans woman. I need someone who is willing to protect me as a man. I need someone who is not only willing to lay with me but stand beside me as well.