June 10, 2019 at 6:40 pm EDT | by Michael K. Lavers
Capital Pride grand marshal, Pulse survivor honors victims 'with action'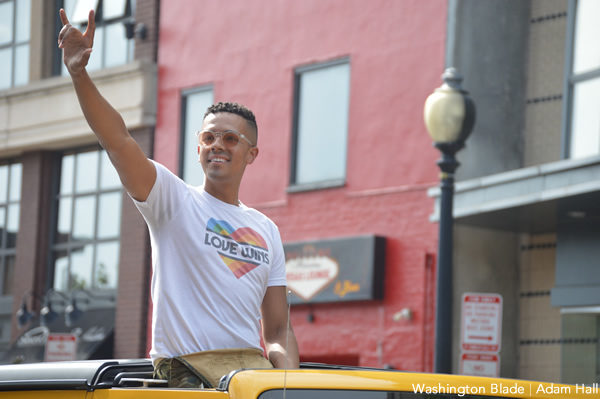 A Capital Pride grand marshal who lost two of his closest friends in the Pulse nightclub massacre told the Washington Blade on Sunday they continue to inspire his activism.
"Drew and Juan drive everything that I do," Brandon Wolf told the Washington Blade during an interview at the Capital Pride Festival. "I sincerely hope and believe that they would be proud because this is what they would be doing."
Wolf was with Christopher "Drew" Leinonen and his partner, Juan Guerrero, when a gunman opened fire inside the Pulse nightclub in Orlando, Fla., on June 12, 2016.
The gunman killed Leinonen, Guerrero and 47 others and left 50 people injured. The massacre was the deadliest mass shooting in modern U.S. history until a gunman killed 58 people and injured more than 500 others at a concert in Las Vegas on Oct. 1, 2017.
Wolf since the Pulse nightclub massacre has become a vocal gun control advocate
He co-founded the Dru Project, a support organization for LGBT young people named in honor of Leinonen. Equality Florida, a statewide LGBT advocacy group, earlier this year hired Wolf as its Central Florida Development Officer and Statewide Media Manager.
"My goal has really been to elevate the work that we've already done and make sure Floridians see the work that we're doing every single day and also to ensure that LGBTQ voices are always represented," Wolf told the Blade.
Wednesday marks three years since the Pulse nightclub massacre. Wolf also spoke with the Blade hours after a gun scare in Dupont Circle that police later described as an altercation between a straight couple sparked panic during the Capital Pride Parade.
He said the Metropolitan Police Department and Capital Pride staff "did everything that they could without knowing a lot of what was going on." Wolf added he saw "the same kind of panic that I've seen before … the same faces, the same fear, the same tears, people calling their parents, people hiding."
"What I think is really sad for me is although it's traumatizing and painful and anxiety-ridden, it's also not surprising … at this point at my life I kind of expect to die by shooting," Wolf told the Blade. "It is a horrible commentary, but that's reality that 100 Americans die every day from gun violence and at some point, I guess I just assume that one of them will be me and I know that a lot of people feel that way."
"So, I think if you ask people that were there yesterday, they probably weren't surprised," he added. "That's why there was panic, that's why there was fear because that's people's first response in this world … to loud noises is that something bad is happening."
Fla. lawmaker laughs about bill to allow execution of LGBT people
Wolf spoke with the Blade less than two weeks after Equality Florida received an audio recording of Florida state Rep. Mike Hill (R-Pensacola) laughing at a constituent's question about whether he would introduce a bill that would allow for the execution of LGBT people. The Pensacola Republican in the same audio recording also described sexual orientation as a "choice" and a "behavior" when he discussed a measure that would protect LGBT Floridians under the state's nondiscrimination law.
Republican Florida Gov. Ron DeSantis is among those who have publicly criticized Hill amid growing calls for his resignation. Hill, for his part, has described the response to his comments as a "social media lynching" and has blocked Equality Florida, Wolf and gay Florida state Rep. Carlos Guillermo Smith (D-Orlando) on social media.
"Rep. Mike Hill is vile and his words and his actions are repulsive," said Wolf, noting polls indicate more than 70 percent of Floridians support the inclusion of sexual orientation and gender identity in the state's nondiscrimination law. "He's also wildly out of touch with the reality of Florida."
'You can't be transphobic and be an ally'
Wolf said it has "been a really hard few years for the LGBTQ community." He specifically criticized the Trump administration for its policies against transgender Americans that include a ban on openly trans servicemembers that took effect in April.
"You can't be transphobic and be an ally," said Wolf. "Those things are the antithesis of each other."
Wolf also mocked President Trump over his Pride month tweet and his decision to sell "LGBT for Trump" t-shirts on his campaign website.
"For you to sell 'LGBT for Trump' t-shirts on your website, or to tweet out, yay, happy Pride month. We're leading the world on LGBTQ issues but at the same time be assaulting the rights of transgender people in this country every single day means you are no friend to the community," said Wolf.
Wolf reiterated his mantra after the Pulse nightclub massacre remains to "honor" the victims "with action."
"It has become a mantra for a lot of Floridians that we don't honor the victims of Pulse with our words. We don't honor them with thoughts and prayers," he said. "We honor them with our action. We honor them with our real change and the challenge for this administration or whoever can eliminate them in 2020 is to do that, to honor the victims, to honor transgender women of color who are being attacked violently in this country with action, not with words."