June 19, 2019 at 2:09 pm EDT | by Jeffrey DiNardo
After Pride, healing together with community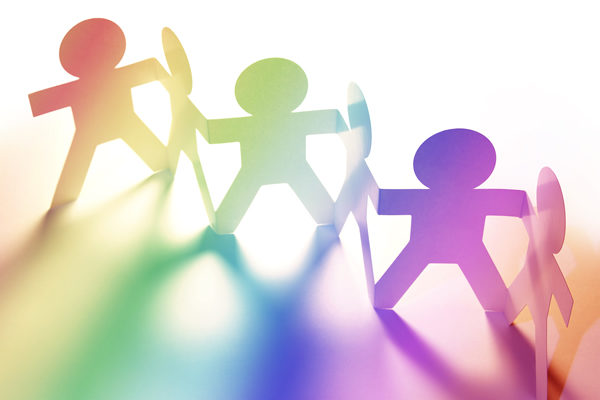 We at Whitman-Walker Health hope everyone had a wonderful Pride weekend. There were so many great moments of love, community, activism, support, and fun to be had throughout D.C. For some people, there may have been moments that were maybe not as enjoyable and one particular episode during the parade that we as a community wish we didn't have to endure during this special, shared time together.
There are many stories going around about what exactly happened, but independent of the details, it was a scary moment we experienced together. We wanted to take a moment to share a little about how people might be reacting to events like this and to offer support to those who may need a little extra care right now.
Some people may find that they aren't really reacting to what happened at all and they are able to move forward with what new and exciting things are coming up for them; that's great. If you find you are open to offering support and affirmation to those who may not be in this place, please be encouraged to do so. Some people may even find themselves called to action and wanting to volunteer or act in a greater way than they had previously. Amazing! There are a lot of great agencies around D.C. that would love to have your support, Whitman-Walker included.
Some people may find that right after the event or in the couple of days following, they are a little upset or are having some rough moments. Overall, they may be feeling able to get by and feeling a little better as each day passes. This is actually quite a common response to something traumatic and it's OK to have these feelings. Keep working through it and leaning on others for support as you manage what it was like to experience something like this.
Some people may find that this event is really difficult to walk away from and that it is making it difficult to focus on things that are happening now. They may find that they can't stop thinking about the event; they may be having bad dreams or memories of the event that get in the way of being able to be present. Some people may find that they are avoiding things that remind them of what happened, avoiding things they used to enjoy, or avoiding people and crowded spaces in general. Some people might be feeling fear, sadness, anger, or any kind of less enjoyable feeling that they just can't seem to shake. It may also be difficult to feel things that are more enjoyable. Some people may find that they are having a hard time remembering exactly what happened or what they felt at all; they may also have ongoing feelings of being numb or empty. Some people may find that are having trouble sleeping. They may also walk around not feeling safe and finding that they are looking around expecting to find something really wrong about to happen. It might make it difficult to concentrate or it may be very easy to become startled. It may be any combination of some of these above things for different people. Furthermore, they may find that it doesn't seem to be changing at all over time and they are stuck in these kinds of reactions even as the event gets further in the past.
If you find yourself in the above category, it's also OK. Your body is just doing the best it can to try and make sense of something that was very intense, and it might just be feeling a little overwhelmed by what happened. It may be helpful to speak with a mental health professional to have a little assistance in letting your body sort through what happened in a safe environment. There are a lot of other people who experience similar reactions and are able to work through them. There are a number of services around D.C. that can offer mental health support.
Regardless of what kind of reaction you are having, know that you are invited to discuss your response with others if you would like to, but you never have to discuss anything with anyone if you don't want to. In fact, there is some research to support that being required to talk about your reactions might even make things worse if you aren't feeling safe or wanting to share. It is also quite possible to offer support to one another without having to talk about the event and some people might just want a little more connection right now. That's great too! While therapy is a great option for those seeking it, most people don't go to therapy and most people manage to be okay. A lot of people turn to trusted friends, family members, religious/spiritual communities, colleagues—just know that you don't have to work through your feelings on your own if you don't want to. Part of this process will be finding a balance between getting support from others and finding some individual time that you may need.
We also feel it is important to acknowledge for a lot of people within our community, this type of experience may not be an isolated event. For people that come from a number of intersecting minority identities including gender, ethnicity/race, sexuality, ability, socioeconomic status, nationality, and age among others, this event may just be another example of navigating a world that has been unaccepting and unsupportive, if not outright dangerous. Again, people will have a range of reactions and whatever type of reaction you are having is okay. There are additional supports available both at Whitman-Walker and within the community to help reflect on your reaction if you are interested. One thing we know is these communities have consistently demonstrated how resilient they are and that the more we rely on one another the stronger we are.
In these trying times, it can be easy to feel overwhelmed with all of the news of intolerance, hatred, and fear that is going around. We are also being given the amazing opportunity to see how great the people who make up our community are and how, in the face of everything, they continue to take care of one another and continue to strive to be the best versions of themselves possible. Thank you for sharing Pride weekend with us and we look forward to ongoing celebrations of love and achievement with you. Whitman-Walker will continue to work as best as we can to be there for you and to offer support where wanted.
Jeffrey DiNardo, LPC, is a psychotherapist at Whitman-Walker Health.