June 27, 2019 at 11:26 am EDT | by Philip Van Slooten
Spate of new books wrestle with Stonewall's complicated story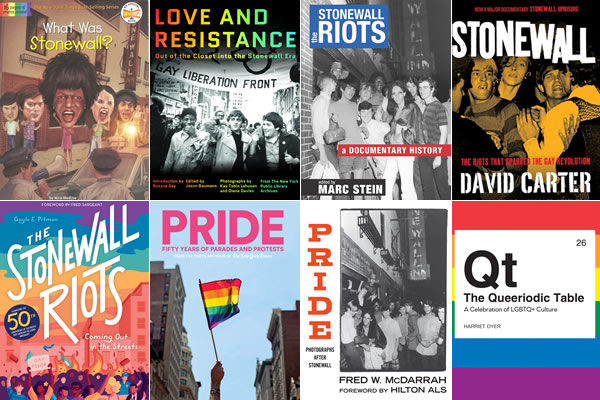 Fifty years after a police raid on a seedy gay bar resulted in an historic uprising and the start of the modern Pride movement, several new books struggle to teach that history to a new and increasingly multicultural queer generation.
"The Stonewall Riots: A Documentary History" by Marc Stein is an encyclopedic work that invites readers to look past legends and examine primary documents for themselves. However, activists of color are not featured prominently despite an acknowledgement that "multiple sources on the riots mention these and other individuals," arguing instead "many accounts are incomplete." Still, the scope and scholarly nature of this work make it a must read for students and scholars of LGBT history.
Gayle E. Pitman's "The Stonewall Riots: Coming Out in the Streets" is also a comprehensive yet short history written for a YA audience. Its strength is also its exposure of police records, historical photos and contemporaneous news accounts to young readers. Additionally, there are mini-lessons on Marsha P. Johnson, Sylvia Rivera and Storme DeLarverie. But depictions such as separating DeLarverie from the "Stonewall Lesbian" could make it a challenge for young readers to understand why they were included other than to subtly dismiss them.
However, Pitman's engaging language and use of visual artifacts make this work an excellent first foray for young readers, and it can easily be coupled with Harriet Dyer's "The Queeriodic Table: A Celebration of LGBTQ+ Culture" as a quick reference to fill in gaps.
"Stonewall: The Riots that Sparked the Gay Revolution" by David Carter remains a foundational text and was also the basis for the PBS American Experience documentary "Stonewall Uprising."
Despite being written nine years ago, its exhaustive research is still cited in many later books and documentaries. Its depth of focus on the people and places surrounding the bar enable a rich exploration of key figures such as Johnson in a way that may not seem flattering but at least feels three-dimensional and real. This is a benefit from focusing on narratives over artifacts, which is why each of these texts work together to relay a complex history to an increasingly diverse audience.
"PRIDE: Fifty Years of Parades and Protests" from the photo archives of the New York Times is another interesting addition to any LGBT library.
This is work is a visual history consisting of photos paired with descriptions of major events from each decade since Stonewall. It currently is a bestseller in Amazon's lifestyle photography section and editorial reviews note "To take in the breadth of (PRIDE's) contents … is to witness the power of visibility firsthand." The strength of this work is the feeling it gives you of being a witness to history even while living the freedoms and challenges of its legacy.
The popular series WhoHQ series, which features "Who Was?," "What Was?" and "Where Is" books in its series, takes on Stonewall with a new release "What Was Stonewall?" You've probably seen the series — They're small paperbacks featuring vivid, full-color caricatures of their subjects on the covers. This 107-page book by Nico Medina and lavishly illustrated with line drawings by Jake Murray, is a YA book that gives a nice, easy-to-digest account of the riots, what led up to them and what came after. It's just $5.99. More info at whohq.com.
"Pride: Photographs After Stonewall" features vintage photos from The Village Voice's first photo editor and staff photographer Fred W. McDarrah. A reissue of a 1994 release timed to Stonewall's 25th anniversary, it features black-and-white vintage photos taken in the immediate aftermath of the riots showing smashed jukeboxes, graffiti-scrawled windows, participants and more.
"Love and Resistance: Out of the Closet Into the Stonewall Era" features photos by Kay Tobin Lahusen (Barbara Gittings' partner) and Diana Davies that are also featured in a current exhibit at the New York Public Library that runs through July 13.
Together these works represent and depict not only LGBT history, but the complex social realities of American history as well.