June 28, 2019 at 8:46 am EDT | by Patrick Folliard
Adventure Theatre MTC visionary Michael J. Bobbitt readies D.C. farewell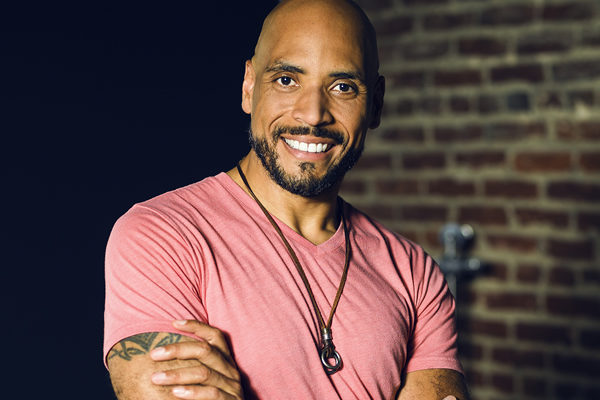 After 12 remarkably productive years as artistic director of Adventure Theatre MTC, Michael J. Bobbitt is moving on. He's leaving the Glen Echo Park theater for young audiences that grew enormously during his tenure to be the new artistic director of New Repertory Theatre, a regional repertory, in Watertown, Mass., just outside Boston.
Headhunters had been interested for a long time, but it wasn't until recently that Bobbitt began taking their calls. With his son Sang heading off to college in Florida in the fall and his fiancé Steve engaged in flexible marketing work, it seemed like a good time for a change.
"I look at theater as being involved in the community so leaving isn't simple," Bobbitt says over lunch at a build-your-own Asian salad place in Bethesda. "There's sadness because I'm leaving a theater and people that I love. But there's joy too. I'm really happy about what I accomplished at Adventure."
Still, it wasn't a decision Bobbitt made easily.
"Also, a lot of what I'm feeling is fear. I learned children's theater on the job. And now I'm leaving that genre and style and moving to contemporary American theater at First Rep. That's challenging, but exciting too — it gives me the opportunity to explore plays that I've dreamed about doing like 'The Color Purple,' Josh Harmon's 'Admissions' and works by August Wilson."
Bobbitt likes Boston and New Rep's mission to produce plays that speak powerfully to the vital ideas of the time. He's been onboarding for several months and had a hand in programming the upcoming six production season which includes "Nixon's Nixon," "Hair" and Wilson's "Fences." Bobbitt will direct the musical "Oliver!" in December.
"Why not make a big splash with what I'm comfortable with — a children's musical? New Rep does a holiday, family-friendly show so I'll still be cultivating that audience. It's a strong skill set of mine so maybe in the future we'll add more theater for young audiences. Who knows?"
At the end of July, Bobbitt moves to a new apartment in diverse Cambridge, a short drive from New Rep. He leaves behind a local professional network 23 years in the making. Born and raised in Washington, he left to earn a music degree at Susquehanna University in central Pennsylvania, study. He returned in 1996 to freelance choreograph and direct, mostly musicals.
After starting at Adventure in July 2007, he quickly set about creating a buzz by premiering shows like "Three Little Birds" and "Tiny Tim's Christmas Carol," and bringing in well-known local actors including Holly Twyford who played a tap-dancing pig in "If You Give a Pig a Pancake" and Deidra LaWan Starnes as the title arachnid in "Charlotte's Web." In about three years, Bobbitt grew the little theater to capacity. Under his guidance, Adventure partnered and later merged with MTC (Musical Theatre Center) in 2012, successfully increasing overall budget, staff and patronage, and adding a vast education program serving 1,600 students.
Being a very visible, mainstream African-American artistic director hasn't been particularly easy, he says.
"Dealing with microaggressions is never fun. People express surprise that I was articulate, smart or organized. But I have a way of turning a negative into a positive. I've never shied away from using the race, gay or dad card to my advantage. And it's helped."
Race equity is important to Bobbitt. At Adventure that includes policies, procedures, staffing, how they build their board and artists. Half the artists are people of color and that's been intentional.
"I subscribe to diversity from a social justice and transactional point of view," Bobbitt says. "Part of what I can do for New Rep is to use what I learned at Adventure in the race equity world apply it to this adult regional theater. I think some other regional theaters will pay attention and model some of these practices."
After a long period of focusing intensely on improving Adventure MTC, about three-and-a-half years ago after the demise of a 19-year-long relationship, Bobbitt dove deeply into self-care in an all-encompassing exploration of body, mind and spirituality guided by various practitioners and specialists. The results have been astonishing. Now fit and healthy, he's made working out, meditation and a plant-based diet part of everyday life.
Bobbitt changed the way he looked and felt physically, but mostly it was a conscious decision to be happy, he says. His longing for happiness and an interest in work/life balance resulted in better benefits for Adventure employees. He hopes to share these values at New Rep.
And if his summer weren't busy enough, he's planned a family trip to Vietnam in July where his son will probably meet his birth mother.
"I've always promised Sang that we'd make this trip when he's ready, so we're doing it. Sometimes it's hard to distinguish between young person uncommunicativeness and deeper feelings. But I've let him know that if any time during the trip, he'd like to call off the meeting, that's definitely OK."
After Vietnam, it's on to Boston. But first, Adventure MTC is celebrating Bobbitt with a surprise-filled carnival style, evening send-off at Glen Echo on July 1. It's free and open to the public but donations to help fund the Michael Bobbitt Minority Scholarship are appreciated.
What closed the deal with New Rep?
"Genuineness of wanting me and the things I had to offer," he says. "Artists love to be wanted. Also, I love New Rep's desire to educate, fix the world and solve problems through theater. I totally believe in that. I want to innovate in how we break down that fourth wall and super engage our audience."