July 1, 2019 at 10:50 am EDT | by Michael Key
DecrimNow rally held on Stonewall anniversary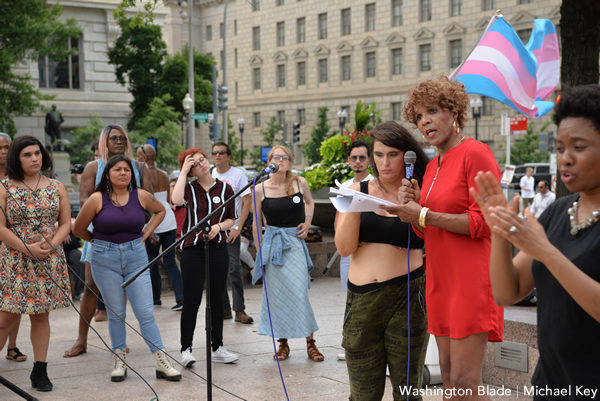 The Sex Worker Advocates Coalition (DecrimNow) held a rally at Freedom Plaza on Friday, June 28 to call for D.C. Council hearings and passage of the Community Safety and Health Amendment Act of 2019.
The proposed legislation advocated for by those at the rally would "eliminate criminal prohibitions and penalties for consensual sex work and establish a task force to evaluate the effects of removing criminal penalties and recommend further improvements to public safety, health, and human rights," according to a statement from D.C. Council member David Grosso (I-At-Large).
Approximately 150 activists and supporters gathered across the street from the John A. Wilson District Building on the 50th anniversary of the first day of the Stonewall riots. Among the issues advocated for by the speakers were employment opportunities for transgender women of color as well as the decriminalization of sex work in D.C.
"Today, 50 years later, black and brown trans women are under attack," Emmelia Talarico, organizing director of the activist group No Justice No Pride and an organizer of the rally said in a statement. "Between recent local and national individual acts of violence against our community members to the repercussions of the Trump administration and the impacts caused by the passage of FOSTA/SESTA we need our local elected leaders to show up for us now when we need them most."
The Fight Online Sex Trafficking Act (FOSTA) and the Stop Enabling Sex Traffickers Act (SESTA) became law in 2018. Many activists, including those from No Justice No Pride, have denounced the effects of the implementation of the new laws on vulnerable populations, particularly trans sex workers.
"The fact that we are having, in 2019, this discussion — actually this fight — as it relates to decriminalization is a sad testament that society in all of its advancements still frowns on the most common practice of all: commercial sex work," trans rights activist Dee Curry said to the crowd. "Sadder yet, the persons doing the frowning are individuals steadfastly standing for economic suppression of people of color."
"The persons frowning the most are persons blocking any real legislation supporting sincere skills-building and job training for vulnerable populations everywhere," Curry continued.
"And the persons who would have you believe that we are asking for the legalization of prostitution: We are not," said Curry. "We are simply requesting that there is a removal of the target on the backs of many of our youth who have had limited choices in their advancement to live a productive life."
"We need more than just understanding: we need legislation," Curry demanded.
"So I say to this city and I say to this mayor and I say to this city council: enough with the excuses. If you're not going to promote decriminalization of commercial sex work, then give us a damn job," Curry concluded.
Nona, another speaker at the rally, related to the crowd the need for employment and educational opportunities for transgender women.
"Trans women of color want employment," said Nona. "We would love to be hired and work among our cis counterparts in this corrupt society."
"Trans women of color have tireless goals and dreams that are broken by closed-minded, ignorant people who choose to remain in their cemented state," Nona continued. "Trans women of color may not have many job function skills, but it is only due to not being hired. But we are eager to learn so that our lives may flourish by being productive."