July 2, 2019 at 3:23 pm EDT | by Chris Johnson
Congressional Dems say Title VII 'makes clear' anti-LGBT discrimination unlawful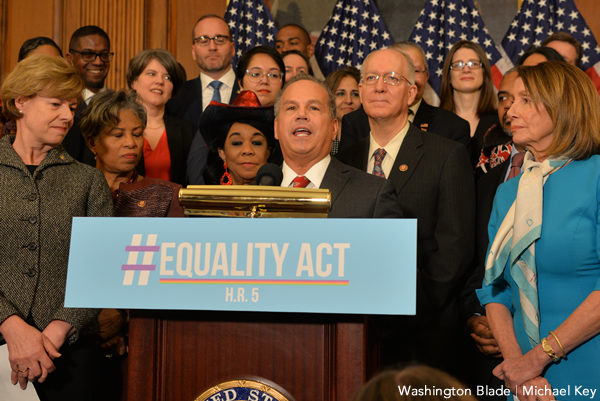 A group of 151 congressional Democrats — 113 House members and 38 senators — have signed a legal brief insisting Title VII of the Civil Rights Act of 1964 "makes clear that workplace discrimination based on an individual's sexual orientation or gender identity is unlawful."
The lawmakers submit the 25-page friend-of-the-court brief to the U.S. Supreme Court as justices are set to determine whether Title VII's prohibition on sex discrimination in the workforce applies to cases of anti-LGBT discrimination.
"Title VII prohibits sex-based discrimination, and it is impossible to divorce an employee's sexual orientation or gender identity from their sex," the brief says. "Thus, discrimination on all bases that are related to a person's sex, including sexual orientation, gender identity and nonconformance with sex stereotypes, is prohibited."
The brief was organized by Rep. David Cicilline (D-R.I.) and Sen. Jeff Merkley (D-Ore.), who are the chief sponsors of the Equality Act in their respective chambers of Congress.
"No American should be forced to live in fear of discrimination in the workplace or losing their job entirely simply because of their sexual orientation or gender identity," Cicilline said in a statement. "Yet in a majority of states in our country, people can still be fired from their jobs, or kicked out of their apartments just for being who they are. The court should take advantage of this important opportunity to bring the LGBTQ community one step closer to full equality by banning this discrimination nationwide."
The consolidated case of Zarda v. Altitude Express and Bostock v. Clayton County will determine whether sexual orientation discrimination is a form of sex discrimination, while Harris Funeral Homes v. EEOC will determine whether anti-transgender discrimination is a form of sex discrimination. Oral arguments are set for Oct. 8 and a ruling is expected by June 2020.
"No one deserves to have the door of opportunity slammed on them simply because of who they are or whom they love," Merkley said in a statement. "Discrimination has no place in our nation, and these employment discrimination cases are another step in the fight for a more just and more equal America."
Other signers noted at the top of the brief are House Speaker Nancy Pelosi (D-Calif.), Senate Minority Leader Charles Schumer (D-N.Y.), Sen. Dianne Feinstein (D-Calif.), Sen. Patty Murray (D-Wash.) and Rep. Jerrold Nadler (D-N.Y.), chair of the House Judiciary Committee.
Although the Equality Act seeks to amend the Civil Rights Act of 1964 to expand the definition of sex under the law to include sexual orientation and gender identity, the lawmakers insist existing law is already LGBT-inclusive.
"Because of inconsistent interpretations among the federal courts of Title VII's prohibition on sex discrimination, the Equality Act of 2019 uses a 'belt-and-suspenders' approach to further codify what we already know — that LGBT Americans are protected from sexual orientation and gender identity discrimination by Title VII's bar on discrimination on the basis of sex," the brief says.
The House approved the legislation in May, but the Senate Majority Leader Mitch McConnell (R-Ky.) has refused to allow a vote on the bill in the Senate. President Trump has signaled he opposes the bill.
Signers of the brief include each of the Senate Democrats who are also 2020 presidential candidates: Cory Booker (N.J.), Michael Bennet (Colo.), Kirsten Gillibrand (N.Y.), Kamala Harris (Calif.), Amy Klobuchar (Minn.) and Bernie Sanders (Vt.).
In terms of House Democrats who are running for president, Rep. Eric Swalwell (Calif.) is a signer, but not Reps. Tulsi Gabbard (Hawaii), Seth Moulton (Mass.) or Tim Ryan (Ohio).
Gabbard has an anti-LGBT history for which she has since apologized and Ryan and Moulton are two of a handful of House Democrats who cast no vote one way or the other on the Equality Act. (A Moulton campaign spokesperson said the Massachusetts Democrat is a co-sponsor and missed the Equality Act vote because he was attending an LGBT grassroots event in San Francisco.)
Spokespersons for Ryan and Moulton said the lawmakers missed the deadline for signing the brief, but would have signed. Gabbard's office didn't respond to a request to comment.