Michael W. Smith, Sandi Patty wow with Kennedy Center patriotic shows
CCM legends join massive choirs, orchestras for 4th of July-themed extravaganzas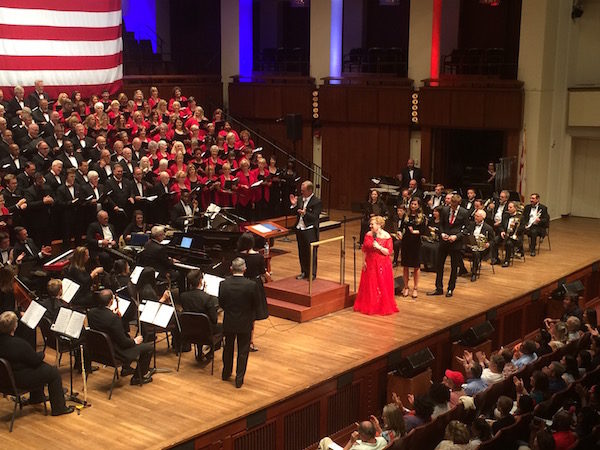 Last week at the Kennedy Center provided a rare one-two punch for lovers of '80s/'90s CCM (contemporary Christian music) — Michael W. Smith played the Concert Hall July 1 with the True North Orchestra and Chorus under the baton of David Hamilton; Sandi Patty played the same room two nights later — an unrelated coincidence — with the Bellevue Baptist Church Choir & Orchestra, a Memphis-area-based church outfit.
Smith's concert was part of a larger event that found hundreds of his fans descending upon the capitol to see sights, though standalone tickets were available for the concert. Smith tours constantly, but it's a fairly rare opportunity to see him with such lavish accompaniment.
Patty has retired from major touring but, thankfully, still makes occasional appearances. Historically the best chance you had to see either one with full orchestra was at a Christmas concert, so both concerts were refreshing changes of pace.
Smith truly headlined at his concert singing or playing on (several numbers were instrumentals from his "Freedom" and "Glory" albums) all but the opening number, a choral arrangement of his song "Shine On Us" recorded by Phillips, Craig and Dean on the classic '95 multi-artist album "My Utmost For His Highest." There were 62 in the orchestra/band and about 196 in the choir.
The Patty concert was more half and half, with Patty and four family members (husband Don Peslis, stepdaughter Aly Peslis, daughter-in-law Katie Peslis and son Jon Helvering) singing on 10 of 20 selections, the rest handled by the 130-voice choir and 34-piece orchestra.
Standouts included the Patty classic "Love in Any Language," "You'll Never Walk Alone" (from "Carousel"), "God Bless America" and Patty's trademark rendition of "The Star-Spangled Banner," which she debuted to acclaim at the rededication of the Statue of Liberty in 1986. She doesn't go up quite as high on the big final note as she did 30 years ago, but her voice still sounds mighty and robust. On her 2017 farewell tour, it was played on a video montage, so it was great to hear it live.
Especially nice to hear were renditions of "Battle Hymn of the Republic" and "Give Me Your Tired, Your Poor," which Patty has never recorded. YouTube clips have surfaced the last couple years from patriotic summer mini-tours Patty and her family have given (never in our region) but there's no comparison to hearing them live. Both were stately and regal.
The Bellevue group was better than I expected in a rousing, shimmying set (many arrangements were by accompanist/arranger Josh Stewart who was at the piano most of the evening) that included bombastic medleys, gospel standards and hymns. All the soloists were stellar but standouts were Cooper Patrick who delivered a rollicking "Walking in Memphis" with true star power and Audrey Lawrence on gospel barnburner "Heaven Bound."
Soprano Lisa Parker initially seemed to have the deck stacked against her tackling "The Lord's Prayer" just moments after the great Patty had left the stage, but she acquitted herself nicely with an understated performance that felt both delicate and sturdy.
Interestingly, Patty seemed most energized on two of the quieter numbers — "His Eye is On the Sparrow," which she sang with just piano accompaniment from her long-time pianist Jay Rouse, and during the encore, a richly harmonized rendition of "It Is Well With My Soul" she sang sans mics with her family. They've done numbers like this at other concerts; it always whets my appetite for a whole evening of this sort of thing. They truly give Chanticleer and Pentatonix a run for their money with their a cappella harmony work.
Patty seemed in good spirits greeting and offering sign language to long-time fans such as Lee Tucker in the first couple rows. Minor quibble: um, hello — blue gown change for act II? We know you have 'em, girl.
Smith's concert ran the gamut from glistening instrumentals ("Glory Overture"), a roiling Christmas number "Gloria" that brought to mind the Trans-Siberian Orchestra, choral worship thunder on "Total Praise" and even a swampy spiritual "Down to the River to Pray" from one of Smith's Cracker Barrel hymns projects.
Things meandered a bit in the second half during a lengthy worship set in which the orchestra and choir sat out and Smith and his usual band took the reins. None of it was bad — these passages are a staple of Smith's usual concerts — but at the Kennedy Center, it felt like filler, as if there weren't quite enough charts done for a full evening of symphonic work so they padded it with easy-to-deliver classic Smitty worship fare.
The crowd enjoyed it just fine but the orchestra players looked bored out of their minds (perhaps they were merely deferring, who knows). Two Mikes who showed up — Pence and Pompeo (along with Karen Pence, the second lady) — were rapt if not especially demonstrative. Smitty's crowd — almost all white Bible Belt evangelicals — went wild when they were introduced. I somehow managed not to vomit. It's not so much that I mind political dissent — that's fine and healthy — but it was a stark, right-there-in-front-of-you reminder of the white evangelical infatuation with this administration. How anyone takes it seriously is beyond me.
Another downside to Smitty's set was that it was almost identical to a Kennedy Center concert he gave with the same choir and orchestra in Jan., 2014 with 14 songs (pretty much everything but the worship set) carried over verbatim. It was all stellar, but I'd hoped in five years time, Smith could have managed at least a new orchestration or two of selections from his mammoth catalogue. He constantly talks about how many songs he has to choose from in his vast discography and how there's no way to get to everything. Well, that's all fine and good but don't show up five years later with the same set (pretty much) and expect us to buy that hollow line again (in fairness, he has gotten better at digging deep in his "regular" concerts the last couple years).
His canned bromides, while good natured, are also pretty stale — he says "I will never forget this night" at every concert, he's playing "Gloria" (a Christmas song) because "it's my show" and he never knew he'd be playing trademark hit "Friends" "the rest of my life." There's just a hint of a chip on his shoulder while Patty exudes graciousness.
And while lustrous, none of it was terribly interesting. Like so much of the fare we hear when the NSO Pops appears with pop acts like Diana Ross or Melissa Etheridge, the strings just sort of saw away, the brass adds a little punch here and there and that's about it. I was hoping, for instance, when we got to the big electric guitar solo on Smitty classic "Place in This World," the strings would have gone crazy with some totally new contrapuntal interlude but nah — in came the anachronistic electric guitar shooting out the exact same thing that's on the album version.
Huge missed opportunity. With such vast arsenals of instrumentation at one's disposal, why are the arrangements always so blah, so predictable? Smith's long-time touring comrade Jim Daneker is a musical genius — I salivate imagining what cool stuff he could come up with given the time. And not that there was anything too wildly wonderful going on at the Patty show either but her arrangements (both vintage and those from Bellevue) just sounded less forced, more idiomatically orchestral.
Neither artist managed to quite fill the nearly 2,442-seat Concert Hall, but Smith, on a Monday night no less, came closer (and with vastly higher ticket prices). Patty's concert didn't appear to be well publicized; it's a shame, too — it was a rare chance for Washingtonians to hear the gospel music legend who last played here at Sligo Church in November, 2016.
Nothing LGBT about either concert (although Patty has a legion of gay fans); both artists are straight. Just a fun couple nights out worth reporting on.

Michael W. Smith
True North Orchestra & Chorus
David Hamilton, conductor
Kennedy Center
7-1-19
STARTS: 7:05 p.m.
Shine On Us (choir)
Glory Overture (inst./orch+MWS)
Great is the Lord (MWS/choir/orch)
Ancient Words/Thy Word (MWS/choir/orch)
Above All (MWS/band)
Whitaker's Wonder (inst./orch+MWS)
The Giving (inst./orch+MWS)
Heroes (inst./orch+MWS)
There She Stands (MWS/choir/orch)
America the Beautiful (MWS/band)
Place in This World (MWS/orch)
Gloria (MWS/choir/orch)
INTERMISSION (20 minutes)
RESUMES: 8:29
13. Freedom (inst./orch+MWS)
14. Down to the River to Pray (MWS/choir/orch)
15. Total Praise (MWS/choir/band)
16. Do it Again (MWS/band)
17. Surrounded (MWS/band)
18. Healing Rain (MWS/band)
19. Great Are You Lord (MWS/band)
20. Agnus Dei (MWS/choir/orch)
ENCORE:
21. Friends (MWS/choir/orch)
Total Praise reprise
ENDS: 9:15
Sandi Patty & Family
Bellevue Baptist Church
Choir & Orchestra
Kennedy Center
7-3-19
STARTS: 8:03 p.m.
A Mighty Fortress (choir/orch)
Patriot's Song Medley (choir/orch)
Tennessee Medley (choir/orch)
INTRO OF SANDI — 8:23
4. Battle Hymn of the Republic (Sandi/fam/choir/orch)
5. Give Me Your Tired, Your Poor (Sandi/fam/choir/orch)
6. What a Wonderful World (Sandi/piano)
7. The Star-Spangled Banner (Sandi/choir/orch)
SANDI EXITS — 8:47
8. Salute to the Armed Forces (choir/orch)
9. Taps/The Lord's Prayer (choir/orch)
10. Be Thou My Vision (choir/orch)
11. Say Amen (choir/orch)
12. Heaven Bound (choir/orch)
13. That's Why God (choir/orch)
14. Christ is Born (choir/orch)
SANDI RETURNS 9:29
15. Anthem of Praise (Sandi/fam/choir/orch)
16. Love in Any Language (Sandi/fam/choir/orch)
17. His Eye is On the Sparrow (Sandi/piano)
18. You'll Never Walk Alone (Sandi/fam/choir/orch)
19. God Bless America (Sandi/fam/choir/orch)
20. It is Well With My Soul (Sand/fam)
ENDS: 10:01
Washington Arts Ensemble to host immersive concert
Creating a dialogue with D.C.'s history and culture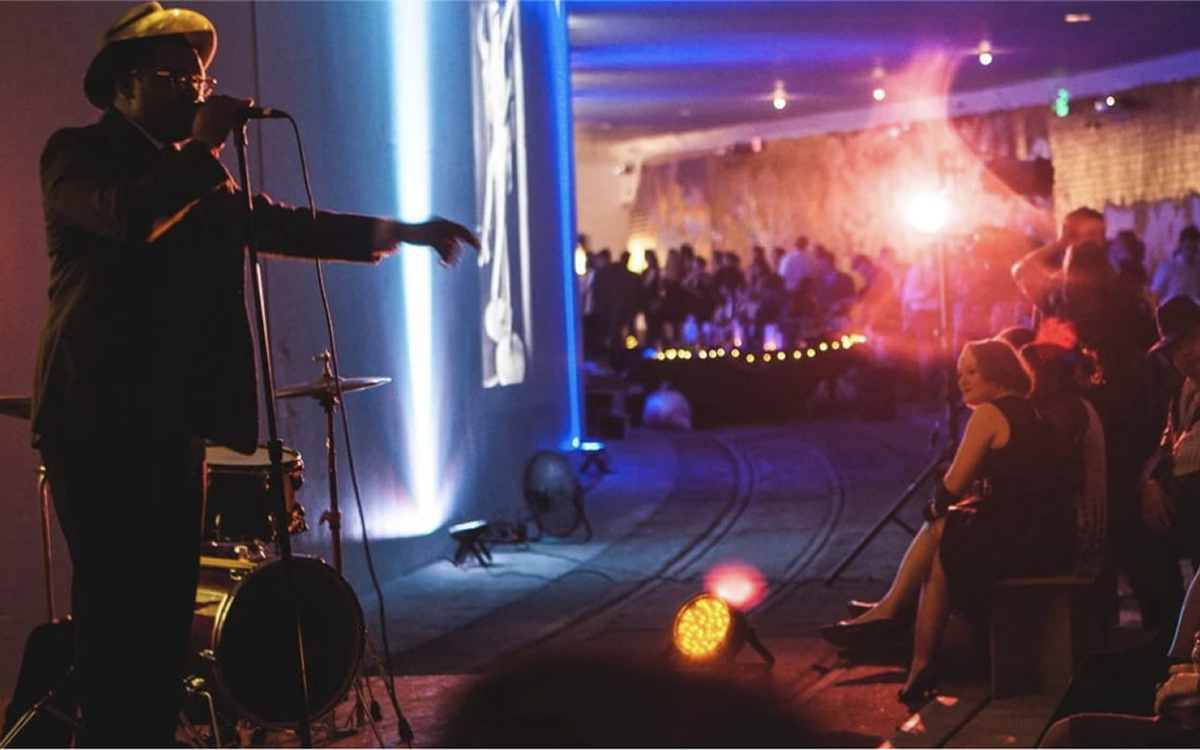 The Washington Arts Ensemble will host an immersive concert experience on Saturday, June 18 at 7 p.m. at Dupont Underground.
This concert will show how distinct genres influence pop culture and articulate the commonality between classical, jazz, and electronic music while creating a dialogue with D.C.'s history and culture.
Some of the works that will be performed include "Switched-On Bach selections" by Wendy Carlos, "The Swan" from The Carnival of the Animals by Camile Saint-Saens, among other works.
Tickets cost $25 and can be purchased on the Washington Arts Ensemble's website.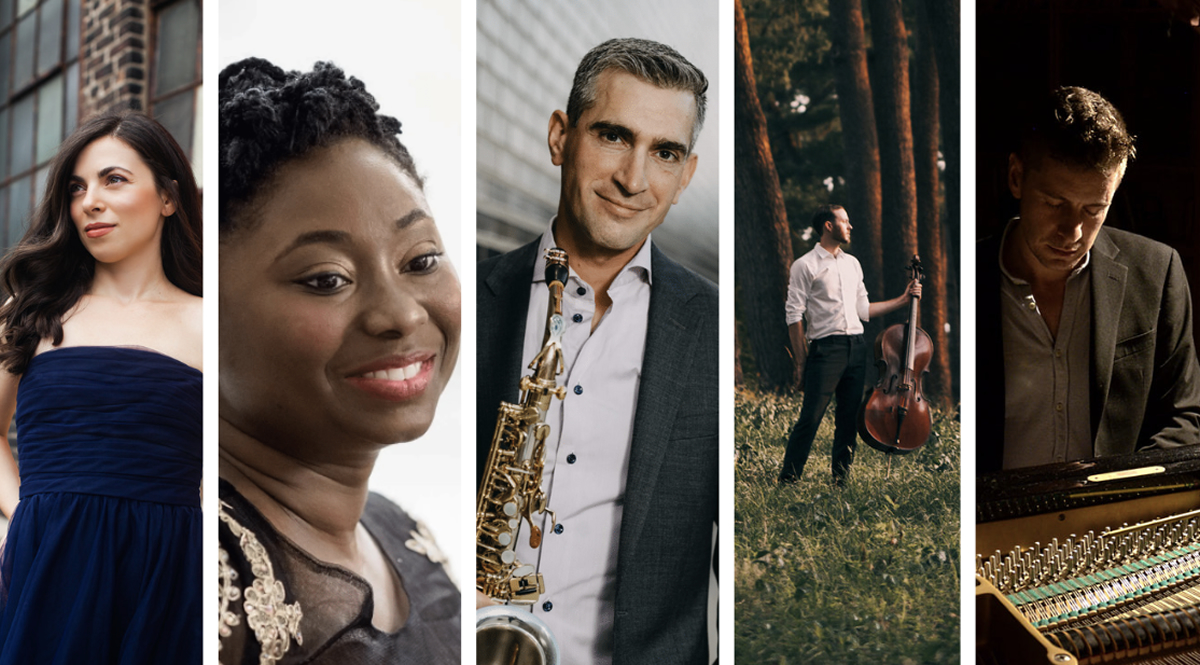 John Levengood releases anthem "Say Gay!" to protest discrimination
Slated to perform new song at 2022 Capital Pride Festival in June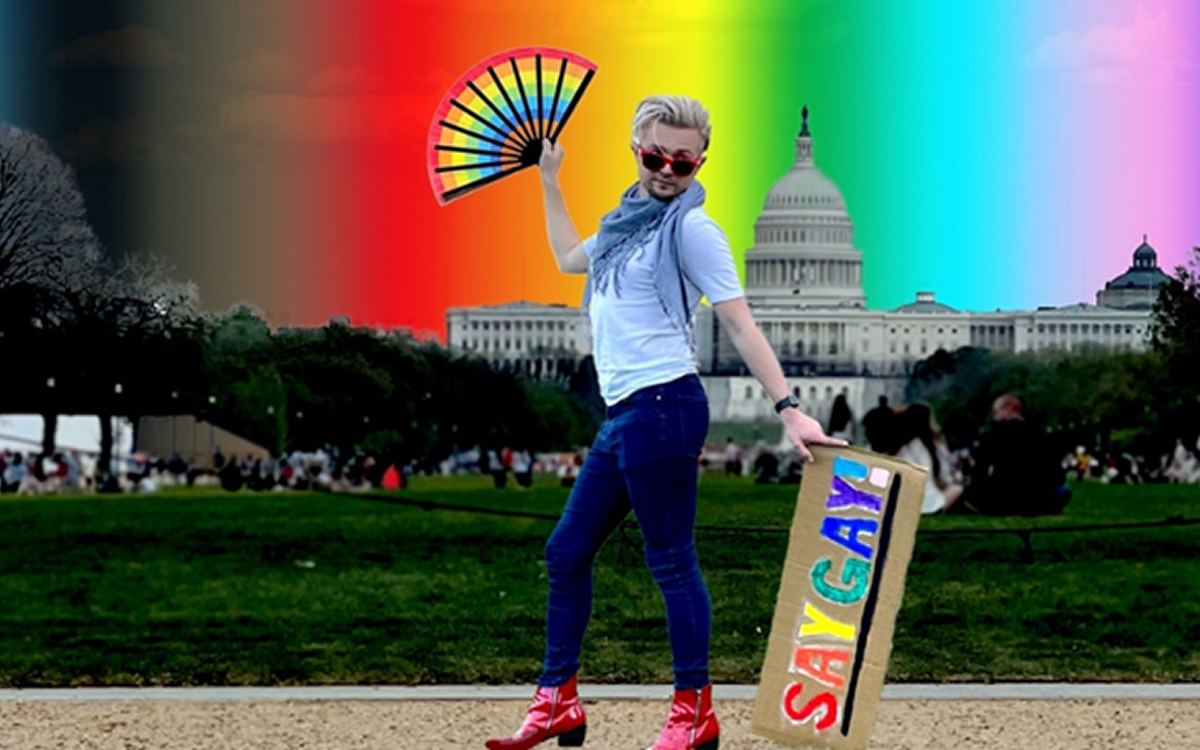 "Say gay! Say gay! Say gay!
"Say what? Say what?
"One little law won't shut us up!"
Slated for digital release this Friday, recording artist John Levengood's latest song "Say Gay!" confronts anti-LGBTQ legislation such as the "Don't Say Gay" law by encouraging others to "profess their queerness loudly, proudly, and never in the shadows," Levengood said in a press release shared with the Blade on Tuesday.
On June 12, Levengood is set to perform the song's live debut at the 2022 Capital Pride Festival in Washington, D.C., to streets teeming with community members, food trucks, and local vendors, according to the press release.
"The rise in oppressive legislation and proposals have many in the LGBTQ+ community alarmed," the press release says. Levengood "hopes this song can be used as a metaphorical weapon to blast holes in the argument that teaching children about acceptance and diversity is more appropriate at home than school."
The bill, enacted by the Florida Legislature earlier this year but not yet in force, would limit teachers' ability to teach LGBTQ topics in some school settings and obligate school officials to disclose students' sexual orientation and gender identity to their parents upon request.
A D.C. resident himself, Levengood currently works over the weekends as resident host and karaoke emcee at Freddie's Beach Bar in Arlington, Va., an LGBTQ bar and restaurant.
Levengood is no stranger to the music scene, in 2013 moving through multiple rounds of auditions for the third season of "The X Factor" before coming up short of formally appearing on the show, according to the release.
Growing up in the Shenandoah Valley of rural Virginia, the press release added that music has been an outlet for Levengood to express himself from an early age. The new song marks his seventh musical release.
Tori Amos spins magic at Sunday night D.C.-area concert
First show in the area since '17 finds Gen X icon vocally subdued but musically energized
As with many veteran rock stars, it's sometimes hard to get a handle on how hot or cold Tori Amos's 30-year-old solo career is at the moment. It sometimes seems like she's moving past the take-her-for-granted-because-she's-never-away-for-long phase, and there certainly was that sense in the air Sunday night for her D.C.-area stop of her current "Ocean to Ocean Tour," her first show here since 2017, which, with COVID, feels like a lifetime ago.
But there are also signs that it's never been chillier for Amos in the overall pop culture landscape. It's been a decade since she charted a single on any chart and there were no videos or singles from her "Ocean to Ocean" album last fall. It landed just outside the top 100 on the U.S. Billboard 200 album sales chart altogether, a new low that would have been unthinkable even a few years ago when her "regular" (i.e. non-specialty/concept) albums were almost guaranteed a top 10 debut.
The slide has been swift, too: 2014's "Unrepentant Geraldines" hit No. 7, the next album (2017's polarizing "Native Invader") only made it to 39, then came "Ocean's" thud at no. 104. There's a lot you could point to to explain it — streaming, her aging Gen X fan base, the endless undulations of the music industry itself — but in some ways it has started to feel like she's getting less and less return on her artistic dollar than one would expect.
Yeah, that always happens with veteran female pop stars once they hit their 50s and beyond, but Amos and her small but mighty fan base, who for decades exhibited a devotion of Grateful Dead-like proportions, outran the trend for so long, to see it finally catching up is a bit bewildering.
But then you go hear her live at a decent-size venue like The Theater at MGM National Harbor (which seats 3,000 and was about 97 percent full), and it feels nearly like old times. Sure, some of the excitement was just that we're all gagging at being at concerts at all and having mask restrictions and vaccine requirements paused, but there was an electricity that, while mellower than it was at Amos concerts in the '90s, still felt magical. I've never in my life seen so long a line for the merch table.
The concert itself was, for the most part, sublime. It was the first time since 2009 she's toured with a band and while her solo shows are great too, there was pent-up yearning to hear her unleash full-on with a solid rhythm section (Jon Evans on bass, Ash Soan on drums) again. Beat-heavy songs like "Raspberry Swirl" and "Cornflake Girl" sounded tepid with canned beats the last few times out, so to hear everything truly live (save a few BGVs and effects) last night was heavenly.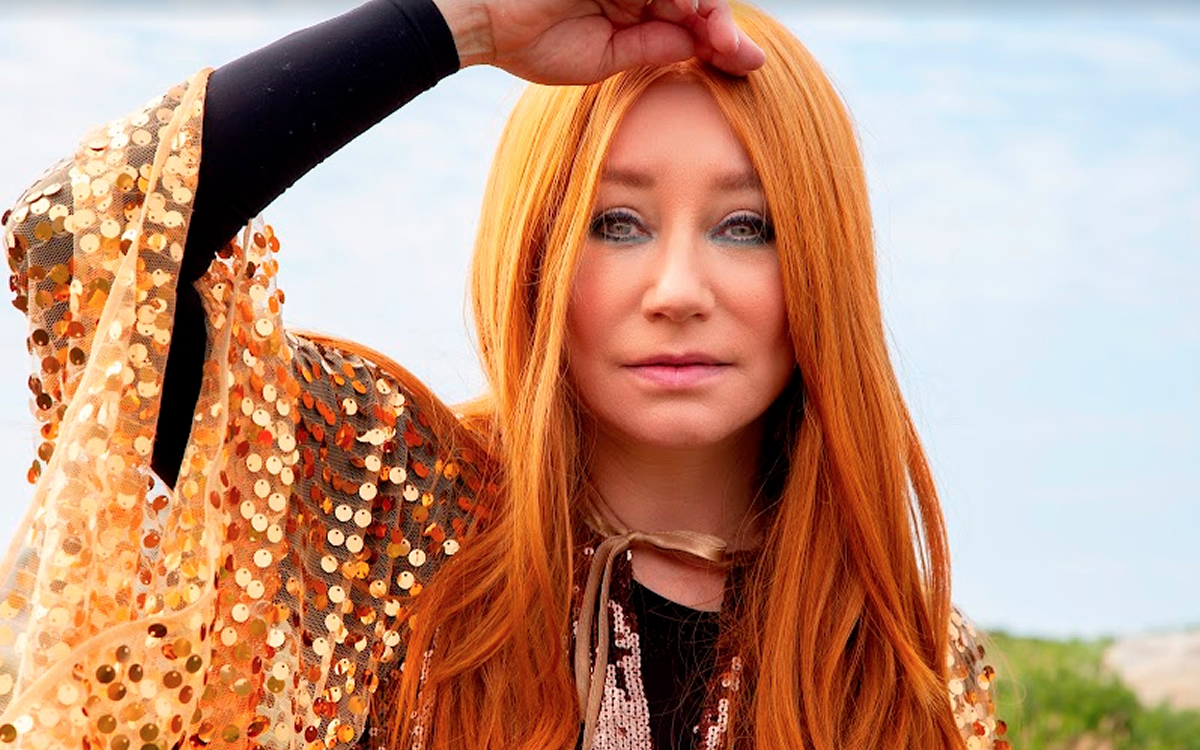 The show had special poignancy too, as Amos grew up in the region. She has written and commented heavily on the immense toll her mother's 2019 death took on her personally and artistically, so that the date happened to be Mother's Day gave the proceedings added gravitas. "Mother Revolution" and "Jackie's Strength" spoke, of course, to the holiday, though (and this is quibbling) I would have vastly preferred "Mother" from "Little Earthquakes," a deep cut we haven't heard live in eons.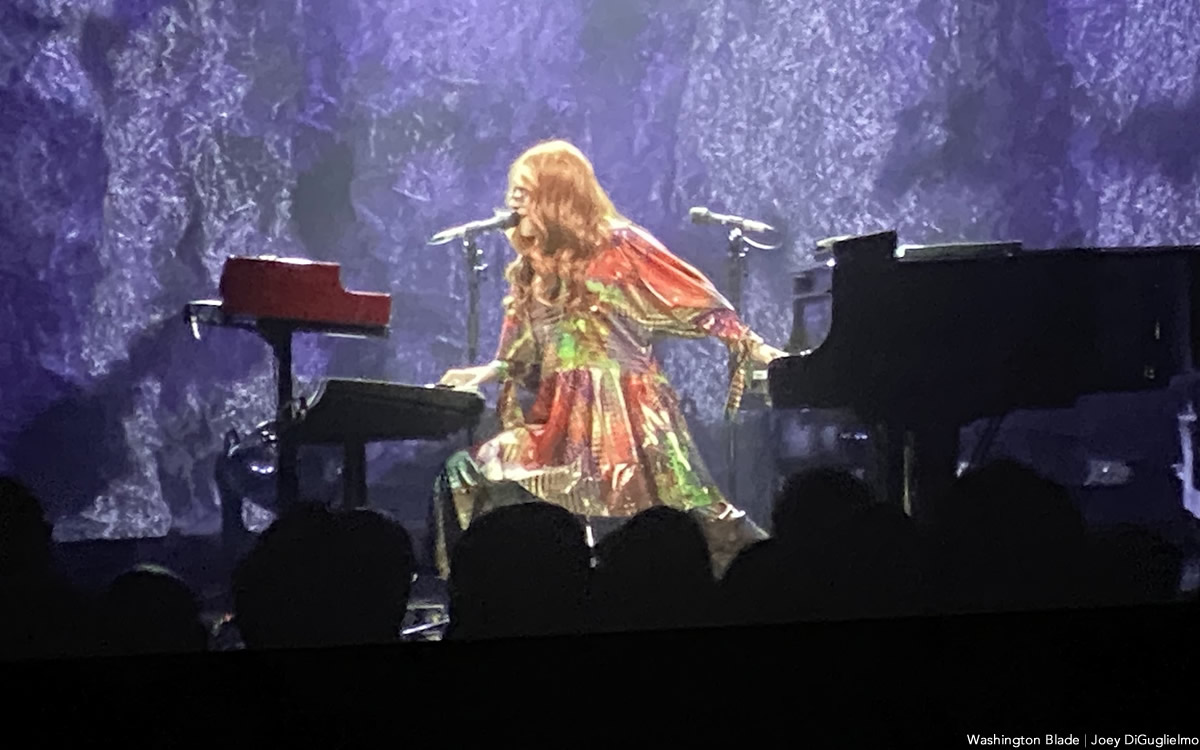 Highlights included the slinky, rhythm-loopy opener "Juarez"; "Ocean to Ocean," one of three cuts performed from the new record, which shimmered with Philip Glass-like piano arpeggios; the vampy, slinky interplay between the three musicians on "Mother Revolution"; and unexpected fan favorite "Spring Haze." Amos, overall, is varying up the set list quite a bit less than is her norm, so it was one of the few surprises of the evening. 
The lengths of several of the songs were drawn out considerably. At times — "A Sorta Fairytale," the aforementioned "Revolution" — that worked well and gave the band time to languidly jam. At other points, it felt a bit self-indulgent and even slightly boring — as on "Sweet Sangria" and "Liquid Diamonds."
"Russia," a bonus cut from the last album, sounded just how it did when Amos performed it here in 2017, but took on added resonance because of current events. Closing line "Is Stalin on your shoulder" was chilling.
Overall, the show — lighting, pacing, everything — largely worked. The sound mix, which fans have said has been muddy at some venues recently on the tour, was pristine. Pacing only lagged a few times in some of the mid-tempo cuts from later albums, but just when you felt some were zoning — the flow of those entering and exiting is a good barometer — Amos whipped things back together with a fan favorite like "Past the Mission" or "Spring Haze."
It all came to a satisfying, audience-friendly climax with "Cornflake Girl," then the two encore cuts, "Precious Things" and "Tear in Your Hand," both from the first album.
Vocally, the range was there and sounded lovely, but the oomph was considerably held back. Vocal preservation for the many dates ahead? Probably. It's understandable. Amos, at 58, may lack the stamina she had 20 years ago, but it did feel underwhelming in passages that in years past would have been full on, balls out like the "Bliss" bridge or the "nine-inch nails" passage from "Precious Things."
Not one acknowledgment or mention by Amos of the female folk duo openers Companion. I'd have invited them out for a few numbers to sing BGVs. I mean, heck, they're in the house, why not? And other than the welcome, a brief soliloquy on Mother's Day was the only Amos comment of the entire night.
Still Amos never came off as aloof. She seemed genuinely excited to be playing live again and the queer-heavy crowd responded in kind.