Michael W. Smith, Sandi Patty wow with Kennedy Center patriotic shows
CCM legends join massive choirs, orchestras for 4th of July-themed extravaganzas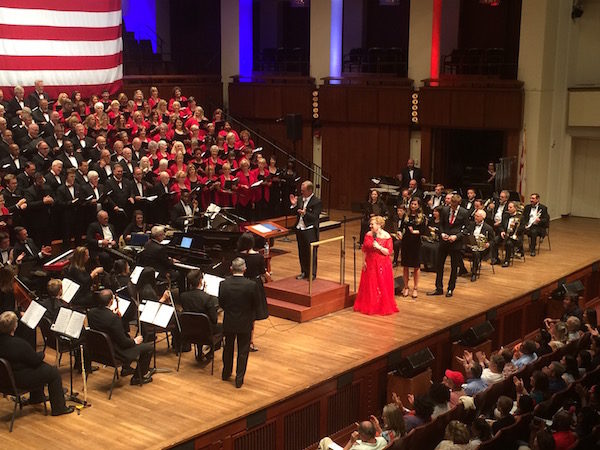 Last week at the Kennedy Center provided a rare one-two punch for lovers of '80s/'90s CCM (contemporary Christian music) — Michael W. Smith played the Concert Hall July 1 with the True North Orchestra and Chorus under the baton of David Hamilton; Sandi Patty played the same room two nights later — an unrelated coincidence — with the Bellevue Baptist Church Choir & Orchestra, a Memphis-area-based church outfit.
Smith's concert was part of a larger event that found hundreds of his fans descending upon the capitol to see sights, though standalone tickets were available for the concert. Smith tours constantly, but it's a fairly rare opportunity to see him with such lavish accompaniment.
Patty has retired from major touring but, thankfully, still makes occasional appearances. Historically the best chance you had to see either one with full orchestra was at a Christmas concert, so both concerts were refreshing changes of pace.
Smith truly headlined at his concert singing or playing on (several numbers were instrumentals from his "Freedom" and "Glory" albums) all but the opening number, a choral arrangement of his song "Shine On Us" recorded by Phillips, Craig and Dean on the classic '95 multi-artist album "My Utmost For His Highest." There were 62 in the orchestra/band and about 196 in the choir.
The Patty concert was more half and half, with Patty and four family members (husband Don Peslis, stepdaughter Aly Peslis, daughter-in-law Katie Peslis and son Jon Helvering) singing on 10 of 20 selections, the rest handled by the 130-voice choir and 34-piece orchestra.
Standouts included the Patty classic "Love in Any Language," "You'll Never Walk Alone" (from "Carousel"), "God Bless America" and Patty's trademark rendition of "The Star-Spangled Banner," which she debuted to acclaim at the rededication of the Statue of Liberty in 1986. She doesn't go up quite as high on the big final note as she did 30 years ago, but her voice still sounds mighty and robust. On her 2017 farewell tour, it was played on a video montage, so it was great to hear it live.
Especially nice to hear were renditions of "Battle Hymn of the Republic" and "Give Me Your Tired, Your Poor," which Patty has never recorded. YouTube clips have surfaced the last couple years from patriotic summer mini-tours Patty and her family have given (never in our region) but there's no comparison to hearing them live. Both were stately and regal.
The Bellevue group was better than I expected in a rousing, shimmying set (many arrangements were by accompanist/arranger Josh Stewart who was at the piano most of the evening) that included bombastic medleys, gospel standards and hymns. All the soloists were stellar but standouts were Cooper Patrick who delivered a rollicking "Walking in Memphis" with true star power and Audrey Lawrence on gospel barnburner "Heaven Bound."
Soprano Lisa Parker initially seemed to have the deck stacked against her tackling "The Lord's Prayer" just moments after the great Patty had left the stage, but she acquitted herself nicely with an understated performance that felt both delicate and sturdy.
Interestingly, Patty seemed most energized on two of the quieter numbers — "His Eye is On the Sparrow," which she sang with just piano accompaniment from her long-time pianist Jay Rouse, and during the encore, a richly harmonized rendition of "It Is Well With My Soul" she sang sans mics with her family. They've done numbers like this at other concerts; it always whets my appetite for a whole evening of this sort of thing. They truly give Chanticleer and Pentatonix a run for their money with their a cappella harmony work.
Patty seemed in good spirits greeting and offering sign language to long-time fans such as Lee Tucker in the first couple rows. Minor quibble: um, hello — blue gown change for act II? We know you have 'em, girl.
Smith's concert ran the gamut from glistening instrumentals ("Glory Overture"), a roiling Christmas number "Gloria" that brought to mind the Trans-Siberian Orchestra, choral worship thunder on "Total Praise" and even a swampy spiritual "Down to the River to Pray" from one of Smith's Cracker Barrel hymns projects.
Things meandered a bit in the second half during a lengthy worship set in which the orchestra and choir sat out and Smith and his usual band took the reins. None of it was bad — these passages are a staple of Smith's usual concerts — but at the Kennedy Center, it felt like filler, as if there weren't quite enough charts done for a full evening of symphonic work so they padded it with easy-to-deliver classic Smitty worship fare.
The crowd enjoyed it just fine but the orchestra players looked bored out of their minds (perhaps they were merely deferring, who knows). Two Mikes who showed up — Pence and Pompeo (along with Karen Pence, the second lady) — were rapt if not especially demonstrative. Smitty's crowd — almost all white Bible Belt evangelicals — went wild when they were introduced. I somehow managed not to vomit. It's not so much that I mind political dissent — that's fine and healthy — but it was a stark, right-there-in-front-of-you reminder of the white evangelical infatuation with this administration. How anyone takes it seriously is beyond me.
Another downside to Smitty's set was that it was almost identical to a Kennedy Center concert he gave with the same choir and orchestra in Jan., 2014 with 14 songs (pretty much everything but the worship set) carried over verbatim. It was all stellar, but I'd hoped in five years time, Smith could have managed at least a new orchestration or two of selections from his mammoth catalogue. He constantly talks about how many songs he has to choose from in his vast discography and how there's no way to get to everything. Well, that's all fine and good but don't show up five years later with the same set (pretty much) and expect us to buy that hollow line again (in fairness, he has gotten better at digging deep in his "regular" concerts the last couple years).
His canned bromides, while good natured, are also pretty stale — he says "I will never forget this night" at every concert, he's playing "Gloria" (a Christmas song) because "it's my show" and he never knew he'd be playing trademark hit "Friends" "the rest of my life." There's just a hint of a chip on his shoulder while Patty exudes graciousness.
And while lustrous, none of it was terribly interesting. Like so much of the fare we hear when the NSO Pops appears with pop acts like Diana Ross or Melissa Etheridge, the strings just sort of saw away, the brass adds a little punch here and there and that's about it. I was hoping, for instance, when we got to the big electric guitar solo on Smitty classic "Place in This World," the strings would have gone crazy with some totally new contrapuntal interlude but nah — in came the anachronistic electric guitar shooting out the exact same thing that's on the album version.
Huge missed opportunity. With such vast arsenals of instrumentation at one's disposal, why are the arrangements always so blah, so predictable? Smith's long-time touring comrade Jim Daneker is a musical genius — I salivate imagining what cool stuff he could come up with given the time. And not that there was anything too wildly wonderful going on at the Patty show either but her arrangements (both vintage and those from Bellevue) just sounded less forced, more idiomatically orchestral.
Neither artist managed to quite fill the nearly 2,442-seat Concert Hall, but Smith, on a Monday night no less, came closer (and with vastly higher ticket prices). Patty's concert didn't appear to be well publicized; it's a shame, too — it was a rare chance for Washingtonians to hear the gospel music legend who last played here at Sligo Church in November, 2016.
Nothing LGBT about either concert (although Patty has a legion of gay fans); both artists are straight. Just a fun couple nights out worth reporting on.

Michael W. Smith
True North Orchestra & Chorus
David Hamilton, conductor
Kennedy Center
7-1-19
STARTS: 7:05 p.m.
Shine On Us (choir)
Glory Overture (inst./orch+MWS)
Great is the Lord (MWS/choir/orch)
Ancient Words/Thy Word (MWS/choir/orch)
Above All (MWS/band)
Whitaker's Wonder (inst./orch+MWS)
The Giving (inst./orch+MWS)
Heroes (inst./orch+MWS)
There She Stands (MWS/choir/orch)
America the Beautiful (MWS/band)
Place in This World (MWS/orch)
Gloria (MWS/choir/orch)
INTERMISSION (20 minutes)
RESUMES: 8:29
13. Freedom (inst./orch+MWS)
14. Down to the River to Pray (MWS/choir/orch)
15. Total Praise (MWS/choir/band)
16. Do it Again (MWS/band)
17. Surrounded (MWS/band)
18. Healing Rain (MWS/band)
19. Great Are You Lord (MWS/band)
20. Agnus Dei (MWS/choir/orch)
ENCORE:
21. Friends (MWS/choir/orch)
Total Praise reprise
ENDS: 9:15
Sandi Patty & Family
Bellevue Baptist Church
Choir & Orchestra
Kennedy Center
7-3-19
STARTS: 8:03 p.m.
A Mighty Fortress (choir/orch)
Patriot's Song Medley (choir/orch)
Tennessee Medley (choir/orch)
INTRO OF SANDI — 8:23
4. Battle Hymn of the Republic (Sandi/fam/choir/orch)
5. Give Me Your Tired, Your Poor (Sandi/fam/choir/orch)
6. What a Wonderful World (Sandi/piano)
7. The Star-Spangled Banner (Sandi/choir/orch)
SANDI EXITS — 8:47
8. Salute to the Armed Forces (choir/orch)
9. Taps/The Lord's Prayer (choir/orch)
10. Be Thou My Vision (choir/orch)
11. Say Amen (choir/orch)
12. Heaven Bound (choir/orch)
13. That's Why God (choir/orch)
14. Christ is Born (choir/orch)
SANDI RETURNS 9:29
15. Anthem of Praise (Sandi/fam/choir/orch)
16. Love in Any Language (Sandi/fam/choir/orch)
17. His Eye is On the Sparrow (Sandi/piano)
18. You'll Never Walk Alone (Sandi/fam/choir/orch)
19. God Bless America (Sandi/fam/choir/orch)
20. It is Well With My Soul (Sand/fam)
ENDS: 10:01
BETTY holiday show rocks D.C.
Queer band returns home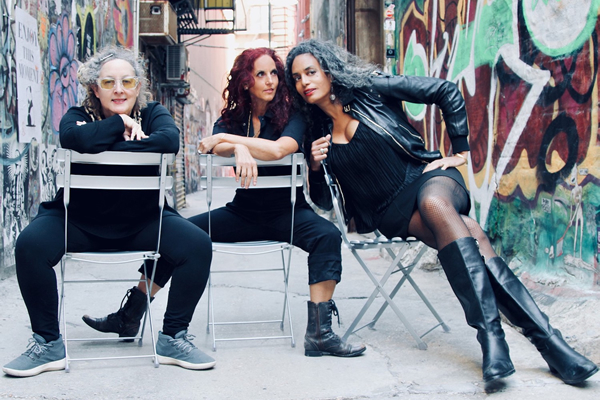 D.C. native band BETTY kicked off its "Holly Jollypocalypse" tour with a show at City Winery on Dec. 5.
The trio, including ally Alyson Palmer and queer sisters Elizabeth and Amy Ziff, debuted several new songs at the show like "Snow," "Choose You" and "Mistletoe."
"Half this set is brand new for you people. You know why? Because we knew we were coming home," Palmer said at the show.
The group also played long-loved songs by their fans, like "Xmas Ain't Coming This Year" and "Miracles Can Happen." After many requests from the audience, the band played one of their most famous songs — the theme song from the show "The L Word" — as an encore number.
Throughout the show, the group expressed their gratitude to be able to perform live again, and recognized the loss so many have experienced over the past two years due to the ongoing coronavirus pandemic.
"This really has been an unbelievably challenging time, so challenging that we can't even really wrap our brains around the PTSD," Palmer told the audience. "A lot of us have lost a lot. In the past two years, we've lost all kinds of things. We've lost a lot of people. And that's a horrible, horrible thing. But hopefully those people are somehow still connected to us."
There was a familial feel to the night — Amy brought her daughter onstage throughout the show and the band performed the song "Saylor," which is about her daughter.
"She's pretty lucky to see a couple of great goddess moms," Amy told the audience.
The band also welcomed local queer artist Be Steadwell to perform a mashup of a an original blues tune and "Silent Night." Steadwell will be performing her show Drummer Bois: Queer Caroling with Be Steadwell at the Black Cat this Friday. To learn more, visit besteadwell.com.
The members of BETTY, who proudly label themselves as "rule breakers" and "equality rockers" have been touring, writing, and advocating for social change through their music since 1986.
"We've been together for 35 years as independent artists, which is pretty miraculous when you consider that with a capitalist system and how hard it is to exist as independent musicians and artists," Elizabeth said in an interview. "We're really grateful to our audiences, in particular to our queer community, that has really supported us forever and still does."
BETTY's first show was at the 9:30 club, and the band was excited to return to their home, the trio said in an interview.
"D.C. was a great place to be to come together as feminists and as queer people and as political allies," Amy said.
Coming back and seeing the same work done by the same people in LGBTQ and feminist spaces in the District is "wonderful," Palmer said.
"We've been politically engaged for so long and socially active for so long," Palmer said. "We grew up playing for protests and playing for those huge Gay Pride marches and pro-choice marches. I mean, that kind of thing just stays with you forever."
The band has been featured in shows like "Encyclopedia," and created their own off-Broadway show "BETTY RULES." The group also launched a podcast in 2019 where they discuss how their band came to be, LGBTQ life and current events. BETTY is slated to release a new album in spring 2022 in honor of the band's 36th anniversary.
Next, the band will travel to New York City, Cincinnati, Ohio, and New Hope, Pa. for the tour. Getting back in the swing of touring has been "incredible" but a physical marathon.
"You forget that it's very physical kind of show … so it's really been funny getting back into shape in that way as well."
Forget streaming, the holiday classics return to area stages
Bring your proof of vaccination and check out a local production this season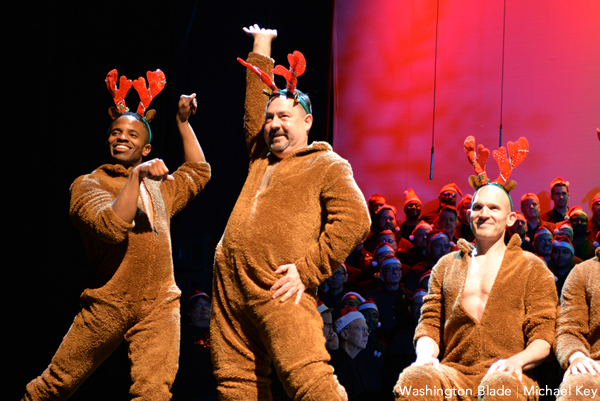 A year ago, the holiday season was streamed. But now, thanks to various protocols including masks and proof of vaccination, DMV theatergoers can come together and experience – live and in-person — both beloved classics and some promising new works. Here's a smattering of what's out there.
At Olney Theatre, Paul Morello is thrilled to bring back "A Christmas Carol 2021" (through Dec. 26), his solo adaptation of Dickens' ghost story. Concerning returning to a live audience, Morello says, "While this is technically a one-person show, it's really about the connection and collaboration with an audience, being in the same room, breathing in unison. I can't do this without an audience and for a story that thrives on redemption, mortality, isolation, the need for community and connection, and the things that matter most, the timing couldn't be better."
Olney also presents "Disney's Beauty and the Beast" through Jan. 2. This musical "tale as old as time" stars out actor Jade Jones as Belle and Evan Ruggiero plays the Beast. olneytheatre.org
For the holidays, Synetic Theater at Crystal City is reworking "Cinderella" (Nov. 27-Dec. 26). Led by an all-female team of creators, this festive take on the classic fairytale is inspired by Afro-Latino music and dance. Directed and adapted by Maria Simpkins who also plays the title role. synetictheater.org
Last year, because of COVID-19, Ford's Theatre presented "A Christmas Carol" as a radio broadcast, but now the fully produced play returns to the venue's historic stage through Dec. 27. A popular Washington tradition for more than 30 years, the thoroughly enjoyable and topnotch take on the Dickens' classic features Craig Wallace reprising the part of Scrooge, the miser who after a night of ghostly visits, rediscovers Christmas joy. fords.org
Another D.C. tradition guaranteed to put audiences in a holiday mood is the Washington Ballet's "Nutcracker," playing at the Warner Theatre through Dec. 26. Set to Tchaikovsky's enchanted score, this charming and superbly executed offering takes place in Georgetown circa 1882 and features a retinue of historic figures along with children, rats, fairies and a mysterious godfather. Choreography is by Septime Webre. washingtonballet.org
The Folger Consort, the superb early music ensemble in residence at the Folger, will be performing seven concerts of "A Medieval Christmas" (Dec. 10-18) at St. Mark's Church on Capitol Hill. A streaming version of the concert will also be available to view on-demand. folger.edu
At Lincoln Theatre, the Gay Men's Chorus of Washington, D.C. presents "The Holiday Show" (Dec. 4, 11, and 12) replete with tap-dancing elves, a dancing Christmas tree, snow, and a lot more. The fun and festive program's song list includes "Let It Snow! Let It Snow! Let It Snow!", "The 12 Rockin' Days of Christmas," and "Boogie Woogie Frosty." Featured performances range from the full Chorus, soloists, all GMCW ensembles, and the GenOUT Youth Chorus. gmcw.org
Arena Stage is marking the season with August Wilson's "Seven Guitars" (through Dec. 26), a drama about a small group of friends who gather following the untimely death of their friend, a blues guitarist on the edge of stardom. Directed by Tazewell Thompson, the production features an exciting cast that includes local actors Dane Figueroa Edidi and Roz White. arenastage.org
Creative Cauldron is serving up some holiday magic with "The Christmas Angel" (Dec. 9-19). Based on a little-known 1910 novel by Abbey Farwell Brown, it's the story of a lonely and bitter spinster who returns to happiness through a box of old toys. The commissioned new holiday musical is a collaboration of longtime musical collaborators and married couple Matt Conner and Stephen Gregory Smith (lyrics and book). creativecauldron.org
In keeping with the Yuletide spirit, the National Theatre presents two feel-good national tour musicals. First, it's "How the Grinch Stole Christmas!" (through Dec. 5), a musical take on Dr. Seuss' classic holiday tale featuring the hit songs "You're A Mean One, Mr. Grinch" and "Welcome Christmas."
Next up is "Tootsie" (Dec. 7-12), the hit musical based on the 1982 gender-bending film starring Dustin Hoffman as an out-of-work actor who disguises himself as a woman to land a role on a popular soap opera. The show boasts a Tony-winning book by Robert Horn and a score by Tony winner David Yazbek (The Band's Visit). thenationaldc.com
Keegan Theatre presents its annual holiday offering, "An Irish Carol" (Dec. 10-31). Set in a modern Dublin pub, the funny yet poignant original work (a nod to Dickens) tracks the changes in the life of a rich but miserable publican over the course of one Christmas Eve. keegantheatre.org
At Theater J, it's the Kinsey Sicks' "Oy Vey in a Manger" (Dec. 17-25). Blending drag, four-part harmony, and political humor, the "dragapella beautyshop quartet" brings its own hilariously irreverent view on the holidays. theaterj.org
And through Jan. 2, Signature Theatre continues to brighten the season with its production of Jonathan Larson's "Rent" directed by the company's out artistic director Matthew Gardiner and featuring out actor David Merino as Angel, a preternaturally energetic drag queen and percussionist. sigtheare.org
The Music Center at Strathmore, also in Bethesda, is presenting a wide range of musical holiday offerings including "Manheim Steamroller Christmas" (Dec. 3 and 4), a multimedia holiday tradition; Sarah Brightman in "A Christmas Symphony" (Dec. 6 and 7); "A Celtic Christmas with Séan Heely Celtic Band" (Dec. 11); Washington Bach Consort's "Bach's Epic Christmas Oratorio" (Dec. 11); the beloved "The Washington Chorus: A Candlelight Christmas" (Dec. 16 and 17); and last but not least "The Hip Hop Nutcracker" (Dec. 20), Tchaikovsky's classic reimagined with MC Kurtis Blow ("White Lines"). strathmore.org
And finally, something strictly for the kids: Imagination Stage presents "Corduroy" (Dec. 11-Jan. 24). Based on the beloved children's books by Don Freeman, it's the heartwarming story of a girl and her perfectly imperfect Teddy Bear. Best for ages 3-9. imaginationstage.org
BETTY returns to DC
Queer band to perform at City Winery Dec. 5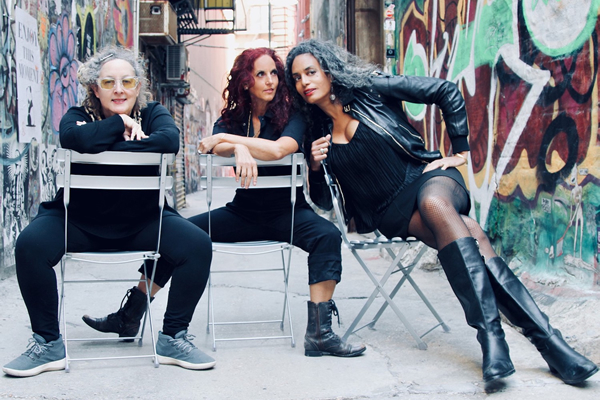 Pop-rock band BETTY is returning to their District homeland for a holiday show at City Winery on Dec. 5.  
Fronted by Alyson Palmer and sisters Elizabeth and Amy Ziff, the band who are "rule breakers" and "equality rockers" have been touring, writing, and advocating for social change through their music since 1986. The band has been featured in shows like "The L Word" and "Encyclopedia," and created their own off-Broadway show "BETTY RULES."
The D.C. show will kick off a tour that will bring the band to New York City, Cincinnati, and New Hope, Pa. Elizabeth, who identifies as lesbian, said it's been "incredible" to be in rehearsals for shows again after the pandemic put a hold on live music.
"We've been together for so long. We are a family and we hang out and we're friends and we play music together," she said. "It's our life."
Amy, who is queer, said she's excited to perform in the District where the band originally formed.
"It's so emotional because it's where we grew up," she said. "Not just musically, but it's where we came out."
Proof of vaccination is required at all shows. To purchase tickets, visit citywinery.com.