July 10, 2019 at 4:31 pm EDT | by Lou Chibbaro Jr.
Stein Club calls for Evans' resignation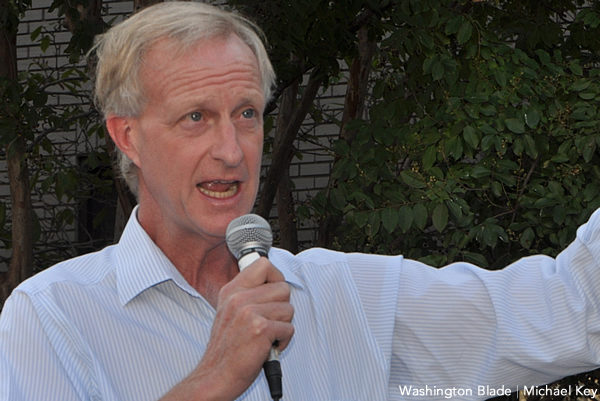 The Gertrude Stein Democratic Club, D.C.'s largest local LGBT political group, approved a resolution by unanimous voice vote Monday night calling for D.C. Council member Jack Evans (D-Ward 2) to resign from his seat on the Council.
The club approved a separate resolution, also by unanimous voice vote, calling on the D.C. Council to pass legislation decriminalizing prostitution in the District for consenting adults.
The resolution on Evans also calls for him to "immediately" resign from his position as National Committeeman from D.C. to the Democratic National Committee and for the Council to remove Evans from all Council committees and to "deny him the ability to participate in any legislative or oversight matters in the Committee of the Whole."
The approval of the three-part resolution on Evans at the Stein Club's regularly scheduled meeting on July 8 came four months after club members defeated a similar resolution calling for Evans to resign from the Council.
While defeating that resolution club members approved separate resolutions at their March 11 meeting calling for Evans to temporarily resign from his position as chair of the Council's influential Committee on Finance and Revenue and from his post as National Committeeman to the DNC.
Stein Club President Monica Nemeth said the club's decision to ramp up its position on Evans, a longtime supporter of LGBT rights, by calling for his resignation from the Council was based on new information that has surfaced linking Evans to allegations of ever more serious ethics breaches.
In seven paragraphs headed by the word "whereas," the Stein Club resolution cites the allegations that have surfaced against Evans, including a federal investigation looking into whether he used his position as a Council member and chair of the Metro Board to benefit his private consulting business.
"WHEREAS, Councilmember Evans appears to have so compromised himself, and to have conducted himself with such little regard for the dividing line between the public interest and his personal clients' interests, that it is no longer tenable for him to serve on the Council without bringing the entire Council and its other members into disrepute," the resolution states.
Evans has argued that the allegations against him appear more serious than his actual actions that have become the subject of the investigations.
"When all is reviewed and known, you will see my actions – while not becoming – are far from that which has been reported or suggested," the Washington Post quoted him saying to fellow Council members at a meeting last week.
The sex worker decriminalization resolution approved by the Stein Club endorses a pending D.C. Council bill, the Community Safety and Health Amendment Act of 2019, which was authored by D.C. Council member David Grosso (I-At-Large) and co-introduced by Grosso and Council member Robert White (D-At-Large). The bill would decriminalize prostitution in the District while leaving in place laws that ban sex trafficking and any commercial sex work involving coercion.
The resolution states that "policing and criminalization of sex work is one of the primary means of racial profiling, police violence, and mass incarceration of black and brown women, girls, and trans and gender nonconforming folks." It adds that "LGBTQ+ folks of color, who have fewer opportunities for housing, employment, and legal protections, are overrepresented among those engaged in sexual exchange."
The resolution asserts that "removing criminal penalties for sexual exchange reduces discriminatory treatment of D.C.'s most marginalized. This increases sex workers' ability to access supportive services, negotiate safer sex practices, and seek legal recourse for incidents of sexual and physical violence."
Sex worker advocates Tanike Spellman and Alicia Sanchez Gill, who were guest speakers at Monday night's Stein Club meeting, provided background information on the decriminalization bill and urged club members to contact their Council members to express support for the legislation.