Gus Kenworthy and boyfriend Matthew Wilkas split
The couple dated for nearly four years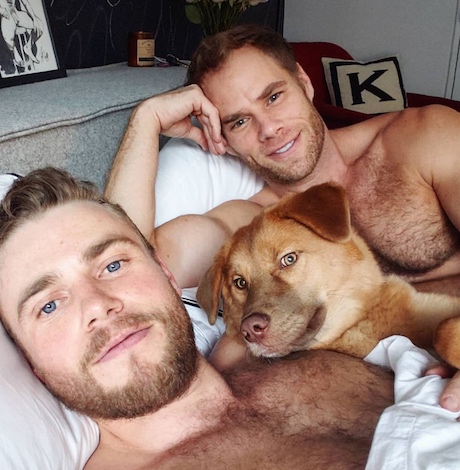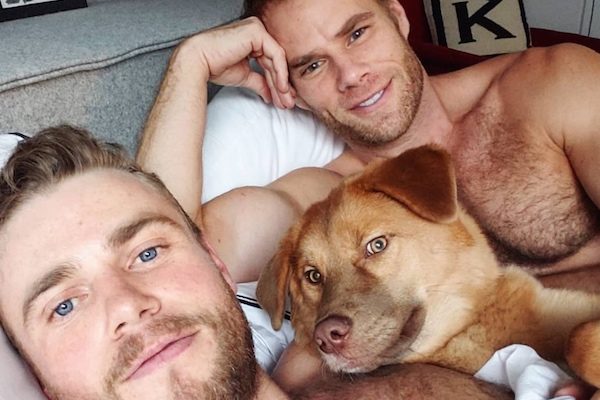 Olympic freeskier Gus Kenworthy and his boyfriend Matthew Wilkas have split after nearly four years.
"Gus and Matt are taking time apart," a rep for the couple told People. "They love and support each other and remain close friends."
According to Page Six, a source reveals that the couple "drifted apart." They reportedly split right before the Fourth of July. Page Six also reports that Wilkas has already been seen on Grindr.
Kenworthy, 27, and Wilkas, 41, met on Instagram in 2015 and began dating in November 2015. The couple made history when cameras caught them kissing at the Winter Olympics in PyeongChang, South Korea in 2014. It was the first gay kiss involving an Olympian to be televised.
They shared Birdie, a Jindo/Labrador mix, who they saved from a dog meat farm in South Korea.
Dorian Awards cast a queer eye on television
Netflix favorite 'Heartstopper' nabs three nominations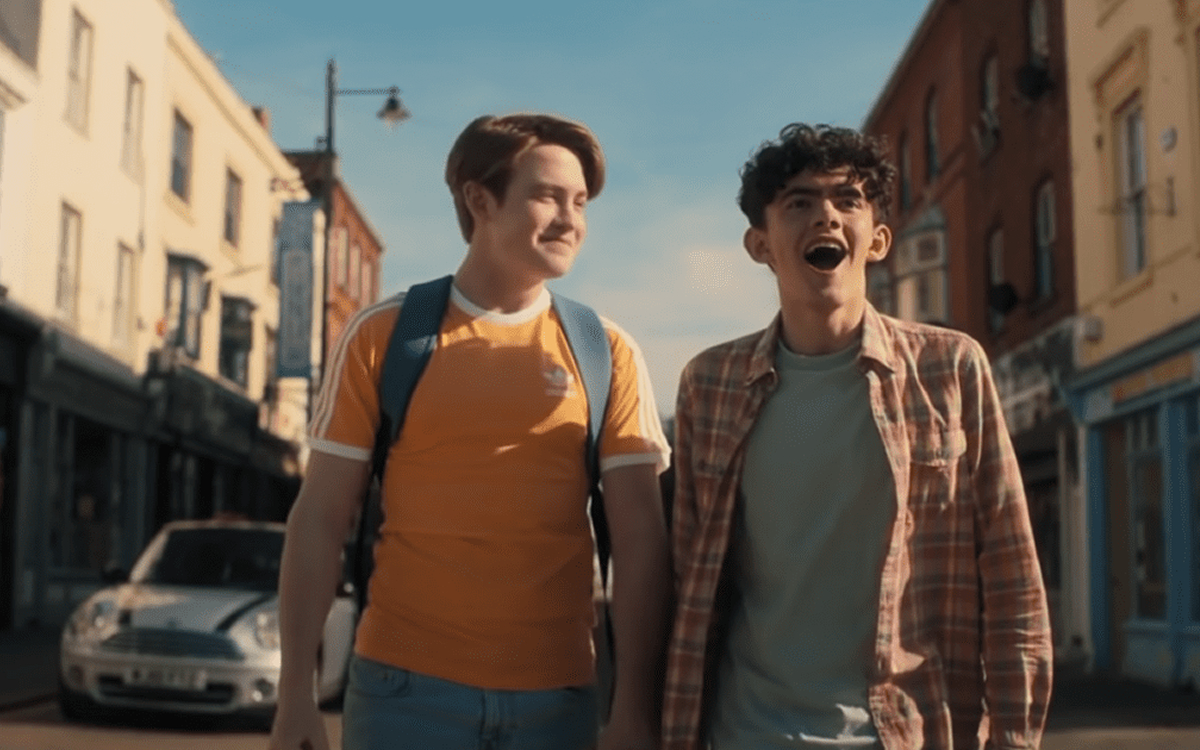 As Hollywood gears up for the year's second "Awards Season" ahead of July 12's scheduled announcement of the 2022 Emmy nominations, it seems only fitting for us to bring some attention to another awards organization that has already dropped its picks for the year's best in TV content. We're referring, of course, to the Dorian Awards, which have been bestowed by the Society of LGBTQ Entertainment Critics since 2009.
If you've never heard of the Dorians, that's not surprising. In keeping with the entertainment industry's frustratingly persistent skittishness when it comes to All Things Queer, the Dorians haven't gotten much attention in the mainstream press – though with a 385-member voting body and a scandal-free history, they are arguably more reputable than the Golden Globes. Named in honor of iconic queer writer Oscar Wilde (as a reference to his novel "The Picture of Dorian Gray"), they are admittedly low profile when it comes to glitz and glamour, handing out their prizes at an annual "Winner's Toast" day party instead of a formal evening affair. Nevertheless, they've gained traction as Hollywood's attitudes toward LGBTQ inclusion and representation have shifted, and each of their two annual ceremonies – one for TV, one for film, held about six months apart – draw an increasing number of A-listers to participate, both as nominees and presenters; and while the Dorians may not hold the level of prestige enjoyed by some of the industry's other awards, at least we can be sure their voting membership won't overlook queer shows and talent as often as their counterparts at the Motion Picture and Television Academies.
That doesn't mean the Dorians are exclusively focused on LGBTQ content. The Society of LGBTQ Entertainment Critics – formerly known as the Gay and Lesbian Entertainment Critics Association, or GALECA – explicitly states that its awards are to honor "the best in film and TV, mainstream to queer+", while calling attention to the importance of queer contribution and sensibility within the wider culture and reminding "bullies, bigots, and our own at-risk youth that the world loves the sly Q eye on entertainment." With some state governments and the SCOTUS itself dedicating themselves an all-out assault on the LGBTQ community and its hard-won rights, that last point seems particularly resonant; with so much homo- and transphobic hate pouring its efforts into erasing us, our visibility is more crucial than ever.
Fortunately, as the slate of Dorian nominees announced by GALECA on June 22 reveals, the queer presence on television is strong. No longer segregated to a "niche" genre, the LGBTQ community has finally begun to appear on our screens as it does in life – blended, alongside everyone else, into a world that has room for us all. That's what ideal inclusion looks like, and it's heartening – especially now – to see that it has become the norm in so much of the industry's best offerings.
This year, HBO leads the pack in terms of nods. Two of its heavily queer-inclusive shows, "Hacks" and "Somebody Somewhere," received five nominations each, while "Euphoria" and "The White Lotus" snagged 4 and 3, respectively. In total, the cable-and-streaming giant got 24, with an additional 13 for programming exclusively on HBO Max, bringing the total to 37.
Coming in second with less than half that number is Netflix. Among its 15 nominations are three nods for "Heartstopper," the runaway queer fan favorite based on a sweet UK webcomic about two schoolboys in love, and two each for Natasha Lyonne's brain-twisting time travel dramedy "Russian Doll" and the already-award-winning Korean thriller "Squid Game."
New series scored high among Dorian voters this year. Besides "Heartstopper" and "Somebody Somewhere," ABC's "Abbott Elementary," Showtime's "Yellow Jackets," and Apple TV+'s "Severance" each received multiple nominations, with many other freshman titles picking up individual nods.
As for the awards themselves, the Dorians feature fewer overall categories – instead of being split into "gendered" divisions, actors of all genders compete for a single award in each category – and set themselves apart by striking a mildly tongue-in-cheek pose in the presentation of its "special" accolades. In presenting awards like Campiest TV Show or the brand new "You Deserve an Award" award, the Dorians give a tip of the lavender hat to the tradition of Wildean wit at their back – but they also assert the importance of queer perspective when it comes to taste-making and the aesthetic arts.
Nominees for the 14th Annual Dorian TV Awards (honoring shows which debuted June 1, 2021-May 31, 2022) are listed below. Winners will be revealed on Wednesday, Aug. 12.
BEST TV DRAMA: "Better Call Saul"; "Heartstopper"; "Yellowjackets"; "Severance"; "Succession"
BEST TV COMEDY: "Abbott Elementary"; "Barry"; "Hacks"; "The Other Two"; "Our Flag Means Death"
BEST LGBTQ SHOW: "Hacks"; "Heartstopper"; "The Other Two"; "Our Flag Means Death"; "Somebody Somewhere"; "RuPaul's Drag Race"
BEST TV MOVIE OR MINISERIES: "Dopesick"; "The Dropout"; "Midnight Mass"; "Station Eleven"; "The White Lotus"
BEST NON-ENGLISH LANGUAGE TV SHOW: "Elite"; "Lupin"; "My Brilliant Friend"; "Pachinko"; "Squid Game"
BEST UNSUNG SHOW: "Better Things"; "The Other Two"; "Our Flag Means Death"; "Russian Doll"; "Somebody Somewhere"; "We Are Lady Parts"
BEST TV PERFORMANCE: Quinta Brunson ("Abbott Elementary"); Kit Connor ("Heartstopper"); Bridget Everett ("Somebody Somewhere"); Bill Hader ("Barry"); Lily James ("Pam & Tommy"); Natasha Lyonne ("Russian Doll"); Melanie Lynskey ("Yellowjackets"); Amanda Seyfried ("The Dropout"); Jean Smart ("Hacks"); Zendaya ("Euphoria")
BEST SUPPORTING TV PERFORMANCE: Murray Bartlett ("The White Lotus"); Anthony Carrigan ("Barry"); Jennifer Coolidge ("The White Lotus"); Hannah Einbinder ("Hacks"); Jeff Hiller ("Somebody Somewhere"); Janelle James ("Abbott Elementary"); Matthew Macfadyen ("Succession"); Christina Ricci ("Yellowjackets"); Rhea Seehorn ("Better Call Saul"); Sydney Sweeney ("Euphoria")
BEST TV MUSICAL PERFORMANCE: Beyonce, "HYPERLINK "https://www.youtube.com/watch?v=4aeDlZOD-B0″Be Alive" (94th Academy Awards); Kristin Chenoweth and cast, "HYPERLINK "https://www.youtube.com/watch?v=_PmS5JIfSkk"Tribulation" ("Schmigadoon!"); Bridget Everett and Jeff Hiller, "HYPERLINK "https://www.youtube.com/watch?v=As-a_bzFrl0″Don't Give Up" ("Somebody Somewhere"); Jean Smart, "You Make Me Feel Like a Natural Woman" ("Hacks"); Cecily Strong and cast, "HYPERLINK "https://www.youtube.com/watch?v=Dj5mJGyoYIM"Corn Puddin'" ("Schmigadoon!"); Hannah Waddingham and cast, "HYPERLINK "https://www.youtube.com/watch?v=4B0HktX4xqQ"Never Gonna Give You Up" ("Ted Lasso")
BEST TV DOCUMENTARY OR DOCUMENTARY SERIES: "The Andy Warhol Diaries"; "The Beatles: Get Back"; "How to with John Wilson"; "Spring Awakening: Those You've Known"; "We Need to Talk About Cosby"
BEST CURRENT AFFAIRS PROGRAM: "The Amber Ruffin Show"; "The Daily Show with Trevor Noah"; "Full Frontal with Samantha Bee"; "Last Week Tonight with John Oliver"; "The Late Show with Stephen Colbert"; "The Rachel Maddow Show"; "ZIWE" (Showtime)
BEST ANIMATED SHOW: "Arcane"; "Big Mouth"; "Bob's Burgers"; "Q Force"; "Tuca & Bertie"; "What If…?"
BEST REALITY SHOW: "Legendary"; "The Real World Homecoming: New Orleans"; "RuPaul's Drag Race"; "Survivor"; "Top Chef: Houston"; "We're Here"
MOST VISUALLY STRIKING SHOW: "Euphoria"; "The Gilded Age"; "Loki"; "Severance": "Squid Game"
CAMPIEST TV SHOW: "Diana: The Musical"; "Euphoria"; "Girls5Eva"; "Nine Perfect Strangers"; "Schmigadoon!"
WILDE WIT AWARD (to a performer, writer or commentator whose observations both challenge and amuse): Joel Kim Booster; Quinta Brunson; Jerrod Carmichael; Jennifer Coolidge; Bowen Yang
THE "YOU DESERVE AN AWARD!" AWARD (to a uniquely talented TV icon we adore): Gillian Anderson; Christine Baranski; Lynda Carter; Kim Cattrall; Cassandra Peterson
GALECA LGBTQIA+ TV TRAILBLAZER (for creating art that inspires empathy, truth and equity): Jerrod Carmichael; Margaret Cho; Russell T. Davies; Kate McKinnon; Bowen Yang
PHOTOS: 2022 Baltimore Pride
Annual LGBTQ march held on Saturday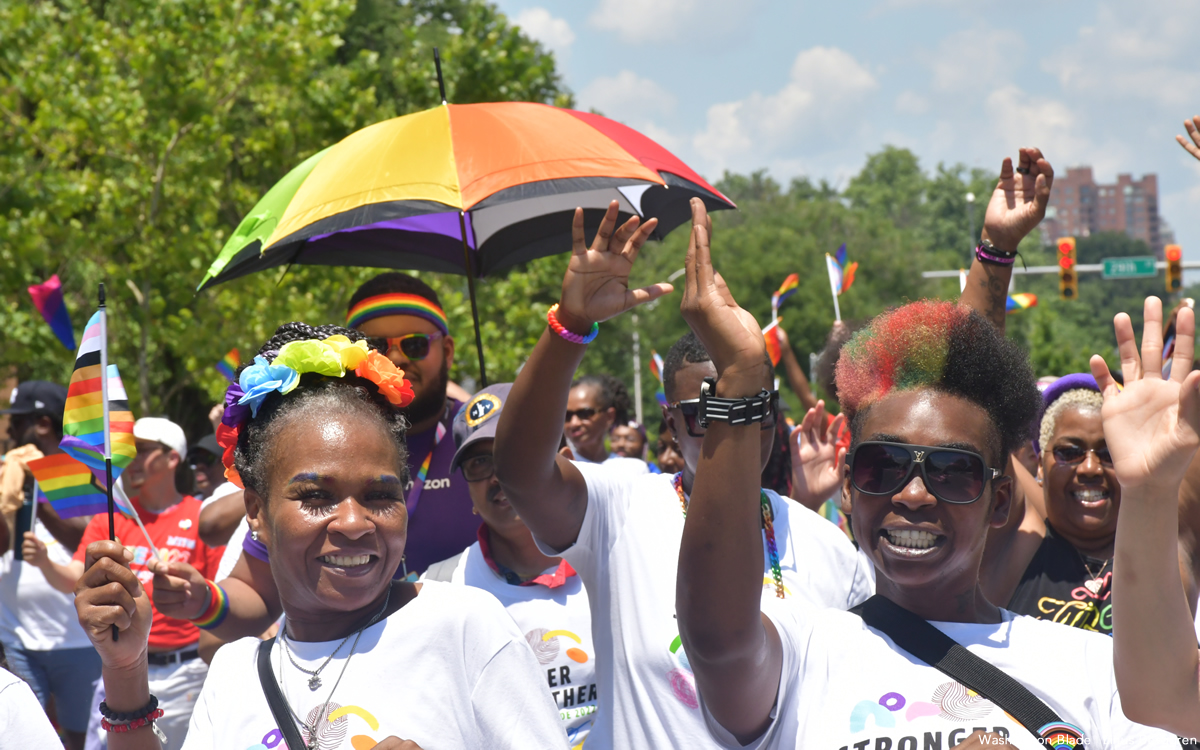 The 2022 Baltimore Pride Parade was held on Saturday, June 25. The march was followed by a block party and entertainment.
(Washington Blade photos by Linus Berggren)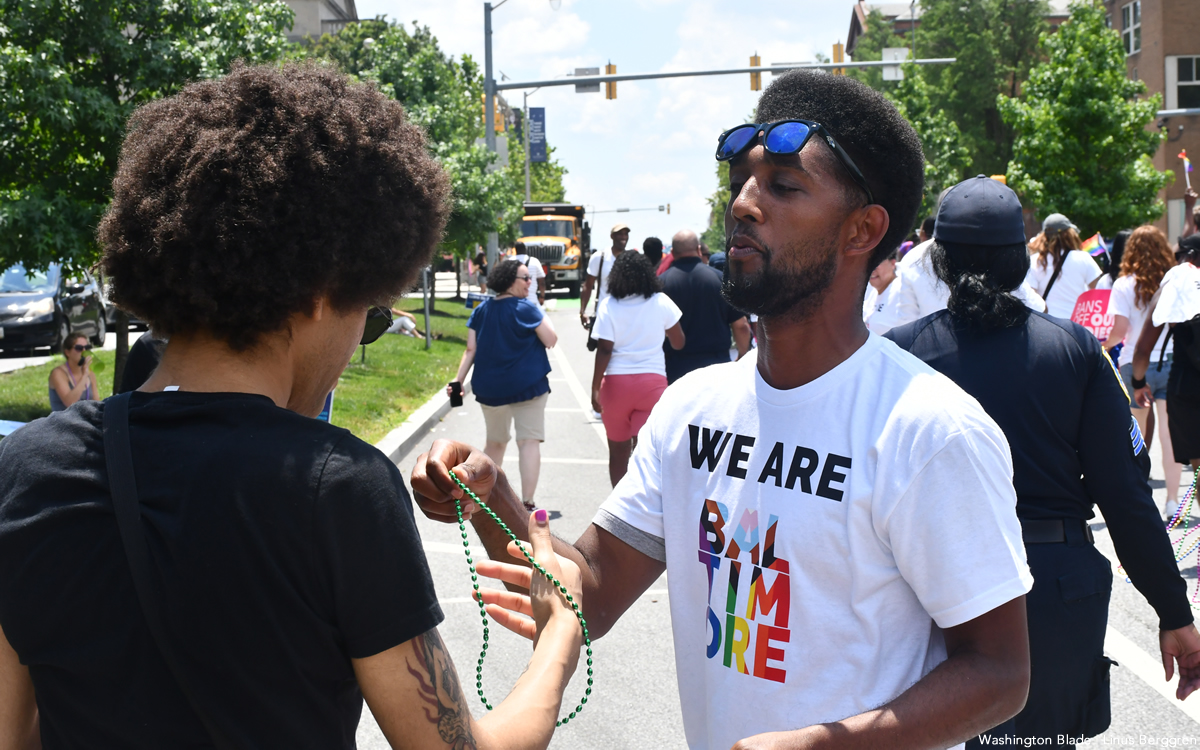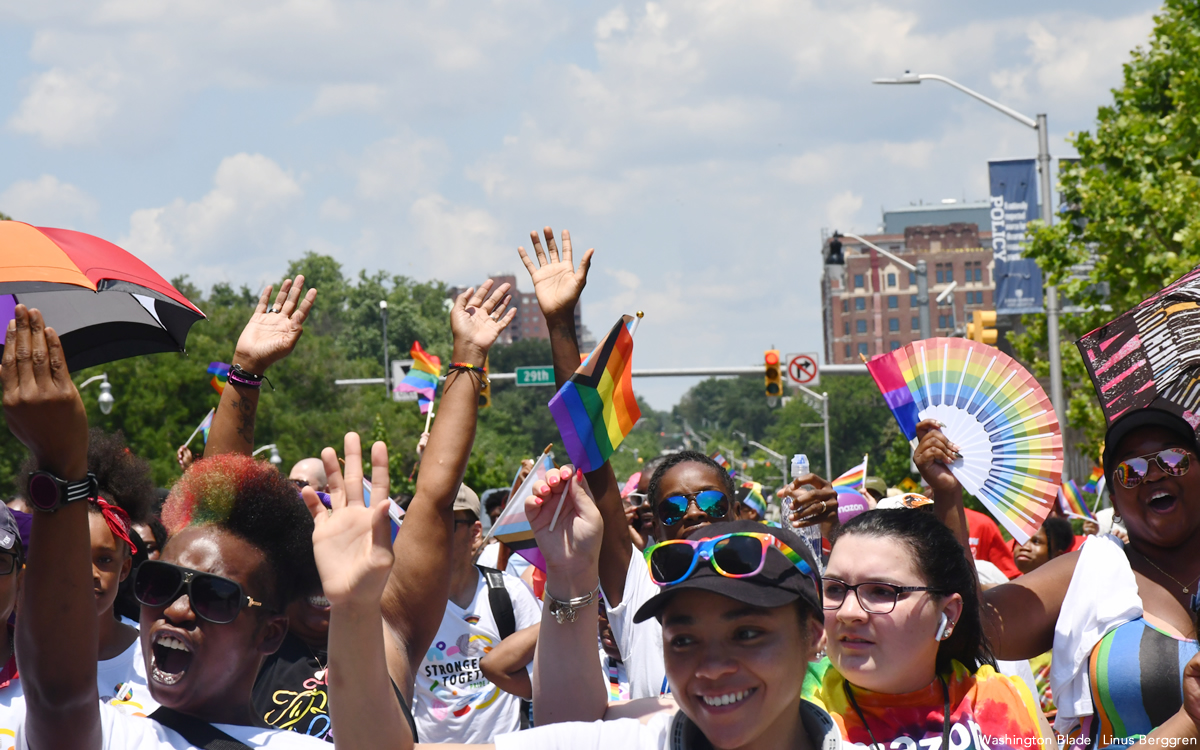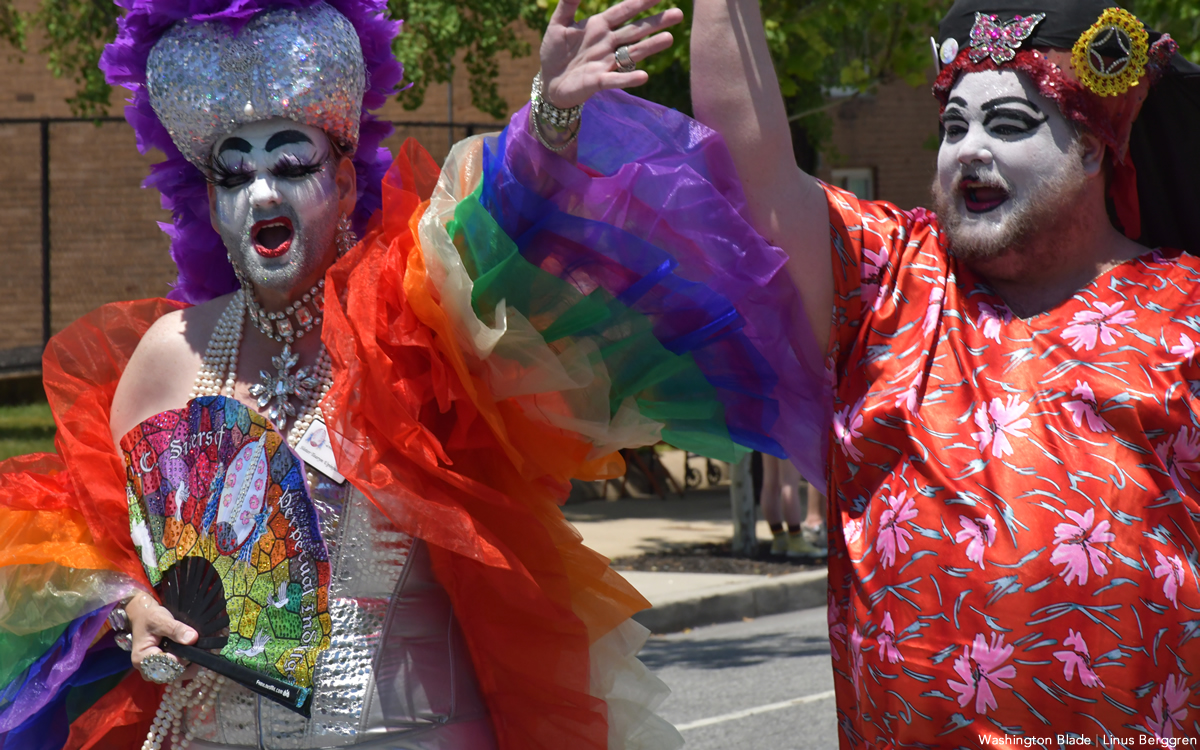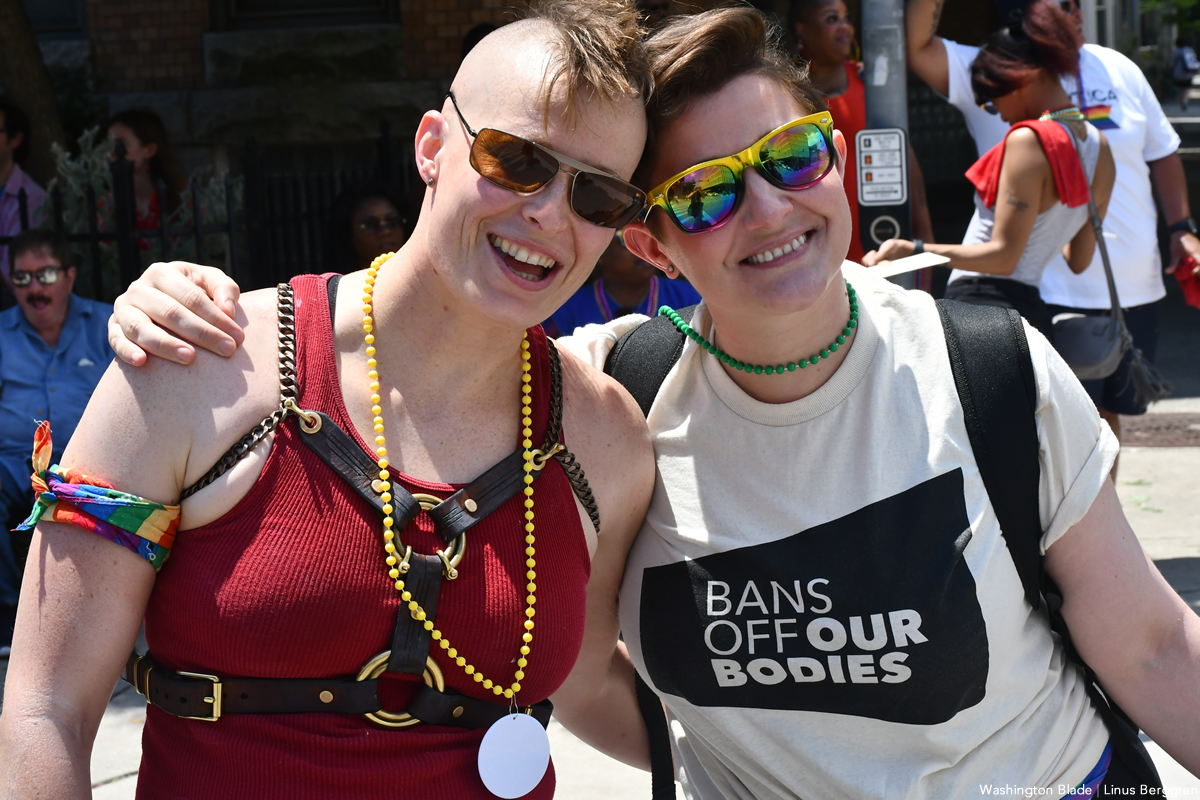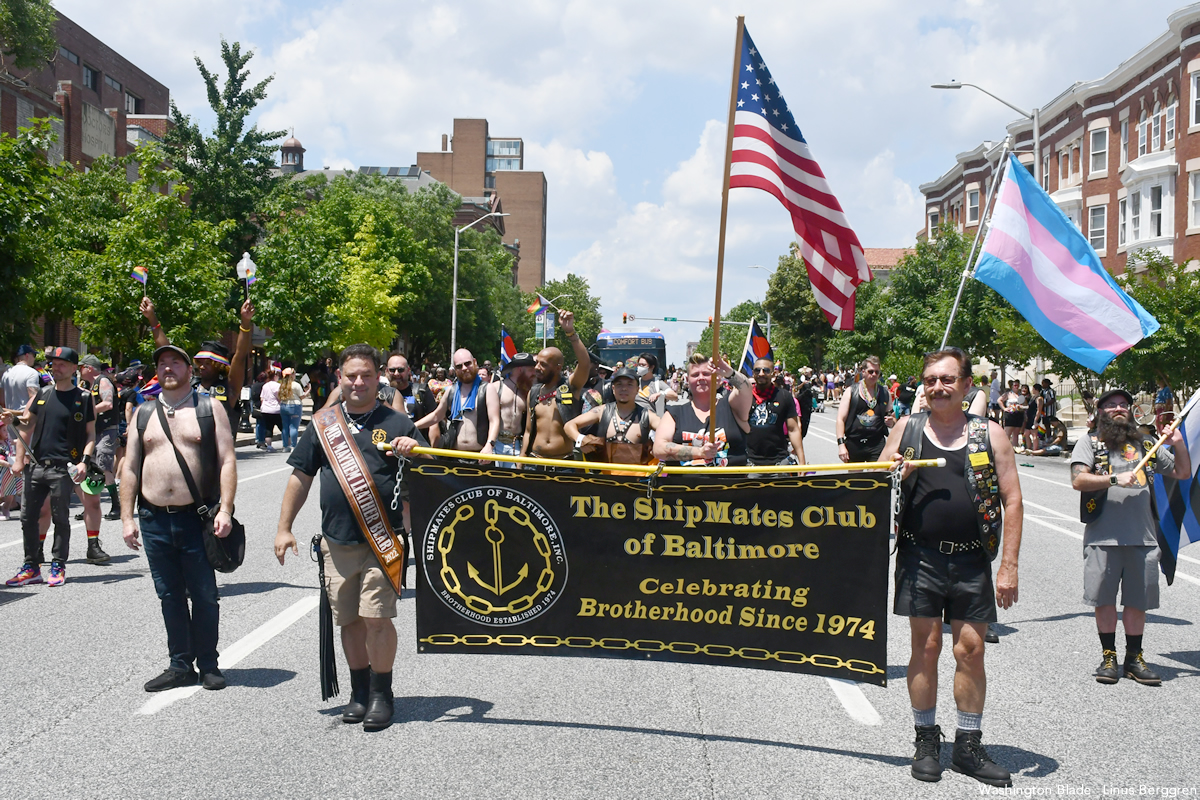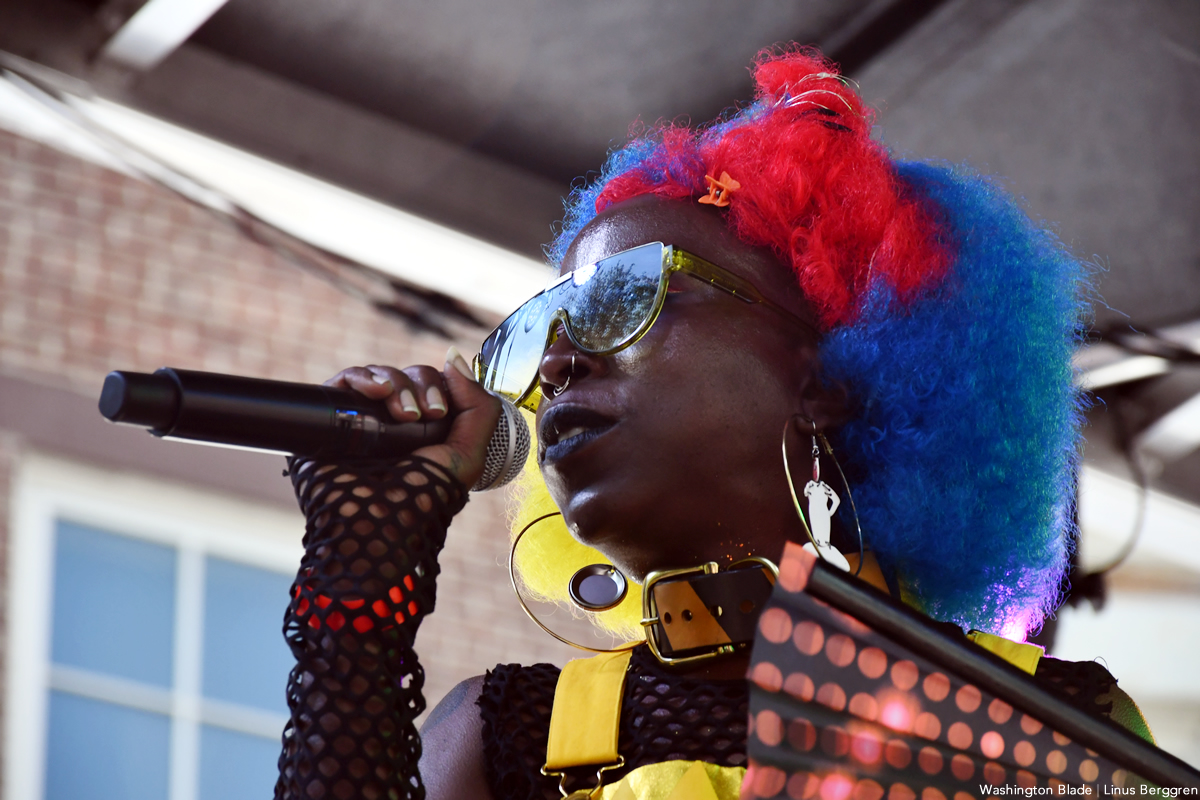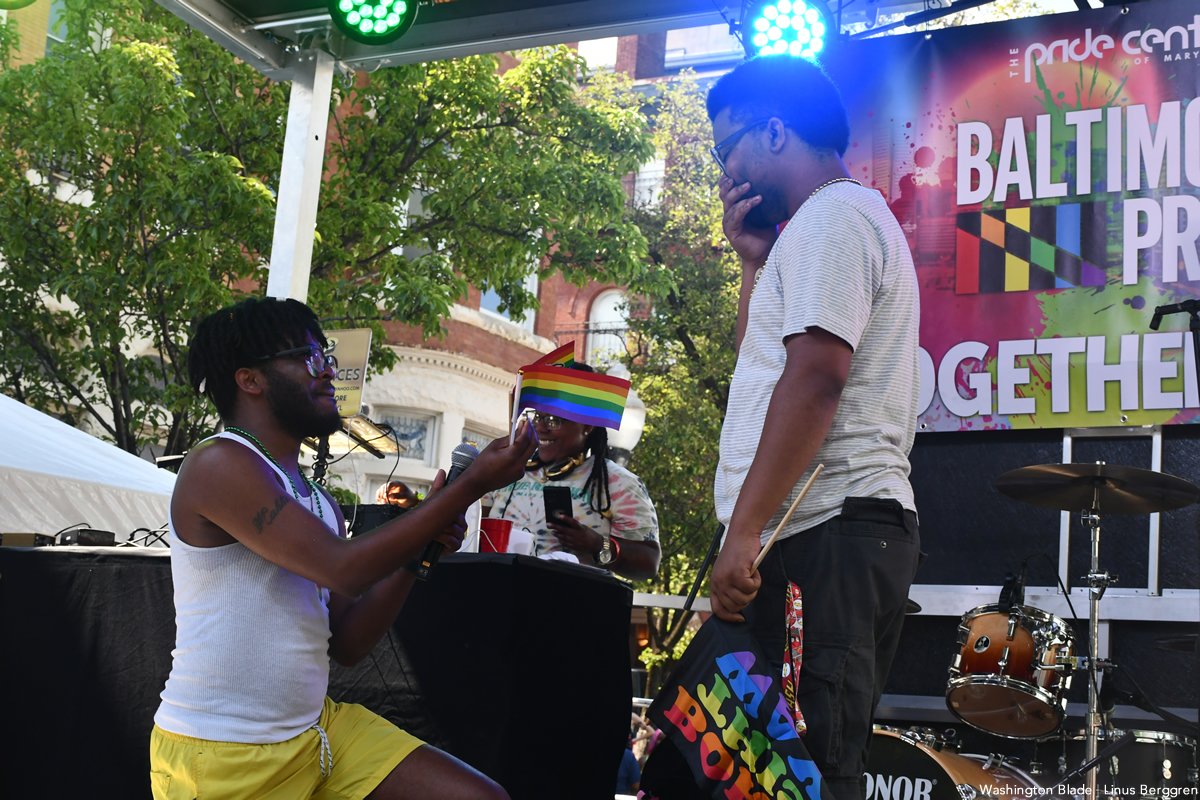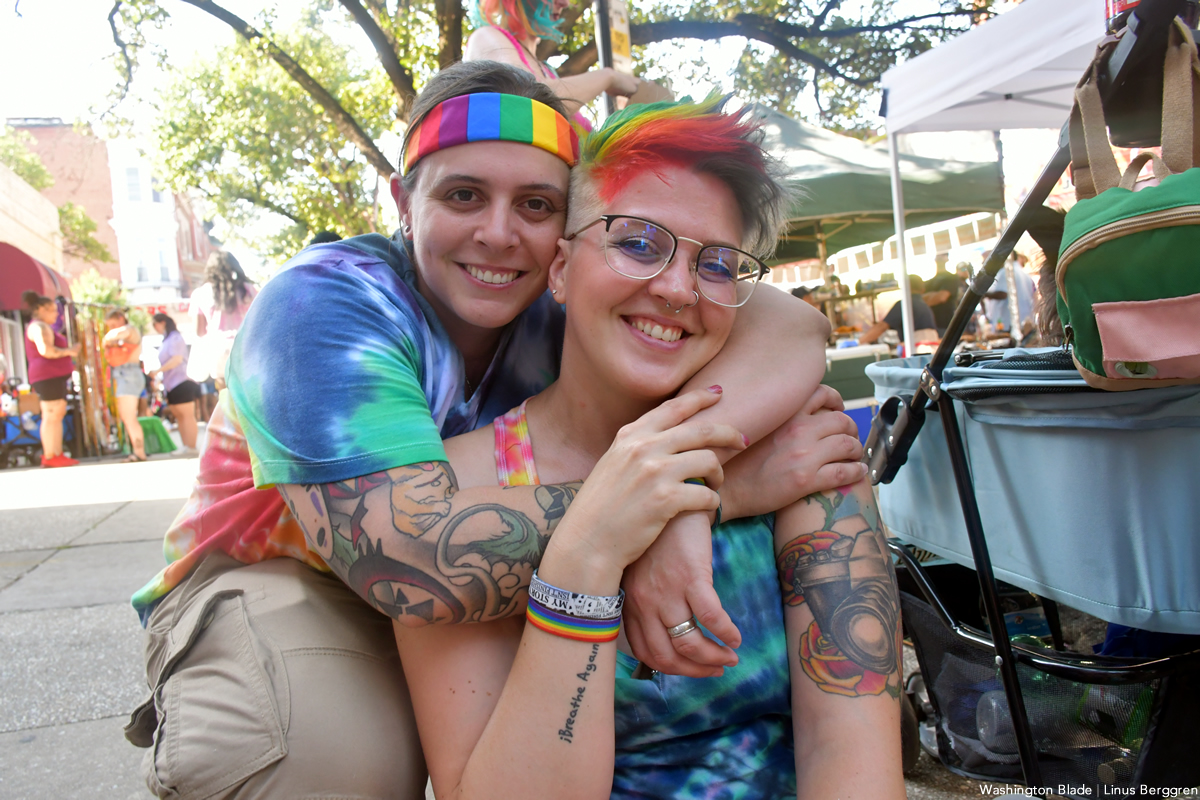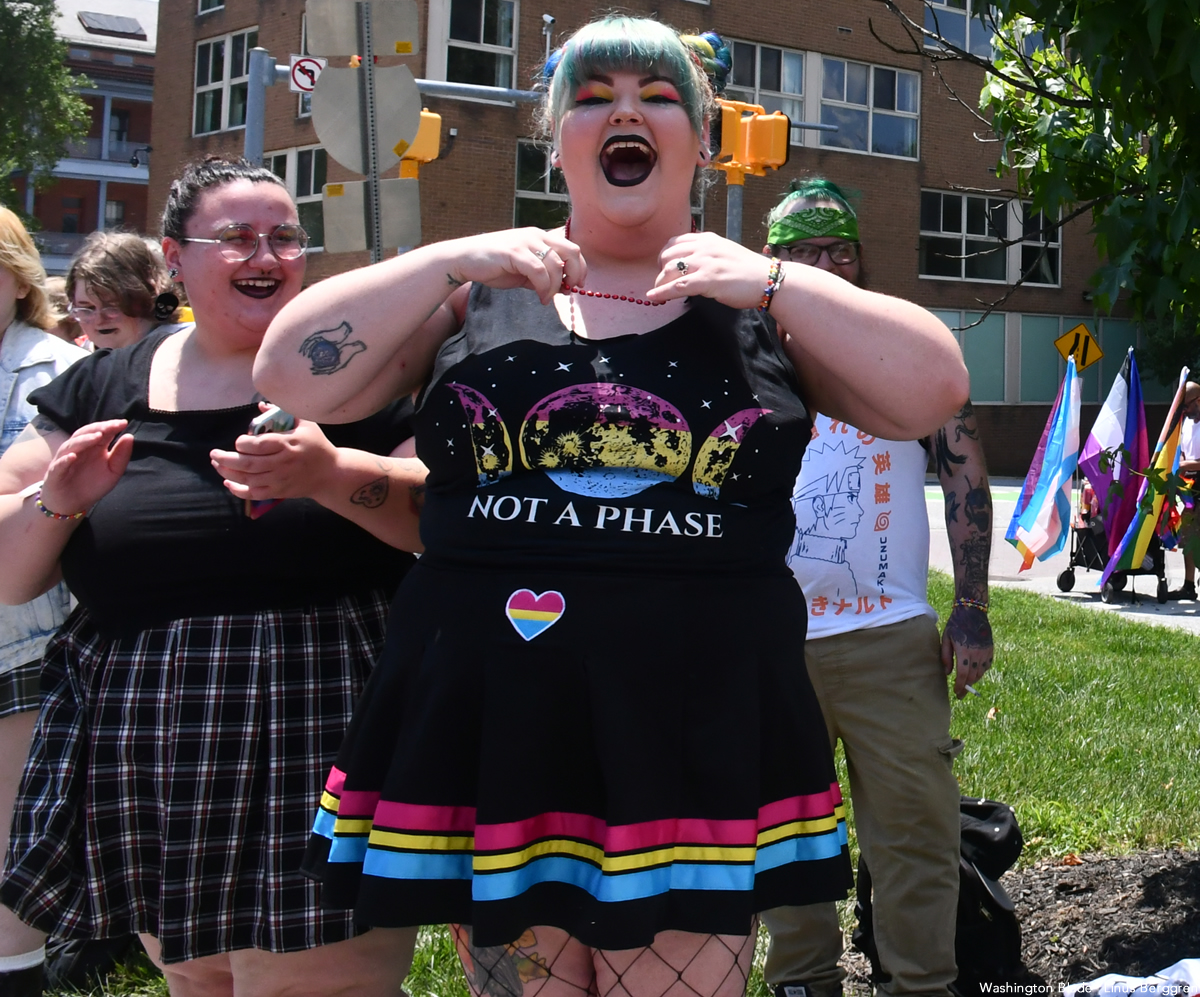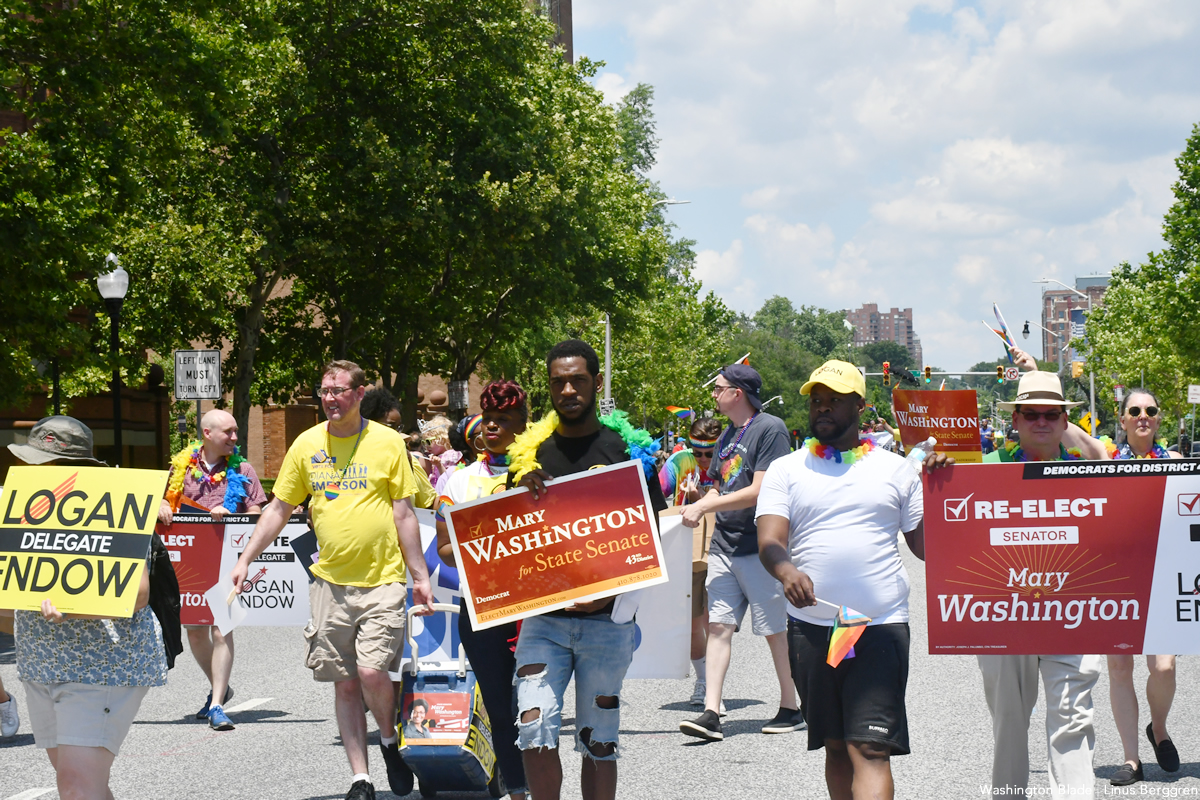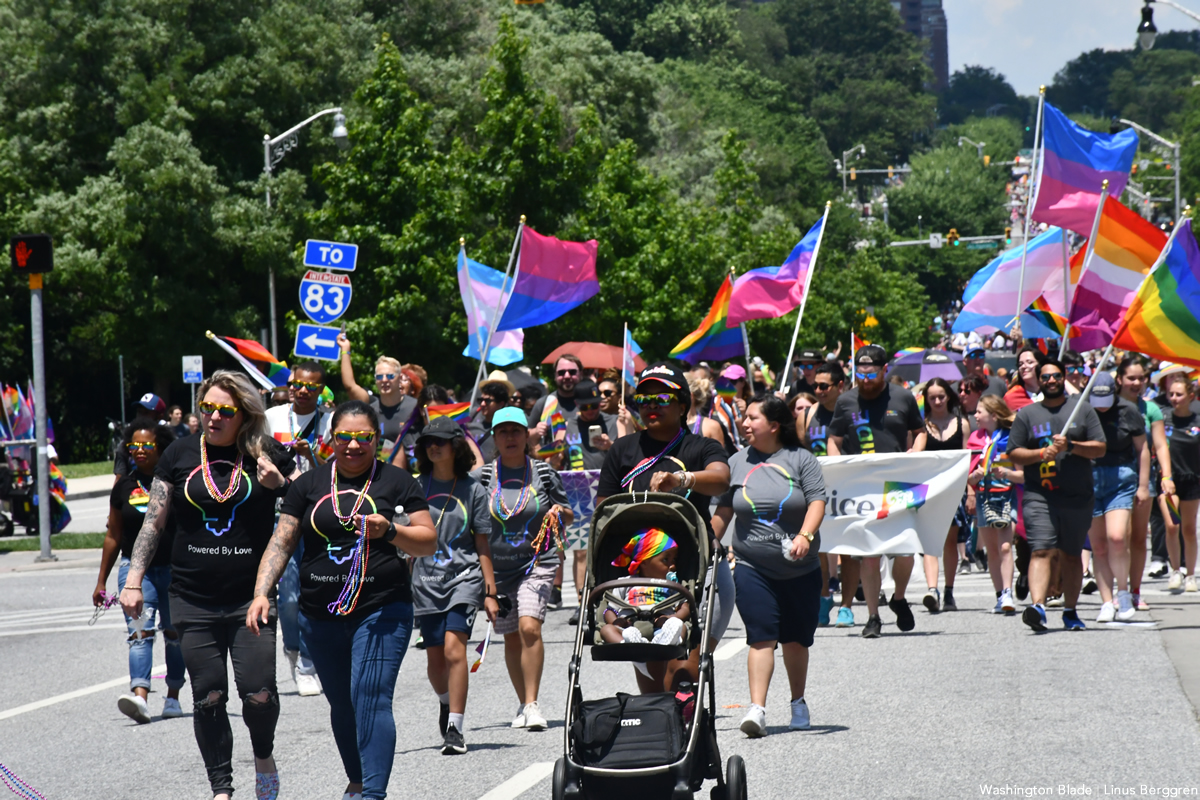 Queer actor on new role: 'Playing villains is a blast'
Jaye Ayres-Brown returns as a contemptible Londoner in 'Red Velvet'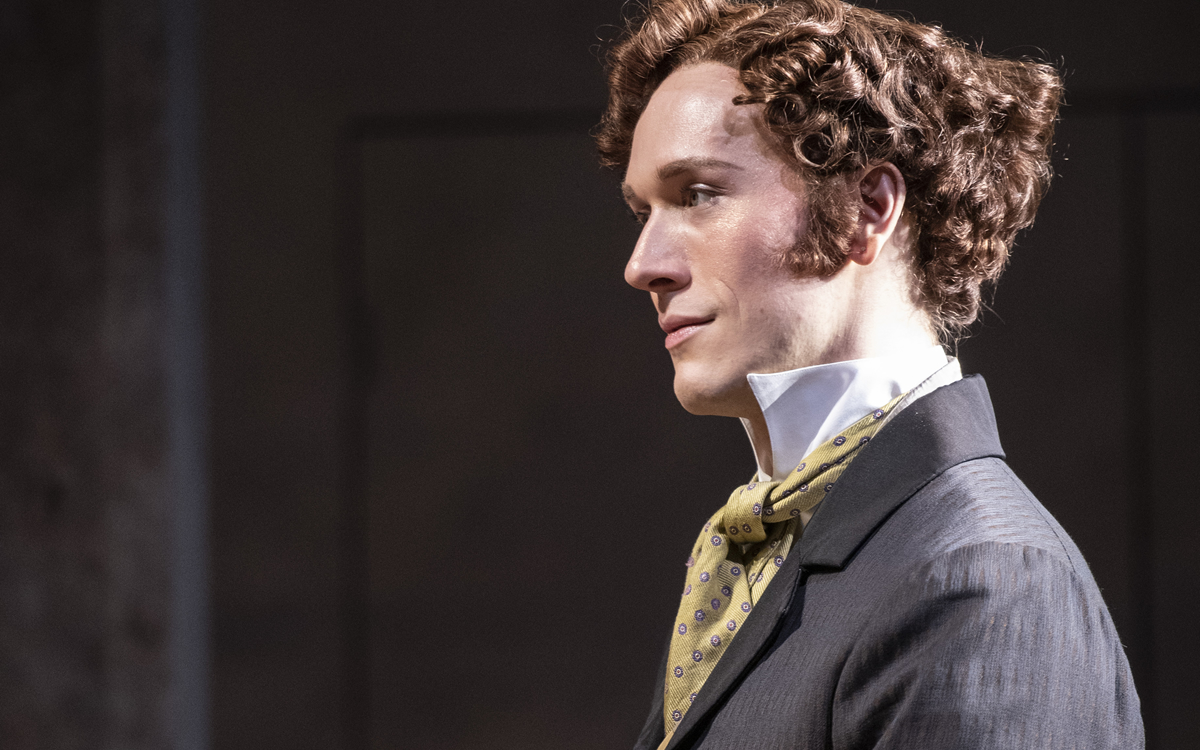 'Red Velvet'
Through July 17
Shakespeare Theatre Company 
Michael R. Klein Theatre at the Lansburgh, 450 7th St., N.W.
$35-$120
Shakespearetheatre.org
After a five-year absence from the stage, actor Jaye Ayres-Brown (queer, gender fluid, non-binary, and trans-femme) returns to the boards as a contemptible cisgender Londoner in playwright Lolita Chakrabarti's "Red Velvet" at Shakespeare Theatre Company's Klein Theatre.
Possessed of presence and genuine warmth, Ayres-Brown, 27, is playing Charles Kean, the smug and dubiously talented son of legendary English actor Edmund Kean. Charles is also the essential antagonist in Chakrabarti's exploration of the life and career of renowned early 19th century African-American Shakespearean actor, Ira Aldridge (Amari Cheatom).
When Aldridge is tapped to play Othello on the London stage, Charles, who's slated to act opposite the star as evil Iago, quits the show. It's 1833 and Charles is deeply opposed to a Black actor playing a Black lead character, and he's even less pleased that his real-life fiancée Ellen Tree (Emily DeForest) is assaying Othello's romantic obsession Desdemona in the production.
Offstage, Ayres-Brown is Aldridge's biggest fan: "He was way ahead of his time. A hundred years before Stanislavsky, Aldridge was introducing a proto naturalist approach to acting. In retrospect, it's hard to disentangle the public's reaction to him. He was something so different. But were white audiences reacting to his innovative acting style or were they showing their racial bias?"
"In the play, I'm that bias," says the New York-based actor.
WASHINGTON BLADE: Joan Crawford famously said, "I love playing bitches. There's a lot of bitch in every woman — a lot in every man."
JAYE AYRES-BROWN: Oh yeah, playing villains is a blast. Ira Aldridge was such a spectacularly heroic person, an amazingly gifted and resourceful artist, he deserves a good villain to push against, a meaningful villain who makes us admire the hero even more. And Amari [Cheatom], the actor who plays Aldridge, is a great artist who deserves a strong antagonist too.
BLADE: Are you enjoying your stay in London 1833?
AYRES-BROWN: No, I hate it! But my character loves it. Charles enjoys tremendous privilege – racial and professionally. He's a cisgender white supremacist committed to the patriarchal power structure of the time. But me, Jaye as a person, is less than charmed by it.
BLADE: But aesthetically, it's quite fine?
AYRES-BROWN: Yes, You-Shin Chen's sets are impeccable, and the period costumes are beautifully rendered by Rodrigo Muñoz. Sometimes, I do feel a little bit like a drag king in Charles' attire. It's a performance of masculinity.
I have an expansive experience of gender in which I include masculinity and I think I have something interesting to say and a unique perspective. Language about gender nonconforming identity didn't exist in 1833, but the people existed, getting by the best way they could. Everyone was either a man or a woman. Who knows today how any of these characters would identify?
My objective is to cram as much humanity in the character as I can. The play is deeply considered with questions about who gets to play what roles. And I try to bring as much of myself to each role regardless of their gender.
BLADE: Charles is very far from who you are?
AYRES-BROWN: For me, the work of playing a character like this is derived largely from the racist lessons all Americans learn. The stereotypes are things that I've been exposed to as someone who grew up white in America. There's the initial desire to distance and highlight contrasts, but ultimately you must mine your own experience even if it's uncomfortable.
BLADE: How is it to be working in live theater again?
AYRES-BROWN: Like Christmas morning! It's my first play in five years, and still my training kicks in. I re-balance on my bike and it's like I've never stopped riding. But mostly, I'm trying to have as much fun as I can.
BLADE: And how was working with young director Jade King Carroll?
AYRES-BROWN: Wonderful! The play deals with some difficult moments, harmful language and ideas. Jade created a space in our rehearsal room where people could be playful while engaging with that. Dealing with concepts of history requires the seriousness it demands, but there's also a need for humor and lightness, and Jade made that possible.
BLADE: Any thoughts on "Red Velvet" being stuck in time?
AYRES-BORWN: No, I think this play is a shockingly contemporary telling of a lost history that feels overwhelmingly resonant as it's related to identity politics and the push for representation. I hope the audience sees a period but appreciates the present-day dynamics, discussions, and language. It's also surprisingly human and very entertaining. To me it's a very funny show. Anyone interested in laughing at posh British folks being stupid might agree.