July 12, 2019 at 1:23 pm EDT | by Kevin Majoros
Local swimmers triumph at international competition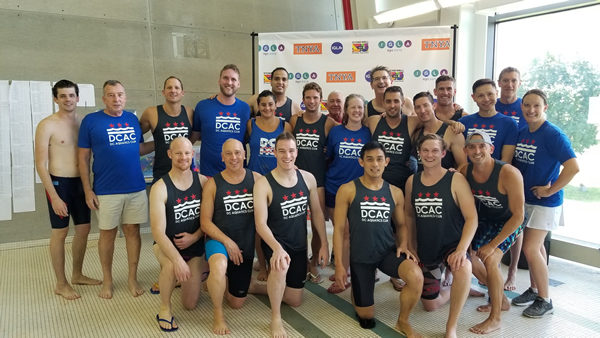 The historic World Pride and Stonewall 50 celebrations in New York City last month coincided with six days of athletic competition.
The International Gay & Lesbian Aquatics world championships drew in about 900 athletes from around the globe in the sports of swimming, water polo, diving, synchronized swimming and open water swimming.
When it was over, swimmers from the District of Columbia Aquatics Club (DCAC) had captured 82 gold, 28 silver and 27 bronze medals in the pool. DCAC broke 17 IGLA world records and had two swimmers win medals in open water swimming.
The IGLA championships were founded 30 years ago and have continued to thrive. The sense of history seemed especially prevalent at this year's event.
"On the 50th anniversary of Stonewall, it was important for DCAC and the Washington Wetskins water polo team to compete at this year's championships," says Jack Markey, a founding member of both teams. "Older athletes who were instrumental in founding and leading LGBT aquatics renewed friendships and athletic rivalries, while looking on with pride at the accomplishments of younger athletes from teams around the world."
For the fourth year in a row, a contingent of swimmers from Uganda were at the IGLA championships. They are wildly popular with all the teams and each year with them in attendance serves as a reminder as to how far other countries have progressed in regard to LGBT rights.
"Uganda is a place where same-sex relationships are criminalized, social acceptance is low and LGBT individuals face harassment, imprisonment, blackmail and violence," Markey says. "While the challenges they face back home are reminiscent of pre-Stonewall America, their presence at IGLA reinforces the importance of LGBT sports programs and the positive effect they have on people's lives."
DCAC swimmer Geoff Heuchling attended his first IGLA in 1994 which was also held in New York City in conjunction with the Gay Games. He wasn't planning on competing this year because of a career change and home move.
In April he went to a D.C. screening of the documentary "Light in the Water" and changed his mind. The film chronicles the journey of the LGBT-based West Hollywood Aquatics team and offers a glimpse of what it was like to be a gay athlete in the 1980s. Not only is it a story about swimming, water polo and the HIV/AIDS crisis, it is a story about hope, perseverance and the battle for acceptance.
"The film reminded me what IGLA is all about and prompted me to go. My brother Peter swam for West Hollywood Aquatics and died from AIDS in 1992," Heuchling says. "Going back for another IGLA was a touchstone to my brother. IGLA was very meaningful to him."
Heuchling was one of DCAC's record setters at the championships and he plans to continue competing for a variety of reasons.
"These are people who I have been swimming against for decades and it is great to see them every year," Heuchling says. "Swimming is good for both my emotional and physical health and is a marker as to how I am aging. Plus, I value any time I get to spend with my DCAC teammates."
DCAC swimmer Chris Meadows was attending his first IGLA championships. Born in Georgia and raised in Tennessee, he was brought up with swimming as part of his family. The Georgia Tech aquatic center is named after his great-uncle, Herb McAuley.
A former American University swimmer, Meadows was competing at a multi-day swim meet for the first time since finishing his collegiate career in 2012.
"It's always a challenge to prepare your body for multiple fast swims over several days," Meadows says. "IGLA was a reminder of how much I love this sport and that I need to be in the pool."
Participating in his first LGBT swim meet also came with unexpected experiences and important interactions with older LGBT swimmers.
"One thing that stood out was hearing everyone's stories. Even if they were sad stories, such as the large number of swimmers lost to the AIDS epidemic, they were important to hear," Meadows says. "I'm not just swimming, I'm learning life lessons. Plus, it was pretty cool to have a drag queen as an announcer at the pool."