January 3, 2020 at 2:40 pm EST | by Kevin Majoros
Glowing year for D.C. amateur LGBT sports leagues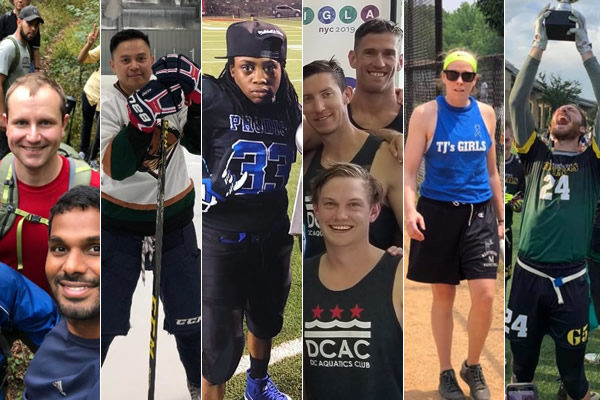 With about 40 LGBT sports teams and clubs, Washington continues to impress with the cohesion of its sports community.
The noncompetitive sports clubs offered a full list of recreational activities and the competitive sports teams had another banner year on the national and world stage.
Charitable giving and community service are a staple throughout the sports community. As an example, Stonewall Kickball alone reports about 2,000 volunteer hours logged throughout the year and $150,000 in donations to local nonprofits.
Below are 2019 highlights from a select few of the LGBT sports teams:
The Washington Prodigy women's full-tackle football team captured its third United States Women's Football League championship in Tennessee. Their success is taking them to a more competitive league for 2020 — the Women's National Football Conference.
The Chesapeake and Potomac Softball League hosted its largest MAGIC Tournament this year with over 40 teams participating, including their largest ever women's division.
Adventuring LGBTQ+ Outdoors Club celebrated its 40th anniversary by recreating their first outing from May of 1979. About 35 members from the past and present, including the leader of the inaugural hike, joined together for a weekend celebration.
District of Columbia Aquatics Club traveled to New York City for the International Gay & Lesbian Aquatics Championships where members broke 17 IGLA world records and captured 137 medals. In July, they hosted the 28th annual Maryland Swim for Life open water event on the Eastern Shore.
D.C.-based Stonewall Sports has expanded to 19 cities across the country with its latest additions being Asheville, Kansas City and Detroit. Members hosted their Stonewall National Tournament in Raleigh and also traveled to the Sin City Classic in Las Vegas. Locally, they run kickball, dodgeball, bocce, climbing, billiards and yoga.
D.C. Gay Flag Football League maintained its two season league structure and sent multiple travel teams to tournaments around the country. In October, members sent four men's teams and one women's team to New York City where the Washington Generals were crowned Gay Bowl XVIII Division A champions and Delta Force won the Division C championship.
D.C. Strokes Rowing Club continued with multiple rowing programs and hosted its annual Stonewall Regatta bringing about 400 rowers to D.C. The Strokes raced sprints and head races throughout the year including the U.S. Masters Rowing Championships and Head of the Charles.
Athletes from TriOut triathlon club traveled extensively to compete in triathlons. In June, members hosted their annual training weekend in Lost River.
Federal Triangles Soccer Club hosted another successful season of the Summer of Freedom Soccer League along with competing in other District leagues and tournament play. Players continue to run three tournaments per year.
Locally hosted tournaments by the sports teams are run annually and draw athletes from all over the world. The teams also bid on hosting tournaments that travel and the Capital Area Rainbowlers were just selected to host the International Gay Bowling Midyear 2021 tournament in D.C.
A big welcome in 2019 to the LGBT players and allies competing in Gay Hockey D.C. After a long period without having hockey as an option locally, a group reemerged and are playing at the MedStar Capitals Iceplex.
Also offered locally are rugby, tennis, golf, sailing, basketball, roller skating, cheerleading, cycling, dancesport, darts, orienteering, racquetball, cornhole, pickleball, road running, walking, rodeo, women's baseball, curling, scuba diving, ultimate frisbee, snowboarding, skiing, volleyball, women's roller derby, water polo and music ensemble.
Information on the sports teams and sports clubs can be found at teamdc.org.