December 13, 2019 at 6:32 pm EST | by Kevin Majoros
GAME CHANGERS: Local Stonewall Kickball team captain enjoys 'semi-competitive' team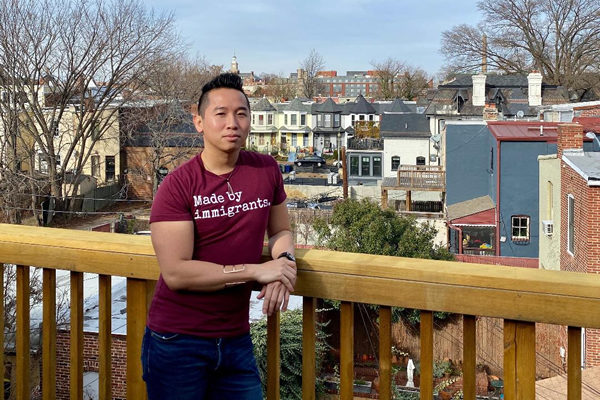 This week in the ongoing Game Changers series in the Washington Blade, we meet an athlete from Stonewall Kickball who is carving his path both on and off the playing field.
Recently voted onto the Stonewall Sports national board as the Washington representative, Viet Tran plans to be outspoken about diversity, equity and inclusion. He refers to those as key values in his life.
Born in Vietnam and raised in San Diego, Tran grew up in a family that believed children should be active. He played Little League and tennis including two years on his high school tennis team.
During his undergrad work at University of California San Diego, he was a member of the quidditch team and running club along with picking up Olympic-style weightlifting.
Because of his interest in policy and politics, he moved to D.C. three days after graduating in 2014 to pursue a post-undergrad internship. He joined Stonewall Kickball in 2016 and is now team captain.
"I was looking to integrate into the LGBT community and for me, Stonewall provided a strong vibrant community," Tran says. "My team is semi-competitive and I like to create an environment where people are comfortable. Winning is a bonus but it is more about the camaraderie and social aspects."
In his role on the Stonewall Sports national board, Tran is hoping to be involved in developing a committee that focuses on diversity, equity and inclusion. He says things like adding pronouns on the Stonewall shirts would create a bridge to a more inclusive culture.
"I came from a large Asian community and it was different when I arrived here in D.C. As I became more informed about my own queer identity, I became more aware that there are not a lot of Asian Americans in that community," Tran says. "The numbers are growing in Stonewall and I want to be more welcoming to all communities including trans, nonbinary and women players. My team is diverse, but it doesn't extend to the entire league."
Outside of the kickball field, Tran has had a loaded career trajectory with each experience evolving around his key values.
He has worked with the Victory Fund, the White House Initiative on Asian Americans and Pacific Islanders, the Center for the Study of Social Policy and the Conference on Asian Pacific American Leadership. Currently he is the deputy press secretary at Human Rights Campaign.
"The work that I have done and the issues that I advocate for are tied to my own identity. I am an Asian-American immigrant who is queer," Tran says. "It is important that I work in the communities that I resonate with."
When Tran came out to his mother, he spoke to her in Vietnamese as a sign of respect to her heritage and to meet her halfway on connecting as immigrants.
"The narrative and culture in D.C. is so rich. I want to be a part of creating an environment that is reflective and representative of everyone," Tran says. "It is my mission to make it an intentional action."
Support LGBTQ Journalism.
Donate to the Blade Foundation.
Sorry. No data so far.
Sign Up for Blade eBlasts