July 12, 2019 at 5:13 pm EDT | by Yulani Rodgers
SUMMER IN THE CITY 2019: Page turners for the beach or pool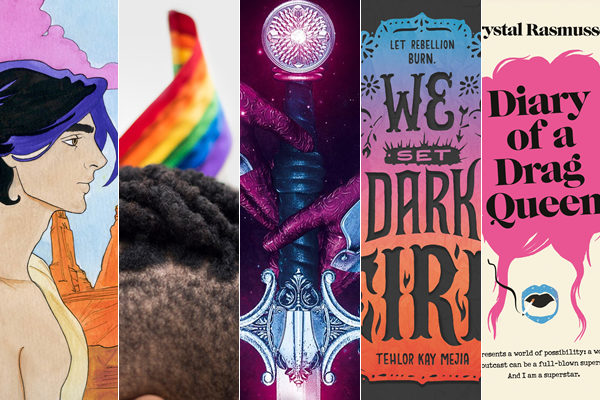 Looking for some refreshing page turners for the summer? Dive into these new LGBTQ novels that are light on the mind.
Award-winning journalist Robbie Corey-Boulet takes on the LGBTQ movement in Africa and how it differs from those in the United States and Europe in his novel "Love Falls on Us: A Story of American Ideas and African LGBT Lives" (Aug. 15).
He argues that the international LGBT activists and allies have created winners and losers within the movement. If someone from an African country identifies with the those of the global movement, then they find support. If their identity doesn't happen to align so neatly, funding and care can be unavailable.
Especially in a world where LGBT rights are being reversed even in "developed" countries, Corey-Boulet investigates the right way to address LGBT issues in Africa. This novel is for those who care to know the difference in approach.
Upcoming pop artist, Boy Untitled (Mark Tennyson), is releasing his first self-titled EP and accompanying illustrated book of poetry "A Wanderer's Love Letter to the Universe" (out this month). Both the EP and book reflect a tumultuous time in Tennyson's life over the course of two years. There are five parts representing stagnation, recognition, action, vision and evolution. Tennyson is a Los Angeles-based artist who began their career in the art scene and slowly transitioned to the sultry, electronica side of pop music.
"Diary of a Drag Queen" (out now) is exactly what the title suggests. Crystal Rasmussen takes readers through her crazy life on a daily basis over the course of a year. She spills the details about her experiences dating men three times her age, sleeping with a VIP for her journalism career, being fired by a well-known magazine and much more. If you're looking for a new perspective on life, this is the book for you.
Tehlor Kay Mejia tells the tale of Daniel Vargas, the top student at the Medio School for Girls in "We Set the Dark on Fire" (out now). Daniel has two options after graduation: maintain her husband's household or raise his children.
The only problem is that her paperwork was forged by her parents to give her a better opportunity. Although there's a few hiccups at her graduation, she gets through the day without anyone discovering her secret. Her new challenge is to spy for a resistance group causing a shift in her newest options: hold onto the privilege her parents sacrificed for her or pursue freeing Medio and a forbidden love.
If you enjoy the tale of King Arthur, "Once & Future" (out now) by Cori McCarthey and Amy Rose Capetta is the novel for you. The main character, Ari Helix, crash lands on Old Earth and pulls the legendary sword from its place making her the newest reincarnation of King Arthur. Merlin, who has aged backwards and is now a teenager, informs Ari that together they must break the curse that keeps bringing back Arthur. They must save humankind, defeat the oppressive government and bring peace to all. No big deal.
"Like a Love Story" (out now) follows three teenagers impacted by AIDS. Abdi Nazimian uses the stories of Reza, Judy and Art to address the complexities of being gay during the 1980s. Reza is an Iranian boy who knows he's gay but won't admit it because he worries about the disease affecting him. Judy is a fashion designer who has a strong relationship with her uncle who has AIDS and is active with ACT UP. Art is Judy's best friend who rebels against his conservative parents by photographing the epidemic and is the only out gay student at school. Somehow Reza and Judy end up dating leaving room for heartbreak and disappointment.
"Red, White & Royal Blue" (out now) is a romantic comedy by Casey McQuiston where the First Son, Alex Claremont-Diaz, and his nemesis, Prince Henry, are forced into a fake friendship to help with his mother's re-election campaign. After a confrontation between the two was leaked to the tabloids, they were forced to truly get to know one another and their once fake friendship turns into a secret relationship. With President Claremont's campaign picking up, Alex must make a decision on which matters to him more: his political image or the potential love of his life.
In their first published work, Mason Deaver delivers "I Wish You All the Best" (out now). It's a story following a non-binary (like the author) character, Ben De Backer, who has recently come out to his family. Disowned and thrown out on the street, Ben has no other choice but to go live with his sister and her fiance who, along with their therapist, are the only other ones to know their identity. Ben tries their best to get through the rest of their senior year by keeping a low profile however, Nathan Allan has other plans for them.
In poet Ocean Vuong's debut novel "On Earth We're Briefly Gorgeous" (out now), he explores topics such as race, class and masculinity. The novel is a written letter from a son to his mother who cannot read. It unearths the family history of Little Dog whose roots stem from Vietnam. Written when the speaker is in his late 20s, Vuong takes readers through Little Dog's life that includes information that even his mother has no clue about including an unforgettable revelation.