July 11, 2019 at 11:19 am EDT | by Philip Van Slooten
Friend of Pride flag designer oversees release of posthumous memoir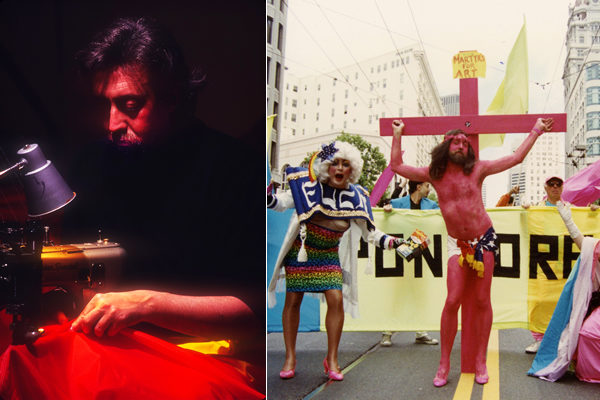 'Rainbow Warrior: My Life in Color'

By Gilbert Baker

Chicago Review Press

$26.99

256 pages
In his entertaining and historical memoir, the Pride flag creator recalled an early debate over which way to hang the flag for its inaugural flight. The solution was to fly two of them.
"We'd hang one with the pink stripe on the top and the other with the pink strip on the bottom," the late Gilbert Baker writes in his book "Rainbow Warrior: My Life in Color."
"'We are a versatile people'," he adds, quoting a friend's joke regarding "talk of tops and bottoms."
"Rainbow Warrior" is Baker's deeply personal memoir which weaves together his process for creating an iconic LGBT symbol of hope, in contrast to the Nazi-era pink triangle, with his own struggle for identity and freedom.
It opens with his difficulties as a queer youth in a repressive 1950s household, discovering love and sexuality in the Army and eventually blossoming as a seamstress for the early San Francisco gay rights movement. The work also details Baker's activism during the AIDS crisis, culminating in the creation of the world's longest Pride flag in time for Stonewall's 25th anniversary celebration in New York City.
"One of the funnest memories was when he was doing the mile-long rainbow flag he was represented by a company called Stadtlanders," says Charley Beal, Baker's friend and estate manager, while in New York celebrating Stonewall's 50th anniversary. "They were essentially a mail order pharmacy (during the AIDS crisis) and the corporate sponsors for the flag."
He remembered "all these straight people" at Stadtlanders pretending to be sympathetic to the cause while complaining about Baker wearing dresses to board meetings. Beale, who is also gay, is more conservative in his attire.
"So, Gilbert read them the riot act about Stonewall," Beal says. "And how Stonewall was started by drag queens and trans people, not rich, white gay people down on Wall Street and said, 'You can't talk to me that way. You can't tell me not to wear a dress.' He was furiously sewing when I showed up. He explained what happened and I said, 'Oh God, you've been driven to drag.'"
Baker returned to the meeting dressed even more flamboyantly in his best black sequined gown and Barbra Streisand wig.
This empowering moment underscores Baker's lifelong struggles with gender identity, which is an intriguing undercurrent in his memoir.
"The idea of a sex change had first crossed my mind in childhood," he writes. "It was more than just wearing dresses. I wondered if I was a woman trapped in a man's body. Ultimately, I didn't surgically remove my penis, but I didn't stop wearing dresses."
Beal, went on to describe that while the photogenic Baker would often wear long hair and luxurious gowns in pictures, "he would keep his beard and mustache."
"Very genderqueer," Beal says. "I have photographs of him in some of the 'genderfuck' photography. That is a term used for people posing using very clear male and female imagery."
While in New York for World Pride, Beal spoke with trans flag creator Monica Helm. He tried to better understand his friend's femme gay expression.
"So he did not identify as a woman by gender, but he questioned it," Beal says. "But reading Monica's book, Monica felt like she had to have the surgery. I think Gilbert liked to express himself by dressing in dresses but he never expressed any interest in becoming physically a woman."
For Beal the matter seemed relatively settled, Baker was a gender non-conforming gay man. But Baker's thoughts revealed in his memoir seem more fluid, similar to his "versatile" decision to fly his flag in both directions simultaneously.
These historical gems and insights from Baker's memoir illustrate why Beal felt it was important for LGBT youth to go to primary sources and their LGBT elders instead of just "Googling" their past.
"I just kind of laugh because Google is just so notoriously corrupted," he says. "Google is only going to show you what (its formulas) decide you want to see. It keeps you in your silos and it's terrible. It's not a reliable source of data for history. They should learn from their elders directly instead of just Googling it."
Beal also felt the internet could encourage divisiveness and discourage LGBT youth while the intention of the Pride flag was to show "we all share universal values despite our differences."
"They were getting it," Baker originally wrote after seeing the crowds gathered to witness the Pride flag fly for the first time. "Owning it, feeling it as part of them, understanding the diversity of sexual freedom it represented for everyone: gay, lesbian, bisexual, transgender, straight, whatever your sex, whatever your color. Visible, with liberty and justice for all."
Beal agrees, believing Baker's greatest legacy is when Pride flags are used to create LGBT safe spaces throughout the world.