March 7, 2019 at 1:07 am EST | by Joey DiGuglielmo
Newseum unveils 'Rise Up' Stonewall-themed exhibit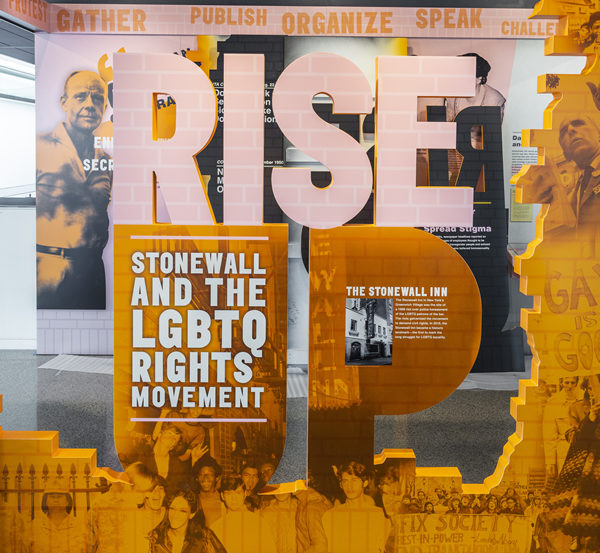 'Rise Up: Stonewall and the LGBTQ Rights Movement'

Newseum

555 Pennsylvania Ave., N.W.

Opens Friday, March 8

Through Dec. 31

Family Pride Weekend (March 9-10)

Free admission for two children (18 and younger) with the purchase of one adult ticket.

Saturday, March 9

Activities with mix107.3 street team

Program with Jimmy Alexander of "The Jack Diamond Morning Show" at 2:30 p.m. in Knight TV Studio

Monday, March 18 — A Conversation with Alan Cumming

Thursday, April 4 — Fourth annual Free Expression Awards with Katie Couric and the "Queer Eye" cast

Friday, June 28 — Newseum Nights Party

Full details at newseum.org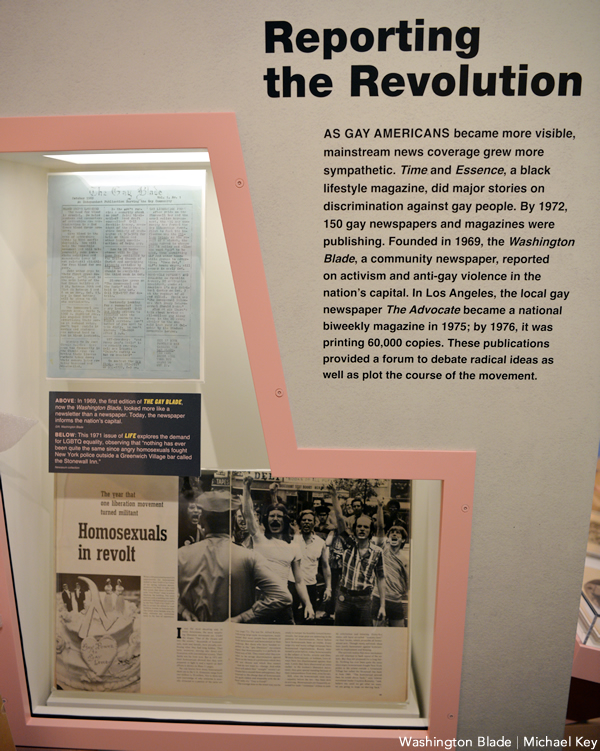 The madras sport coat Jim Obergefell got married in, a red suit worn by U.S. Sen. Tammy Baldwin (D-Wis.), the sewing machine on which Gilbert Baker made the first rainbow flag — all that and much more are part of a new Newseum exhibit celebrating the 50th anniversary of Stonewall.
"Rise Up: Stonewall and the LGBTQ Rights Movement" opens Friday, March 8 at the Newseum (555 Pennsylvania Ave., N.W.) and runs through year's end.
The exhibit explores the modern gay rights movement in the United States marking the 50th anniversary of the June, 1969 police raid of the Stonewall Inn in New York's Greenwich Village neighborhood. The protests following the raid are considered the catalyst that inspired the modern gay liberation movement. It's loosely part of an overall Newseum series "From Selma to Stonewall" that explore significant civil rights movements.
Patty Rhule, vice president of content and exhibit development at the Newseum, says the exhibit was a relatively easy one to conceive and execute. It's been in the works for a year or year and a half, she says.
Upon contacting potential contributors, Rhule says, "I think people were excited. There's a lot of excitement around this anniversary … and people were excited that we were planning such a big exhibit on this topic. Everybody we reached out to seemed enthused about the idea."
It opens with a section on LGBT portrayals in pop culture. Actors such as Jesse Tyler Ferguson ("Modern Family"), Cynthia Nixon ("Sex in the City") and George Takei ("Star Trek") appear in video installations talking about their experiences as LGBT actors.
Next is an extensive depiction through photos and text of what actually happened at Stonewall and how it was covered (barely) in mainstream media at the time.
"I think it was the third day before the mainstream press even paid attention and then you see headlines … in The Daily News that use slurs," Rhule says.
She says Stonewall's impact on igniting the modern LGBT rights movement can't be overstated.
"From this moment on, it's propelling forward a movement that gets more militant, more radical and more demanding," says Rhule, who's straight. "It's about demanding more than just tolerance, but demanding acceptance."
There's also a pre-Stonewall section that depicts Harry Hay, The Mattachine Society and Daughters of Bilitis, early '60s gay and lesbian groups that formed and protested in pockets around the country but lacked tailwinds since almost nobody was out at the time.
"Young people today don't realize just how repressive it was back then," Rhule says. "We have headlines from newspapers like the New York Times and Chicago Daily News with horrible headlines, using horrible language that no one would ever use today just to give you an idea of what society and the accepted societal attitudes were. It kind of immerses people in that time."
Items from gay rights pioneer Frank Kameny (his typewriter), former U.S. Rep. Barney Frank (buttons and photos from his same-sex marriage), Harvey Milk (an envelope with bullet holes that was in his jacket when he was assassinated) and more are part of the exhibit as is a wealth of media including two copies of the Washington Blade (founded 1969), The Ladder (a national lesbian publication from 1956-1972), Frontiers (a now-closed Los Angeles gay magazine) and more. (The Blade is a sponsor of the exhibit.)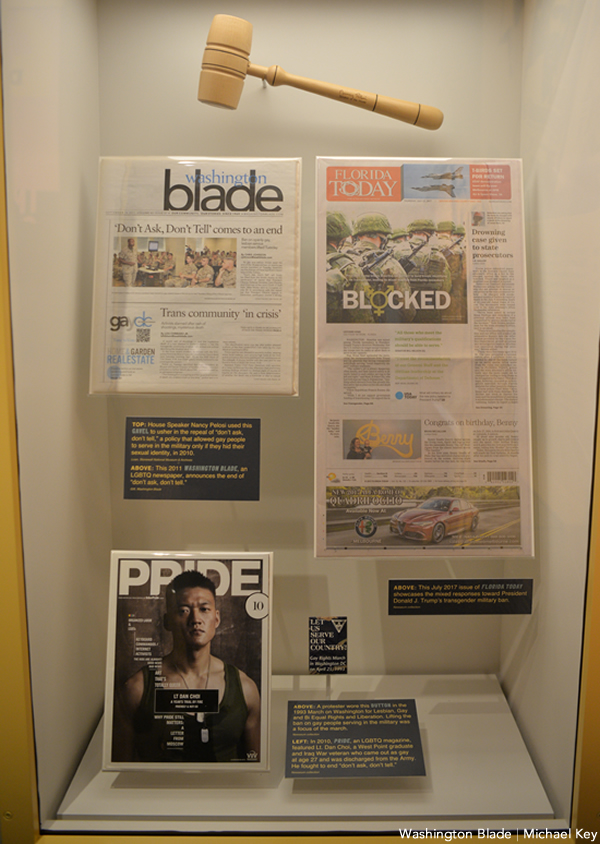 The AIDS crisis is up next with an AIDS quilt panel from a trans woman who died in 2016, ACT UP newsletters, mainstream coverage of the epidemic and more.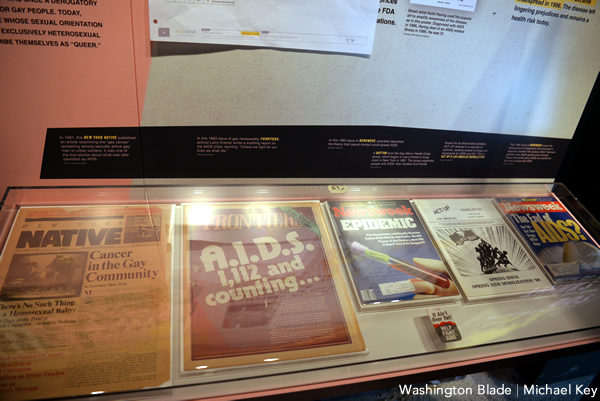 Anti-gay quotes from Billy Graham, Jerry Falwell and Anita Bryant are countered with images of Bishop Gene Robinson (the first openly gay man consecrated Bishop in the U.S.) to show how religion has evolved on LGBT issues.
"Rise Up" closes with bringing the issues into the present, especially the ongoing battle for transgender rights. As you exit, a large panel features famous LGBT folks such as Janelle Monae, Caitlyn Jenner, Laverne Cox, Rachel Maddow, Anderson Cooper, Adam Rippon, Ellen DeGeneres and more.
"We really need to get that Oscar dress in here," Newseum PR Director Sonya Gavankar says referring to out actor Billy Porter's gown/suit. "Wasn't that fabulous?"
A team of about 15 worked on the exhibit along with a handful of contractors in various stages. Most are straight but some LGBT employees were part of the team and outside LGBT folks, such as the Blade's veteran reporter Lou Chibbaro Jr. were consulted on everything from appropriate language to essential issues to cover and include.
"We knew we couldn't have an all-straight perspective on this," Maeve Scott, the Newseum's director of collections and registrar, who worked on securing the items, says. "We came up with a whole glossary and asked a lot of people in the community how they feel about it to make sure we were using the right language."
Scott says by seeking input from "a lot of people with diverse backgrounds" and "relying on our experts," the exhibit was planned to be as unbiased as possible.
"It's definitely something we keep in mind," she says.
Attempts were also made to make the display relevant to longtime activists as well as D.C. visitors who may know little or nothing about Stonewall and LGBT history.
"There are always three types of museum visitors," Rhule says. "Swimmers, skimmers and divers, people who read every word," she says. "We try to make things look really compelling, give different access points and ways for people to interact. … We have selfie stations, people can pose behind a mic or with a protest sign. There are always going to be different levels of interest and understanding. We're trying to meet that in the middle."
Scott, also straight, hopes visitors will find "Rise Up" inspiring.
"A lot of these people were just everyday people who used their First Amendment rights to enact change," she says. "If this group did this, other groups can as well and this is not the end of the story."