March 12, 2019 at 7:50 am EDT | by Ed Gunts
Martick's faces demolition in Baltimore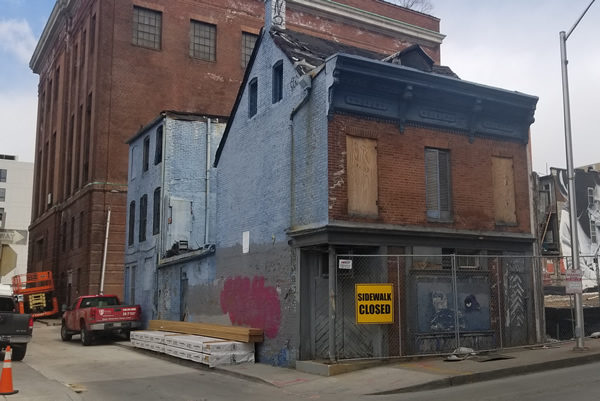 One of Baltimore's early gay gathering spots has been threatened with demolition.
The former Martick's Restaurant Français, the endangered building, is well known locally as one of the first places where Baltimoreans were introduced to French cuisine.
It housed a speakeasy during the Prohibition era. It has been a magnet for artists and performers, including Billie Holliday, Leonard Bernstein and, more recently, filmmaker John Waters. It's one of Baltimore's few remaining buildings that was constructed before the Civil War.
But Martick's, which is now vacant, was also a place where gay people felt comfortable and came together, long before the advent of gay bars and nightclubs.
According to former employees and patrons, it had a following in the 1950s and 1960s that included not only gay men and women but other members of what is now called the LGBTQ+ community, including bisexuals, crossdressers and people undergoing sex change operations by Johns Hopkins Hospital physician John Money.
"It was one of the first places where gay people felt comfortable coming," said Jimmy Rouse, an employee from 1974 to 1981, in recent testimony before Baltimore's preservation commission. "They had people from the Sun papers, the artistic community, the gay community and the jazz community, all coming there during the 50s and 60s."
The Martick's building at 214 W. Mulberry St. is endangered because a local developer, Christopher Janian of Vitruvius Development Company and Park Avenue Partners LLC, proposed this year to tear it down and use the land as part of a larger project, a six-story, $30 million apartment building planned for the block.
Janian has appeared before Baltimore's Commission for Historical and Architectural Preservation (CHAP) twice in the past three months seeking approval to raze the entire building, and twice he has been rebuffed by the preservation panel.
This week he is coming back to CHAP with a compromise plan: He has proposed to save the front third of the Martick's building in exchange for permission to tear down the rest and make the land part of the residential development.
The demolition proposal is coming at a time when some gay bars and meeting places around the country are being recognized and preserved as cultural landmarks. The best-known example is the Stonewall Inn in New Year City, the site 50 years ago of riots during which patrons protested a police raid on the bar.
The Stonewall riots are considered a key event leading to the gay liberation movement and the fight for gay and lesbian rights in the United States. The Stonewall Inn, still open, has been added to the National Register of Historic Places and designated a New York City landmark specifically because of its association with an LGBT-related event.
In Baltimore, Martick's restaurant closed in 2008 and the building has been vacant since then. Former owner Morris Martick, who lived in the building for most of his life, died in 2011.
CHAP is involved and holding public hearings on Janian's plans because the Martick's building is within the city's Howard Street Commercial Historic District, and any changes to buildings in the district must be approved by the preservation panel.
At the two previous appearances, Janian's proposal to tear down the entire building drew strong opposition from former patrons and employees. They argued that the building should be preserved for its historical significance as a rare pre-Civil War structure, for its association with Morris Martick, and for its cultural significance as a magnet for a wide range of people. Seven hundred people have signed a petition to save the building.
At a CHAP hearing in February, several of the speakers noted the building's significance as a gathering spot for the city's gay community, at a time when there were few others and many businesses were less tolerant.
Rouse, who is a son of the legendary developer James W. Rouse, waited on tables and tended bar at Martick's from 1974 to 1981. He said Martick's role as a hub for the arts community and for gay people came before it was converted to a French restaurant in 1970.
During the 1950s and 1960s, he explained, it was a beatnik bar and jazz club, and that made it a center for the arts community.
It was also integrated, he said. "Very few bars in Baltimore were integrated at that time. Because of jazz music, Billie Holliday would sing there. It developed a kind of regular clientele of what Morris used to refer to as artists-slash-alcoholics…It was almost a rite of passage for anyone who was interested in art to work at Martick's."
In his seven years at Martick's, Rouse said, he worked closely with the owner and got to know him well. He described Martick as a colorful, cantankerous character who put a doorbell on the front door that diners had to ring in order to be let in.
Rouse recalled that when first-time diners asked Martick what he recommended, he would reply, "I recommend you try another restaurant."
If diners wouldn't leave after that, Rouse said, he assured them that there are hospitals nearby in case they get sick. "If you choose to stay, we're in a very good location," he would tell the customers, Rouse said. "Hopkins Hospital is to the east and the University of Maryland Hospital is to the west."
Rouse said he thought one reason Martick's became a magnet for gay people is because Martick, who never married, had gay friends, and that made other gay people feel welcome there.
In the 1950s, Rouse said, Martick "experimented with being gay, and that's part of the reason he attracted gay people. But in the 60s and 70s, he was heterosexual, totally."
Martick's drew writers from The Baltimore Sun, Rouse said, largely because Morris Martick's sister Rose dated Sun theater and film critic R. H. "Hal" Gardner, and he spent a lot of time there.
Beyond that, Rouse said, Martick was non judgmental, and that carried over to his employees and clientele.
For the wait staff, there wasn't a strict dress code like there was at Marconi's several blocks away, he said.
"It was so relaxed. You could do your own thing there. There weren't strict rules about how you approached the table. It was much freer about how you interacted with the customers. You didn't have to say your name, I am your waiter. You didn't have to do that."
Martick's approach was reassuring to people who may have felt uncomfortable elsewhere, agreed Ruth Turner, a Baltimore native who worked there in the 1980s and now owns a boutique in Hampden called Caravanserai on the Avenue.
Turner said the same non-judgmental attitude that was appealing to the Jewish community and the arts community was appealing to members of the LGBT community, and that included gay African Americans and transgender people.
"It was exclusively inclusive," she said. "He allowed anyone who wanted to come in to come in. No questions asked. It was very inclusive. It was a melting pot. Some people were flamboyant. Some weren't. Morris was accepting of everyone. There were no divisions. We were all just people."
In terms of human sexuality, Baltimore was a center of experimentation and medical advances, she noted. And the heyday of Martick's as a jazz club predated places such as Leon's, the Drinkery and the Hippo.
"This was the beginning of the whole transgender movement and the sex change operations at Hopkins. There was a lot going on. That's when [sex change pioneer] John Money was at Hopkins."
At Martick's, "you weren't defined by your sexuality or your skin tone," she said. "You were defined by your character and your behavior. … He looked at people on a one-on-one level…He made it clear that being different and being eccentric is not a problem, it's an asset."
Tom DiVenti, another former employee, echoed Turner's sentiments in an article he wrote for Splice Today entitled "Morris Martick: Last of a Breed." He called the place a "sanctuary" and said "Morris was the father many of us never had."
DiVenti recalled that at one dinner party for John Waters, Martick "carved miniature penises out of carrots and whipped up a creamy white sauce appetizer for the guest of honor." He described Martick as "an original Baltimore character who gave others the freedom to be characters too."
Martick's was "a place of tolerance and acceptance for all kinds of people," DiVenti wrote. "No one was ever judged or criticized for beliefs or non-beliefs. No one was ever bullied because of gender or sexual preference. Restaurants in Baltimore today could take a cue from his old school finesse."
Will Janian's partial demolition proposal satisfy the preservationists?
The Baltimore Heritage preservation advocacy group testified against Janian's plans in February; the board has not taken a position on the latest proposal and was slated to meet this week to discuss it.
Visit washingtonblade.com for updates on this week's hearing, scheduled for March 12. Email correspondence about the proposal can be sent to CHAP planner Stacy Montgomery at stacy.montgomery@baltimorecity.gov.