March 6, 2019 at 2:22 pm EST | by Mariah Cooper
Queery: Dana Price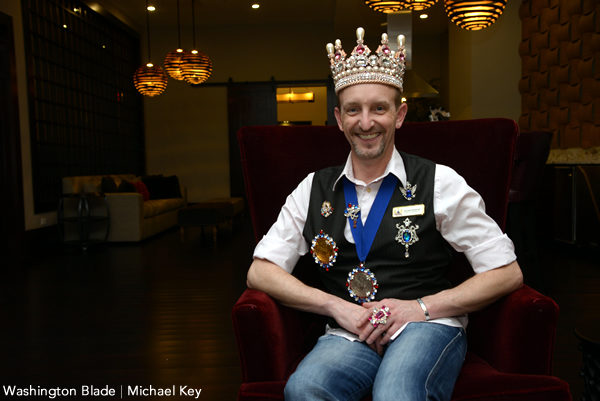 Dana Price is a contracting officer for the U.S. Department of the Interior by day and His Imperial Majesty (HIM) Trace Couture Kennady-Smith for the Imperial Court of Washington D.C. by night.
Price, 46, recalls the first time he heard about the LGBTQ charity and social organization Imperial Court when he happened to be at the bar during one of their functions in Missoula, Montana. Price found himself enamored by "the family camaraderie and the fun everyone seemed to have."
When Price and his husband Tommy Price, aka Athena KS Couture Moore, moved to D.C. in 2006 for work, their first question on a night out was, "How do we find the Imperial Court?" They learned there wasn't a D.C. chapter and in 2010 joined a group to kick-start the Imperial Court of Washington D.C.
Price now counts his ICWDC accomplishments as the regent emperor, longest active member, co-founder and first monarch for the ICWDC. He is also the first monarch of D.C. to reign twice. Price hopes his reign can bring more attention to ICWDC.
"I'd like to increase our active membership and increase the visibility of the ICWDC to the community," Price says.
ICWDC will host numerous events throughout the year including its first Royal Mardi Gras Monte Carlo Casino Night at the Sphinx (1315 K St., N.W.) on Friday, March 9 from 8-11 p.m. Doors open at 7 p.m. with a royal ribbon cutting before the festivities kick off at 8 p.m. Guests can play blackjack 21, roulette, craps and poker. The event emphasizes that it "isn't like Vegas" and all player levels are welcome. Throughout the night there will be a speakeasy drag show in the bar area. Tickets are $25 and include $25,000,000 Court Bucks for gaming and four raffle tickets. A portion of the night's proceeds will go toward the court charities: Shriners Kids Travel Fund, Chesapeake and Potomac Softball Association and The True Colors Fund. Visit imperialcourtdc.org for details.
Price and his husband live in Fairfax, Va. In his free time, Price enjoys skiing, reading, watching TV and playing computer games.
How long have you been out and who was the hardest person to tell?
I've been out 25 years. The hardest person for me to tell was my boss at work. Sadly, for a long time in Montana, someone could be fired from work or kicked out of their house simply because they were homosexual.
Who's your LGBT hero?
This is a hard question. I'd have to say my heroes would be Karl Ulrichs and Harvey Milk. Karl because he was the first gay person to speak out for homosexuality and Harvey because he was one of the first gay people elected to public office.
What's Washington's best nightspot, past or present?
Again, another very hard question. I miss Nation and Apex. I love Freddie's and DIK Bar. It all depends on what you are in the mood for. If you want a sports night, there's Nellie's; if you want drag, there's a ton; if you want leather, there's the D.C. Eagle. So I can't say what Washington's best nightspot is because it's subjective to the person and even to what the person feels like doing for the night in particular.
Describe your dream wedding.
Tommy's and my wedding was at a guest ranch in West Yellowstone with friends and family. That was my dream wedding.
What non-LGBT issue are you most passionate about?
Youth advocacy. Whether LGBTQIA or not, our youth is our future.
What historical outcome would you change?
Like my response to the question about "if science discovered a way to change…," I wouldn't change anything. We are all who we are, the world is what it is, whether for good or bad. To change anything could change so many things that in the end, I might not even have existed.
What's been the most memorable pop culture moment of your lifetime?
The smart phone. There's an instant gratification that we didn't have when I was growing up. You take a picture, it's instantly ready; you hear a song, you can identify it immediately; there is no time.
On what do you insist?
I insist that if you say you are going to do something, do it.
What was your last Facebook post or Tweet?
Wishing Happy B-Day to a friend of mine from back home in Montana.
If your life were a book, what would the title be?
"Are we there yet?"
If science discovered a way to change sexual orientation, what would you do?
Nothing. I am who I am and I like who I am.
What do you believe in beyond the physical world?
I believe….
What's your advice for LGBT movement leaders?
Patience.
What would you walk across hot coals for?
A Klondike bar. No, seriously, I would walk across hot coals for my family and friends. But that's just my nature: I would give you the shirt off my back or my last $10.
What LGBT stereotype annoys you most?
All of them. We are all LGBTQIA, why do we further separate ourselves from each other? Let's stand together as one so the detractors can't take us down.
What's your favorite LGBT movie?
"Love, Simon." I love the part when they're going through imagining if you had to come out as straight.
What's the most overrated social custom?
This was big with my grandma: That you have to eat with your dominate hand. In my grandma's house you had to switch hands after cutting your steak so that the fork was back in your dominate hand. I can actually use both hands to cut and hold a fork, so I had no issues with holding the fork in my left hand and eating with my left hand. To be required to switch is a waste of time.
What trophy or prize do you most covet?
It wasn't a tangible prize, but I'd have to say that when I was in high school, we were getting ready to go on our senior band trip to Edmonton, Alberta, Canada. I had raised enough money throughout high school through candy sales, orange/tangerine/grapefruit sales, etc. that I was able to "defray" some of the cost for everybody. So, as an example since I'm old and don't remember exactly how much it was, instead of the trip costing $600 per person it only cost $250.
What do you wish you'd known at 18?
That it was going to be OK to be gay.
Why Washington?
Honestly, because of my job at the time. Now it's because of the family and friends we have here: I couldn't imagine living anywhere else.