July 17, 2019 at 12:49 pm EDT | by Mariah Cooper
Woman in Brazil shoves anti-gay priest off stage in viral video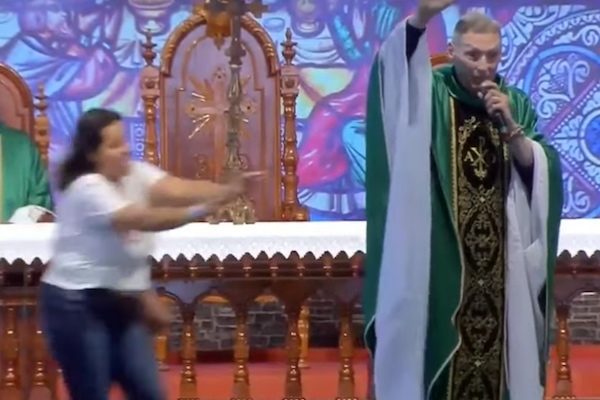 A video of a woman shoving a famous priest off stage in Brazil has gone viral. The video has received more than two million views.
Father Marcelo Rossi was preaching at a youth retreat in front of 50,000 people on Sunday in Cachoeira Paulista, São Paulo when a woman ran on stage and shoved him off the stage.
According to the newspaper O Dia, the unidentified woman was a participant in the retreat and brought her 3-year-old son. She reportedly suffers from mental health problems.
"She said that she wanted to come in to talk to him and that she was scared the moment she saw the security guards running after her. It's her version, but anyone who sees the pictures sees that there is none of it [security guards running after her]. She says she got scared and pushed him at a time when she kind of freaked out, lost control, but she had no intention [of hurting him], she just wanted to talk to him," O Dia reports.
Father Rossi is a well known religious figure in Brazil and is open about his anti-gay sentiments. In 1998 he stated, "A lot of ideas will change the day homosexuality is proven to be an illness." In an interview in 2014 Father Rossi commented that "Sex between man causes pain, if something causes pain, it can't be a good thing." He is also opposed to same-sex marriage.
According to reports, Father Rossi was not badly hurt and will not press charges against the woman.