AUTOS: Ford Mustang Bullitt is limited edition Steve McQueen tribute
New models from Ford, Jeep pack major punch, hellish thunder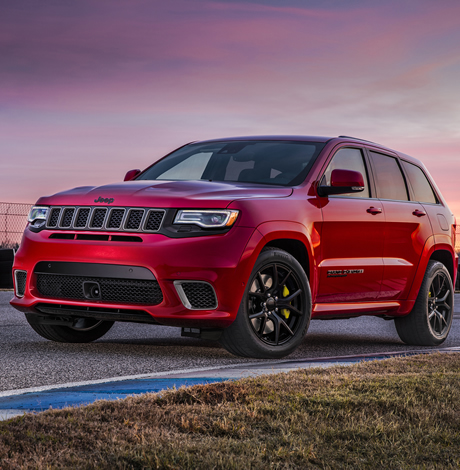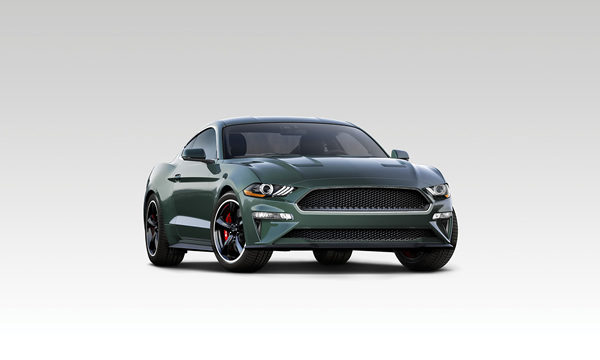 As a gearhead who still fawns over Matchbox cars and Gran Turismo video games, it's the cars with muscle that really get my motor running. Of course, toys are one thing but reality is even better.
FORD MUSTANG BULLITT
$48,000
MPG: 15/24
Zero-60 mph: 4 seconds
For muscle car mavens, it doesn't get much better than a Ford Mustang Bullitt. Introduced last year in time for the 50th anniversary of the action movie "Bullitt," this is the third tribute model since Steve McQueen's legendary car chase through the streets of San Francisco.
This limited-edition version — available for only two years or so — comes in select colors, including the iconic dark green on the original. Some of the same barebones styling is here, which means no Mustang badging on the wide black grille (though you'll find a shiny Bullitt badge on both the trunk lid and steering wheel). And while the V8 in the 1968 sportster churned out an impressive 320 horsepower, today's fastback, based on the high-test Mustang GT, boasts a whopping 480 horsepower.
A simple tap to the accelerator lets you fly down the road. Premium Brembo brakes give you plenty of control. Adding to the fun is the six-speed manual transmission with a nifty shifter knob that looks like a white billiard ball. The deep, guttural exhaust growl courses through your veins and becomes louder and more menacing each time you downshift.
Despite the macho appearance and performance, there's plenty of pampering: heated/ventilated seats, smartphone integration, voice-control infotainment system and more. There's also a blind-spot monitor and cross-traffic alert to help keep things safe. Most of all, this retro pony car neatly combines today's tech gear with old-school cool.
FORD F-150 RAPTOR
$54,000
MPG: 15 city/18 highway
Zero-60 mph: 5.1 seconds
With the surging popularity of crossovers and other haulers, today's muscle cars aren't just two-door coupes anymore. Ford took its popular F-150 pickup truck — the best-selling vehicle in the U.S. for the past 37 years — and gave it the heart and soul of a hard-charging Mustang.
Power comes from a 450-hp twin turbo V6, which easily propels this 5,600-pound beast around corners and twisty roads. The Raptor's overall look is imposing, with harshly chiseled corners and a towering presence. At 250 inches in length, the mammoth SuperCrew Cab model is almost two-and-a-half times longer than a Smart Fortwo. And the 8,000-pound towing capacity is impressive.
Yet beneath the Hulk-like demeanor lies a refined ride, with handling that's light and nimble. The electronically adaptive suspension helps. So do the massive 34-inch tires, which also come in (yowza!) 35 or 37 inches. Despite the high ground clearance, the aluminum running boards allow you to easily get in and out of the truck.
As in the Mustang, you'll find Recaro racing seats (this time with Raptor stitching) and a throaty exhaust note. There's also smartphone integration, 360-degree camera and 10-speaker Bang & Olufsen stereo. Plenty of safety features are included, along with tons of interior storage and a power-sliding rear window. With so many amenities, the Raptor almost feels like a luxury car. But make no mistake, this is one tough Tonka toy on steroids.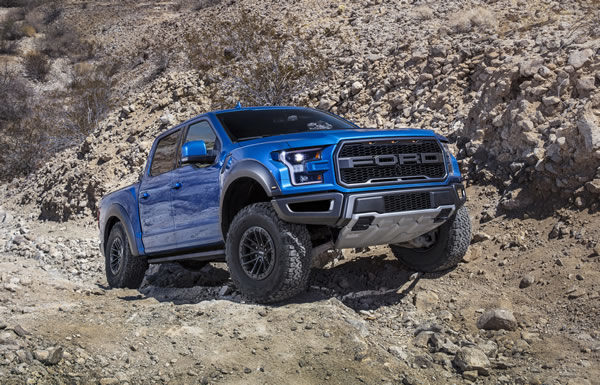 JEEP GRAND CHEROKEE TRACKHAWK
$89,000
MPG: 11 city/17 highway
Zero-60 mph: 3.5 seconds
Over at Jeep, known more for its off-roaders and family haulers, the automaker is also flexing its muscles. The result is the amazing Grand Cherokee Trackhawk, a premium crossover where all hell breaks loose. Literally.
Powered by the 707-hp supercharged Hellcat V8 — a phenomenal engine used in the Dodge Challenger and Charger — this track-worthy contender is faster than an Aston Martin Vantage or Porsche 911 Carrera. Mash the accelerator into the floorboard, and suddenly you can imagine what supersonic flight must feel like. Luckily, as you hurtle down the road like a screaming banshee, the superb braking can bring you back to reality. You can also select from various drive modes (Auto, Sport, Track, Snow and Tow) depending on the weather or your mood.
And there's plenty of cargo space and stowage compartments. The cabin is loaded, featuring an Audi-like steering wheel and gauges, along with carbon fiber trim, panoramic sunroof and 8.4-inch touchscreen infotainment system. A spectacular Harman Kardon stereo with 19 speakers is also available. Of course, such power and panache come at a price, which is why the Trackhawk is the most expensive Jeep ever.
Toss in all the options, and suddenly you're shelling out more than $100,000. Still, that's less than most exotic cars. And who knows, you may be able to save in other ways. After all, who needs all those Red Bolts when the Trackhawk can jolt you awake.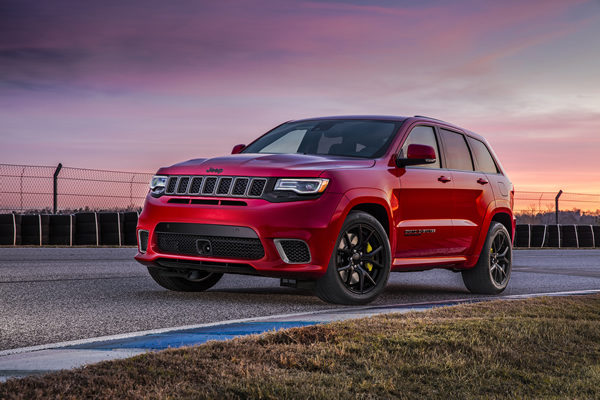 Merry motoring
These rides will bring miles of smiles along the way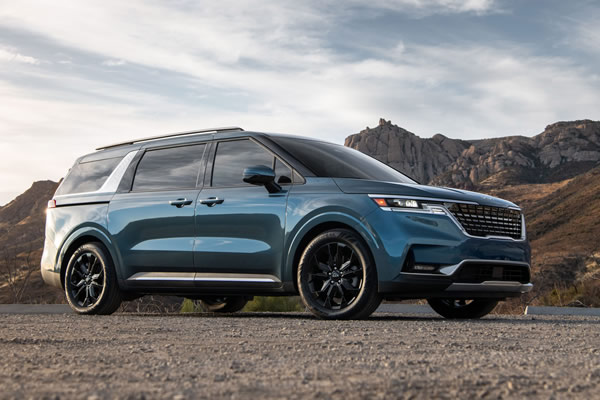 KIA CARNIVAL SX PRESTIGE
$46,000
Mpg: 19 city/26 highway
0 to 60 mph: 7 seconds
The all-new Kia Carnival is an apt name for this comfy cruiser, a fun ride with room for eight passengers. This ultramodern minivan—Kia calls it a multipurpose vehicle—has the same rugged profile as a rough-and-tumble Land Rover Discovery. While you won't be taking the Carnival on any off-road adventures, it does deliver a well-balanced ride. There's no body sway when tackling sharp corners nor is there any of the annoying bounciness found in other minivans.
Surprisingly, there's also no all-wheel-drive option, which is offered by many competitors. But acceleration is peppy, and braking feels solid. Standard features include LED headlights, power-sliding doors, push-button start, smartphone integration and nine USB ports. I drove the top-of-the-line SX Prestige, which comes with larger 19-inch wheels, hands-free power tailgate and heated steering wheel. It also costs $15,000 more than the base model. But the list of safety features is impressive, including lane-departure warning, drowsy-driver alert, collision-avoidance warnings (for both the front and rear) and side cameras that show you an image of vehicles in your blind spot. While drivers will appreciate the two 12.3-inch digital displays—one for vehicle gauges and the other for navigation and audio—it's the rear-seat passengers who get some extra thrills. This includes a robust entertainment system, dual sunroof, in-vehicle intercom and VIP lounge seats—luxe-like captain's chairs that fully recline, are nicely heated/ventilated and come with power footrests. Who knew a minivan could be such an adventure. Add in some cotton candy, and you could almost be at a real carnival.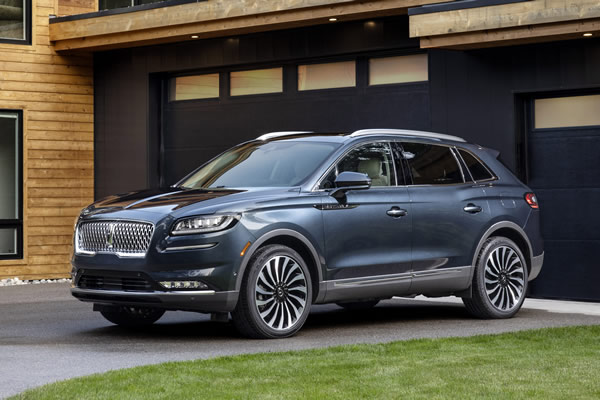 LINCOLN BLACK LABEL NAUTILUS
$65,000
Mpg: 19 city/25 highway
0 to 60 mph: 5.9 seconds
Long known for its land yachts, Lincoln sent the iconic Continental into the sunset in 2020. But though sedans are no longer in its lineup, the automaker offers a crop of comely crossovers that still exude plenty of old-school luxury. Such is the case with the midsize Lincoln Nautilus, a refreshing antidote to crossovers that try too hard to be sports cars but end up being a real pain in the butt—literally. The comfy ride and handling in the Nautilus are more akin to a Lexus RX 350 rather than some glorified go-kart racer.
With soft-touch surfaces, tasteful wood and snazzy chrome accents, the cabin is refined yet modern. It's also quiet, almost too quiet. I drove the premium Black Label trim level, featuring 22-way powered seats with massage functions and a 19-speaker premium stereo. With the stereo turned up at the end of a quiet tune, I didn't expect the next song to start with a rimshot so staggeringly loud it is still ringing in my ears. That's how crystal clear the acoustics are in this anechoic chamber. There's a choice of two engines: turbo four-cylinder or twin-turbo V6. Along with the latest tech and safety features, there's also an automated parking system and evasive steering assist, which quickens the vehicle's response time when you try to avoid a collision. Other amenities include a simulated suede headliner, panoramic sunroof and the ability to use your smartphone as the vehicle key. While the base model starts at $44,000, opting for the Black Label does add $20,000. But all those extras will be hard to resist.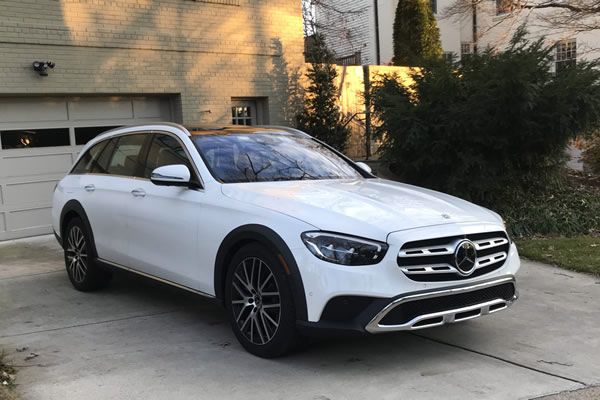 MERCEDES E450 S4 WAGON
$68,400
Mpg: 21 city/28 highway
0 to 60 mph: 4.4 seconds
Yes, you read that right. The Mercedes E450 wagon explodes from 0 to 60 mph in just 4.4 seconds. It also gets decent gas mileage for a 4,585-pound hauler, thanks to a 48-volt hybrid system that assists the 362-horsepower V6. I've always had a fondness for station wagons, ever since I drove a hulking Pontiac Bonneville Grand Safari across the country many times in my early twenties. But the Mercedes E450 is like piloting a rocket ship, with speed-of-light performance and space-age electronics.
Despite a slightly firmer suspension this year, the E-Class wagon feels like it's floating on air. Everything here is upscale, from the handsome exterior styling to the first-rate fit and finish inside. And there is so much room, even in the backseat for tall passengers with long legs. Cargo space is also huge at 35 cubic feet—which, in case you were wondering, means it could hold about 90 basketballs. Along with two 12.3-inch screens for driver info and the entertainment system, there's a "Hey Mercedes" digital assistant that responds to voice commands. It's extremely effective and doesn't require you to keep repeating yourself, as with other systems. If only it could have joined my partner Robert and me in some holiday karaoke.
Fun holiday gifts for car fans
Something for everyone, from Bentley trikes to a Mercedes tree topper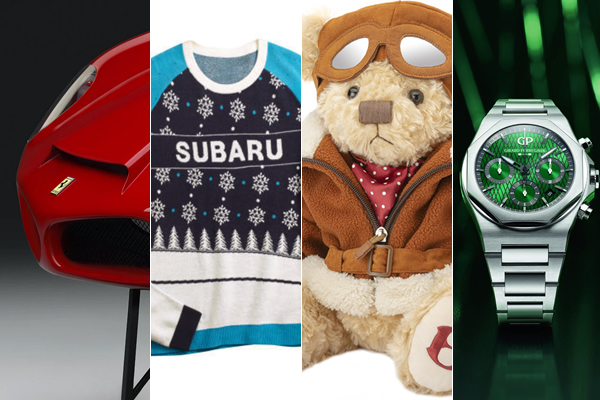 For all those gear heads in your life, here are some fun holiday gifts to get their motors running. Many of these stocking stuffers are affordable. Others, well, not so much.
Bentley Trike for Tykes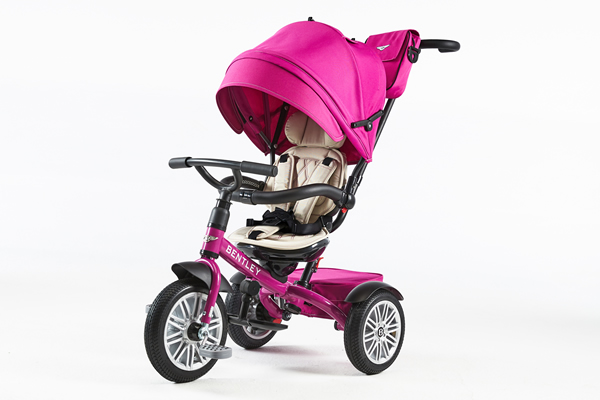 Leave it to Bentley to create a fancy fuchsia trike ($500). With six modes, from stroller to tricycle, parents can adjust this three-wheeler as a toddler gets older. Along with the "Big B logo," the Bentley name is emblazoned on the down tube. Yes, there are more subdued colors, but why bother?
Ford Sherpa Blanket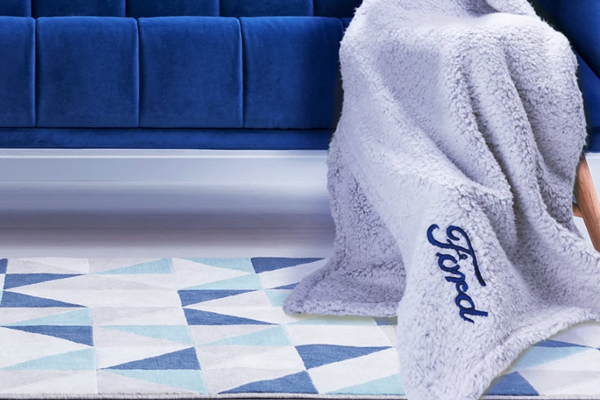 Cuddle up with a warm and fuzzy Sherpa blanket ($30), made of 100% polyester and the Ford logo embroidered in the corner.
MINI Travel Bag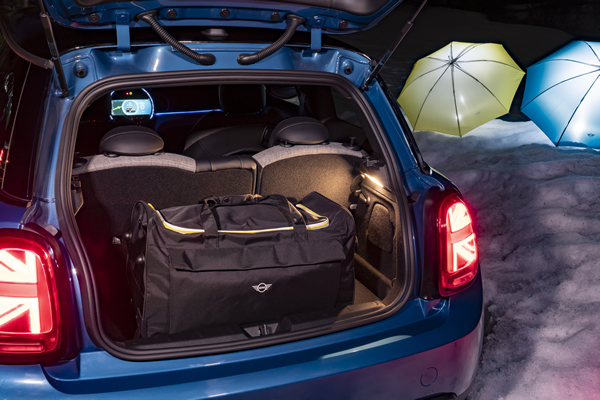 For quick weekend getaways, MINI has a large soft-luggage travel bag ($190) with extendible handle, two wheels, large main compartment, outer pocket and removable zipped pockets.
Porsche Table-top Clock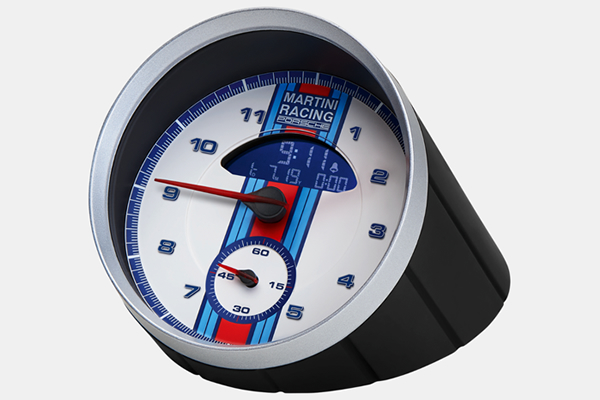 The alarm tone on this tabletop clock ($250) sounds just like a throaty Porsche 911 engine. Includes Martini Racing design, as well as a countdown function and analog/digital display.
Rolls-Royce Portable "Pursuit Seat"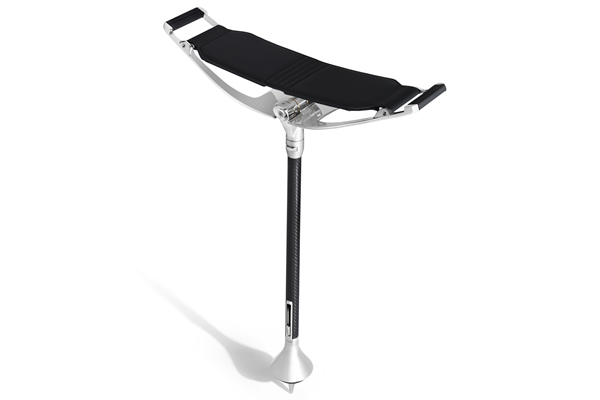 Rolls-Royce, known for its relentless pursuit of perfection, now has a portable "Pursuit Seat" ($8,800) — perfect for any derriere. The adjustable seat is anything but old school, made of carbon fiber, polished aluminum and cushy leather (tastefully embossed with the Spirit of Ecstasy insignia, of course).
Mercedes Tree Topper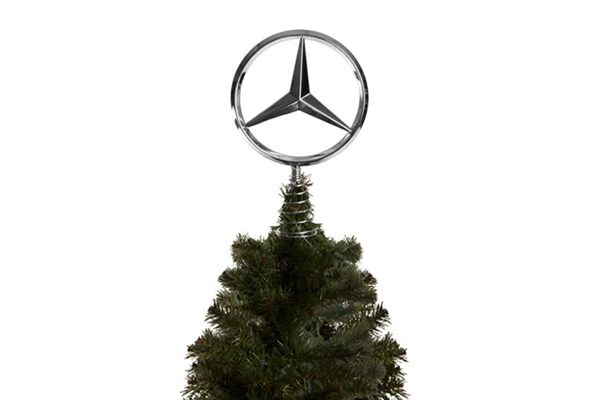 What better tree topper than a Mercedes three-pointed metal star ($52), which measures 8 inches across. Post on social, and dare anyone to top that!
Aston Martin Wrestwatch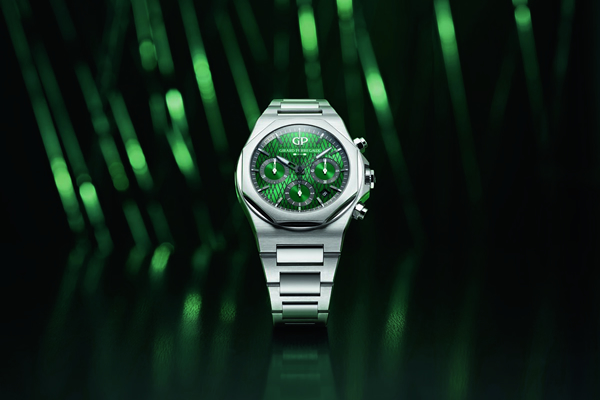 Just in time for the holidays, there's the Laureato Chronograph Aston Martin Edition ($18,000). Made by Girard-Perregaux), this ritzy wristwatch has a high-grade stainless-steel case, finely polished edges on the bezel, sapphire-crystal pane on the back, and racing-green paint applied to the dial 21 times.
Jaguar Suitcase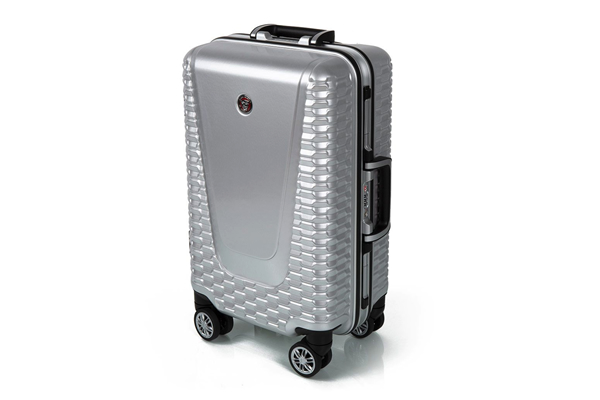 Simple but elegant, Jaguar's compact suitcase ($282) has a polycarbonate shell, aluminum frame and multidirectional wheels that look like real alloy car wheels. Two larger suitcases also available.
Subaru Holiday Sweater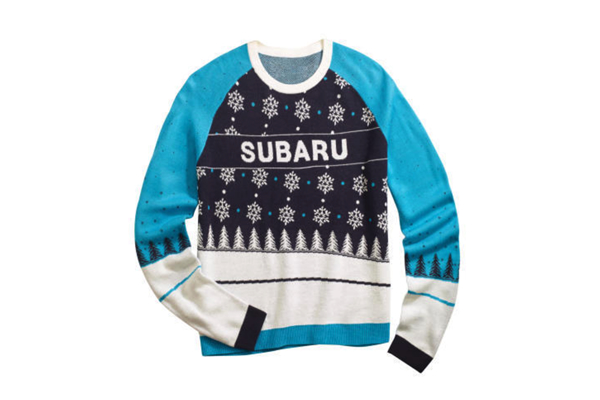 Just shy of being an entrant at some ugly-sweater contest, this festive Subaru holiday sweater ($70) is 100% acrylic and incredibly comfortable.
Front End of a 1962 Ferrari 268 SP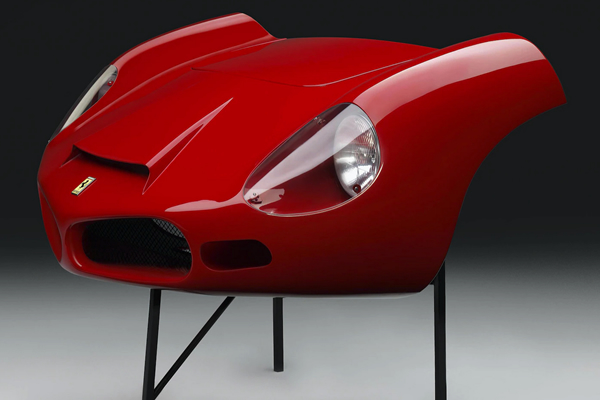 Only one 1962 Ferrari 268 SP race car was ever built, and now there's a full-scale replica of the front end ($22,000). A pedestal is available, or enthusiasts can mount this work of art on the wall.
Ferrari Vintage Steering Wheel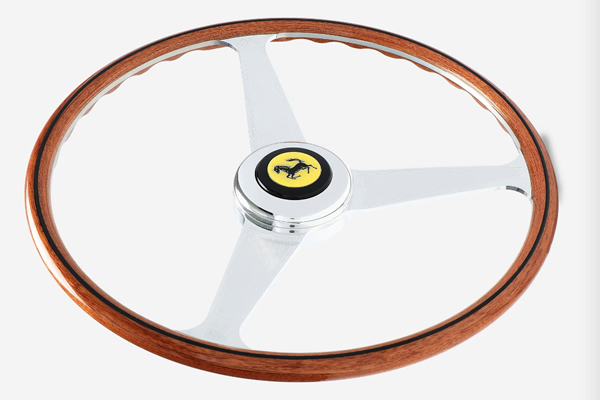 For more frugal fare (kinda sorta) Ferrari offers a vintage three-spoke steering wheel ($4,010). Such steering wheels were used in Ferraris between 1959 and 1965, and this full-scale repro—made of mahogany and polished aluminum—features the iconic prancing horse in the center.
Bentley Heritage Bear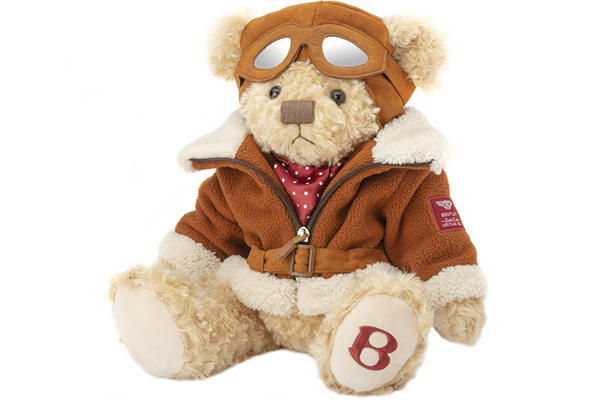 Many automakers offer cuddly teddy bears, and Bentley is no exception. The limited-edition Heritage Bear ($57) is decked out in snazzy fleece jacket, suede-like helmet and racing goggles. There's even a dust bag with drawstring for safekeeping.
One lean, mean green machine
New Ford Mustang Mach-E is electrifying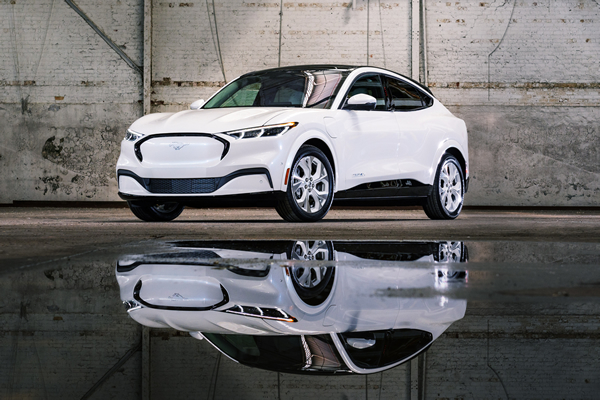 Here's a shocker: Electric vehicles have been around for over 180 years. By the time of the first Hershey bar in 1900, EVs had hit their own sweet spot—surging to almost 30 percent of all vehicles sold in the U.S. But when Henry Ford began to produce cars on his moving assembly line in 1913, the popularity of the gas-powered Model T soon short-circuited EV sales. Cue to a century later, when the debut of the all-electric Nissan Leaf in 2010 sent a jolt through the auto industry. Yet it would take another decade to get drivers charged up about anything other than gas-powered rides. Today, it's hard to keep track of all the EVs out there, along with other green machines like hybrids. While the current microchip shortage has slowed or stopped production on many cars for now, I was lucky enough to drive the all-new, all-electric Ford Mustang Mach-E. The experience was, well, truly electrifying.
Ford Mustang Mach-E
$47,000
Range: up to 305 miles
0 to 60 mph: 4.2 seconds
When the Ford Mustang Mach-E was first announced, many auto aficionados were left scratching their heads. After all, a Mustang is one of the most iconic muscle cars ever created, and the Mach-E designation sounds suspiciously like the "Mach-1" branding used on flashy high-performance Stangs. Yet this new Mustang is a crossover SUV—and an electric one to boot. While the initial designs were captivating, plenty of skeptics remained. Luckily, they needn't have worried. I was mesmerized the moment the Mach-E arrived, eager to run my hand along its sinewy side panels and strapping rear end. To keep the design as aerodynamic as possible, there are no traditional door handles. Instead, you use the key fob, your smartphone or a push button on the window frame to pop open the door.
On the inside, there's a small latch in the armrest versus the typical door handle. Such design elements are not only aesthetically pleasing, they also save space and reduce weight. Other novelties: This is the first Ford vehicle to use recycled animal-free fabrics, as well as a vegan steering wheel that's as durable as leather. On the space-age dashboard, the premium Bang & Olufsen speakers are concealed beneath fabric covers that mimic the look of pricey home-theater speakers. And the unique design of the quiet cabin allows for a subwoofer that is 50 percent lighter than usual, yet still retains a deep rich clarity. As for the gigantic 15.5-inch vertical touchscreen in the center of the dash, it resembles a sort of funky oversized iPad from "The Orville." Along with large climate controls for easier viewing, the touchscreen has interactive maps to locate the nearest charging stations. Those maps came in handy during two weekend trips, as did the heavily bolstered seats that helped prevent driver fatigue but also were easy on the tush. In total, there are five Mach-E trim levels, each with differing configurations for power and range (the distance you can travel on a full charge).
While even the base-model Mach-E is fast and lively, it's the high-test GT version that strikes like a thunder bolt. Rocketing from 0 to 60 seconds in just 3.8 seconds, the Mach-E GT is quicker than a Toyota Supra super coupe. And thanks to lower-than-expected ground clearance and a superb suspension, the Mach-E is just as agile. Those grippy regenerative brakes help, of course, allowing you to speed up or slow down using only the accelerator pedal.
It's worth noting there are other EVs in the Ford stable, including the electric F-150 Lightning full-size pickup, the E-Transit commercial van and various green machines on the way. By 2030, Ford is aiming for 40 percent of its global sales to be EVs. That's a great goal for a company that once helped pull the plug on the "electric horseless carriage" but today is leading the charge with its own cutting-edge EVs.