Nissan Kicks, Volvo XC40 among latest clever, affordable crossovers
Sporty roof spoiler, coordinated colors inside and out among features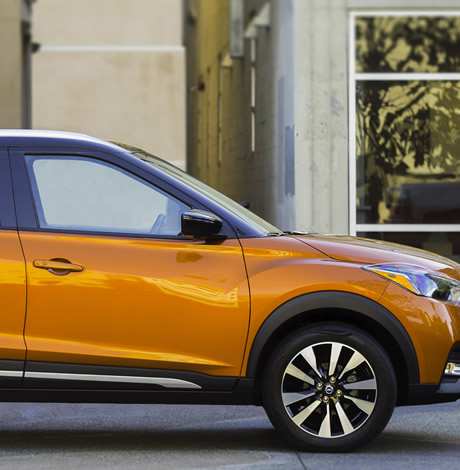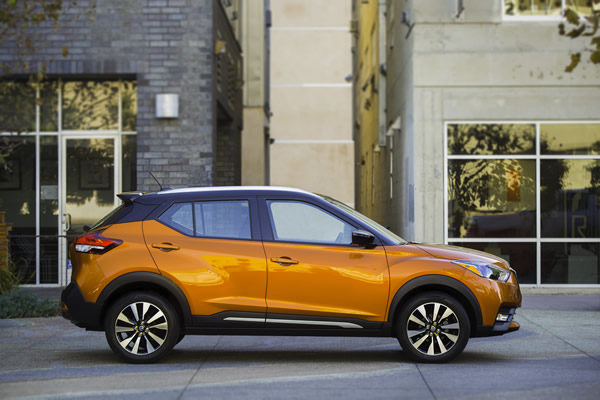 From to Cher to Ariana, divas command your attention with flashy wardrobe changes. Automakers do it with clever vehicle designs and competitive prices. That's especially true for crossovers, which continue to reign supreme on dealer lots.
NISSAN KICKS
$20,000
MPG: 31 city/36 highway
Zero-60 mph: 6.9 seconds
What's in a name? Apparently not much if it's the Nissan Juke. The automaker nixed its tiny competent crossover and replaced it with the all-new Kicks.
To be fair, the Juke suffered from quirky bug-eyed styling that would look more at home in a Brewster Rockit comic strip than on city streets. And the Juke sure was small, which is why the Kicks is seven inches longer and has more than twice as much cargo space. The Kicks also has a bigger touchscreen and more safety features, with automated emergency braking, forward-collision warning, blind-spot monitor and rear cross-traffic alert. The four-cylinder engine is perky enough, with excellent fuel economy.
Handling is more controlled on straightaways than on curvy roads, but the Kicks does manage pesky potholes much better than expected. And it comes with plenty of amenities: parking sensors, exterior lighting, smartphone integration and more. As with the Juke, the Kicks can be customized with appearance packages, such as a sporty roof spoiler and coordinated colors inside and out. All in all, the Kicks has taken the best of the jivey Juke and made it more appealing to grown-ups.
TOYOTA RAV4
$26,000
MPG: 26 city/35 highway
Zero-60 mph: 8.5 seconds
The wildly popular Toyota RAV4 gets a complete redesign this year, mixing cocky styling from the Tacoma pickup with the comfy ride of a Camry sedan.
The cabin is quiet and roomy, with a cargo hold that seems to stretch forever. And the high seating and large windows give the driver great visibility. Vehicle reliability, a top selling point for Toyota, shines through with the high-quality materials, snug fit and finish and lack of annoying rattles. While most of the controls are simple to use, the infotainment system is slightly dated. And though Apple CarPlay is here, Android Auto is not.
Perhaps the biggest beef is with the new engine, which gets a tad more horsepower than the previous model but lacks any real punch. Still, this RAV4 is a superb gas sipper (the hybrid version is even more fuel-friendly, of course) and comes loaded with standard features, including LED headlights, rear privacy glass and rearview camera with optional bird's-eye view.
Toyota also throws in a suite of safety gear: adaptive cruise control, automatic high beams, lane-keeping assist and forward-collision warning with automatic emergency braking. At this price and with all these conveniences, it's no wonder the RAV4 has been the best-selling crossover/SUV for more than two decades.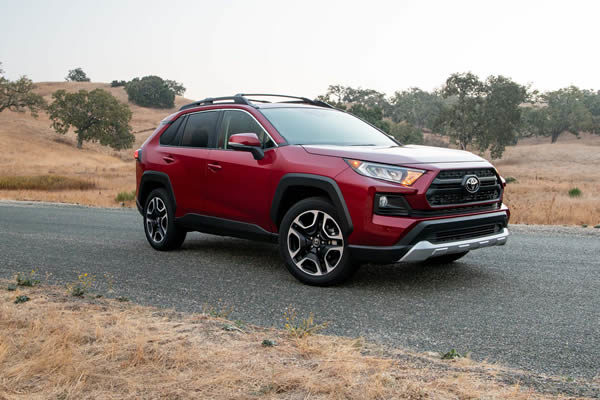 VOLVO XC40
$34,000
MPG: 23 city/31 highway
Zero-60 mph: 6.3 seconds
Showrooms may be swimming in crossovers, but Volvo has parted the waters with its stunning new XC40. This fine design is both fresh and classic, shrinking the signature grille and futuristic headlights from Volvo's larger XC60 and accentuating the raised rear so it screams Porsche Cayenne.
It's hard to emphasize just how athletic this compact crossover looks and behaves, as if it were a Red Bull cliff diver born to thrill onlookers below. There are no paddle shifters, but you don't need them with such a strong turbo engine. And this being Volvo, the SC40 is exceedingly practical.
There are cubbies molded into the backseats to store coins, snacks or cups, and a cutout on the side of the center console can hold pens or a stylus (or better yet, hide your smartphone from view). Yes, the knobby little shifter is annoying at first, but you soon learn how to toggle it back and forth to change gears. The interior is so stylish, it's easy to forgive the faux leather trim and cheap plastic on the glovebox (these lighter materials helps reduce vehicle weight, after all).
And there's a panoramic sunroof, an iPad-like infotainment system on the dash, and a kick-ass Harmen Kardon stereo that can optimize sound to 360 degrees and individually for each seat. Volvo also added playful touches, such as a little rubber Swedish flag on the hood and some fun exterior colors (the baby blue with a bright-white roof looks especially cheery).
While the sporty front seats are well bolstered, they aren't ventilated. And the rear seats would be more comfortable if they could be reclined. But these are minor quibbles for a crossover that more than holds its own against BMW, Mercedes and other competitors costing so much more.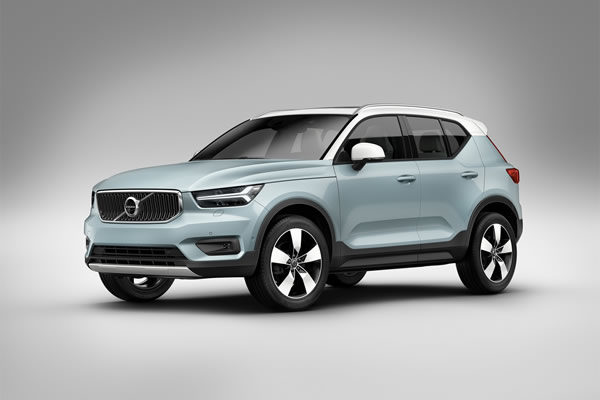 Mod makeovers: Kia Niro EV, Nissan Z
Carmakers add pizzazz without compromising function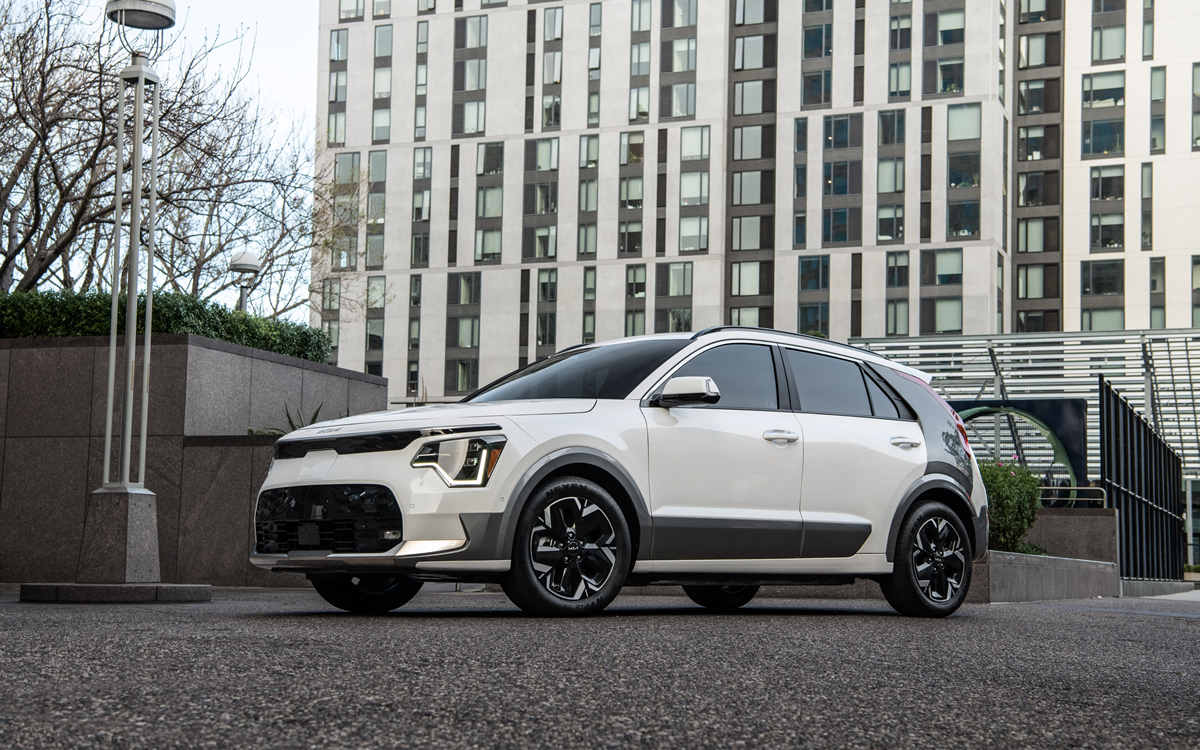 I love New Year's resolutions. There's that anticipation of a fresh start — just like a first date, where everything is possible. Same for vehicle makeovers, where automakers must strike a tricky balance: Add plenty of pizzazz to an existing model, yet don't alienate diehard purists who love their cars just the way they are. For 2023, two rides receive some spicy updates but without losing any of their old-school cool. 
KIA NIRO EV
$40,000
MPGe: 126 city/101 highway
Range: up to 253 miles on a full charge
0 to 60 mph: 7.1 seconds
For some time, Kia has been all charged up about electric vehicles. There's the EV6 crossover, cousin of the award-winning Hyundai Ioniq 5. Both of these mid-priced, midsize rides debuted last year, and they look, whir, and pretty much drive like earthbound spaceships. Coming later this year is the EV9, based on the popular Telluride full-size SUV but with a boxy-yet-bold design straight out of "Transformers."
By 2027, Kia plans to offer a whopping 14 electric vehicles. Yet I still remember the thrill of driving a Niro EV— Kia's first all-electric contender—three years ago when it arrived in showrooms. This compact four-door hatchback was fun, feature-laden and affordable. For 2023, the Niro EV gets a full redesign, with sassier styling and the same spunky performance that initially was so impressive. Battery range, which already was better than the competition, is now 14 miles more than the previous model. Using a DC fast charger, the updated Niro EV takes about 25% less time —or some 60 minutes — to charge up to 80 percent. Inside, the cockpit-like interior has been smartly revamped, with a sculpted center console, angled digital display panels and two-tone color scheme that's vintage chic.
Another plus: a slightly longer wheelbase means more cargo space and rear legroom. The original Niro EV offered an insanely long list of standard amenities, but this redo boasts even more goodies: smartphone integration, wireless charging, voice command functionality, forward-collision warning, automated emergency braking, adaptive cruise control and other creature comforts. Choice of two groovy-sounding trim levels: base-model Wind and more upscale Wave, which adds a sunroof, ventilated seats and power take-off. There's also Kia's impressive 10-year/100,000-mile powertrain warranty. "Niro" means "to rise" in Korean, and with so many splendid upgrades here, this latest EV does just that.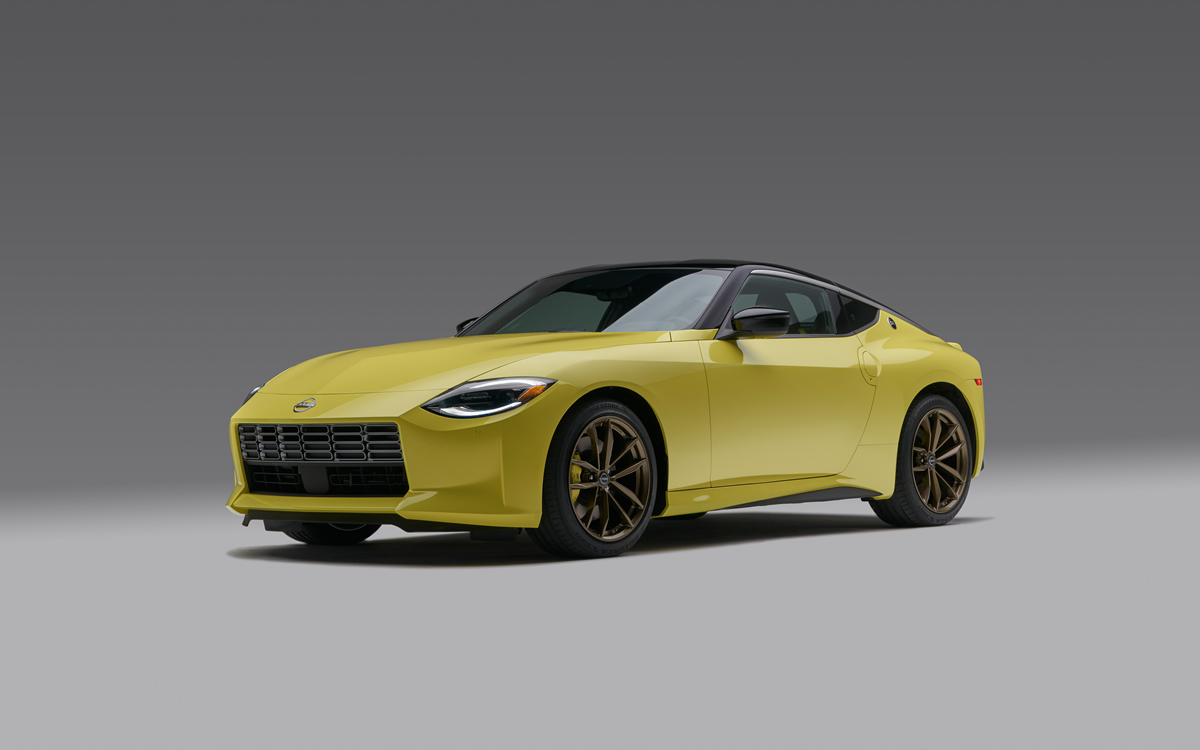 NISSAN Z
$42,000
Mpg: 19 city/28 highway
0 to 60 mph: 4.5 seconds
For just $28 million, you can own the most expensive car in production today. That would be the Rolls-Royce Boat Tail coupe, with a tapered rear that looks like, well, the back end of a 1930s yacht. This two-door beauty can be ordered with a pair of bespoke Bovet wristwatches, which can be used as pocket watches, desk clocks, or even the car's dashboard clock — as well as a chic Montblanc pen in a hand-crafted case for the glovebox.
Or you could ignore such extravagance and opt for a reasonably priced coupe that oozes sex appeal. That would be the redesigned Nissan Z, resurrected this year with a retro vibe that harkens back to the 1970s. Few cars stir your loins each time you slip behind the wheel (well, it certainly stirred mine aplenty). Perhaps the Jaguar E-Type—built from 1961 to 1975—is the only other two-door classic to evoke such nostalgic passion.
With the latest Z, the dramatic design carries through to the interior, with its swooping dashboard, thickly padded steering wheel and bolstered sport seats. There's a nice blend of old and new here, with conventional knobs mixed with a high-tech digital instrument cluster. And yes, for all you gearheads out there, the Z is available in a six-speed manual transmission. Alas, the nine-speed automatic actually shifts faster than any human being. Either way, stomp on the accelerator and this sports car thunders down the road. The suspension is extremely taut, as my keister can attest. Yet handling and cornering are so smooth it's easy to be zipping along much faster than you realize. Standard features include keyless entry, 8-inch touchscreen, smartphone integration, Bluetooth and voice recognition. There also are some nice options, such as eight-speaker Bose stereo, user-friendly nav system and Wi-Fi hot spot. But if you're expecting to find swanky wristwatches or a pricey writing pen, I'm afraid you'll have to bring your own.
Lightning strikes twice with all-electric Ford F-150 pickup
This dazzling eco-ride will take your breath away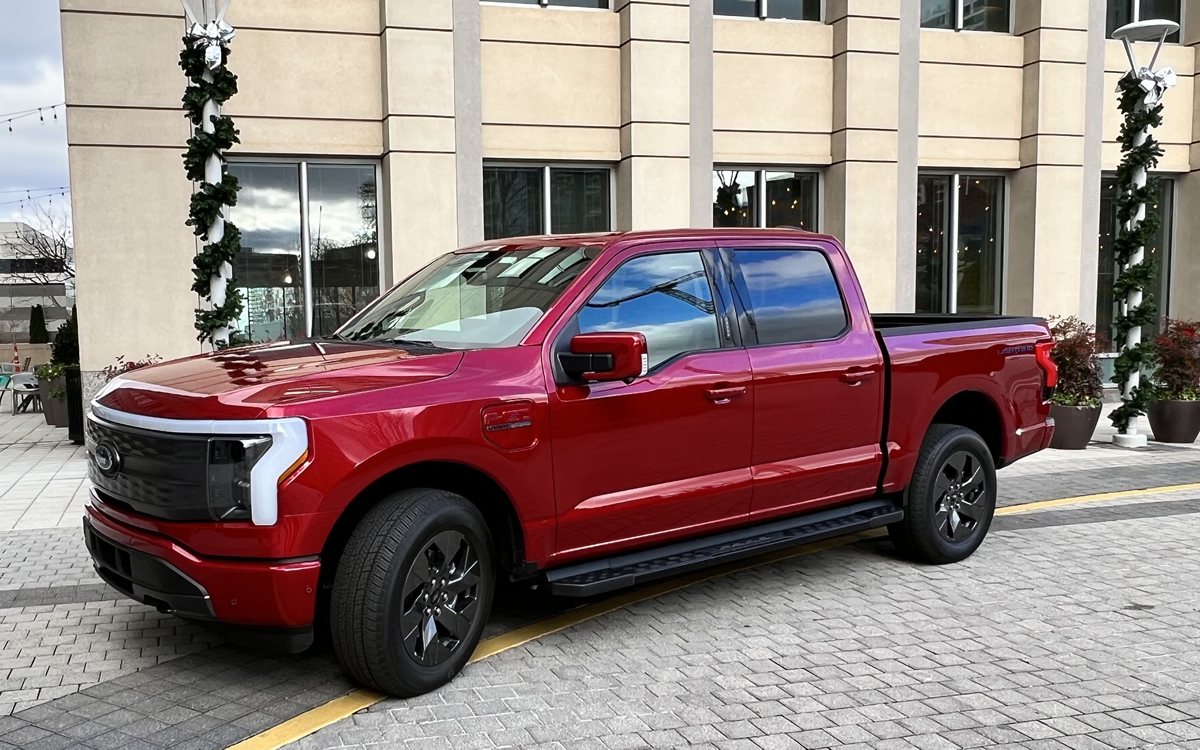 Years ago as I was walking to work, a driver wielded his ginormous Ford F-150 pickup truck into a parking space barely big enough for a Mazda Miata. He then strode into my office building with the swagger of a total yahoo: seemingly clueless about parking etiquette, let alone climate change.
A short time later, this urban cowboy was introduced as our new supervisor. My internal eye-rolling kicked in after learning he had three toddlers. I mean, how practical is a monster hauler—with its sky-high ground clearance and limited interior cargo room—when ferrying around a trio of rugrats?
But my haughty 'tude soon started to wane after learning he also had a minivan. This dude just couldn't quit his F-150 because it was tough and "free spirited." While I appreciated his passion, I didn't fully understand it. Pickups to me are workaday trucks: basic, utilitarian and, well, no big whoop.
That is, until last week when I tested the all-new, all-electric Ford F-150 Lightning. This dazzling eco-ride took my breath away, blasting off from a standstill to 60 mph in four seconds and dodging through traffic like Lionel Messi.
Call it a jolt (or lightning bolt) to the senses, but now it's my turn to be the total yahoo when it comes to a pickup.
FORD F-150 LIGHTNING
$52,000-$97,000
MPGe: 76 city/61 highway
Range: up to 320 miles on a full charge
0 to 60 mph: as quick as 4.0 seconds
During the past year, various all-electric pickups have gone from concept to reality. There's the cartoonish-looking Rivian, with a smiley front end that looks like something out of a "Cars" movie, and the GMC Hummer EV, which could easily be mistaken for a modish lunar rover.
Enter the Ford F-150 Lightning, with its sprinkles of futuristic styling cues, including distinctive light bars atop both the grille and tailgate. While the overall design may not be as outre as a Rivian or Hummer, the Lightning still turns plenty of heads.
Most notable, the Lightning is very practical. A Rivian, for example, is 14.6 inches shorter so has less passenger and cargo room. A Hummer is seven inches wider, making it harder to navigate city streets. And both the Rivian and Hummer are taller than a Lightning, which—yikes!—can barely scooch under the clearance bar in a parking garage itself.
There's lots of leg room in both the front and back seats. And those rear seats flip up, allowing you to conveniently stow gobs of gear underneath. There also are a few dividers to help keep cargo organized and prevent items from jostling around.
But perhaps the coolest feature is the "frunk," or front trunk. This storage space—where the engine used to be—is an impressive 14.1 cubic feet. That's enough room for two golf bags or three medium-sized suitcases. The funky frunk is also water-resistant, drainable, lockable and has four 120-volt outlets and two USB chargers. There's even an emergency release latch, just like in a standard trunk. Best of all, the lid opens and closes electronically, with just two taps to the keyfob. When I did this the first time, it looked as if the Lightning was actually yawning—or getting ready to eat someone.
And here's a first: If your household ever loses power, a fully charged Lightning can serve as a backup generator for up to three days.
The real excitement, though, is behind the wheel. Power comes from two electric motors configured to provide standard all-wheel drive. Add in the extended-range battery for more horsepower and torque, and this pickup handles just like a sports car. The instant acceleration—especially when stomping on the gas, er, throttle pedal—must be what it's like when a spaceship rockets off the launch pad. Except in the Lightning, there's no back-and-forth shuddering, and no noise. Everything's perfectly, eerily quiet in the well-insulated cabin.
Many interior features in the Lightning are also in the snazzy Ford Mustang Mach-e crossover, including the optional 15-inch infotainment screen that looks and behaves like an iPad. Other pleasing add-ons include max-recline seats, hands-free driving system, Bang & Olufsen premium stereo and twin-panel moonroof.
For more than 40 years, the traditional gas-engine F-150 has reigned as the best-selling vehicle in America, so the Lightning is a big risk for Ford. Yet with stellar performance and boffo functionality, it's hard to see this electrifying pickup losing the crown.
Holiday gifts for car lovers
Something for everyone, from a Barbie Maserati to Subaru dog sweaters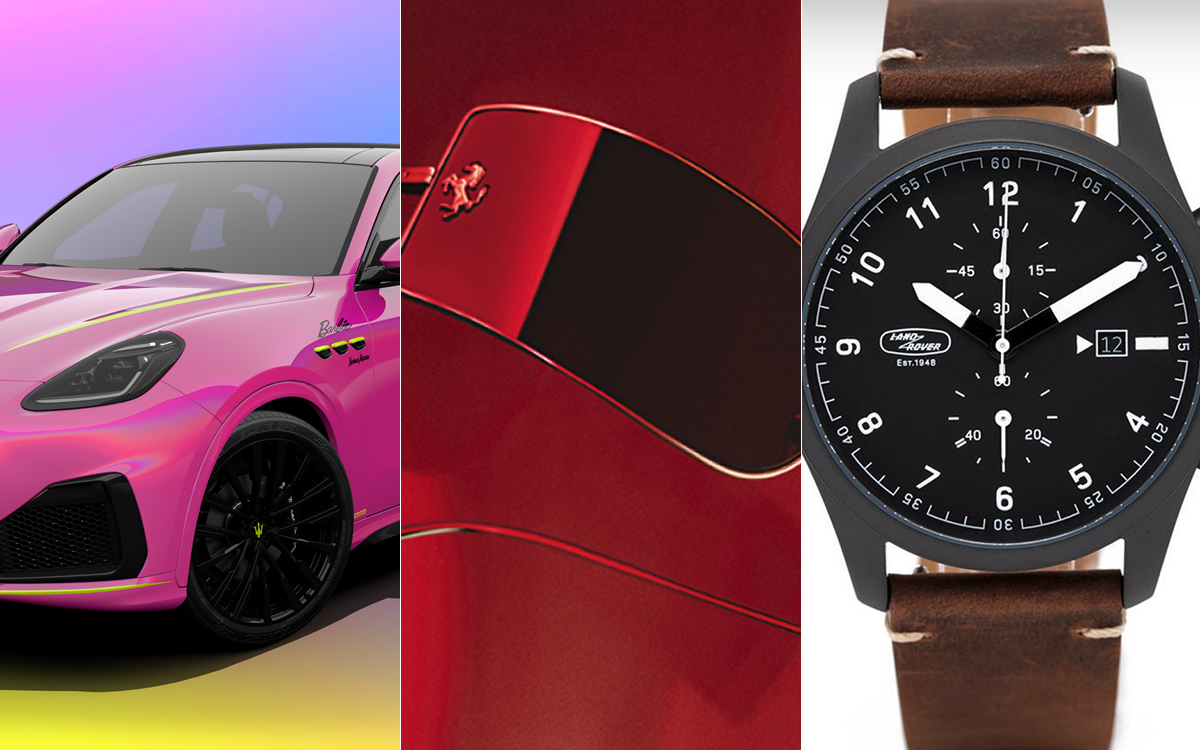 Sure, a $100 gift card to use at the gas pump or EV charging station is a nice stocking stuffer this holiday season, but there are plenty of other much more playful gifts for car fans.
Subaru Blue-Striped Beanie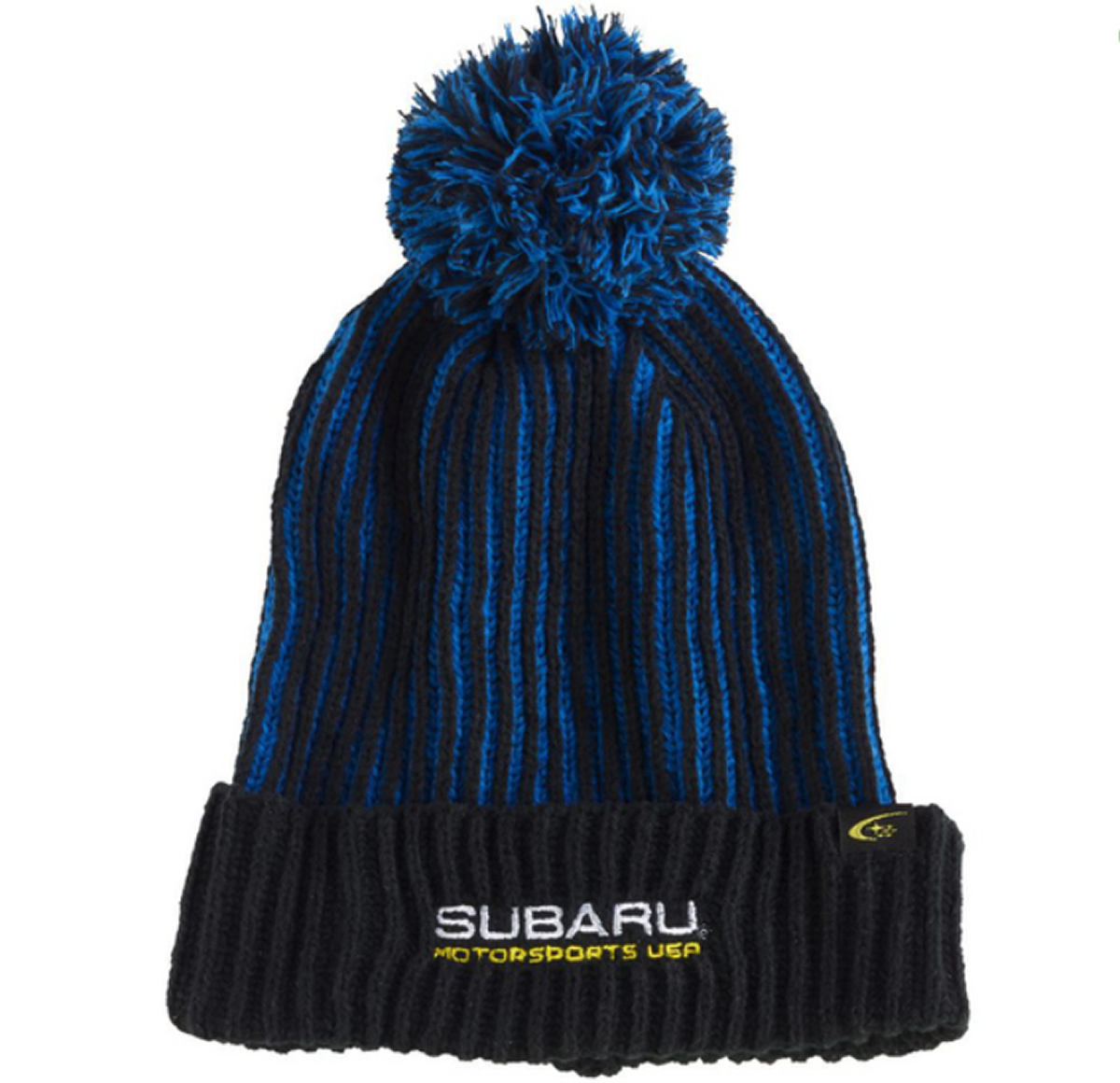 To help reduce waste and carbon emissions, Subaru offers assorted eco-friendly clothing. This includes a blue-striped beanie ($15), made from 100% recycled acrylic knit and festooned with a sassy pom on top. Subaru Motorsports USA logo is embroidered on the side.
Barbie Maserati Grecale Trofeo SUV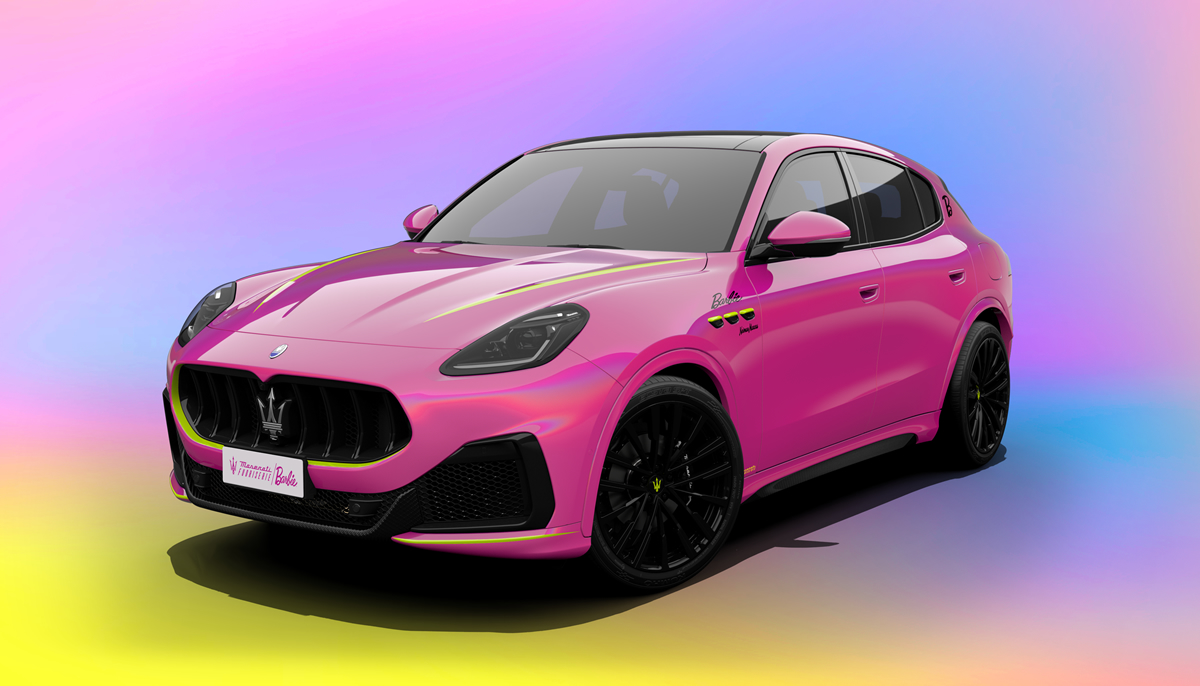 For megabucks motorheads, Neiman Marcus offers its annual holiday catalogue —a collection of "fantasy gifts"— with the Barbie Maserati Grecale Trofeo SUV ($330,000). This fab ride—in shocking pink and with yellow accents—can sprint from 0 to 60 mph in less than four seconds. Only one is available, with 10% of the sale donated to the Barbie Dream Gap Project, which helps provide equal opportunities for girls and young women.
Hyundai Nexo Kiddie Car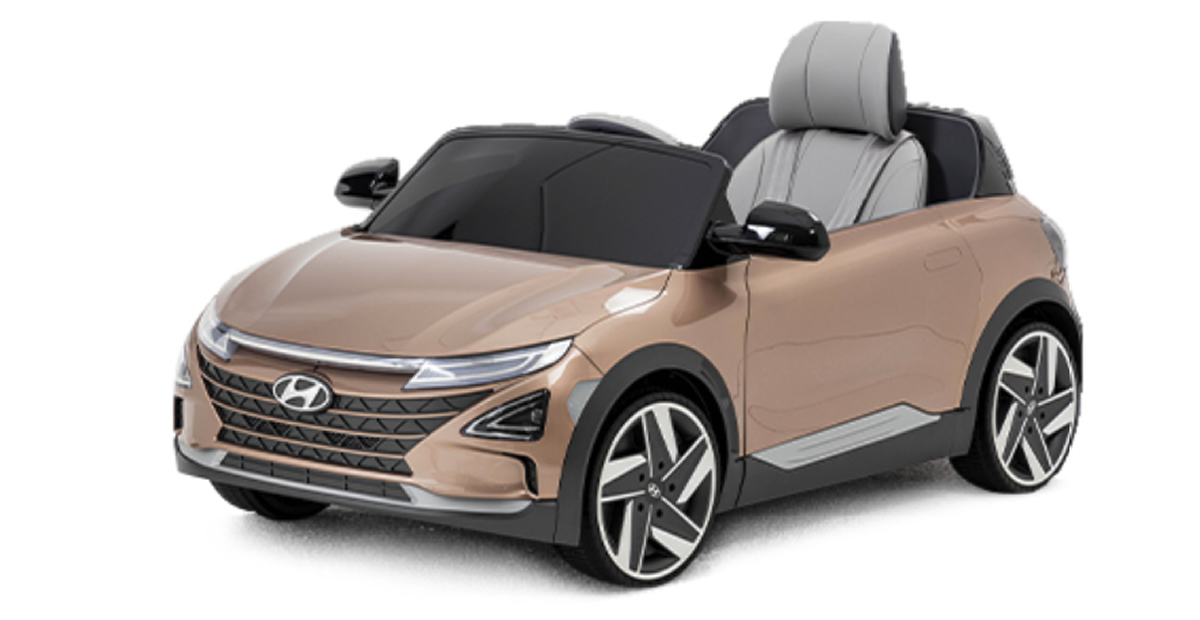 Back in the day, there were Hot Wheels, Matchbox Cars and Tonka Toys. Today, there's the Hyundai Nexo kiddie car ($737), an electric-powered plaything with vegan leather, stitched seating and rear sensors that beep when there's an obstruction. Parents can control the car via a Bluetooth remote-control system. Charging time: seven hours.
Mercedes Classic 300 SL Desk Clock

Turn back time with the Mercedes classic 300 SL desk clock ($85) made of aluminum and stainless steel, with a wave pattern on the dial similar to the design used on the dashboard of that vintage Benz.
The Godfather Cadillac Model Car

Like Marlon Brando, here's an offer you can't refuse: The Godfather Cadillac ($23), a diecast model of the 1955 Fleetwood in that movie.
Ferrari Wraparound Sunglasses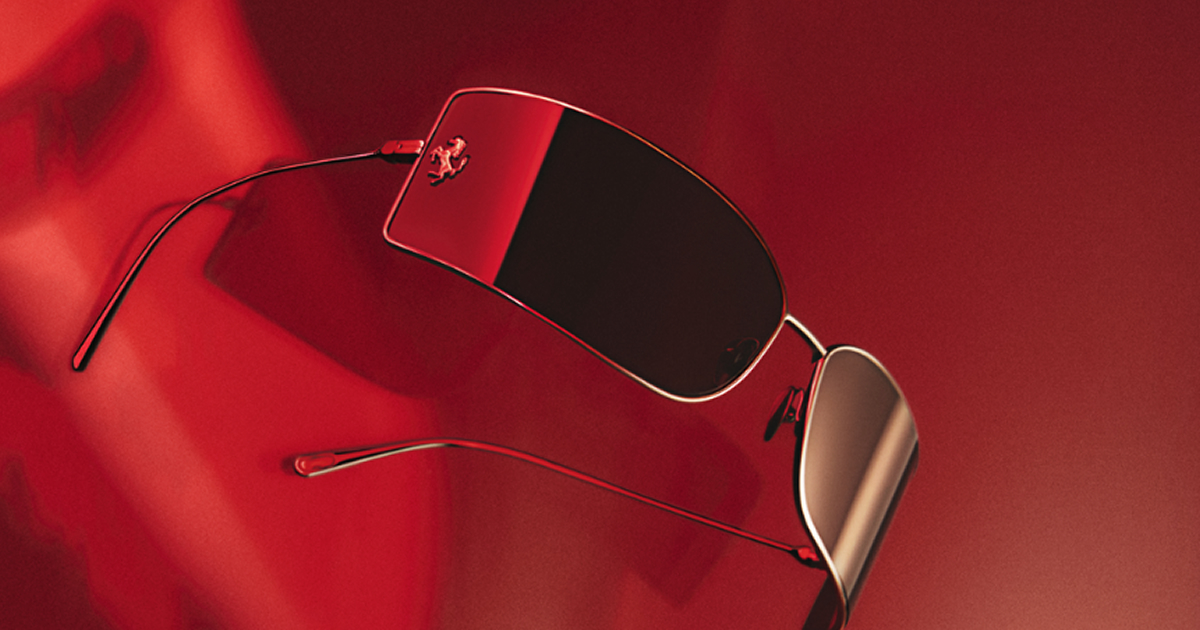 Caio bella! Sleek unisex sunglasses ($1,275) from Ferrari feature a futuristic wraparound design with steel frame, titanium nose pads and the automaker's prancing-horse emblem on each lens.
Maserati Blue Unisex Socks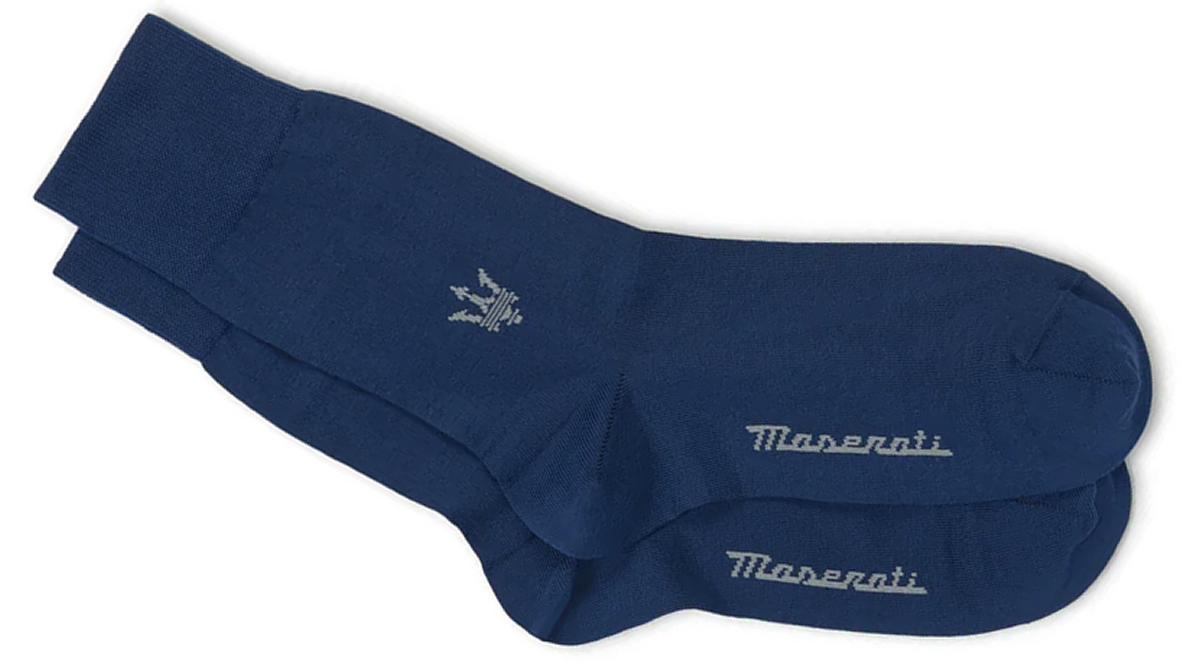 What better stocking stuffer than, well, socks. Maserati's blue unisex socks ($31) are made of a high-quality blend of cotton and technical fabric, with the Maserati trident logo inlaid on the side and sole of each sock. Ideal for outdoor activities or sports.
BMW Scooter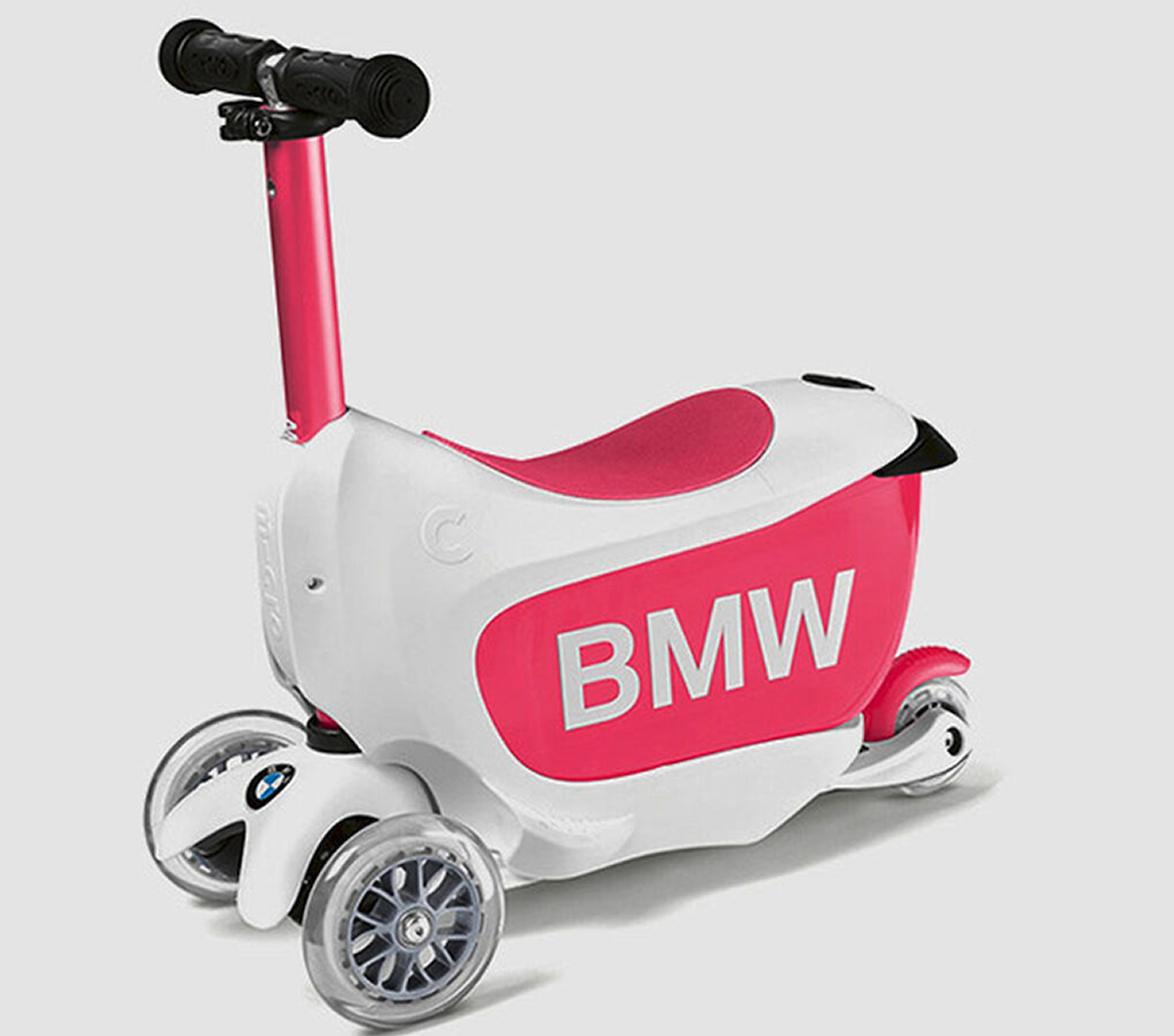 The BMW kid's scooter ($120) is made of durable plastic and metal, with a height-adjustable steering bar and convenient storage drawer to hold stuff. Available in choice of two snazzy color combinations: white/raspberry or black/orange.
Ford Bronco Holiday Adult Onesie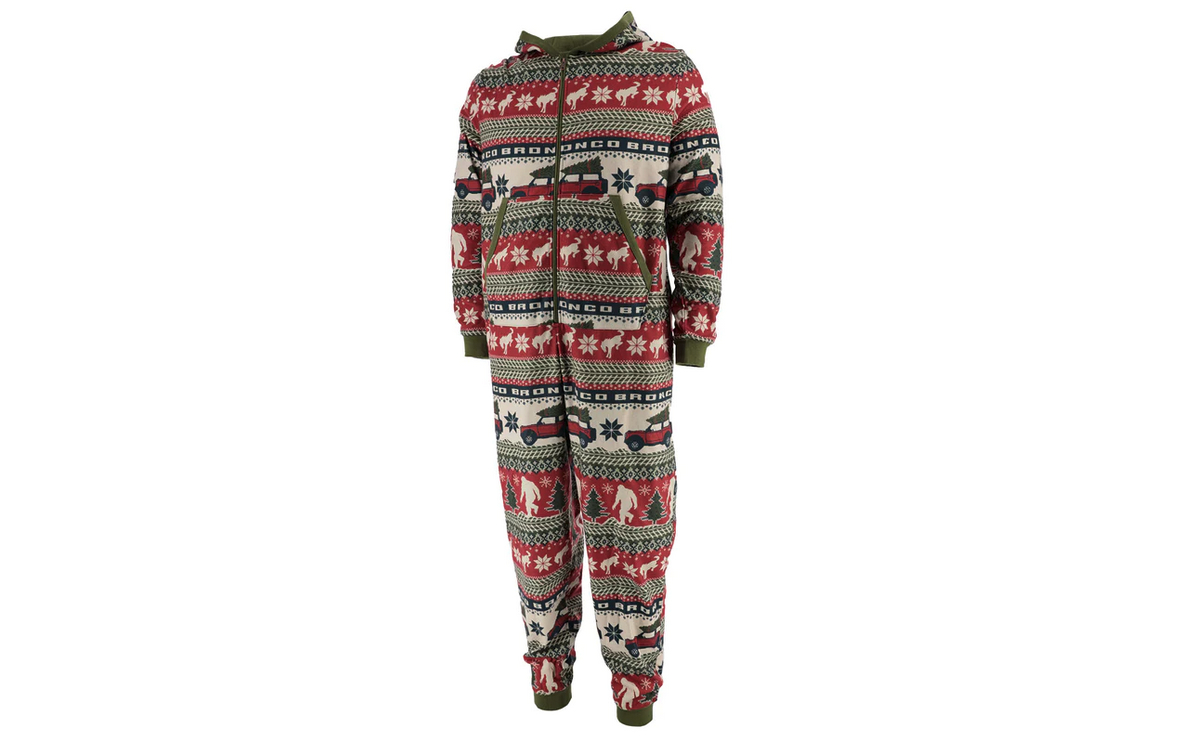 Ford is proud of its ugly holiday sweaters, but this year there's the Bronco holiday adult onesie ($45). Made of 100% polyester polar fleece, this glorified pajama comes with loose-fitting hood, tight-fitting cuffs for your arms and ankles, and a cringe-worthy design in maroon, sage and cream coloring.
Land Rover Heritage Watch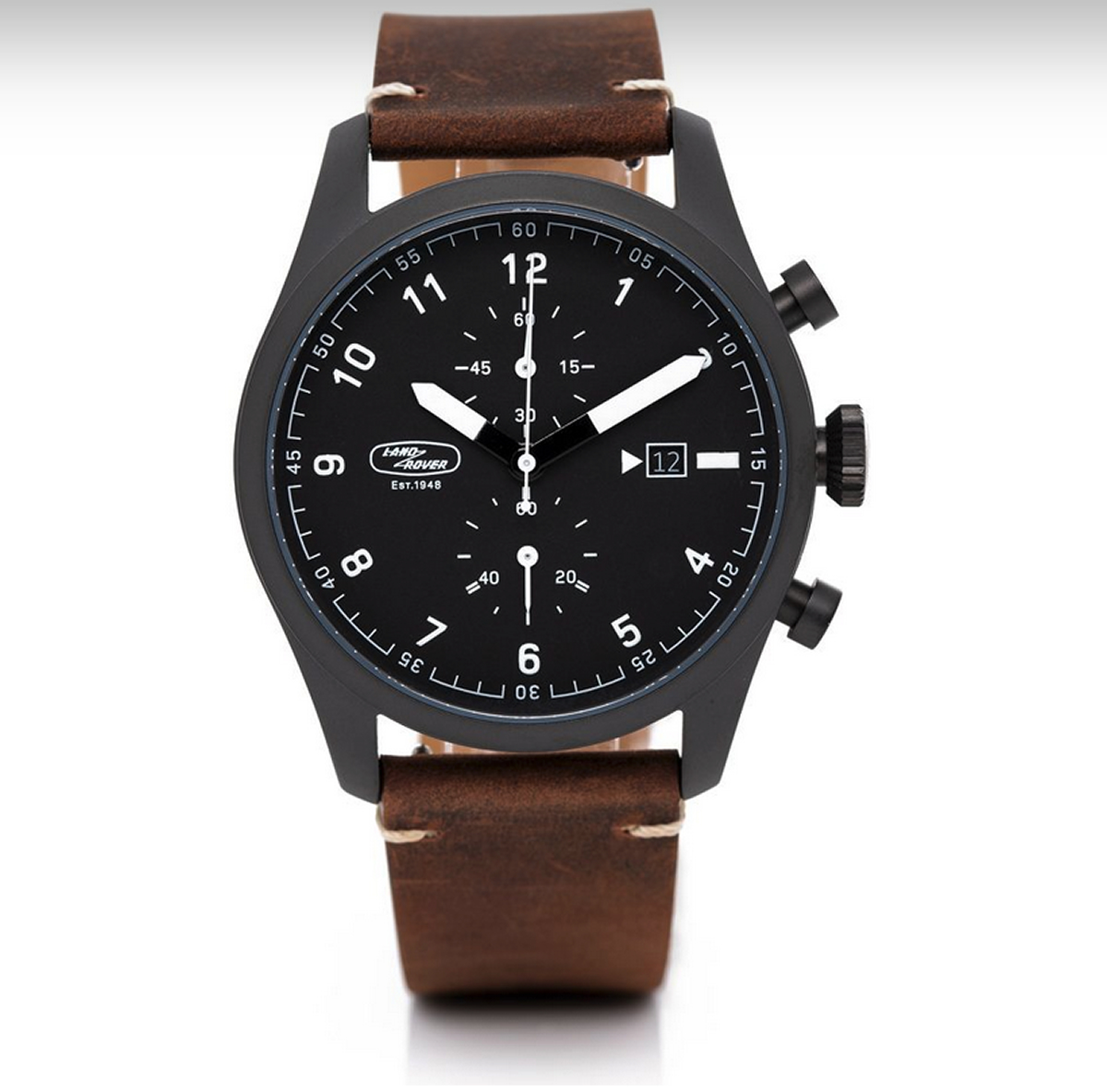 Inspired by old-school aviator timepieces, the Land Rover Heritage Watch ($282) has a leather strap, rugged stitching and early Land Rover logo on a matte black dial and ion-plated case. Available with a snazzy Land Rover presentation box.
Subaru Dog Sweater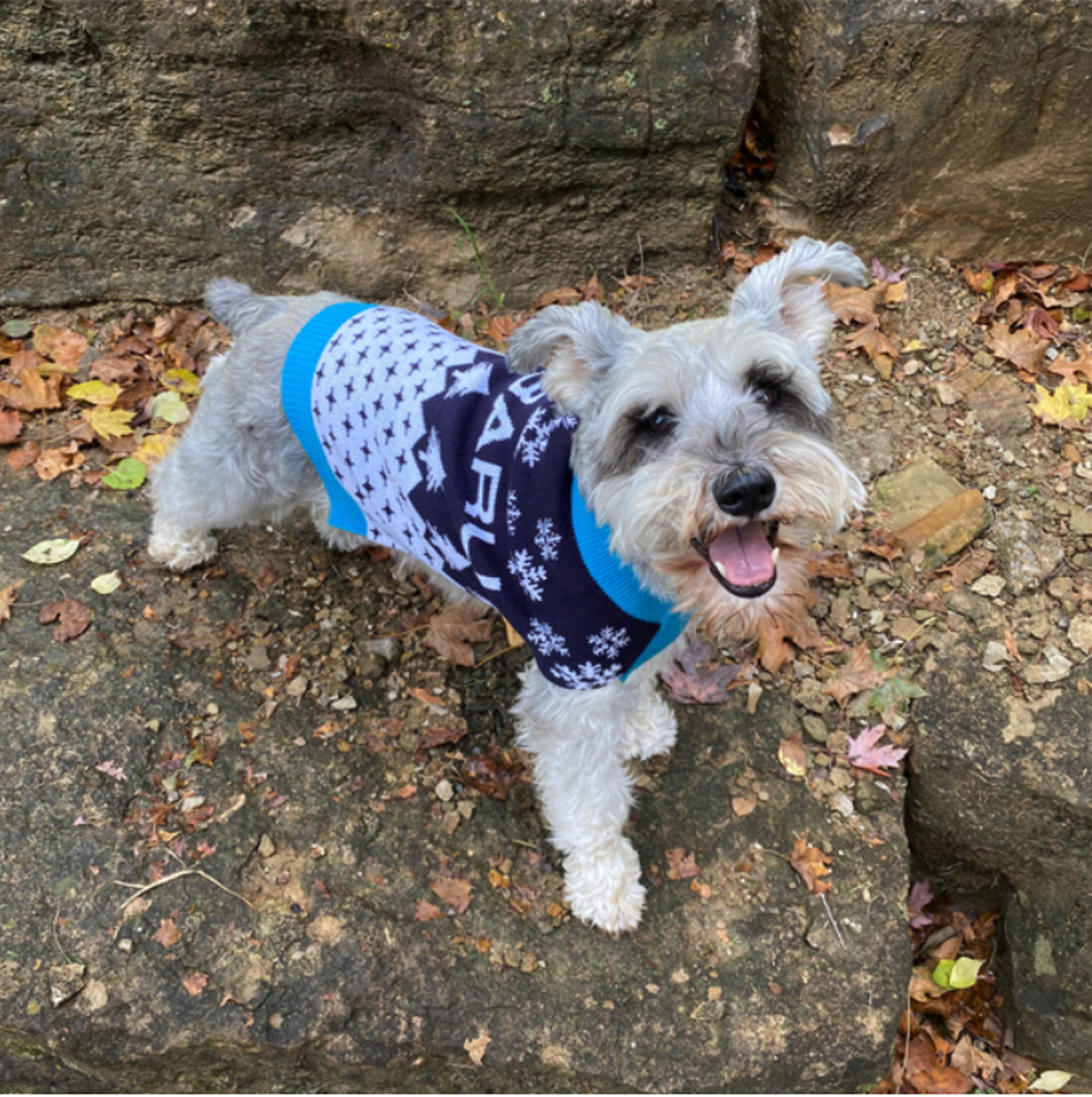 Subaru offers festive gifts for those four-legged members in your family, including a holiday dog sweater ($35) made of jacquard knit. Other Subaru pet-centric presents: collars, leashes, clip-on safety light, travel roll-up mat, toss-n-chew dog toy, fleece plushie full of cat nip, and more.
Retro Datsun Lunch Box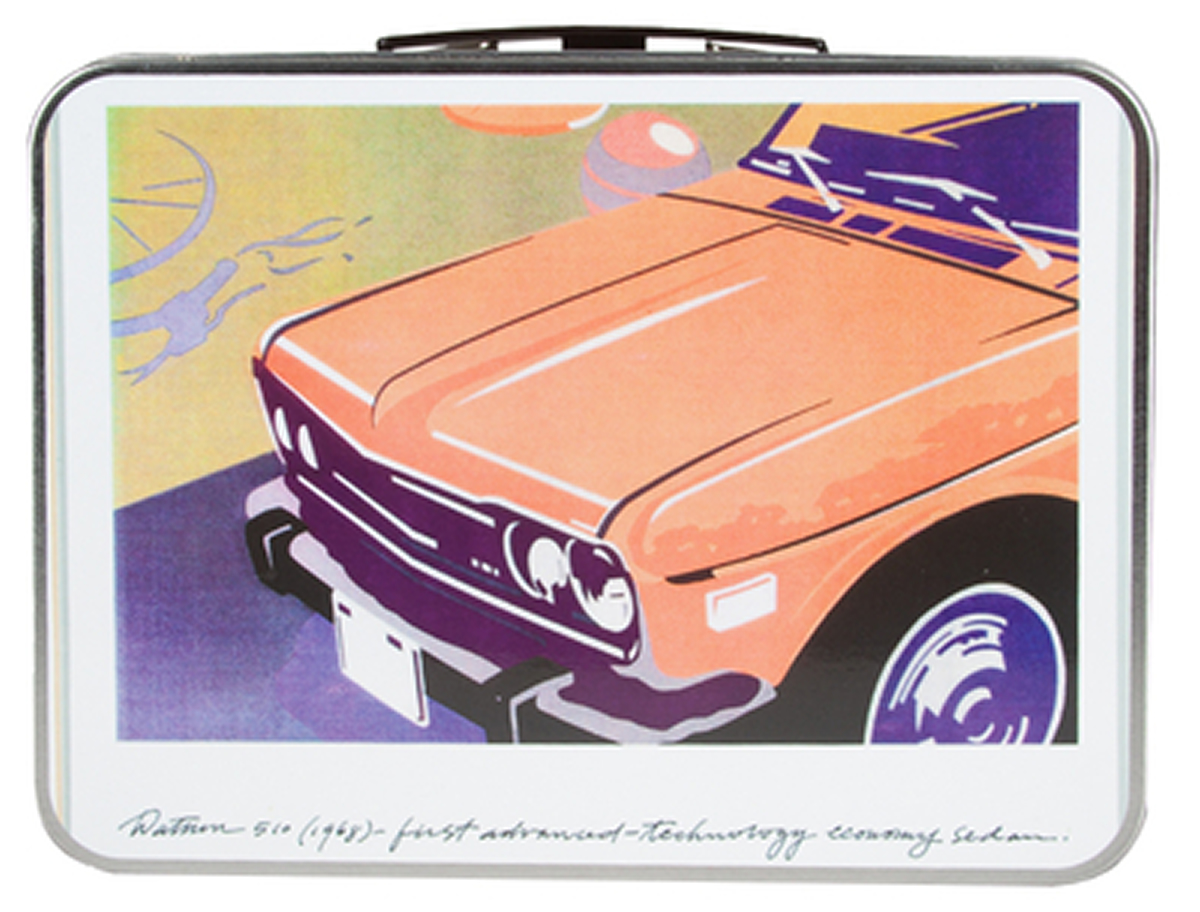 Gearhead foodies will appreciate the Datsun lunch box ($15), with images of two iconic cars from that retro automaker: the racy 240z roadster on one side and the stylish 510 sedan on the other.