August 16, 2019 at 2:33 pm EDT | by Joe Phillips
Nissan Kicks, Volvo XC40 among latest clever, affordable crossovers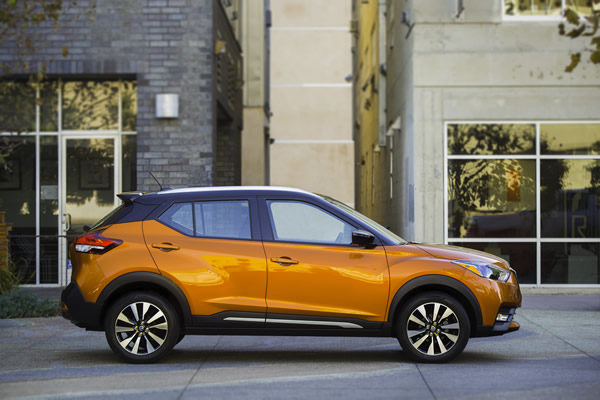 From to Cher to Ariana, divas command your attention with flashy wardrobe changes. Automakers do it with clever vehicle designs and competitive prices. That's especially true for crossovers, which continue to reign supreme on dealer lots.
NISSAN KICKS
$20,000
MPG: 31 city/36 highway
Zero-60 mph: 6.9 seconds
What's in a name? Apparently not much if it's the Nissan Juke. The automaker nixed its tiny competent crossover and replaced it with the all-new Kicks.
To be fair, the Juke suffered from quirky bug-eyed styling that would look more at home in a Brewster Rockit comic strip than on city streets. And the Juke sure was small, which is why the Kicks is seven inches longer and has more than twice as much cargo space. The Kicks also has a bigger touchscreen and more safety features, with automated emergency braking, forward-collision warning, blind-spot monitor and rear cross-traffic alert. The four-cylinder engine is perky enough, with excellent fuel economy.
Handling is more controlled on straightaways than on curvy roads, but the Kicks does manage pesky potholes much better than expected. And it comes with plenty of amenities: parking sensors, exterior lighting, smartphone integration and more. As with the Juke, the Kicks can be customized with appearance packages, such as a sporty roof spoiler and coordinated colors inside and out. All in all, the Kicks has taken the best of the jivey Juke and made it more appealing to grown-ups.
TOYOTA RAV4
$26,000
MPG: 26 city/35 highway
Zero-60 mph: 8.5 seconds
The wildly popular Toyota RAV4 gets a complete redesign this year, mixing cocky styling from the Tacoma pickup with the comfy ride of a Camry sedan.
The cabin is quiet and roomy, with a cargo hold that seems to stretch forever. And the high seating and large windows give the driver great visibility. Vehicle reliability, a top selling point for Toyota, shines through with the high-quality materials, snug fit and finish and lack of annoying rattles. While most of the controls are simple to use, the infotainment system is slightly dated. And though Apple CarPlay is here, Android Auto is not.
Perhaps the biggest beef is with the new engine, which gets a tad more horsepower than the previous model but lacks any real punch. Still, this RAV4 is a superb gas sipper (the hybrid version is even more fuel-friendly, of course) and comes loaded with standard features, including LED headlights, rear privacy glass and rearview camera with optional bird's-eye view.
Toyota also throws in a suite of safety gear: adaptive cruise control, automatic high beams, lane-keeping assist and forward-collision warning with automatic emergency braking. At this price and with all these conveniences, it's no wonder the RAV4 has been the best-selling crossover/SUV for more than two decades.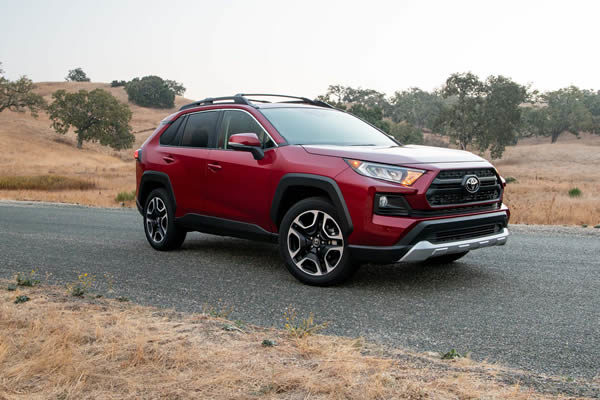 VOLVO XC40
$34,000
MPG: 23 city/31 highway
Zero-60 mph: 6.3 seconds
Showrooms may be swimming in crossovers, but Volvo has parted the waters with its stunning new XC40. This fine design is both fresh and classic, shrinking the signature grille and futuristic headlights from Volvo's larger XC60 and accentuating the raised rear so it screams Porsche Cayenne.
It's hard to emphasize just how athletic this compact crossover looks and behaves, as if it were a Red Bull cliff diver born to thrill onlookers below. There are no paddle shifters, but you don't need them with such a strong turbo engine. And this being Volvo, the SC40 is exceedingly practical.
There are cubbies molded into the backseats to store coins, snacks or cups, and a cutout on the side of the center console can hold pens or a stylus (or better yet, hide your smartphone from view). Yes, the knobby little shifter is annoying at first, but you soon learn how to toggle it back and forth to change gears. The interior is so stylish, it's easy to forgive the faux leather trim and cheap plastic on the glovebox (these lighter materials helps reduce vehicle weight, after all).
And there's a panoramic sunroof, an iPad-like infotainment system on the dash, and a kick-ass Harmen Kardon stereo that can optimize sound to 360 degrees and individually for each seat. Volvo also added playful touches, such as a little rubber Swedish flag on the hood and some fun exterior colors (the baby blue with a bright-white roof looks especially cheery).
While the sporty front seats are well bolstered, they aren't ventilated. And the rear seats would be more comfortable if they could be reclined. But these are minor quibbles for a crossover that more than holds its own against BMW, Mercedes and other competitors costing so much more.