August 2, 2019 at 9:35 am EDT | by Joey DiGuglielmo
WSJ op-ed on gender-inclusive language insensitive, out of touch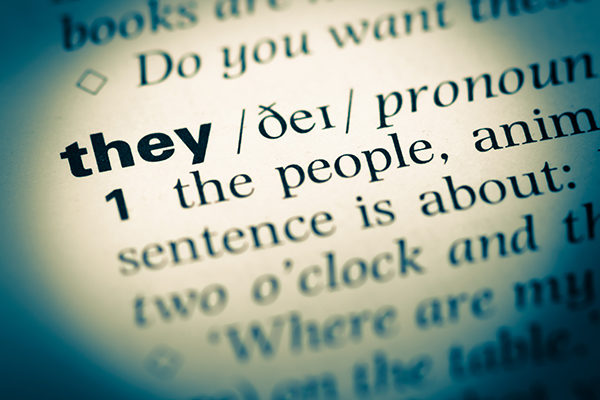 After President Trump was elected, I became a regular Wall Street Journal reader. I'd never previously been, but I was curious how the serious right-leaning media (i.e. not Fox News) was covering the administration. One of the delights has been its reliably strong weekend opinion pages anchored by Peggy Noonan and Holman W. Jenkins, Jr.
Noonan (a former Reagan speechwriter) is usually a joy — whether I agree with her or not (which is half the fun of the op-ed page in any paper), she weaves lengthy, yet tight essays backed up with historical context, sensible perspective and a friendly, conversational tone. But she took things way too far in her July 27 piece "What were Robespierre's pronouns?" likening today's push for more inclusive language from trans and non-binary people to the bloody French revolution of the late 1700s.
She doesn't imply the guillotine is just around the corner for pronoun enforcement or anything that extreme (she concurs it was a "revolution largely run by sociopaths"), but she likens that era's proposed overhaul of language and time — Robespierre and company wanted to give up the Gregorian calendar, the concept of seasons and weeks, the B.C./A.D. tracking of centuries and more — to the sometimes admittedly clunky shift toward more inclusive LGBT language.
Gender-specific singular pronouns are tough. I'm an editor so, of course, I'm fussy and easily flummoxed by grammatical undulations. As Noonan points out, we haven't yet settled (and perhaps we never will) on a singular, non-binary pronoun that doesn't sound like Lucy and Ethel chirping in alien talk atop the Empire State Building: zie, sie, ey, ve, tey and e are new proposals to replace he/she according to a business manual she cites; it develops into zieself, hirself, eirself, verself, terself and emself to sub for himself/herself. It suggests offering your own pronoun preferences (another tricky word — is gender a preference?) during an introduction lest asking someone's own implies you think zie's trans or non-binary zieself. They, despite being plural, took root because it's gender neutral but not a new word. In everyday parlance, that's huge and its impact can't be overstated.
"We are being asked to memorize all this, to change hundreds of years of grammar and usage to accommodate the needs or demands of a group that perceives itself as beleaguered," Noonan writes. "It's insane. All of it. … You wonder how the people who push all this got so much power. But then, how did Robespierre?"
I'm not sure how it's gonna play out exactly — perhaps zie, sie and ey never will take root in the language — but revisit Noonan's column in 20-30 years and she's gonna sound like a female Archie Bunker for 2019, holding onto outdated, bigoted views.
I get the awkwardness. Ridding common English of sexist or archaic language is downright painful at times. I cringe when "forced" to sing new, gender-inclusive lyrics to hymns and carols in the New Century Hymnal my church uses — "As With Gladness Men of Old" is now "As With Gladness Those of Old," "Faith of Our Fathers" is now "Faith of the Martyrs" and so on. I realize this is easy to say as a white Gen X (gay) guy who grew up middle class in the U.S., but you can't rewrite history. It's a slippery slope once you start tampering with things like this. Can't we just start afresh with gender-inclusive language among our modern-day hymnwriters?
But in everyday language, what's so tough about trying to not be an ass when talking to and about trans and non-binary people? It's painfully obvious from Noonan's column she's spent very little time around trans and non-binary people herself. I have and have yet to encounter anyone who flew into Mommie Dearest mode over an innocently misstated pronoun. Some say nothing. Others will kindly correct you.
What Noonan doesn't grasp is that while it all may sound a little kooky and foreign at first — "they says" still makes my Word autocorrect see red — things will eventually settle into something that in time will work just fine. She's old enough to remember an era when "colored," "oriental," "retarded" and other offensive, cringe-inducing words of yore were commonplace. The clunkiness of zie, sie and ey (not to mention LGBTQQIA+) will eventually settle into something practical and inclusive the way it always does. Language evolves. It always has.
When you, Peggy Noonan, have been murdered or barred from gainful employment for daring to express your gender identity or having a sex life, then you get to have an opinion on this. Until then, go back to your ivory gender tower and shut the fuck up.
Joey DiGuglielmo is the Blade's features editor. Reach him at joeyd@washblade.com.