August 31, 2019 at 6:34 am EDT | by Valerie Blake
The China syndrome: a tale of downsizing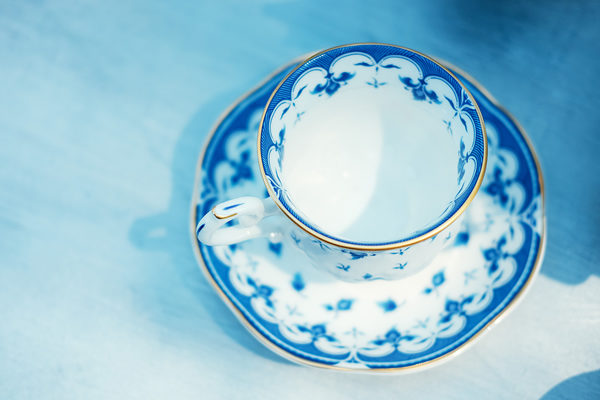 With all the discussions about tariffs between the U.S. and China lately, I am reminded of my wedding in 1976. No, we didn't honeymoon in China and I've never been there. There's a slightly different twist to this tale.
When I was in my 20s, women still had hope chests. For those of you who weren't born then, a hope chest, also known as a dowry chest or a trousseau chest, was a piece of furniture in which a young, single woman would place items she was collecting for a future marriage.
It might contain a grandmother's wedding dress, an antique ring, clothing to be worn on a honeymoon, linens for a new home, and even dishware. The chests themselves were often passed down from mother to daughter. The custom has mostly gone out of style, supplanted by scrapbooks like Queen Latifah's "Book of Possibilities" in the movie "Last Holiday."
I never had a hope chest, not because I'd lost hope, but because my hopes and dreams involved my career, the original feminist movement, and developing into a confident, nasty woman boss. Still, the romance of a wedding called to me and I succumbed.
As part of the tradition, my mother offered me the "good china," which she had picked out for her wedding in 1944. A floral affair with a scalloped edge that was hand painted in gold leaf, it was way too froufrou for me and required (gasp!) washing by hand.
I summoned all my courage and told my mother I didn't want the china. I think I broke her heart a little, then went on to buy a dishwasher safe stoneware pattern that is still popular today. I did, however, take her more subdued sterling silver service for eight, figuring if I held on to it long enough, it would make a nice down payment on a house. More than 40 years later, it would probably pay for a new refrigerator should I need one.
Thereafter, I took a trinket to remind me of my mother each time I visited her. It turned out that antique cups and saucers were my thing, and when I was running a Victorian bed and breakfast, they always got compliments when filled with my guests' morning coffee or tea.
In 2017, Richard Eisenberg made headlines with his nextavenue.org article entitled "Sorry, nobody wants your parents' stuff." I wish that article had been available when I needed to explain that to my mother, with one exception: she managed to save from the throes of a garage sale a seven-piece Art Deco, inlaid walnut bedroom suite that she had used as a child. I paid to have it shipped to my Capitol Hill rowhouse where it was right at home. It was in our family for 70 years. Sadly, I have no idea where it is now.
I'm a house junkie and each one I buy seems to have its own distinct style and personality. I tend to change furniture to suit each house, so when I moved from Capitol Hill to a contemporary split-level in 16th Street Heights in 2000, I went back to my '50s roots and furnished it in mid-century modern.
At the time, you could get tons of mid-century furniture on eBay for very little money. I bought pieces from Eames, Knoll, Heywood Wakefield, and other well-known furniture designers. I had egg chairs, tulip chairs, and dining chairs that looked like upside-down pyramids.
I shudder to think what my collection would be worth now (perhaps enough for that down payment) and I still long for my semi-circular sofa that I upholstered in leopard print chenille and sold on consignment when I moved to a condo in Cleveland Park. I kept the Heywood Wakefield pieces. They went with me from there to a California ranch and never came home. I don't blame them; they're probably surfing somewhere up the coast.
I have embraced the minimalist style now and, save for the garage, I don't have a lot of stuff that will survive me. But if the time has come for you to downsize, before you pass along "the good stuff" to your children, siblings, or friends, show them the items and watch their faces closely for fake smiles and signs of acquiescence. Chances are, there's an estate sale in their future.
As for me, I think my "good china" is still available at Ikea, but you can have it if you want.
Valerie M. Blake is a licensed Associate Broker in D.C., Maryland and Virginia and Director of Education & Mentorship at RLAH Real Estate. Call or text her at 202-246-8602, email her via DCHomeQuest.com, or follow her on Facebook at TheRealst8ofAffairs.