September 13, 2019 at 3:13 pm EDT | by Evan Caplan
D.C. music fest gears up for Oct. return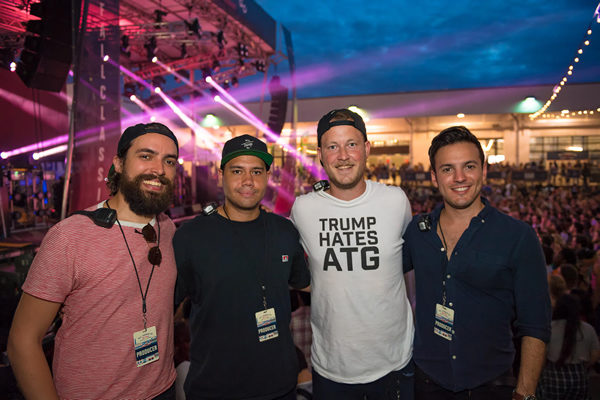 From labor-of-love blog to the largest music festival in the District, All Things Go has grown up from its original online music musings in 2006.
In 2014, the creators moved from digital platform to the big stage and started the All Things Go Fall Classic, a live music festival featuring emerging and popular artists. The sixth annual edition of the festival will take place Oct. 12-13 at Union Market.
However, according to one of the founders, Zach Friendly, it's much more than the acts that make All Things Go a top draw for arts and entertainment this fall. For the organizers, all native Washingtonians, ensuring that the festival remained a distinct part of the D.C. fabric was paramount.
"We wanted a vibe, and found one in Union Market, that was a cross between music festival and block party," Friendly says. "It's not a large-scale festival like Lollapalooza in DC. It's more grassroots and it's important for us to keep the festival in city limits."
Though Friendly (who's straight) and his co-organizers express pride at the talent they bring to the stage, they're also ensuring that the food and art receive recognition and top billing. As locals, Friendly says, "We are partnering not only with national chains, but small restaurants and vendors from diverse backgrounds."
All Things Go has worked with Union Market itself, and vendors within, to mesh seamlessly with their location: more of an extension of the market than a venue rental. Their goal is to integrate with the community and local representation.
"We've noticed that fans aren't just showing up for the headliners in the evening," Friendly says. "They come early, have drinks and food when they arrive and again later in the day. People treat the Classic as an all-day festival."
This year presents even more non-stage activities. For one, the food.
Friendly and his team curated a list of mostly D.C.-based places to emphasize the locality of the festival. Favorites like &pizza, Rocklands Barbeque and Grilling, D.C. Empanadas, Swizzler, Arepa Zone, JRINK and Taqueria del Barrio (which the Blade recently profiled) will all be present. Shake Shack is on hand too, for burger staples, but shares space with the likes of late-night baked goods gods (Insomnia Cookies) and handmade bao makers (Bun'd Up). Many of these local vendors are new, looking to become part of what is indeed becoming a classic.
In addition, since the festival is only one stage, organizers have planted other activations around it: recent art installations include 360-degree slow motion photo booths, virtual reality lounges, spray paint walls and interactive stations featuring portraits of the performers.
Friendly was frank about the makeup of the audience and notes that the festival has become purpose-driven itself.
"Last year we made a concerted effort to create the most welcoming space possible for women and other communities. Sunday ended up being a hugely LGBTQ-friendly day, especially given Betty Who, who has become something of a house act, and of course Carlie Rae Jepsen," he says.
Again this year, Sunday's lineup is dedicated entirely to female and non-binary artists. Friendly notes that many bands are led by male frontmen, and has looked for ways to elevate female-led groups. All Things Go, as last year, is partnering with Eaton and Lyft to host two events before the festival dates on female entrepreneurship and women in the creative arts, with speakers from National Geographic and NPR, among others.
Also new this year: a partnership with Nellie's. On Sunday of the festival, the bar will be hosting something of an informal "Betty Who Brunch." For an additional $30, festivalgoers can head to Nellie's for its traditional bottomless boozy brunch party. Post-mimosas, there's an included shuttle to the festival.
Tickets are available at allthingsgofallclassic.com/tickets.