Calendar: Oct. 5-11, 2018
Concerts, meetings, festivals and more for the week ahead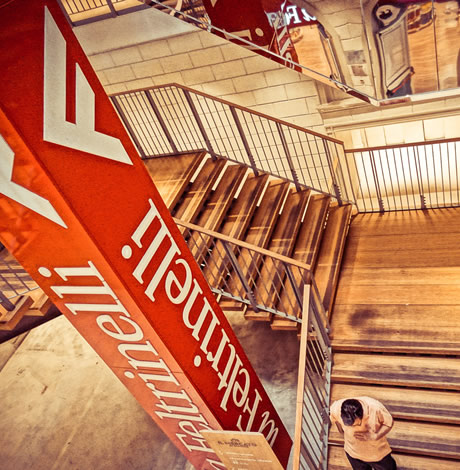 Friday, Oct. 5
The D.C. Eagle (3701 Benning Rd., N.E.) hosts Woof Happy Hour and Porn Star Bingo today from 5-11 p.m. Beux Banks hosts Porn Star Bingo. Attendees will receive free pizza at 7:30 p.m. Drink specials run until 11 p.m. No cover before 9:30 p.m. 
D.C. Bear Crue hosts Bear Happy Hour at Uproar Lounge & Restaurant (639 Florida Ave., N.W.) this evening from 5-10 p.m. Drink specials run until 10 p.m. and include $5 rail cocktails and $5 draft pitchers. Free appetizers will be handed out throughout the night. 
The D.C. Eagle (3701 Benning Rd., N.E.) presents Birds of Prey, a drag show, tonight at 10:30 p.m. Brooklyn Heights will serve as guest host. Iyana Deschanel, Sasha Adams Sanchez, Ariel Von Quinn, Venus Fastrada and Alexa Shontelle will perform. DJ CDubz will spin tracks. Maxxi Overdrive will give a special guest performance. For more information, visit facebook.com/dcbridsofprey.
Dan Savage's Hump Festival is at the Black Cat (1811 14th St., N.W.) tonight with two shows. The festival will screen the best amateur porn films shown at the festival from 2008-2017. There will be showings at 7:30 and 10 p.m. Tickets are $25. For more details, visit blackcatdc.com.
Touchstone Gallery (901 New York Ave., N.W.) opens its October galleries with a reception from 7-8:30 p.m. Gallery A will feature the Touchstone Gallery Member Show. Gallery B and C will showcase "Pictures of Nothing," an exhibit of paintings by McCain McCurray and "Multiple Dimensions" by Sally Canzoneri. This exhibit presents the same images in two and three dimensional works. Canzoneri is Touchstone's guest artist. For more information, visit touchstonegallery.com.
BlackRock Center for the Arts presents Signature Theatre Cabaret's "Streisand Songbook" tonight at 8 p.m. Shayna Blass and Awa Sal Secka will perform the hits of La Babs. Tickets range from $25-45. Details at blackrockcenter.org.
Saturday, Oct. 6
All Things Go Fall Classic, a music festival, is at Union Market (1309 5th St., N.E.) today and Sunday. The line up includes Carly Rae Jepsen, Jessie Reyez, Ravyn, Billie Eilish, Misterwives, Betty Who and more. Two day general admission tickets are $95. One day general admission tickets are $65. VIP tickets include access to the VIP Lounge, front-of-stage viewing, complimentary food twice a day, cash bar, express lane entry and more. Two day VIP tickets are $229. Tickets for single day VIP admission vary. For more details, visit allthingsgofallclassic.com.
Nellie's Sports Bar (900 U St., N.W.) presents Lederhosen Realness, an Octoberfest party, today from 4-8 p.m. DJ Chord will play music. Attendees who wear lederhosen will receive drink specials and a discount on a giant stein of beer. There will also be Octoberfest draft beers and food specials. For more information, visit nelliessportsbar.com.
The Fillmore (8656 Colesville Rd., Silver Spring, Md.) hosts Party2K: A '90s Vs. 2000s Dance Party tonight at 8:30 p.m. There will be a video DJ, costume contest and live bands. The winner of the costume contest will receive tickets to see Lauryn Hill at the MGM Grand. Doors open at 7:30 p.m. Tickets are $15.50. For more details, visit fillmoresilverpsring.com.
Sunday, Oct. 7
Pink Martini performs at the Anthem (901 Wharf St., S.W.) tonight at 8 p.m. NPR's "All Things Considered" host Ari Shapiro will also perform as a special guest. Tickets range from $35-95. Doors open at 6:30 p.m. For more information, visit theanthemdc.com.
Flash (645 Florida Ave., N.W.) celebrates the fifth anniversary of Flashy Sundays tonight from 6 p.m.-4 a.m. DJ Twin and DJ Sean Morris will spin tracks. Admission to the first floor is free. Cover is $20 for the main floor and roof deck. 
The Takoma Park Street Festival is today from 10 a.m.-5 p.m. in between the half-mile stretch of Carroll Ave., Takoma Park, Md. and Carroll St., N.W. There will be three stages featuring 18 local bands performing indie-folk, rock, blues, country, reggae and more. There will also be vendors selling paintings, photographs, pottery, soaps, ceramics, crafts and more. Kids can also enjoy crafts, face painting, inflatables and more. Admission is free. For more information, visit facebook.com/mainstreettakoma.
Nellie's Sports Bar (900 U St., N.W.) has a drag brunch today with shows at 10:30 a.m. and 1 p.m. Chanel Devereaux hosts. Drag entertainers will perform as Lady Gaga, Beyonce, Pink and more. Tickets are $41.91 and include an all-you-can-eat buffet and one mimosa or bloody Mary. For more details, visit nelliessportsbar.com.
Monday, Oct. 8
The D.C. Center (2000 14th St., N.W.) hosts coffee drop-in hours for the senior LGBT community this morning from 10 a.m.-noon. Older LGBT adults can come and enjoy complimentary coffee and conversation with other community members. For more information, visit thedccenter.org.
Tuesday, Oct. 9
Us Helping Us (3636 Georgia Ave., N.W.) holds a support group for black gay men 40 and older tonight from 7-9 p.m.
Overeaters Anonymous hosts a meeting specifically for LGBT individuals at St. George's Episcopal Church (915 Oakland Ave., Arlington, Va.) tonight at 7 p.m. Newcomers welcome. For more information, call 703-521-1999 or email [email protected]
Wednesday, Oct. 10
The Lambda Bridge Club meets at 7:30 p.m. at the Dignity Center (721 8th St., S.E.) for duplicate bridge. No reservations required and new comers welcome. If you need a partner, call 703-407-6540.
Big Gay Book Group meets at Trio Bistro Restaurant (1537 17th St., N.W.) tonight at 7 p.m. to discuss "Christodora" by Tim Murphy. Newcomers welcome. For more details, visit biggaybookgroup.com or email [email protected]
Thursday, Oct. 11
The D.C. Eagle (3701 Benning Rd., N.E.) hosts Highwaymen Hot Jock Night tonight from 9 p.m.-12:30 a.m. There will be a Hot Jock contest with prizes for event tickets, toys and more. Drink specials include $3 draft beer, $2 Jell-O shots and more. For more information, visit facebook.com/eagledc.
Busboys and Poets (450 K St., N.W.) presents activist Angela Davis in conversation with Amy Goodman from Democracy Now today from 6:30-8:30 p.m. Full menu and bar will be available. Books by both Davis and Goodman will be available for purchase. For more details, visit facebook.com/busboysandpoets.
Disco Funk Brunch at Crazy Aunt Helen's
Tara Hoot and DJ Phil Reese perform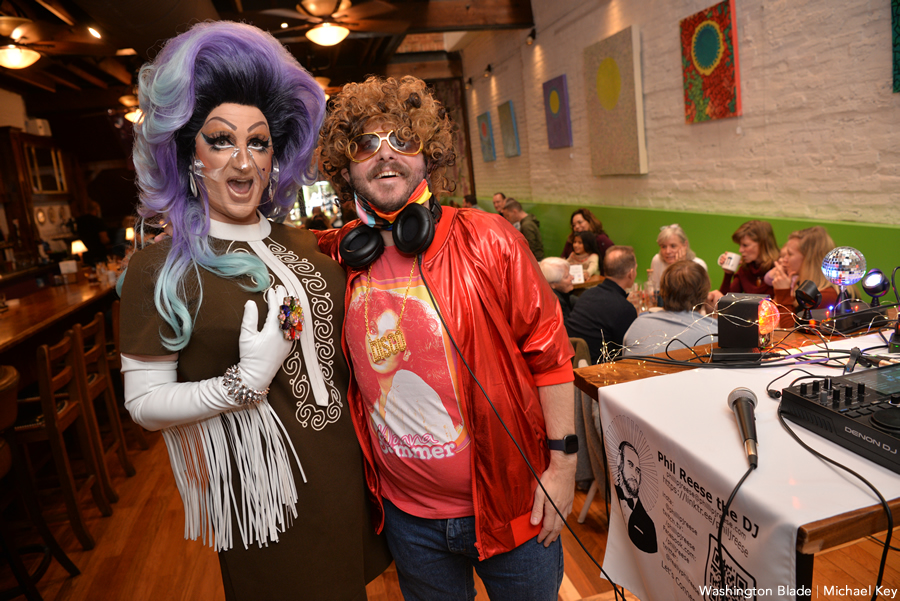 Drag queen Tara Hoot and DJ Phil Reese perform at the biweekly Disco Funk Brunch at the LGBT-owned Crazy Aunt Helen's on Sunday. For future showtimes, go to crazyaunthelens.com. (Blade photo by Michael Key)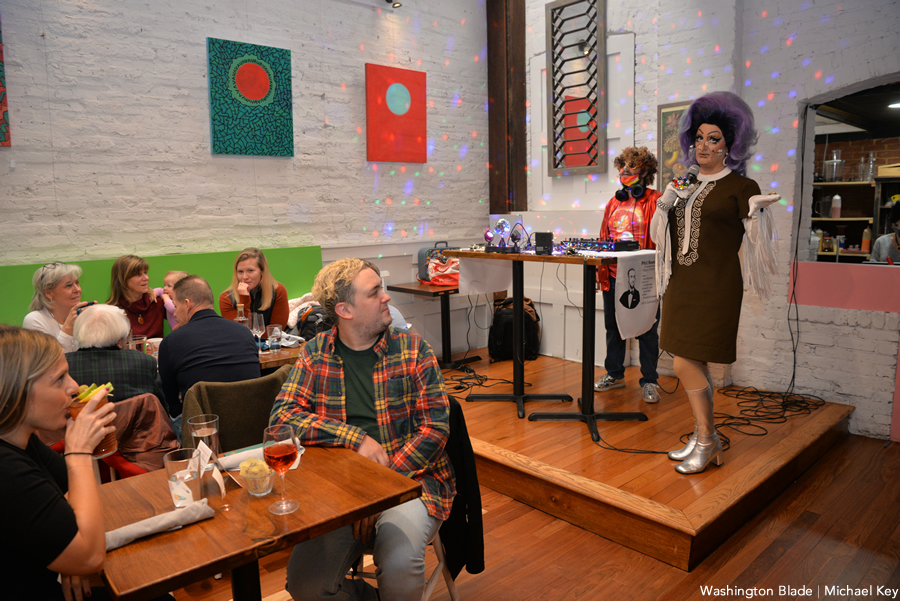 Blade's summer closing party set for Sept. 17 in Rehoboth
Benefits journalism scholarship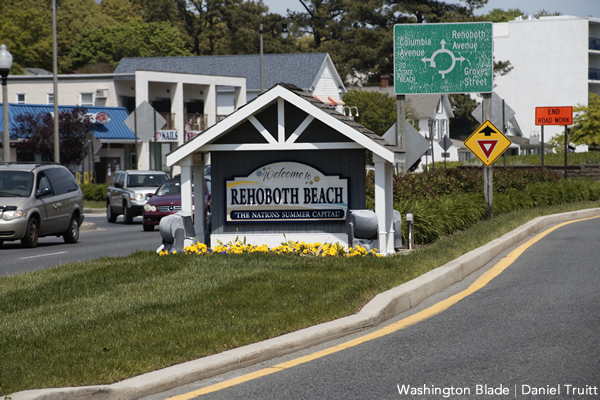 The Washington Blade's 15-year tradition of hosting a summer kickoff party in Rehoboth Beach was disrupted due to COVID restrictions. In lieu of that May event, the Blade is hosting a summer closing party on Friday, Sept. 17 at 6 p.m. at The Pines (56 Baltimore Ave., Rehoboth Beach, Del.).
Tickets are $20, which includes two drinks and appetizers. The event benefits the Blade Foundation's Steve Elkins Memorial Journalism Fellowship, a 12-week program in which an LGBTQ student journalist covers stories of interest to Delaware's queer community each summer.
All COVID safety protocols will be followed, including a requirement that attendees furnish proof of vaccination to gain entry.
If you are unable to attend you can make a donation to the Blade Foundation at BladeFoundation.org. Sponsors of the event include Delmarva Power and The Pines.
Rehoboth to close out summer with SunFest
Series of events to replace long-running Sundance due to pandemic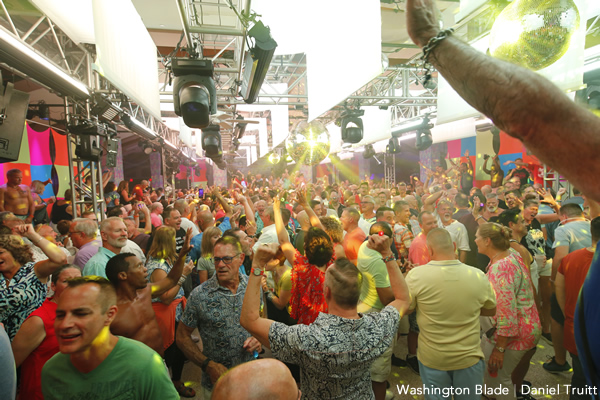 SunFest will feature a week of live performances, dances, and a live auction, sponsored by non-profit LGBTQ+ center CAMP Rehoboth.
The weeklong festival runs from Aug. 29 to Sept. 5 and is a change from the annual SunDance that CAMP Rehoboth has sponsored since 1988. This transformation began last year when the event was forced to go digital due to the coronavirus and the in-person events scheduled this year are important, according to development director and co-coordinator of SunFest Anita Broccolino.
"We love that community feel and the in-person makes all the difference in the world for us. Not being able to do it last year just reminded everyone how important we all are to one another," Broccolino said. "I think that bringing back these events this year is just huge for us and it will be extra celebratory as a result."
The festival begins with a 5k race and online auction opening on Sunday. Monday night features a give-back event at Iron Hill Brewery while Tuesday's agenda is still to be determined, said Broccolino. Diego's will host a Studio 54 give-back dance party on Wednesday and Thursday is the Port 251 women's give-back.
Live performances featuring the Skivvies, Randy Harrison and Diane Huey are scheduled for Friday night and Jennifer Holiday will follow with a performance on Saturday night, both at the Rehoboth Beach Convention Center. The festival closes out Sunday with auction pick-ups and Fun in the Sand and Sun, according to the CAMP Rehoboth website.
This event is also important to the organization's contributions to the community, said Broccolino.
"The essential services we provide for free to the community, which is a huge amount of health and wellness activities, as well as arts programming, a lot of youth programming and the community counts on us for those things. We never stopped during COVID, we made as much as we could virtual, but we took quite a hit not being able to raise those funds and awareness of the programs," Broccolino said. "We invite the entire community to come celebrate with us and make it to Rehoboth Beach, and let's make it joyful, and wonderful and make sure we're living up to the standards of all the people who helped found CAMP Rehoboth and live up to their legacy and beyond."