September 13, 2019 at 12:30 pm EDT | by Lou Chibbaro Jr.
Stein Club, GLAA withdraw from meetings with Log Cabin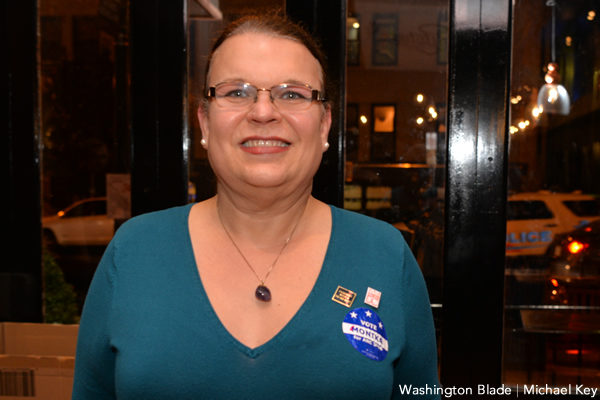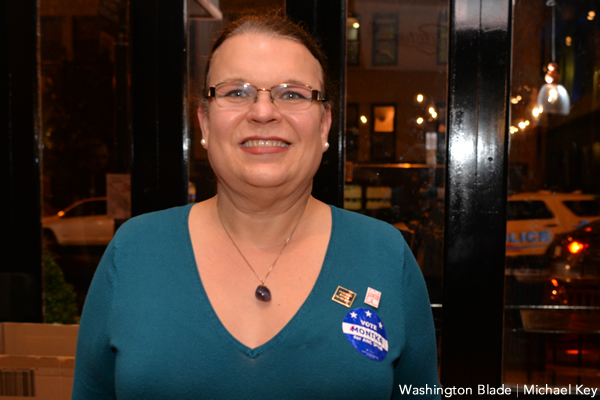 Leaders of the Gertrude Stein Democratic Club, D.C.'s largest local LGBT political group, announced at their regularly scheduled meeting on Monday that they will no longer participate in informal bipartisan meetings with members of the D.C. Log Cabin Republicans, the local LGBT GOP group.
The president of the Gay and Lesbian Activists Alliance, which also participated in the meetings with Log Cabin members, said that organization was also withdrawing from any further interaction with Log Cabin.
Both groups cited the endorsement of President Donald Trump by the national Log Cabin Republicans, of which Log Cabin Republicans of D.C. is an official chapter, as their reason for ending the meetings.
Stein Club President Monika Nemeth and other club officers told club members at the Sept. 9 meeting held at the offices of the D.C. LGBT Center that the national Log Cabin Republican group's decision to endorse Donald Trump in the 2020 presidential election made it impossible for them to continue any interaction with Log Cabin members.
"The meetings between Gertrude Stein and Log Cabin at this point I would say are finished because I certainly will not be participating," Nemeth told the Washington Blade after the meeting.  "It was obvious that my fellow board members will not be participating, and that certainly was the sentiment in the room," she said in referring to the group's membership.
Veteran D.C. gay activist Paul Kuntzler, a co-founder of GLAA in 1971 and of the Stein Club in 1976, was the only member at the meeting to express disagreement with the decision to end the meetings with Log Cabin.
Kuntzler initiated two meetings held so far between Stein Club and D.C. Log Cabin members, as well as members of D.C.'s Gay & Lesbian Activists alliance. At the time of the first meeting held in April, Kuntzler said it was important to build a bipartisan working relationship between the three groups to strengthen efforts to secure and advance LGBT rights objectives.
Officials with the three groups said they believed the first meeting in April showed they could find some common ground on LGBT rights and other issues. One issue under discussion was a possible joint effort to advocate replacing D.C.'s closed primaries with an open primary system in which all registered voters could vote in primary elections.
However, Stein Club and GLAA officials made it clear their respective groups had not taken a position on an open primary system and it was unclear whether the two groups would support such a change.
Members of the three groups met a second time on July 30, where they continued their discussion about an open primary system.
"GLAA has discussed the meetings internally and in August we reached a consensus that the Log Cabin Republicans have rejected objective reality in endorsing the president, citing how 45 [Trump] has advanced LGBT rights," said GLAA President Bobby Elaine Strang.
"With the rejection of our shared reality and verifiable facts, Log Cabin has demonstrated bad faith and we cannot find common ground with an organization whose worldview exists apart from the world in which we all live," Strang said in a statement.
The decision by the Stein Club officers to withdraw from further meetings with Log Cabin also came shortly after gay Democratic activist Peter Rosenstein, a longtime Stein Club member, released a strongly worded letter he sent to Nemeth raising questions about her participation in the meetings with Log Cabin members.
Rosenstein noted that Nemeth and other club officers who participated in the meetings had yet to bring the subject of the meetings before the Stein Club members, many of whom, according to Rosenstein, did not support the interaction with Log Cabin.
The decision last month by the national Log Cabin Republicans to endorse Trump drew a groundswell of criticism from many LGBT activists, both Democrats and some Republicans. The national Log Cabin Republicans' executive director, Jerri Ann Henry, resigned over the endorsement decision, which was made by the organization's board of directors.
Robert Turner, former president of D.C. Log Cabin Republicans, which is an official chapter of the national group, also resigned his Log Cabin membership in protest over the Trump endorsement.
Similar to the national Log Cabin Republicans, the local D.C. Log Cabin group declined to endorse Trump in the 2016 presidential election. The D.C. group has yet to make a decision on an endorsement in the 2020 election. But Adam Savit, president of D.C. Log Cabin, and other members of the local group have expressed support for the Trump administration's policies on various issues, including LGBT-related issues.
Savit, who participated in the two meetings with the Stein Club and GLAA, told the Blade in a statement this week that his group remains "open to dialogue and cooperation with any groups operating in good faith and working towards positive outcomes for the community." He added: "We have no litmus test."
Savit said the national Log Cabin organization's decision to endorse Trump was based on a vote by its board of directors, but the "grassroots and membership also overwhelmingly supported that decision," he said.
"Gertrude Stein is a Democratic club and Log Cabin is a Republican club," Savit said. "That each organization is working toward their own partisan goals should come as no surprise to anyone."
He said that at a time when Republicans control the White House, "we believe that it's in the best interests of the LGBT advocacy community as a whole to engage with Log Cabin Republicans in good faith to benefit our shared interests. Separation is not a viable advocacy solution in this era."
Kuntzler, who is supporting gay Democrat Pete Buttigieg for president, called the Stein Club's decision to withdraw from meeting with Log Cabin a mistake, saying he will personally continue to interact with the local LGBT GOP group.
"I want to defeat Trump," he said. "But I see having communication with gay Republicans as part of the last link to be put into place in forming a more united community."