October 1, 2019 at 12:18 pm EDT | by Michael K. Lavers
'They fired me because I came out as transgender'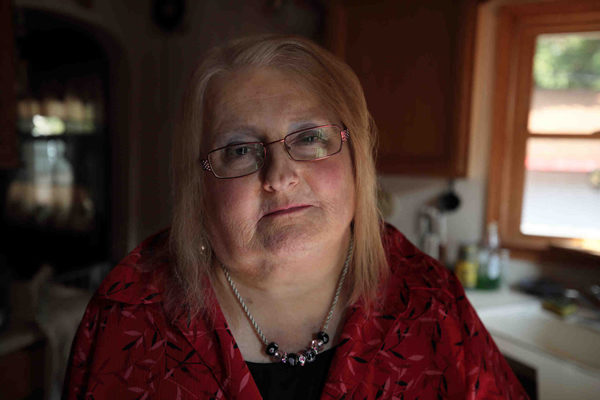 Aimee Stephens was working at Harris Funeral Homes in Garden City, Mich., when she began her transition. Stephens said she was fired in August 2013 after she told her boss she is trans.
"When they actually fired me, they said, 'This is not going to work,' meaning me transitioning into a woman at work," Stephens told the Washington Blade on Sept. 27 during a telephone interview with her lawyer, Jay Kaplan of the American Civil Liberties Union of Michigan's LGBT Project. "They basically fired me because I came out as transgender."
The ACLU notes Stephens' wife, Donna Stephens, "became the sole provider for their family, including Donna's daughter in college" after Aimee Stephens' termination. The family also had "to sell a number of possessions in order to make ends meet."
"Aimee eventually found another job, but then her kidneys failed and she became dependent on dialysis treatments costing $21,000 a week," said the ACLU in a backgrounder about Aimee Stephens' case. "She no longer had insurance from her employer to cover the expense, but Medicaid and a foundation began to cover the expenses after the first month."
Aimee Stephens filed a complaint against the funeral home with the Equal Employment Opportunity Commission on grounds her termination violated Title VII of the Civil Rights Act of 1964 that bans discrimination based on sex.
A trial court ruled Aimee Stephens was discriminated against based on gender stereotyping, but said Tom Rost, the funeral home's owner, was exempt from Title VII because of his religious beliefs. The 6th U.S. Circuit Court of Appeals in Cincinnati overturned the lower court's decision.
Rost, who is represented by the anti-LGBT Alliance Defending Freedom, appealed the ruling to the Supreme Court.
"It's been a long time coming," said Aimee Stephens.
The justices on Oct. 8 will consider Aimee Stephens' case and two others with gay plaintiffs who were fired from their jobs. The Supreme Court will ultimately decide whether Title VII protects LGBT people from discrimination in the workplace.
Aimee Stephens told the Blade she is unsure she will be able to attend the oral arguments because of her poor health. Aimee Stephens said her case has "been an eye-opening experience."
"You always wonder what goes on, what happens, what makes (things) tick, how do things get done," she said. "One of the things I've noticed is the wheels of justice grind very slowly.
Funeral home: Decision to fire Aimee Stephens consistent with Title VII
The Transgender Legal Defense and Education and the Trans Latin@ Coalition are among the dozens of trans advocacy groups that submitted an amicus brief in support of Aimee Stephens with the Supreme Court in July. The Alliance Defending Freedom earlier this month on its blog wrote Rost's decision to fire Aimee Stephens was consistent with Title VII.
"Title VII prevents discrimination on the basis of 'sex' while allowing employers, like Tom, to have different dress codes for men and women in the workplace," said the Alliance Defending Freedom. "But the EEOC concocted this case against Tom in order to redefine the word 'sex' to mean 'gender identity' in federal law."
"It's important for the whole LGBT community to come together and support each other," Aimee Stephens told the Blade. "Hopefully we can move forward at this point and not have to worry about being fired or being thrown out of our housing or several other things."
Funeral home asking justices 'to do something radical'
The Supreme Court will hear oral arguments in Aimee Stephens' case against the backdrop of the Trump administration's continued efforts to repeal trans rights in the U.S.
Trans people in 2016 began to serve openly in the military, but the White House the following year directed the Pentagon to reverse the Obama administration policy. The mandate against openly trans servicemembers took effect in April.
Trump in 2017 rescinded guidance to public schools that said Title IX of the Education Amendments of 1972 requires them to allow trans students to use restrooms based on their gender identity.
The White House earlier this year announced a proposed rule that would weaken an Obama-era regulation that protects trans people from discrimination in health care. Activists earlier this month sharply criticized Secretary of Housing and Urban Development Ben Carson after he reportedly discussed "big, hairy men" in women's homeless shelters.
Kaplan when asked whether the Trump administration's trans-specific policies will impact Aimee Stephens' case said it is based on "quite a conservative argument."
"We think that Aimee was fired because of sex," Kaplan told the Blade.
"The very nature of being transgender means that you identify differently than the sex assigned to you at birth," he added. "Clearly by the statements of her employer he felt she didn't confirm to his gender stereotypes, which is also, by its nature is sex discrimination."
Kaplan added "the government and the funeral home" are "asking the court to do something radical."
"They're asking the court to carve out this exception that transgender people, that gay and lesbian people aren't protected against sex discrimination under Title VII when clearly evidence has been submitted that shows it's based on either gender stereotypes or just by the very nature of being a transgender person itself," Kaplan told the Blade.