October 9, 2019 at 11:27 am EDT | by Peter Rosenstein
Trump a stable genius or an insane genius?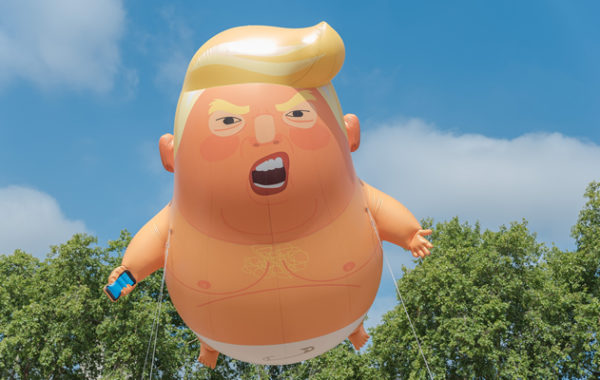 Trump calls himself a 'stable genius' I would say if he manages to avoid impeachment and then gets reelected he would be more appropriately called an 'insane genius.' I don't think that will happen. I think it is more likely we can continue to call him a disgusting pig who is totally nuts and see him defeated in November 2020
My preference would be along with impeaching Trump we put Pompeo, Barr, Giuliani and some of his other acolytes in jail and throw away the keys. Donald Trump has actually accused the Democratic House of Representatives of a coup. Instead, the coup is being accomplished by him and his coterie of cabinet secretaries and advisers. They are the ones looking to overthrow the government by riding roughshod over the Constitution.
The country and the world will be well served if after we rid ourselves of Trump we go after the others. But first things first, so we need a laser-like focus on ridding ourselves of Trump. Along the way the impeachment inquiry will grab lots of others in its web of complicity proving they either helped him or tried to cover up his abuses of power.
John Dean, the man who helped bring down Richard Nixon, recently suggested Trump was making Nixon "look like a choir boy." It's like the Nixon administration but with a dumber cast of characters including the president. Let us remember no one ever accused Nixon of being dumb, evil yes, but not dumb, but Trump has proven over and over that he isn't smart. He is a congenital liar and bully. He has shown a total lack of understanding of how government works. He apparently believed he could run the country like he did his private company and what those voters who cast their ballots for him forgot is he ran his company into bankruptcy numerous times.
Time and again he has appointed people to the Cabinet and high-level White House positions who are sleazy and in some cases just plain dumb, managing to get caught for everything including what amounts to theft of government services for abusing their travel and office budgets. He either doesn't know or pretends not to accept the law by threatening the whistleblower when the statute clearly protects them leading even staunch Republican Sen. Grassley (R-Iowa) to defend the rights of the whistleblower. When Trump speaks about this and attacks others he simply sounds like a thug. When he suggested the Senate could disregard any impeachment articles voted by the House of Representatives even 'Moscow Mitch' McConnell (R-Ken.) had to say if the Senate was sent articles of impeachment he would have to hold the trial.
His Secretary of State recently skirted the truth and came within a hair of actually lying to a reporter about whether or not he was on the phone call with the Ukrainian president, finally admitting he was. We have since found out Vice President Pence was also on that call. We have learned Attorney General Barr is traveling the world trying to resurrect the beginning of the Mueller report in an effort to cast aspersions on the FBI, which he now oversees.
The bottom line on so much of this seems to be Trump's obsession with being seen as an illegitimate president only elected because the Russians helped him. In addition to all this happening here Trump is seeing his favorite foreign leaders failing and flailing. Netanyahu in Israel has been unable to form a new government after recently losing his election and Boris Johnson in the United Kingdom is being thwarted at every turn by his parliament, his own party, and the English Supreme Court, which ruled against his closing down parliament for six weeks as he struggles to complete the Brexit deal.
Now with all this if Trump manages to win reelection we can call him an insane genius. While he rambles and blusters and lies in press conferences he does hold the headlines. The media talks about him 24/7 and only one cable network moved away from one of his press conferences telling viewers he is lying so they are not going to televise it. He has managed to hurt the Biden campaign with his lies and generally takes the Democratic primary out of the headlines. He is clearly insane but how that plays out is yet to be seen.
Peter Rosenstein is a longtime LGBT rights and Democratic Party activist. He writes regularly for the Blade.