October 17, 2019 at 4:14 pm EDT | by Philip Van Slooten
Calendar: Oct. 18-24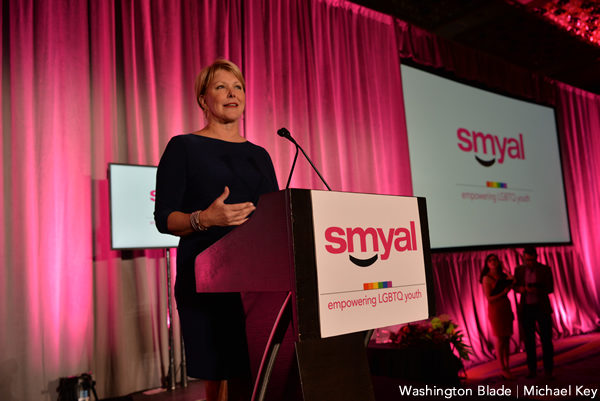 Friday, Oct. 18
The Washington Blade 50th Birthday Gala is tonight from 6-10 p.m. at the InterContinental D.C., The Wharf (801 Wharf St., S.W.). The public is invited to join the Blade in celebrating five decades of LGBTQ journalism. Cocktails served at 6 p.m. Dinner and program begins at 7. Proceeds benefit the Blade Foundation's charitable community work. For tickets and information visit blade50th.com. 
AEG presents Bianca Del Rio's 2019 "It's Jester Joke" Tour tonight at 6:30 p.m. at the Lincoln Theatre (1215 U St., N.W.). Tickets start at $39.50. Doors open at 6:30, and the show starts at 8. Tickets and information are available at ticketfly.com.
LaFantasy Productions hosts its Superhero Underwear Party with Eliad Cohen tonight beginning at 10 p.m. at Saint Yves (1220 Connecticut Ave., N.W.). Tickets are $35 for this 21-and-up event. Featuring guest DJ Alex Acosta and warm up entertainment by Guy Lewis. Tickets and details at seetickets.us. 
Tonight starting at 10 p.m. the Green Lantern (1335 Green Ct., N.W.) hosts Rough House, a lights off, hands on dance party. $5 cover includes clothes check. Guest DJs Lemz and The Barber Streisand. For more information visit greenlanterndc.com.
Saturday, Oct. 19
The D.C. Chamber Musicians present a free concert today at 3 p.m. at the Western Presbyterian Church (2501 Virginia Ave., N.W.). Concert preceded by master classes at 2 p.m. which are open to the public. Admission is free, but donations are accepted. Visit dccos.org for more information. 
Tonight from 9-11 p.m. is Desiree Dik's Horror Show at Red Bear Brewing (209 M St., N.E.). Featuring Bombalicious Eklaver, Magic Dyke, Skip Squealia Gilmour and special guest Rupaul's drag race contestant Dax Exclamationpoint. More information at redbear.beer.
HER DC: The LockHer Room presented by HER App and Tagg Magazine is today from 2-6 p.m. at A League of Her Own (2319 18th St., N.W.). Tickets start at $15. This sports-themed dance party featuring DJ Mim is open to those identifying as cisgender lesbians, nonbinary and their trans brothers and sisters. Allies can purchase an ally ticket. Visit eventbrite.com for tickets and information. 
Tasting Tour of Delaware is tonight from 6:30-8 p.m. at Cooter Brown's Twisted Southern Kitchen and bourbon Bar (70 Rehoboth Ave., Rehoboth Beach, Del.). Guests are invited to meet at a new spot each month to sample regional foods and drinks with new friends. More information at delawarepride.org. 
Pride Bowling is 7-9 p.m. at Bowlerama (3031 New Castle Ave., New Castle, Del.). Cost is $14 per bowler with two hours of bowling and free shoe rental included. Pay the Delaware Pride rep. for special pricing. For more information, visit delawarepride.org. 
Sunday, Oct. 20
The 2019 SMYAL Fall Brunch is today from 10:30 a.m to 2 p.m. at D.C.'s Marriott Marquis (901 Massachusetts Ave., N.W.). SMYAL's premier fundraising event includes a cocktail reception, silent auction, three-course brunch and a chance to hear from LGBT community leaders. Tickets available at one.bidpal.net. 
Bingo with the D.C. Sisters is today from 1-4 p.m. at Red Bear Brewing (209 M St., N.E.). Tickets are $20 for this 18-and-up event fundraiser for Casa Ruby. Price includes six rounds of bingo, each with a $100 cash prize, and a chance for a door prize. Other activities include a raffle, costume contest and more. Tickets and information at dcsisters.org.
Freddie's Follies Drag Show is tonight at 8 p.m. at Freddie's Beach Bar and Restaurant (555 23rd St., Arlington, Va.). $5 cover. Showtime is 8 p.m. sharp. For more information, visit freddiesbeachbar.com. 
Monday, Oct. 21
LGBTQ Affirming / Safe Space Yoga is tonight from 6:30-8 p.m. at the Norfolk LGBT Life Center (248 W 24th St., Norfolk, Va.). All body types and all yoga levels, including beginners, are welcome. For more information, visit lgbtlifecenter.org. 
It's Pride Monday tonight at The Underground (408 W Main St., Lansdale, Pa.) starting at 7 p.m. Admission is free to this dance party to kick off the week. More information available at Philadelphia.eventful.com. 
Tuesday, Oct. 22
Tonight is Game Night from 6-8 p.m. at the Norfolk LGBT Life Center (248 W 24th St., Norfolk, Va.). The community is invited to a night of fun and friendly competition in an affirming space. For more information, visit lgbtlifecenter.org. 
The newly formed Loudoun Chapter of PFLAG invites the lgbt community and allies to participate in a monthly community group meeting every 4th Tuesday from 7-9 p.m. at the Crossroads United Methodists Church (43454 Crossroads Dr., Ashburn, Va.). Meetings are free. Register at eventbrite.com.
Wednesday, Oct. 23
The Virginia Film Festival begins today throughout Charlottesville and includes numerous LGBT films as part of the lineup. Venues include Common House (206 West Market St.), Culbreth Theater (University of Virginia drama building, 109 Culbreth Rd.), Jefferson School African-American Heritage Center (233 4th St., N.W.) and more. For tickets and a film list, visit virginiafilmfestival.org.
Lesbians Got Talent! FABS Open Mic Night is tonight from 6:30-9:30 p.m. at XX+ Crostino (1926 9th St., N.W.). Guests are invited to sing, play an instrument, perform poetry, share a story or otherwise showcase their talent in a supportive environment. More information at facebook.com/xxcrostino.
Thursday, Oct. 24
The Rocky Horror Show LGBTQ+ Night Out is tonight from 6-10 p.m. at the Bucks County Playhouse (70 south Main St., New Hope Pa.). Pre-show party at The Mansion Inn Bar (9 South Main St., New Hope, Pa.) at 6 p.m. serving cocktails and light fare. Live show starts at 7:30 at the playhouse. More information at newhopecelebrates.com.
Book Talk: Friends of Dorothy hosted by the Bradbury-Sullivan LGBT Community Center (522 W. Maple St., Barnard Rustin Way, Allentown, Pa.) tonight from 6-8 p.m. A book signing by author Dee Michel and a dessert reception will follow. Visit bradburysullivancenter.org for more information.
AfroQueer — Black LGBTQ Immigrants in America hosted by Rayceen Pendarvis is tonight from 7-9:30 p.m. at the Human Rights Campaign (1640 Rhode Island Ave., N.W.). This exploration of the intersections of culture, sexuality and gender is free and open to the public. Register at teamrayceen.eventbrite.com. 
Thirst Trap Thursdays Drag Show continues tonight at 11 p.m. with host Venus Valhalla at Pitchers D.C. (2317 18th St., N.W.). Every Thursday guests can enjoy a cocktail and queer entertainment starting at 11 sharp. More information at pitchersbardc.com.
Live Your Life Thursdays hosted by Derek Delequa is tonight from 10-11 p.m. at Pure Flavor Hookah Lounge (228 W 9th St., Wilmington, Del.). Tickets start at $10. A Delaware Pride sponsored event. Visit delequashow.com for more information.