October 18, 2019 at 2:50 pm EST | by Joey DiGuglielmo
QUEERY: Brian Pitts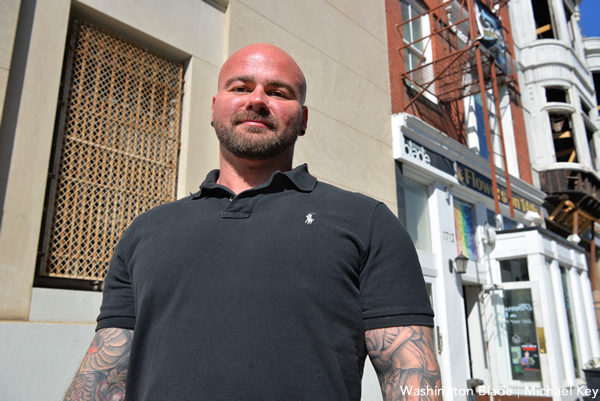 In the Brown Naff Pitts Omnimedia triumvirate, Brian Pitts is the quiet one. The company — Blade Publisher Lynne Brown, Editor Kevin Naff and Pitts, all longtime Blade employees —formed to resurrect the Blade in late 2009 after its former owners unceremoniously pulled the plug.
"Lynne, Kevin and I wanted to keep the Blade going, so we talked about it and said, 'Let's do this," Pitts says. "We're like family. We clash sometimes but we respect and care for each other."
Pitts, a 39-year-old Fredericksburg, Va., native, came to Washington 17 years ago from Rehoboth to work at the Blade as a 24-year-old sales executive.
"I wanted a sales job that was pretty much Monday through Friday," he says. "I thought this job would just be a stepping stone, but I never left."
Pitts had seen the Blade at D.C. gay bars and loved that it was a paper wholly dedicated to gay issues. He'd worked previously as a personal trainer, church organist and seller of manufactured houses.
Toughest part of the job? Keeping sales up, he says. "It's a tough market out there."
Favorite part? "Interacting with a diverse group of people. You can be chit chatting with a car dealer one minute, a Realtor the next."
Tricks of the trade? "I've always believed in a consultative approach to sales," Pitts says. "I'm not just selling them a product or service. I'm helping them sell more homes or more cars, etc., by helping them reach a loyal market of LGBT customers."
Pitts is single (divorced) and lives in Takoma. He enjoys working out, spending time with friends and his dogs and happy hour in his down time.
How long have you been out and who was the hardest person to tell?
Since college. It sounds cliche but probably myself. I was called fag in school before I really even knew what I was. Guess they were right!
Who's your LGBTQ hero?
Not one person but I'd say the previous generation. They really paved the way and made things so much better for us now. I can't even imagine.
What LGBTQ stereotype most annoys you?
That most gay men are incapable of monogamy. Not judging open relationships or polyamory though. To each their own, but I do think there are some gay men that are one-man kind of guys.
What's your proudest professional achievement?
Helping continue the legacy of the Blade with my business partners, Lynne Brown and Kevin Naff.
What terrifies you?
Never finding love again.
What's something trashy or vapid you love?
Reality TV. I watch all the "Real Housewives" franchises.
What's your greatest domestic skill?
I'm a pretty decent cook as I love to eat.
What's your favorite LGBTQ movie or show?
"Four Moons (Cuatro Lunas)." If you haven't seen it, check it out!
What's your social media pet peeve?
Constant thirst trap pics. I don't mind one every now and again, but the constant need for validation.
What would the end of the LGBTQ movement look like to you?
That being LGBTQ is a non-issue. We have some ways to go. Forget politics, it's about changing people's mindsets. Why should it matter who one loves or is attracted to?
What's the most overrated social custom?
Commercialism around the holidays. It should be about being with loved ones and showing love, not going broke buying gifts.
What was your religion, if any, as a child and what is it today?
I grew up Methodist. Consider myself spiritual now.
What's D.C.'s best hidden gem?
Rock Creek Park — all of it, not just the parts we drive through.
What's been the most memorable pop culture moment of your lifetime?
I think Ellen coming out and the "Puppy Episode."
What celebrity death hit you hardest?
Robin Williams. You have no idea sometimes that someone is suffering and this is my plug for mental health awareness. When you're physically ill, everyone comes to your aid but if you say you're depressed, people shy away.
If you could redo one moment from your past, what would it be?
Nothing. Everything that has happened has made me who I am today. No regrets.
What are your obsessions?
Tattoos (obviously), bulldogs, wine, good food and great friends.
Finish this sentence — It's about damn time:
For impeachment!
What do you wish you'd known at 18?
That everything works out — eventually.
Why Washington?
City life but manageable. Plus, it's the gayest city in the U.S.