October 24, 2019 at 4:50 am EDT | by Joey DiGuglielmo
QUEERY: Robbie Barnett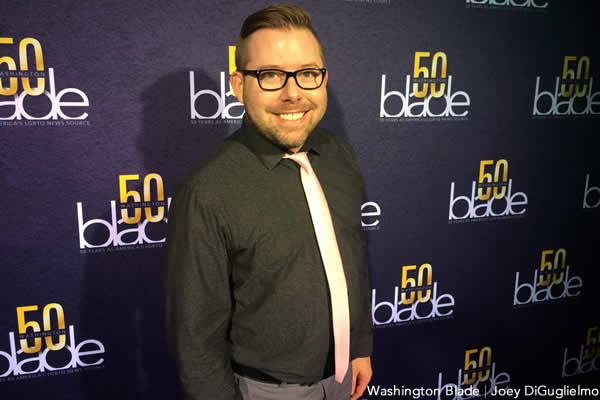 Robbie Barnett came to Washington in 2004 to be with his then-boyfriend, who'd been transferred here with the Navy. He started hanging out at JR.'s (especially for its Monday Night Showtunes) and became friends with former manager Dave Perruzza. When one of the VJs left in 2015, Perruzza asked Barnett to give it a try.
It turned out to be a perfect fit for the retro pop culture aficionado. Barnett cites Jane Russell's solo number from "Gentlemen Prefer Blondes," a Dolly number from "Best Little Whorehouse in Texas" and Liza at Radio City Music Hall as his all-time favorite clips. Songs from "Dear Evan Hansen," "Evita," "Wicked," "Rent" and "anything Disney" were the most requested, Barnett says.
Barnett worked at the Blade from 2008-2010 before moving into the hospitality industry. He's leaving a job as lead concierge with JBG Smith at an apartment complex in Crystal City to move to Walla Walla, Wash., with C.J. Augustine, his partner of three-and-a-half years. Augustine, who already moved, is pursuing his dream of becoming a winemaker.
For Barnett, who lived in 10 different places (currently in Brookland) during his D.C. years, it's time for a change.
"I will miss all the amazing friends I have made here and the vibrant theater scene, the bars and the insanely good-looking gay men who live here," he says, "but D.C. has lost its mind with the rent prices and the traffic and congestion are unbearable. … I'm old enough to be at the point where all these things are not worth the conveniences and resources of the city."
The 37-year-old Norfolk, Va., native plans to fly away Oct. 29 with his cat, Goose, to join Augustine.
Barnett enjoys classic Hollywood, scrapbooking, traveling, baking from scratch, horror movies, following Madonna and all things '80s in his free time.
How long have you been out and who was the hardest person to tell?
I've been out since 1999 at 17 years old. The hardest person to tell was myself.
Who's your LGBTQ hero?
OK, now I'm not just saying this because she is the publisher of this newspaper or because she was my boss for a while, but without a doubt, my LGBTQ hero is Lynne Brown. I watched how she tirelessly fought to get The Blade out of bankruptcy during that dark period when we worked together, shoulder to shoulder. I experienced first hand just how important preserving gay history means to her and how passionate she is about the future of our community, not to mention all she has done behind the scenes for the D.C. gay community for the past three decades.
What LGBTQ stereotype most annoys you?
That we are incapable of doing anything athletic. I have been known to run a block or two to catch a bus.
What's your proudest professional achievement?
The first time I was published in The Blade in 2008. I wrote a short piece on the 1939 film "The Women" in anticipation of (that horrible) remake that was coming out that year. I was so excited that I sent copies of the paper to everyone back home.
What terrifies you?
Outliving all my loved ones. I don't want to be the last one left. That's why I drink so much.
What's something trashy or vapid you love?
I'm obsessed with "Dynasty," specifically Alexis Carrington, played by Joan Collins. It's so over the top, classy and trashy all at the same time.
What's your greatest domestic skill?
I'm a pretty good party host. My goal is to make sure no one gets bored. Or maybe my goal has been to make sure I don't get bored? Either way, I'm a good host.
What's your favorite LGBTQ movie or show?
"To Wong Foo, Thanks for Everything, Julie Newmar." It's so quotable and campy. Two things I love in a film.
What's your social media pet peeve?
Political posts.
What would the end of the LGBTQ movement look like to you?
Full acceptance by all religions.
What's the most overrated social custom?
Clapping. Cheering. Whistling. Basically anything straight people do at a sporting event.
What was your religion, if any, as a child and what is it today?
Didn't grow up with religion and I don't practice one as an adult.
What's D.C.'s best hidden gem?
Kenilworth Park & Aquatic Gardens. You'd never know you were in D.C. They have the Lotus & Water Lily Festival every summer, but great to visit any time of year.
What's been the most memorable pop culture moment of your lifetime?
Madonna's Marie Antoinette-inspired performance of "Vogue" at the 1990 MTV Video Music Awards. I'm still in awe 30 years later.
What celebrity death hit you hardest?
The double whammy of Carrie Fisher and her mother Debbie Reynolds a day later. Still getting over that one.
If you could redo one moment from your past, what would it be?
Just one moment? I have a storage unit full of moments I would love to redo. If I had to pick only one, I would have made sure I was home the day my father died. He had home hospice and was dying of cancer when I was 18. I selfishly went on an out-of-town trip that day and when I came home late that night, I found out he was gone. This was before cell phones were commonplace, so my mom didn't have a way to reach me.
What are your obsessions?
Bette Davis and Joan Crawford. Or, depending on the day: Joan Crawford and Bette Davis.
Finish this sentence — It's about damn time:
… I was asked to do Queery!
What do you wish you'd known at 18?
That bleaching your hair is never a good idea.
Why Washington?
A man brought me here, but I stayed because I fell in love with the gay scene and made such strong friendships I didn't want to leave.