October 24, 2019 at 5:53 am EDT | by Joey DiGuglielmo
'Drag Race' season 11 champ Yvie on her tour, sisters, adventures, love life and more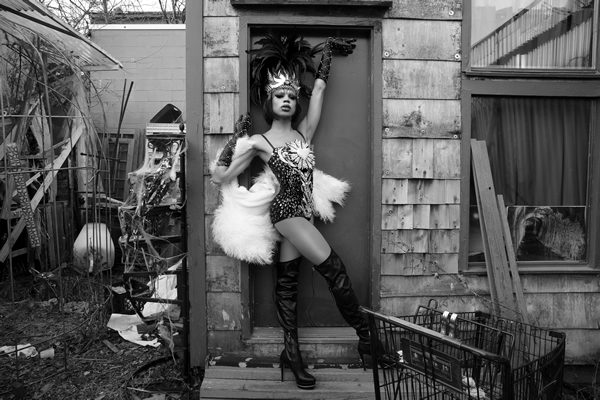 'RuPaul's Drag Race: Werq the World Tour'

Sunday, Oct. 27

8 p.m.

The Anthem

901 Wharf St., S.W.

$52-62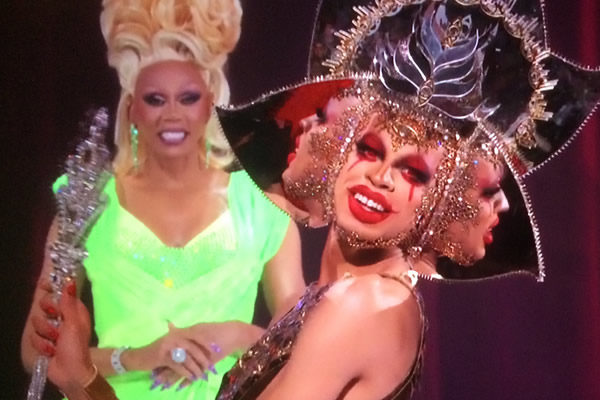 Boasting three season winners (Aquaria, Violet Chachki and Yvie Oddly), the 2019 "RuPaul's Drag Race: Werq the World Tour" features one of the stronger lineups the franchise has ever launched.
Hosted by Michelle Visage, a "Drag Race" legend in her own right at the judge's table, the show features "mission leader" Asia O'Hara on a journey to save the universe with the help of Detox, Monet Exchange, Naomi Smalls, Plastique, Kameron Michaels and Vanessa "Vanjie" Mateo. The tour comes to Washington Sunday night.
Yvie (aka Jovan Bridges), the 26-year-old 2019/season 11 "Drag Race" champ, unleashed her throaty trademark cackle liberally during a phone interview last week from Williamsville, N.Y. Her comments have been slightly edited for length.
WASHINGTON BLADE: How's the tour going so far?
YVIE ODDLY: It's really fun. It's definitely been a challenge just trying to adapt my drag to a whole other thing on a crazy, massive scale, but I feel like I finally got the swing of things and it's just a stellar show. It's so much fun to be a part of. I love the girls, I love the people we work with and they feed me well (laughs).
BLADE: Any queens from other seasons you didn't know before you've bonded with?
YVIE: Well, basically the whole cast. Up to this point, I'd only had the pleasure of working with Vanjie and Plastique so it's been really cool to get one-on-one tme and hang out with a lot of the girls. I'd say the people I've probably gotten to know the best so far would be, like Naomi is really cool. I never would have imagined being friends with a pair of legs (laughs). I've also gotten along really well with Detox so far. I'm enjoying this experience.
BLADE: You're also touring with two past season winners. Is there any unspoken deference to you three from the other girls?
YVIE: I mean I'd like to think that I could probably get away with more shit if I wanted to (laughs). Uh, but no. It really does just feel like all of the girls, as much as the competition is the thing that elevated our careers to this point and in a way brought us all together, that's all behind us know and we're just working queens all in the same field, all trying to make a living.
BLADE: What's the drama meter like on tour vs. on the show? I'm sure you're gonna say you're all getting along great but c'mon — it's drag, there has to be some drama right?
YVIE: It literally has been like zero. Sorry to be the wet blanket. There's something about being in a competition environment and not having anybody you can talk to at home, not having a phone and being put in isolation that really will just rattle up the most human emotions out of everybody. When you're in that environment, it's super volatile at points, but on tour, we're all just working queens. There literally hasn't been almost anything.
BLADE: There was some controversy earlier this year when Monet X Change was fired from the "Haters Roast: the Shady Tour" after she bailed one of the dates to accept an offer from Madonna. How has this tour promoter (Voss) been like to work with for you and what would you do if Madonna called you to be ditch the tour to be in one of her videos?
YVIE: I love working with Voss. They've been producing things for a very long time and have the capability to put on some of the craziest, biggest shows and spectacles and they just treat me nice, they treat me well, that's why I'm here. The Madonna video, that depends, is she asking me?
BLADE: Sorry, this is just hypothetical.
YVIE: Well that's why I love working with Voss. I would never have to leave a tour to work on a Madonna video. They want my career to be as beautiful and blossoming as possible so they'd figure out a way to make it work.
BLADE: Did anything jump out at you watching your season on TV vs. how it felt in the moment?
YVIE: No. I typically have a pretty good idea of what's going on around me at all moments (laughs). So literally the only thing that was surprising was hearing the other girl's confessionals. That's the only thing I wasn't in the room for.
BLADE: You were quite abrasive at times. You said you were trying to be helpful but some were offended. Do you regret any of it?
YVIE: I don't care whether or not I came across as abrasive. It's something that many people value and many people don't and that's all on their plates. I just wanted to live authentically especially when I saw how inauthentic others were being and if it's abrasive to tell the truth in a world that's more comfortable telling lies outright then so be it, let me be that abrasive bitch.
BLADE: What was it like performing at Pride in Denver (your home town) fresh off your win in June?
YVIE: That was actually unimaginable. It felt like coming home from war. I know that's a really intense comparison, but I had worked so hard to get on "Drag Race" to get my career to that point and I never thought, there's one part of me that never really thought about what it would feel like to win or to lose or what any of it would feel like regardless. So after it all hit, so coming back home after making my city proud and being only the second person from Denver on the show I felt like what I imagine sports teams feel like when they win their championships (laughs).
BLADE: Are you still based in Denver?
YVIE: Yes I am.
BLADE: Do you plan to stay or are you considering moving to one of the coasts?
YVIE: I'm not moving to one of the coasts … at least as it stands right now, I really like the idea of being home when I'm home so if I'm only ever home for short amounts of time, then Denver is where I want to be.
BLADE: Overall what's life been like since you won?
YVIE: It's been like I've died and been reborn a thousands times. It really has. Not only am I trying so many different things that never thought I would try but I wake up literally in a different city every day, meet a whole bunch of new people every day and just have some of the most insane experiences, so I feel like since getting on "Drag Race" and definitely since airing and 100 percent since winning, I feel like every day is a crazy-ass rebirth (laughs).
BLADE: I'm trying to think how to ask this diplomatically: you have so much insane flexibility in your performances. Does that come in handy in your, um, romantic life or is it just for stage?
YVIE: (laughs) Unfortunately not. You know that whole adage about ladies in the street vs. in the sheets? I'm a freak on the streets and a blouse in the sheets.
BLADE: Your lip sync against Brooke Lynn Hytes in episode eight was so mind-bogglingly epic. What was it like in the moment? Did you realize she was really turning it out as well? And how did you feel when you found out you were both saved?
YVIE: I definitely was hyper focused on delivering the best performance I could, so while I didn't necessarily see Brooke Lynn during any of our lip sync except for maybe one split second here or there, there's something to be said about the energy of going and fighting for your chance to stay and fighting for your chance to continue being seen that just flips a switch on in you and Brooke Lynn up until that point was already the fiercest competitor around and the one person I really didn't want to have to lip sync against, so when both of us were called for the bottom, I could just feel the energy going full throttle. I could feel Brooke Lynn fighting to stay too and I knew I had to put up a damn good fight if I wanted to be there beside her. That being said, I feel like the fans sometimes get into this mindset, like, "Oh it's obviously going to be a double save" or, "These things are predictable," to them but when we were there on that stage, I never even considered like the possibility of a double save. I just considered was I good enough to beat her, was I good enough to secure my place in this competition, and if not, am I ready to pack my bags? So getting called at the same time felt like some strange act of God, like some weird miracle, like, "Oh yeah, by the way, this doesn't ever happen but merry Christmas."
BLADE: How are you and Silky now? That was such a "Drag Race" rivalry for the ages.
YVIE: I mean Silky is probably one of the girls I'm closer to from the show just 'cause we did go through so much shit with each other in the experience itself and then having to watch the fans relive that in a way, so even though I only ever get to see her occasionally, she's my sister.
BLADE: You drew a lot of ire for your selfie policy. Sorry if I missed some of it, but was it more about you being exhausted after a show or did you not think it was fair to be taking a bunch of selfies after a show to the people who had paid for the meet and greet?
YVIE: My thinking on it is that I didn't want people to be selfish for me. It was always about the fact that regardless of whether it's for money or for my body or for whatever reason, if somebody says no, you just have to be respectful of that and I was getting so many people who started to get to a really creepy, unsettling level when I would tell them no. They would follow me back to my hotel room, they would like be berating me because they felt they deserved something for having watched me on TV (laughs). It's just not how I feel. So when I made the initial tweets, it was out of frustration of people not listening to that. It was mostly because I'm tired, I'm fucking exhausted after a show, and people would rather believe it's about money or it's about me being some spoiled diva who wants all the fame fortune and none of the work that goes into it when really I never wanted fame and fortune, I wanted to be an artist and I feel like that's who fans appreciate and respect. I've had plenty of people who love the hugs I've ben giving out (laughs) in place of bullshit selfies, which will just fade away into a timeline of, "Look at me and vaidate my life."
BLADE: Bianca del Rio …. (cuts off; Bianca criticized Yvie's policy)
YVIE: That grumpy old bitch. Whatever. That's why I was shocked. I wasn't shocked by fans being upset by what I said but I was shocked when she and a few other queens kind of jumped on the bandwagon because they chose to believe the most (inaudible) part about it and being a part of "Drag Race," there's always a deeper level that not everybody is going to read into or will even want to read into sympathetically and being like, "This life is hard." She turns down photos with fans as well, instead of being, "Life is hard, sometime it's OK to say no," she was like this spoiled bitch who doesn't want to take any photos but wants fame and fortune and she wants your money. So good on her, she can give as much terrible life advice as she wants.
BLADE: You said on the show because of your (genetic connective tissue disorder) condition you won't be able to do drag forever. Any idea how long you might have for this? And what would you be doing if not drag?
YVIE: If I wasn't doing drag, I'd still be creating. I was an artist before I found the medium of drag and I'll be an artist afterwards. I have to create to survive, that's just how I feel, the only way that I feel like I'm living my life authentically so I have had to think about that and remind myself that even if I can't do things the way I'm doing them now, there is always a future, however I don't have a timeline. … It's just some days my body is there for me and some days it's not and I know that if I keep doing drag the way I do it right now, there's going to be a lot more of those not days.
BLADE: How long did it take to film season 11?
YVIE: It's like a regular filming schedule, Monday-Friday, all hours of the day. I honestly don't remember how long I was there for the whole time. I know it takes a few days to film an episode.
BLADE: Did you feel pressed for time during the competition?
YVIE: No. Only during the time challenges when they make it quite apparent how little you have of anything.
BLADE: Have you been watching "Drag Race U.K."?
YVIE: Yes I have.
BLADE: Any thoughts or favorites?
YVIE: Um, it's too early for me to call favorites, especially since what their queens offer is such a different dynamic from what we've seen in the U.S. seasons. However I'm just in love with some of the camp and wit that goes into their drag. I love a stupid bitch.
BLADE: It was announced you were gonna have your own World of Wonder show. When can we look for that?
YVIE: It's actually called "Yvie's Odd School" and it's already out on the World of Wonder plus app. I think we're like four episodes deep. Go check it out.
BLADE: You've released several singles. Would you like to establish a long-running music career?
YVIE: I mean it's something I'd never considered prior to "Drag Race" but I've really enjoyed exploring it so it's definitely one of the routes I'd like to take artistically.
BLADE: Had you auditioned before you got on "Drag Race"?
YVIE: It was my third time. The old third time's the charm thing.
BLADE: Who was your favorite celebrity guest judge?
YVIE: Either Elvira — because she's like everything, or Troye Sivan, because he saw my penis.
BLADE: Was that on the show? I don't remember that.
YVIE: I think he said it on "Untucked."
BLADE: Hmmmm, how did that happen? You weren't shy about parading it around.
YVIE: I mean, it wasn't a parade necessarily. I only had a certain amount of time to get my whole body pink and I didn't have time when you're under those constraints, you just don't have time for decency or shyness (laughs). I guess he was just watching through one of those mirrors or something.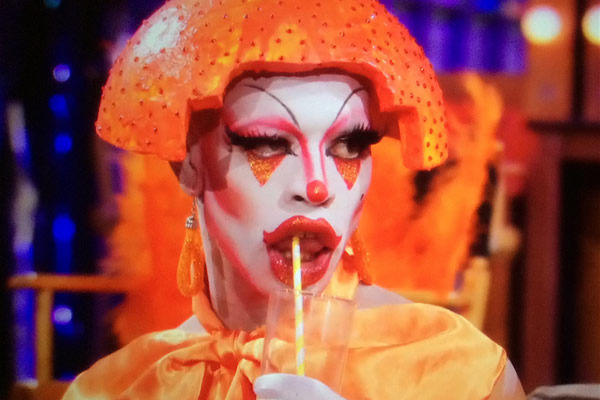 BLADE: Are you just naturally super thin or do you work out and watch your diet?
YVIE: I mean I live a super active lifestyle and always have. Way more active than honestly I probably should be. But I eat like crap (laughs) and my only exercise is drag
BLADE: Are you seeing anybody? What's it like trying to date when you're on the road so much?
YVIE: I actually have been dating the same guy since literally the week before our show started airing. I feel like I've been lucky because I've gotten to enter a relationship in the unique context of he didn't know me before, so he doesn't have any claims to my previous identity or what I was like before "Drag Race" and he didn't come to know me through the medium or through the time when I was on TV, so he like never had any like fan girl moment or anything, he was there with me fright from the beginning, so it's been magical to kind of get to know somebody authentically as myself and just ride this whole experience with him. To answer your second part, yes, it's super hard.
BLADE: Does he live in Denver?
YVIE: That's what makes it even harder. He moved to Boston to go to law school like right when I left for tour. I will be seeing him shortly.
BLADE: Is his name out there publicly?
YVIE: I mean, I'm not ashamed of him, but I don't want to put him on blast like that.
BLADE: Thanks and good luck with the tour and your other endeavors, this was fun.
YVIE: Thank you darling.