October 24, 2019 at 5:39 pm EDT | by Peter Rosenstein
Giuliani, Mulvaney, Trump; an Abbott and Costello Movie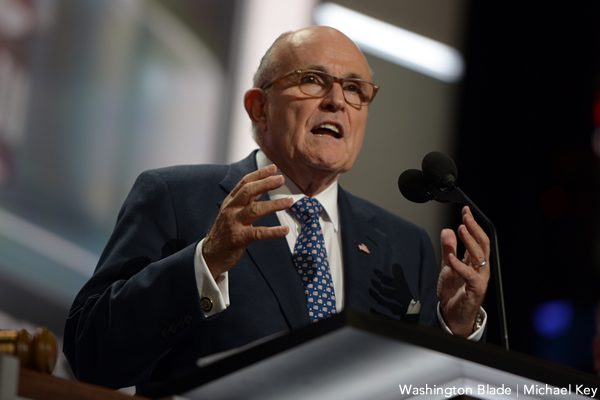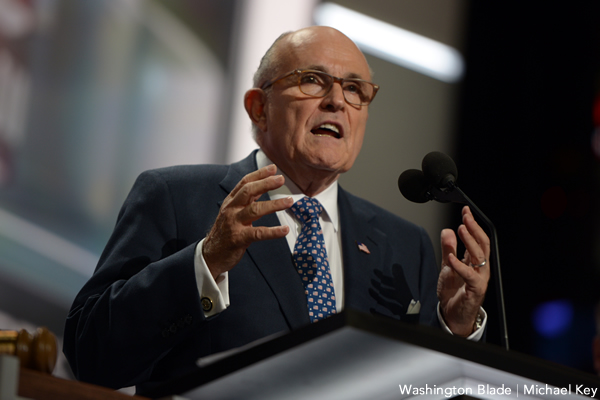 Other than they aren't funny but really scary, these characters could be in an Abbott and Costello movie. You want to ask the question; Who's on first? Clearly these collectively insane and dangerous people along with the rest of the Trump White House and administration are totally out of contact with reality and out of control.
Trump declares over and over regarding his interactions with the president of the Ukraine there was no quid-pro-quo. His envoy Gordon Sondland states to Congressional committees Trump said this over and over to him on a short phone call about why the U.S. hold off on its sale of weapons to Ukraine. Then in one of the more bizarre recent White House press conferences, that's saying something as they are all bizarre, Acting Chief of Staff Mick Mulvaney says, "Of course there was a quid-pro-quo." He says there always is a political one in our international relationships and this one was about Hillary's server and the Justice Department knew about it. Then the Justice Department spokesperson denies knowing about it and Trump's personal lawyers say they knew nothing about what Mulvaney was saying. A few hours later Mulvaney tries to walk his statements back. Mulvaney also announced Trump had selected his own resort, the Doral in Miami, as the location for next year's G-7 meeting and if people don't like all the sleaziness of all Trump's machinations they should 'Just get over it." Meanwhile during all this Trump is in Texas holding a political rally and cutting a ribbon on a new Louis Vuitton mini factory in Texas with his daughter Ivanka who has made millions while serving him in the White House off the Trump name. A day after Trump returns to D.C. he tweets he changed his mind about the Doral as the location for the G-7and says other sites will be considered.
Now during all this Rudy Giuliani is finding out he is under investigation and a bunch of his associates who have been working with him on his mission to have the Biden's investigated again in the Ukraine have been arrested trying to leave the country with one-way tickets. Of course, he claims he knows nothing about this. Now to be fair — LOL — he is also dealing with his current and third wife who is filing for divorce and threatening to write a book about his sleaziness. His first wife was his second cousin and his second found out he was leaving her when he held a press conference to announce it. What a guy!
Donald Trump is leading our nation down the drain and trying to take much of the world with us. It is hard to remember one outrageous act from last week when you know another will follow in quick succession. He has now put the lives of our allies, the Kurds, in danger and didn't even know they fought on our side in World War II. He is kissing the ass of the Turkish president as he slaughters and chases thousands of Kurds from their homes. Trump's actions are also once again giving life to ISIS with thousands being released from prisons and he is placing the entire region in turmoil leaving the United States out in the cold without any recourse to do anything about it. The clear winners are Recep Tayyip Erdoğan, the Turkish president and Vladimir Putin who are planning to meet this week and will surely gloat over how truly dumb Trump is.
It has been interesting to see many Republicans in Congress speak out on what Trump is doing in Syria when they wouldn't bat an eye to all his other constitutional transgressions. Seems even for them Trump has gone a step too far. Majority Leader Mitch McConnell, 'Moscow Mitch', in an op-ed in the Washington Post said "Withdrawing U.S. forces from Syria is a grave strategic mistake. It will leave the American people and homeland less safe, embolden our enemies, and weaken important alliances. The combination of a U.S. pullback and the escalating Turkish-Kurdish hostilities is creating a strategic nightmare for our country. Even if the five-day cease-fire announced Thursday holds, events of the past week have set back the United States' campaign against the Islamic State and other terrorists. Unless halted, our retreat will invite the brutal Assad regime in Syria and its Iranian backers to expand their influence. And we are ignoring Russia's efforts to leverage its increasingly dominant position in Syria to amass power and influence throughout the Middle East and beyond." This from a total Trump sycophant and apologist.
Will Republicans finally agree Trump has to go is the question we don't yet know the answer to. For the sake of the nation I hope they come to that conclusion soon.