October 24, 2019 at 6:39 am EDT | by Brock Thompson
The Blade at 50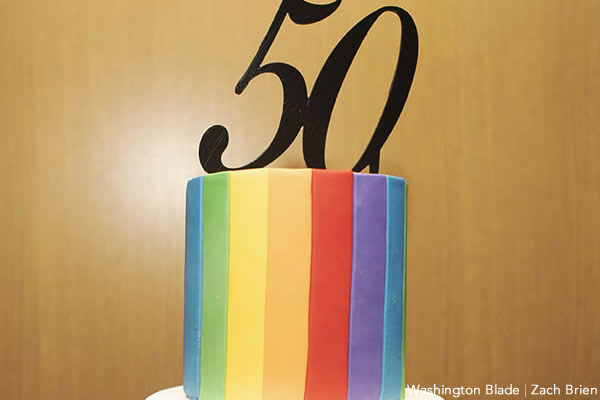 The first issue was just a single sheet. One-sided. The Gay Blade as it was called back then ran a total of 10 very brief articles. One announcing a blood drive, another a less than 20-word review of an off-Broadway play, and another a warning to gay men in Dupont: Cars seen too frequently in the Circle area are having their license numbers taken down: "the owners later are being harassed and blackmailed." 
That was in October of 1969, just four months after the riots at the Stonewall Inn. The Blade's circulation then was usually hand-to-hand. Picked up initially in a gay bar, maybe Jo-Anna's on Capitol Hill or the Chicken Hut downtown, then passed from reader to reader as the week went on. It's difficult to say how many hands were on a single issue. Blade reporters would attach pseudonyms to their bylines to mask identities.
That was 50 years ago. The topics of course changed, queer spaces closed and reopened as neighborhoods shifted, but the mission of the Blade remained largely unchanged — to deliver information to a segment of the population that was more or less completely ignored by the mainstream media. Information can be a precious thing, a vital thing, and with so many avenues for it these days that's largely taken for granted. 
Just how important is information for marginalized groups? It may have very well saved lives. In July of 1973, just a few years after its initial run, The Blade printed "arrest cards," something to clip out and keep in your wallet should you be harassed by the police when leaving a gay bar, bars like Pier Nine or Lost and Found. Among the seven bullet points to remember, get an attorney, say nothing, and in capital letters, "under no circumstances should you give the name of your employer." Jobs were on the line.
The protection of livelihood shifted dramatically in the following decade to matters of life and death. In July 1981, the Blade ran a rather ominous headline, "Rare, Fatal Pneumonia Hits Gay Men." As the AIDS crisis began to unfold, the Blade ran vital medical news in the front pages, information available nowhere else but within its margins. Obituaries filled the back pages. 
For a post-AIDS generation, a lost generation, a generation without mentorship, people like me, coming to Washington, D.C., picking up the Blade and seeing happy, smiling faces at events, advertisements for gay-owned businesses, and scores of articles speaking to me, did wonders. JR's Thursday happy hour was full or people thumbing through the new edition, seeing who was where, knowing where to be, what organizations to join, and flipping through news that would seldom be seen elsewhere. If the Blade did that for me, what could it do for the self-esteem and outlook of an entire city? Simply put, the Blade built a community. And as our Pride celebrations grew larger and larger, the Blade told us and those scores of people coming from outside our city where to celebrate and indeed how to celebrate — out, proud and unapologetically.
Protecting lives, saving lives, and helping to secure better lives for LGBT Washington, 50 years later the Blade continues its service by speaking to those still largely ignored by the mainstream media. At desperate times in our past, when entire segments of the population desperate for information on themselves, the Blade was there. The Blade was there to shield, to protect, and of course celebrate us. Happy birthday, Blade. Here's to another 50 years of having the Blade by our side.
Brock Thompson is a D.C.-based writer. He contributes regularly to the Blade.