November 5, 2019 at 2:23 pm EST | by John Paul King
'Strictly Come Dancing' features first same-sex pairing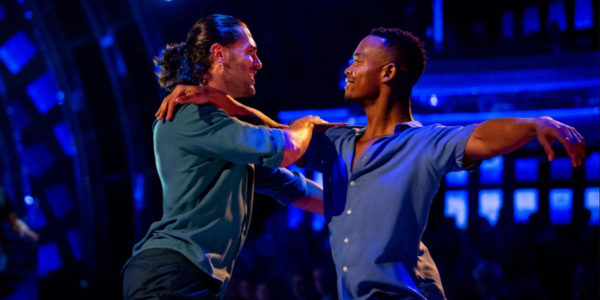 "Strictly Come Dancing" – the UK reality dance competition show that was forerunner to "Dancing With The Stars" in the US and other countries – this weekend featured the first same-sex dance routine in its 17-season history.
The hit BBC show has been a frequent target of criticism from LGBTQ advocates for its refusal to pair any of its celebrity contestants with professional dancers of the same sex, despite the frequent participation of openly gay contestants.
Though last season included two professionals dancing together as part of a group routine, this weekend's installment of the Sunday results show was the first to include a solo spot between two male dancers – Johannes Radebe, who is gay, and Graziano di Prima, who is heterosexual.
Radebe is a professional dancer and choreographer who spent two seasons on South Africa's version of the program before joining the UK cast in 2018. He had been teamed this season with celebrity partner Catherine Tyldesley before the pair was eliminated from the show last week.
Radebe, who has spoken out about being bullied when younger and the difficulties of growing up gay in South Africa, spoke to UK's Hello magazine about what being asked to take part in the historic same sex routine meant to him.
"I've never felt so liberated. For the first time in my life, I feel accepted for who I am. That says so much about the people of this country," he said. "To be able to dance with a friend I respect and adore is joyous. There's bromance galore between us, but there were no male and female roles, just free movement. It was beautiful, classy and elegant."
Graziano is a Sicilian dancer who also joined the show in 2018. He is an Italian Latin Champion who has also represented Belgium at the World Championships and made the top 24 at the under 21s Latin World Championships.
Both men took to social media to comment on the dance.
Radebe posted photos of him and di Prima, commenting, "Love knows no boundaries."
Di Prima posted a clip to his Twitter with the message: "REPRESENTATION always matters!🏳️‍🌈unforgettable moment, loved to dance with you @johannesradebe."
Di Prima's tweet has drawn over 24,000 likes and thousands of comments. Some were negative – with fans of the show expressing disappointment and saying they would not watch the show in the future if it featured more same-sex couplings – but the majority were supportive of the routine.
On his Instagram, Radebe thanked people for their support.
"I see all those messages coming in and I feel the love. I'm going to take time to respond to each and every message. There's a lot! I'm really grateful and I'm really thankful."
Last year, "Ballando con le Stelle," Italy's version of "Dancing With The Stars," featured a gay celebrity partnered with a male professional dancer. The same-sex pairing made the competition's grand final and took third place.
The Israeli version of the show has included a female same-sex couple in its competition and the Austrian version has featured a male couple. Australian drag star Courtney Act danced with a male partner in that country's version of the show.
In the US, Dancing With The Stars" has yet to feature a same-sex competing – though in 2016, Nyle DiMarco participated in a brief same-sex routine before going on to win the series with his female dance partner, Peta Murgatroyd.
Radebe and di Prima danced to singer Emeli Sande, performing her track, "Shine." You can watch their full routine below.