November 6, 2019 at 4:58 pm EST | by Lou Chibbaro Jr.
Whitman-Walker opens new Liz Taylor building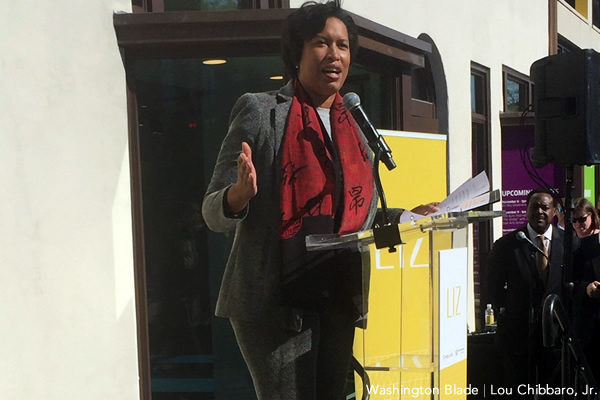 D.C. Mayor Muriel Bowser joined leaders, supporters and clients of Whitman-Walker Health on Wednesday for a dedication ceremony marking the official opening of Whitman-Walker's newly redeveloped Elizabeth Taylor building.
The new six-story mixed use, one block-long building is part of a joint venture development project that Whitman-Walker entered into with Fivesquares Development, a local real estate development company.
Whitman-Walker owned the original three small buildings that served as its Elizabeth Taylor Medical Center and the block-long property on which the buildings were located. The community health center that specializes in health care for the LGBT community and people with HIV is the majority owner of the joint project.
Andy Altman, a principal owner and co-founder of Fivesquares Development, told those attending the ceremony his company's partnership with Whitman-Walker is a nationwide model for joint ventures that help sustain the financial health of nonprofit organizations like Whitman-Walker to enable them to continue providing services to the community.
Whitman-Walker officials said Whitman-Walker occupies the new building's entire second floor, which provides space equal to or slightly greater than the three small buildings that made up the old Taylor facility, named after the famed actress.
A section of the first-floor space, which was in its final phase of construction, will serve as a cultural center open to the public, according to Altman. The remainder of the first floor will be home to several retail stores. The upper floors of the building will be home to 78 residential apartments, with 12 of them made available as "affordable" units.
Among those who spoke at the ceremony in addition to Bowser and Altman were Leon Harris, the NBC4 Washington News Anchor, who served as master of ceremonies; Don Blanchon, CEO of Whitman-Walker Health System; Naseema Shafi, CEO of Whitman-Walker Health; Sandy James, Board Chair of Whitman-Walker Health; Annabelle Selldorf, the lead architect of the project; and Harry Fox Board Chair of Whitman-Walker Health System.
Bowser said the project's inclusion of apartments would, among other things, boost what she said is her administration's ongoing efforts to help generate needed housing for the city's growing population, including affordable housing.
"Let this project be a reminder that housing, cultural space, and medical care are imperative to how this city moves forward," she said. "So once again, on behalf of all 700,000 people who live in the best city in the world, which is soon to be the 51st state, thank you and congratulations."
Blanchon said among Whitman-Walker's departments that will be located at the new Taylor building are its legal services program, public benefits and insurance navigation program, some community health programs, and the research program. He said Whitman-Walker's administrative office is also now located on the new building's second floor. Clients and patients will be among those seen in the newly opened offices at the Taylor building.