November 12, 2019 at 5:16 pm EST | by John Paul King
Tamar Braxton posts, then recants, homophobic rant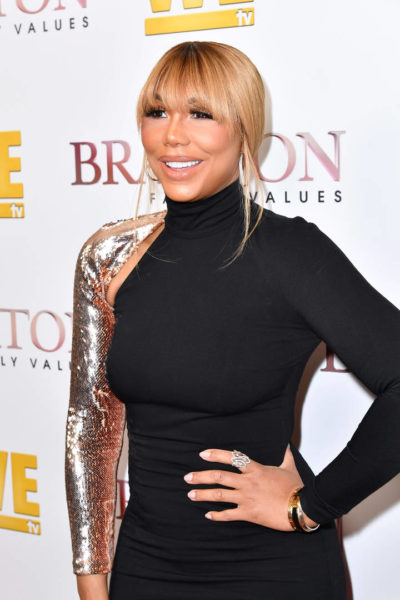 Singer Tamar Braxton incurred the wrath of gay Twitter on Saturday with a homophobic social media rant that has members of the community questioning her authenticity as an LGBTQ ally.
The 42-year-old singer, who is younger sister to pop music icon Toni Braxton, posted what she called a "public service announcement" on her Instagram page, insisting that if a woman's boyfriend "don't touch" them in more than three or four days, then it's an obvious sign they're gay.
"Truth is ladies that these dudes out here really do be gay!" Braxton decreed in the post. "It ain't enough money, beauty, hair, babies in the world to keep them!! They want D**K!! Periodt!!"
She went on to reassure her followers, "It's nothing wrong with you, but they will find EVERY reason in the world to make u not good enough!!!," before warning them, "If he lays with you for 3, 4, 10 days and he don't touch u, it's NOT YOU!! HE WANT A MAN!! And that's on my momma."
The singer is known for performing dance songs at multiple Pride events. She has also been a guest judge on "RuPaul's Drag Race."
Braxton has since deleted the Instagram post, but not before screen captures had already hit social media.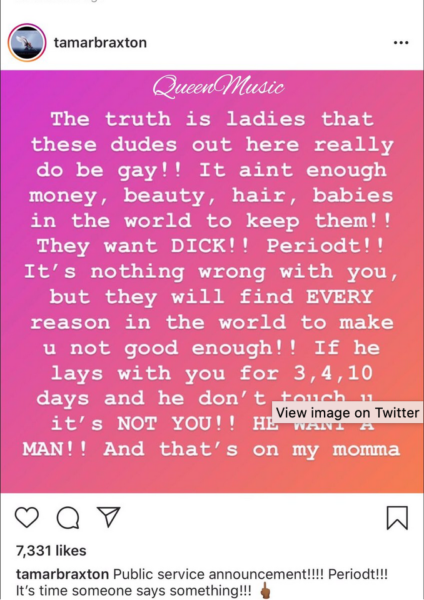 Response to the post was swift and merciless, with scathing comments from Twitter users like @iamkingdash, who tweeted that "Tamar Braxton is the example of a 'fag hag' who benefits off of gay culture but secretly despises the community," and @Gmcgruder, who chimed in with "I seriously wish #TamarBraxton would just sing and not talk….."
In an effort to calm the waters, Braxton took to Twitter herself on Monday to apologize, as well as to address speculation that her tone-deaf outburst had been prompted by a presumed breakup with boyfriend David Adefeso.
In her tweet, the singer wrote that her "public service announcement" had nothing to do with Adefeso. "saying, Y'all know I'm going live….If you are in ya bag, ya shouldn't be. I shouldn't have been in My feelings, &ranted on social media based off a conversation with my friends. I was talking about me but not me and David. I've been through a lot. This is why i stay on my fake page."
On Instagram, she also on Monday posted a video of Adefso with a comment saying, "Tamar x @david.adefeso X beans [heart emoji] together forever….you have the best way with words. Thank you my love."