November 13, 2019 at 9:02 am EST | by Richard J. Rosendall
GOP, party of chaos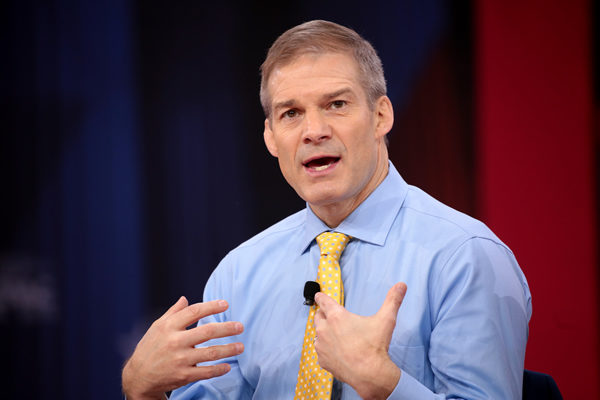 The stream of Republican distractions and diversions from the House impeachment inquiry, centered on Donald Trump's attempted extortion of Ukraine, is like someone who works out of a home office being interrupted during a live broadcast by his toddlers bursting into the room—only the toddlers are like the demon child in The Omen.
With the hearings going public this week, everyone is wondering how much more chaos Congressmen Jim Jordan and Matt Gaetz can stir up. Having been to the circus before, I really don't need to watch another showoff abusing lions.
If you decide to watch, keep in mind that it could be worse. Lawfare's Benjamin Wittes tweeted, "Reading through these transcripts, I am pleased to report that at least none of the people discussed bring a whip to work. You can't take these things for granted anymore."
A few observations:
An impeachment inquiry is not a coup. It is authorized by Article I, Section 2, Clause 5 of the Constitution. It is not a criminal proceeding.
Braying a lie a hundred times neither makes it true nor turns a pumpkin into a carriage.
Distinguished career diplomats and decorated military veterans do not become traitors and spies because a spoiled adolescent from Queens doesn't like to be contradicted.
Behind the likely articles of impeachment, for which the strongest and clearest case can be made, lurks mischief by and on behalf of Trump that reminds us why a compelling narrative is needed against this dangerous and destructive president: the changing rationalizations, the ever-moving goal posts, the projecting of Trump's sins onto his foes, and the repeated, zombie-like resurrection of debunked conspiracy theories such as the one used to shift blame for foreign interference in the 2016 election from Russia onto Ukraine.
A perfect illustration of Trump's gift for attracting henchmen from hell: on the same day that Kevin McCarthy appointed Jordan to the House Intelligence Committee, a second person stated he had told Jordan about sexual abuses against students when Jordan was assistant wrestling coach at Ohio State University in the 1990s, which Jordan denies.
The Trump family's sociopathy was displayed by Donald Jr. as he described how a visit to Arlington National Cemetery reminded him of the attacks his family had suffered and the sacrifices they had to make to help their father succeed—sacrifices nowhere in evidence.
Whistling past the graveyard has been raised to desperate new heights, as reported in stories with headlines like "Six times Trump's allies downplayed Trump's actions by pointing to his incompetence." That piece ends by quoting a 2014 Trump tweet (there is always a tweet) attacking Obama: "Are you allowed to impeach a president for gross incompetence?"
Amid frantic demands by Trump to "name the whistleblower," who is protected under federal law, Lt. Col. Alexander Vindman testified that "there was no doubt" Trump sought a quid pro quo during his July 25 phone call with Ukrainian President Volodymyr Zelensky. Vindman was on that call, and therefore is a direct witness; so President Russian Asset and his minions keep screaming about the whistleblower, like a fire department attacking a 911 caller and denying there was a fire after the house burned down.
Trump's defenders constantly, indignantly insist that the rules everyone else goes by somehow do not apply to him. By attacking those who courageously step up to tell the truth, Trump and Company put them in danger. You might say he is shooting them in the middle of Fifth Avenue, just as his diehard supporters want. Thinking as they are told, Trump's fans are far more outraged by a parodic characterization by Rep. Adam Schiff than by the president's brazen wrongdoing.
The stream of frenzied, baseless denunciations is designed to distract us from the damning revelations that the Democrats are patiently and methodically bringing to light. Trump's tantrums, which are getting worse, are about to be eclipsed by the truth about who is harming the country and who is holding the vandals to account.
Use your mute button judiciously. Listen for the signal amid the noise. Let us remember and honor the patriots who brave a petty tyrant's wrath by standing their ground amid the battle for our country.
Richard J. Rosendall is a writer and activist. He can be reached at rrosendall@me.com.
Copyright © 2019 by Richard J. Rosendall. All rights reserved.