November 14, 2019 at 5:48 am EST | by Joey DiGuglielmo
QUEERY: Ruben J. Gonzales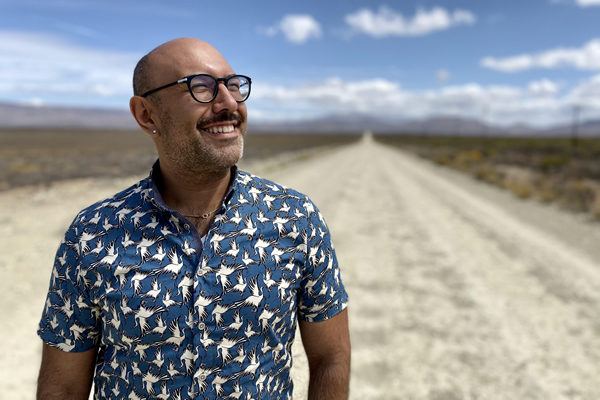 The 2020 election, being queer and indigenous, the role of same-sex partners on the campaign trail, criminal justice reform, plastics pollution — these are just some of the topics attendees are tackling this week at the International LGBTQ Leaders Conference, which runs through Saturday in Washington.
"Anti-LGBTQ laws and opportunities to advance equality often occur at the state and local level," says Ruben J. Gonzales, vice president of the organization. "Victory Institute's work focuses on building a bench of LGBTQ elected officials who can affect change there. There is also an undeniable benefit to growing and diversifying the number of candidates and elected officials who can be out and proud role models for young queer people and change hearts and minds through their campaigns and careers."
Close to 600 are attending the conference, in its 35th year. It's been held in Washington annually since 2016 (it was held in other cities prior).
"(The conference) remains at its core a place for elected and appointed officials — current and aspiring as well as the people who love them — to come together," Gonzales says. "We will offer them many settings for doing that including our plenary and breakout sessions, many receptions and nights out in Washington."
The Institute employs 19 and has a $2.9 million annual operating budget (in addition to the $2.8 million for the LGBTQ Victory Fund, its sister organization).
Gonzales, who identifies as queer, came to Washington 10 years ago to work at UnidosUS. The 43-year-old Phoenix native previously led GLAAD's volunteer program and raised major gifts for the LGBTQ Task Force.
Gonzales is married to Joaquin Tamayo, his partner of 20 years. They live in Petworth with their Whaten Terrier, Sadie Rose. Gonzales enjoys working out, audiobook memoirs and "anything related to dance" in his free time.
How long have you been out and who was the hardest person to tell?
I've been out for 26 years. My Nana (my Dad's mom) was the hardest person to tell. She was the person I loved the most who I really thought might not accept me after coming out to her. She told me she loved me but asked me to never be affectionate with a man in front of her; she eventually relented on that and was very supportive.
Who's your LGBTQ hero?
Jose Sarria was the first openly gay person to run for public office in 1961. I know how much courage it takes to run now and I am amazed that Sarria ran as an out Latinx Queer 13 years before Kathy Kozachenko became the first out elected official in the U.S. in 1974.
What LGBTQ stereotype most annoys you?
That gays are mean and catty.
What's your proudest professional achievement?
Since I have worked at Victory Institute, the number of transgender and gender non-conforming elected officials has grown from under a handful to more than 30. This year over 20 percent of the people we trained to run for office were transgender or gender non-conforming.
What terrifies you?
Four more years of kids in cages.
What's something trashy or vapid you love?
What's something trashy or vapid I don't love?
What's your greatest domestic skill?
Making playlists for every and all occasions.
What's your favorite LGBTQ movie or show?
All of the gay '90s movies: "Paris is Burning," "Trick," "Broken Hearts Club," "Party Girl," "Jeffrey," "Velvet Goldmine," "The Opposite of Sex," "But I'm a Cheerleader," "Beautiful Thing," "To Wong Foo" and "The Celluloid Closet."
What's your social media pet peeve?
Vaguebooking (posting something intentionally ambiguous for attention). I mean either share something or don't.
What would the end of the LGBTQ movement look like to you?
LGBTQ people will always be a minority and our movement toward full equality will be ongoing. However, electing more than 22,000 LGBTQ people to achieve equitable representation (4.5 percent of all elected positions) in the U.S. is a good start. We are at just about 800 now.
What's the most overrated social custom?
Putting away your white shoes after Labor Day.
What was your religion, if any, as a child and what is it today?
I grew up Catholic and today I still have a special place in my heart and on my altar for la Virgen de Guadalupe.
What's D.C.'s best hidden gem?
The drag scene in Petworth. Taqueria del Barrio has a great drag brunch and drag trivia and Desiree Dik puts on an incredible monthly show at Slash Run.
What's been the most memorable pop culture moment of your lifetime?
The Madonna/Britney/Xtina kiss on the VMAs in 2003 was actually everything to me.
What celebrity death hit you hardest?
Whitney Houston. I always believed she would have a comeback and her voice would be back in top shape.
If you could redo one moment from your past, what would it be?
I don't have many regrets and genuinely try and learn from every mistake but once I missed out on an opportunity to have my mom meet the cast of "All My Children" because I did not follow through with a friend.
What are your obsessions?
My dog Sadie Rose, drag shows and identifying music samples.
Finish this sentence — It's about damn time:
D.C. was recognized as a state and we have representation in Congress.
What do you wish you'd known at 18?
That Ricky Martin was actually gay.
Why Washington?
This week I saw Sasha Velour's incredible show and AOC was in the audience. I once saw a Beyonce show with Michelle Obama and her girls in the audience. Where else in the world does that happen?!