November 14, 2019 at 1:30 pm EST | by Brian Gaither
Without Maryland's Black voters, there is no 'Pete & Chasten'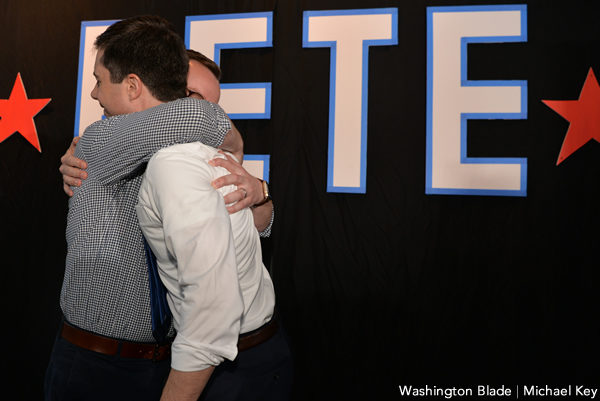 Some months ago, shortly after Pete Buttigieg spoke to the national convention of the NAACP, I opined here in the Blade that he was engaging in a deliberate pattern of code-switching — especially regarding his husband — whenever he addressed Black audiences. Apparently, he's still at it. As reported in Time magazine, during his stump speech before a Black congregation in Rock Hill, S.C., "the part where [Buttigieg] normally mentions his husband Chasten, or alludes to the fact that he owes his marriage to a single vote on the Supreme Court, went unsaid."
For an openly gay candidate campaigning as a man of faith, Mayor Pete's choice is curious. Why not attend church services with Chasten as he did on his visit to see President Carter in Georgia? Why not mention how his marriage moved him closer to God as he did for the assembled donors of the LGBTQ Victory Fund in Washington? Why hide this central truth of his life, so openly shared with others, from Black churchgoers in South Carolina?
Perhaps the reason is a focus group of Black Democrats in South Carolina that the campaign commissioned in July. According to a local newspaper report, the political consultants hired to conduct this focus group informed Buttigieg that for some of its 24 participants "being gay was a barrier…their preference is for his sexuality to not be front and center." And if we're to trust a quote from the chairman of the Black caucus in the state's Democratic party, Buttigieg himself "agreed it was not to his advantage to make a big deal out of it."
But Pete's marriage is a big deal, and it wouldn't be possible without the large number of Black Marylanders in 2012 who supported Question 6, the ballot initiative formalizing statewide recognition of same-sex unions. Without a win on Question 6, Jim Obergefell and John Arthur would not have wed on the tarmac at BWI-Thurgood Marshall Airport in 2013. And without Obergefell fighting his way to the Supreme Court, we'd still be waiting for nine justices to decide whether or not a gay man in Indiana has the right to marry a teacher he met on Hinge.
Public opinion polling conducted prior to the election certainly suggests the important role of the state's Black voters in passing Question 6. An October 2012 Goucher College Poll, the last poll fielded before the vote, found that 49 percent of Black residents supported same-sex marriage, with 43 percent opposed.
However, it's the election outcome itself that confirms that the provenance of Pete and Chasten's marriage lies with the Black vote in Maryland. Comparing official results for Question 6 and the percentage of Black residents in each of the state's counties, per the 2010 U.S. Census, three indisputable facts become clear. First, Question 6 received majority support where turnout among registered Democrats was higher than turnout among registered Republicans. Second, Question 6 failed by the highest margins in counties with the lowest percentage of Black residents (despite 60 percent support registered among white residents in the Goucher College Poll). Third, the two counties with the largest number of Black residents, Prince George's County (64.5 percent) and Baltimore City (63.7 percent), together provided 316,310 votes in favor of the measure.
Given these facts, it's nearly impossible mathematically that Question 6 would have passed by 127,459 votes if Black voters had opposed it to the same degree they're now supporting the Buttigieg candidacy.
To win more support from Black voters in South Carolina and elsewhere, maybe Pete can start telling the story of how Black voters in Maryland created one of the most important realities of his life. Instead of elevating Justice Anthony Kennedy's "single vote" on the Supreme Court, maybe Pete can honor the thousands of Black Marylanders to whom he actually owes the opportunity to be with the man who's brought him closer to God.
At the very least, he should afford Black audiences the same respect he shows his donors in Dupont Circle, trusting all of them equally to know about his husband without "making it a big deal."
Brian Gaither (@briangaither) is a gay activist and writer who lives in Maryland.