November 14, 2019 at 4:54 am EST | by Peter Rosenstein
Trump is scum who undercut foreign policy, committed bribery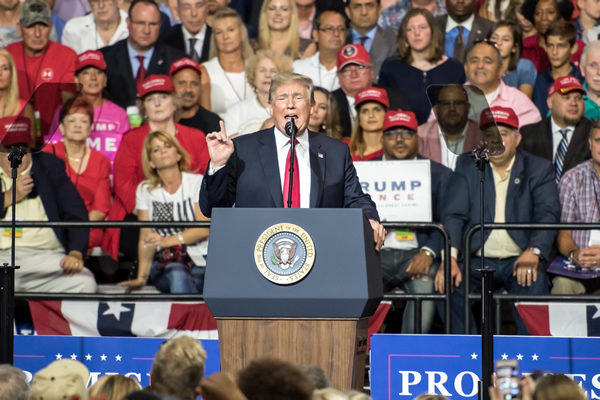 This week, the impeachment process in Congress goes public. A number of those who have already testified to Trump's attempt to bribe/blackmail the Ukrainians for his own personal benefit will now testify in front of the American people.
According to Reuters they include "the top U.S. diplomat in Ukraine, William Taylor, who is considered a critical witness to the case against Trump. Taylor was upset to find out that security aid to Ukraine, as well as a White House meeting between Trump and Zelensky, had been delayed for political reasons. Another senior U.S. diplomat, George Kent, will appear with Taylor at Wednesday's hearing. Kent said in closed-door testimony that he had been alarmed by efforts by Giuliani and others to pressure Ukraine to accede to Trump's demands."
Also "Former U.S. ambassador to Ukraine Marie Yovanovitch will testify on Friday. She says she was ousted from her post after she came under attack by Giuliani. She says Giuliani's associates "may well have believed that their personal financial ambitions were stymied by our anti-corruption policy in Ukraine."
Each of these individuals will have an impact on the public. It will also be important to see and hear from Army Lt. Col. Alexander Vindman who actually listened in on the call. According to VOA news "Now 44, Vindman and his twin brother, Yevgeny, were 3-years-old when they and their family fled Ukraine, then part of the Soviet Union, for the United States. His brother is also an Army lieutenant colonel and a lawyer handling ethics issues for the National Security Council." It will be difficult for even the most disgusting of Republican members of Congress, and there are many claiming that title, to attack a veteran who has a Purple Heart and walks around with shrapnel in his body from defending our country.
Aside from hearing from these witnesses it will be crucial for Democrats when talking about what Trump did to merit impeachment to speak to the American people in simple and clear language. Something like "Trump, the scumbag who undercut our foreign policy and committed bribery." Now I am not suggesting members of Congress actually use the word scumbag however accurate that is, but they need to stop using Latin phrases like quid pro quo, which need to be explained because now even Republicans agree that happened. They have moved from denying it to saying everyone does it.
Rand Paul, one sleazy senator from Kentucky, the other being 'Moscow Mitch,' was on "Meet the Press" saying what Joe Biden did as vice president when he told Ukraine they had to fire their prosecutor was the same thing as what Trump did. Unfortunately for Paul and Republicans the truth about what Biden did was to act on American foreign policy supported by all of our European allies and the International Monetary Fund. Trump on the other hand simply decided to try to bribe the Ukrainians to help him smear a political opponent. These things are very different and easy to understand.
Then there is Trump's former lawyer, Rudy Giuliani, another of the sleazy players around Trump, who worked at Trump's behest to undercut what has been American foreign policy toward Ukraine carried out by the State Department and our ambassadors. As Giuliani's associates begin to speak out we will get an even clearer picture of how far Trump was willing to go to subjugate American foreign policy for his own personal gain.
All of this won't be easy as Republicans are intent on turning the hearings into a circus. I am sure we will count in the dozens, maybe hundreds, the number of times they mention the names Biden and Clinton in their effort to confuse the public as to what these hearings are about. Democrats will have to constantly remind the public this hearing is about a sitting president not private citizens.
In my view, Trump will be impeached by the House of Representatives. The articles of impeachment they vote on will have to be simple and clear to anyone who hasn't made up their minds to oppose them without even listening to the evidence. Unfortunately that will be just about every Republican in the Congress. They are all afraid of Trump and because of that seem more than willing to see him trample the Constitution. But be that as it may it is important for Democrats and any decent Republican to do the right thing and vote for articles of impeachment even if Trump is eventually acquitted in a Senate trial. History will judge them for what they do.
Peter Rosenstein is a longtime LGBT rights and Democratic Party activist. He writes regularly for the Blade.